Renting an RV
September 21st, 2020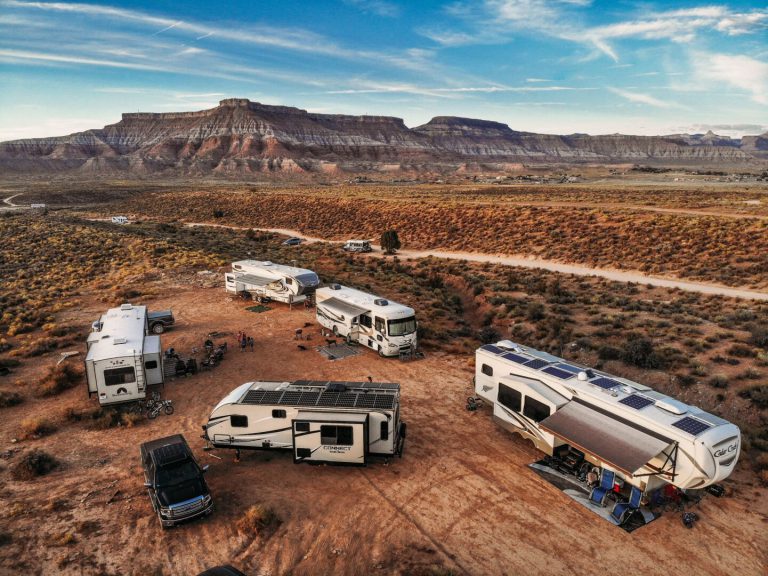 There's a lot to plan when you take an RV vacation! You'll need to consider where you want to go, the route you want to take to get there plus any stops along the way. You'll need to determine who's coming with you and whether anyone needs any special gear. And, of course, you'll need to determine the size of RV you want to take on your trip.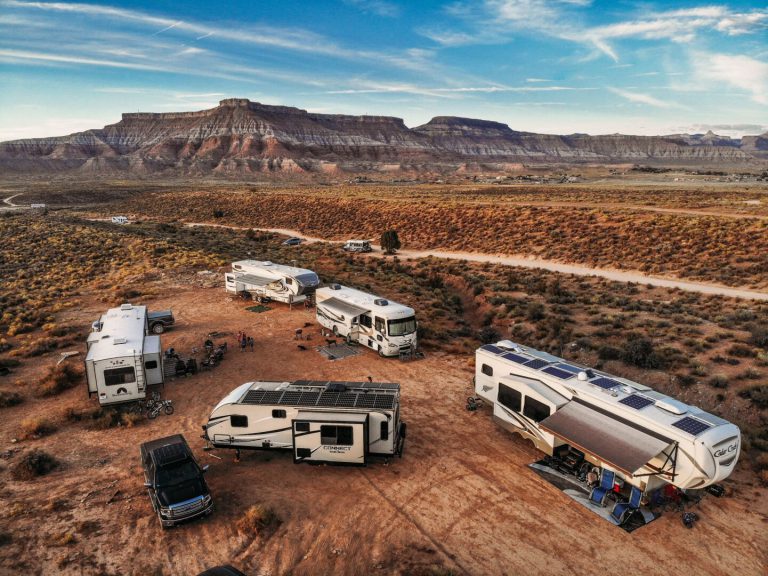 How to Choose the Best RV Size for Your Trip
RVshare has a variety of sizes of RVs and trailers that you can rent for a motorhome road trip, from tiny trailers that can be towed by your car to massive motorhomes that can fit more than one family. Before you go browsing the site willy-nilly, it helps to know what kind of vehicle you're interested in. If you choose one that's too big for your party, you may spend extra money on your rental and you'll pay more in gas mileage as well. If you choose one that's too small, you may have an extra buddy in your bunk!
When picking an RV for your trip, consider the following points. How many people will need beds for the trip? Will you be packing up camp frequently and moving on or staying for long periods of time in one space? You won't want a rig that's complicated to set up if you plan to be in places for just one or two nights, but if you enjoy staying for a week or more the extra effort may be worth it. Finally, consider your budget when renting a vehicle and stay within that!
RV classes
The size of different types of RVs are indicated by class, from Class A to C. Here's the breakdown.
Motorhomes
Class A motorhomes
Class A RVs are the big RVs you see driving down the freeway that look like tour busses. They are the largest class of motorhome, and the best bet for very large groups of people. Class A motorhomes are 29-45 feet long, and can sleep six to eight people. They are often the most luxurious motorhomes and have room for more amenities than smaller vehicles. Class A motorhomes include bathrooms, kitchens, a living room/entertainment space, and a master bedroom – usually with at least a queen-sized bed in it.
Class B campervans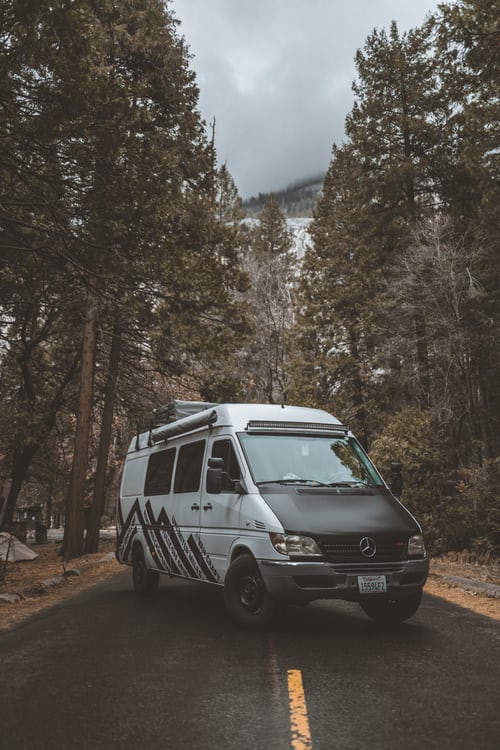 Class B campervans are the smallest motorhome class, sometimes known as conversion vans. They're built on a van chassis. Because they're such a small RV, Class B's are good for traveling winding roads, and they can fit just about any camping spot. They're generally less expensive and easy to drive.
Most Class B vans have a kitchen with a small fridge, a heater, beds, and a small living space. They may come with a bathroom but that's not standard. Class B RVs are from 17-19 feet and sleep from one to four people.
Class C campers
Class C RVs are the Goldilocks of campers – not too big and not too small. They are usually built on a truck or van chassis. Class C campers usually include a sleeping area above the cab, with more sleeping space in the back. Some campers have a slideout to give travelers more room when they're set up. They generally have a fridge, stove, toilet, heating and air conditioning, and many have a living/entertainment space with a television and possibly a sound system.
Class C motorhomes are from 20-31 feet long and sleep from one to eight people.
Trailers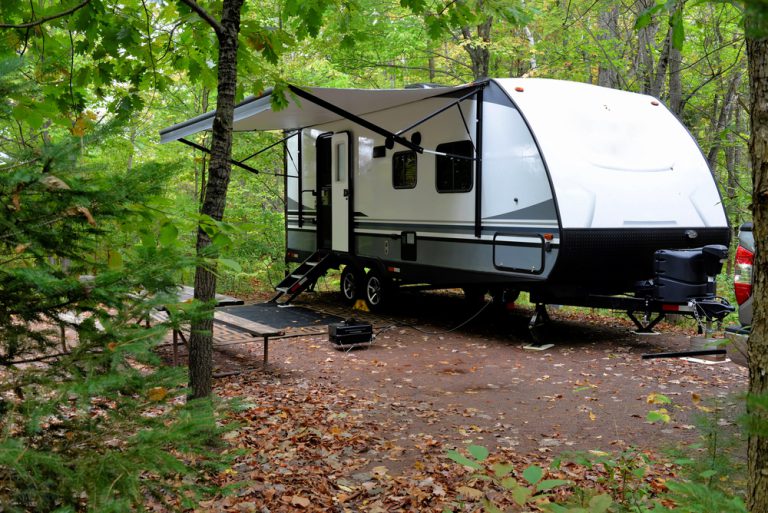 Pop-up Campers
Pop-up campers are small and fold down even smaller, making them easy to store. They can be towed by a car or SUV with the proper towing equipment. Pop-up campers are one of the more inexpensive options and usually include one to two double beds, a screened-in sleeping area, a sink, a cooktop, and a small dining space. There are some pop-up trailers that come with a toilet or a wet bath – a shower that uses the entire bathroom and gets it wet.
Pop-ups are generally between 7-7 1/2 feet wide and 4 1/2 feet to 5 feet tall, although there are some pop-ups with extra headroom. They sleep between four to eight people.
RV travel trailers
Travel trailers require a special hitch that moderates the sway of the trailer when it's on the road. They can be towed by an SUV, pickup truck, or van. Travel trailers often have all the amenities you'll find in RVs, though you'll want to check the specifications for your trailer to make sure it has what you want.
Fifth-wheel trailers
Fifth-wheel trailers are called that because of an extension on the front of the trailer that extends over the tow vehicle. It ends with a plate that looks like the fifth wheel of your vehicle. The wheel connects to the cab of the truck that tows it. Fifth wheels need a full-sized pickup to handle their weight, and you'll need to make sure you have a truck that's suited to your fifth wheel.
Fifth wheels have lots of interior room, and some have slideouts for even more room when you set up camp. They usually come with a bedroom, living room, kitchen, and bathroom.
How many passengers can ride in a motorhome
From a safety standpoint, it's always best if everyone in an RV rides with a seatbelt on. However, different states have different rules governing who can sit where in an RV while it's in motion. Some states require only the people at the front of an RV be belted, while others require everyone riding in the vehicle have a seatbelt on. You can find a breakdown of different state standards here.
There are also different requirements for minors, depending on the state so make sure you know the laws of the state (or states) you're driving in. You should always place children in carseats that meet the safety standards for their age, but do not use those child safety restraints in any rear-facing or bench seats. Children are always safest in a passenger vehicle, so if you're towing a trailer, they should be in the vehicle doing the towing. If you're camping in a Class A motorhome, you can consider either driving a separate vehicle with safer seats for kids, or you can have custom seats built into your RV that meet federal seat belt standards.
Manufacturers of RVs are only required to adhere to seatbelt standards for the front seats of a motorhome, not any occupants who may be traveling in the back. You may want to check any RV you purchase or rent to see if seatbelts are available for all passengers including those in the back.