Travel Inspiration
September 20th, 2019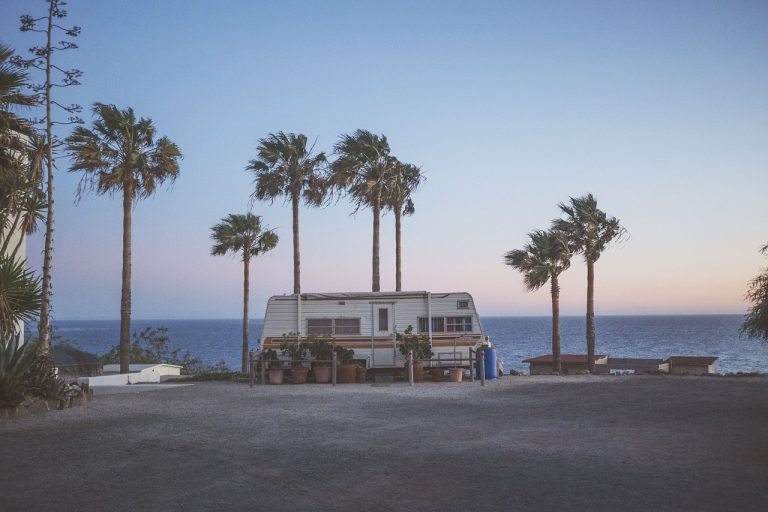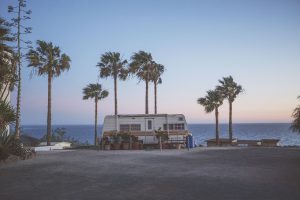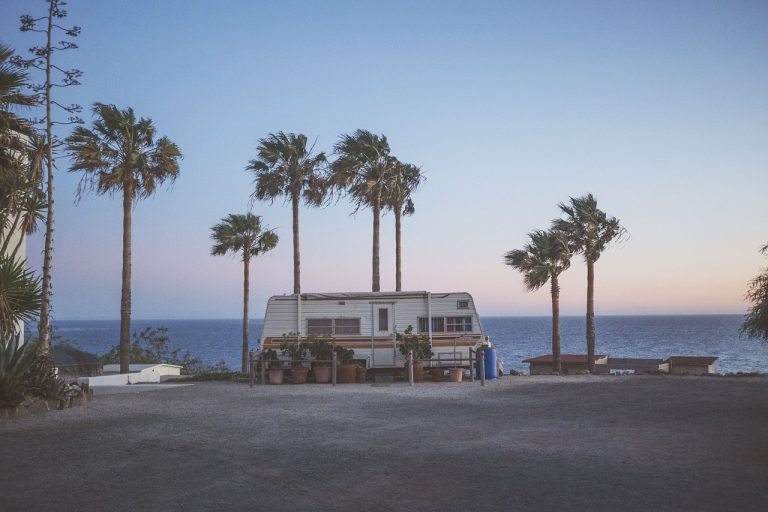 Many of us look forward to fall all summer long — precisely because it's an escape from that uber-hot, humid summer weather.
But others among us want nothing more than for summer to last all year long, allowing for perpetual basking on sandy, palm-strewn beaches.
If you're more about parasailing than you are about pumpkin spice lattes, take heart: autumn is one of our favorite seasons to travel, and you don't just have to go in search of the best fall foliage. (Although that's certainly a fun adventure in its own right; here are some of our favorite leaf-peeping destinations!)
In fact, some of the very best fall vacations are beach vacations — and some beaches are better than others.
Best Fall Beaches
Wondering where to toss down your towel or scoop up a sandcastle this fall? If you're looking for an excuse to extend your summer, here are some of the best beaches in America to check out in your RV.
1. Cannon Beach, Oregon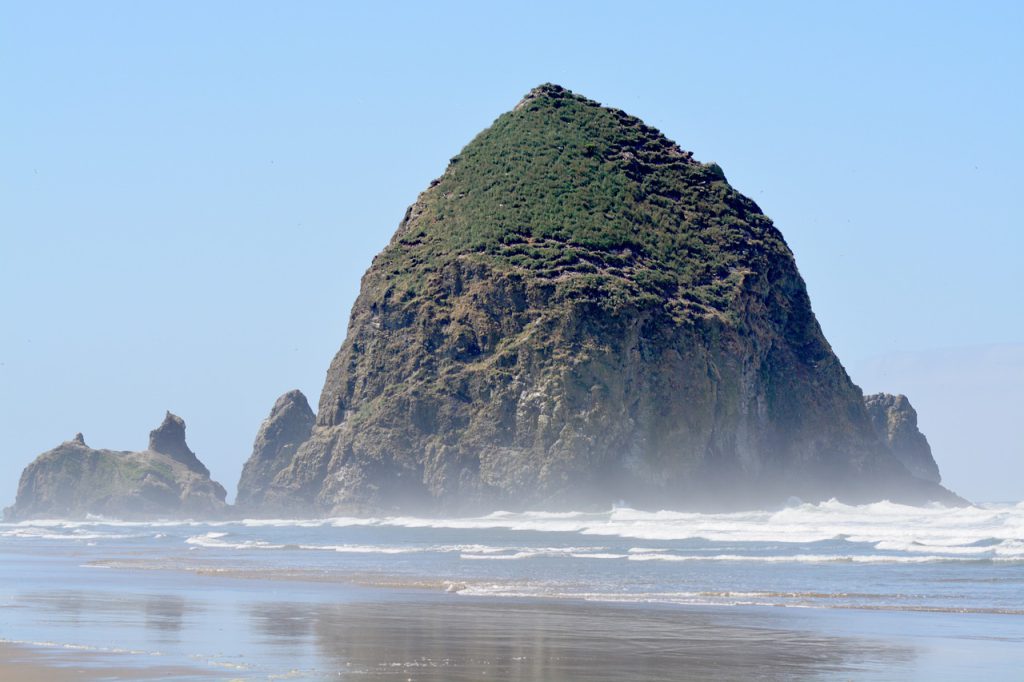 The Pacific Northwest may be best known for its rainy disposition, but the weather patterns are a little different when you're alongside the ocean. Although the rain does pick up as the end of the year draws nearer, daytime highs are still in the comfortable mid-sixties, making it the perfect time to get out and explore the ample hiking options in the area.
Although the water might be too cold for a dip, Pacific coast beaches are a sight to behold if you're used to the east-coast fare: stunning rock walls and boulder-strewn shorelines making for a visually arresting beach trip, and you'll also be able to enjoy fall foliage after just a short drive inland. Best of both worlds!
Click here to see RVshare rentals near Cannon Beach, Oregon.
2. Clearwater, Florida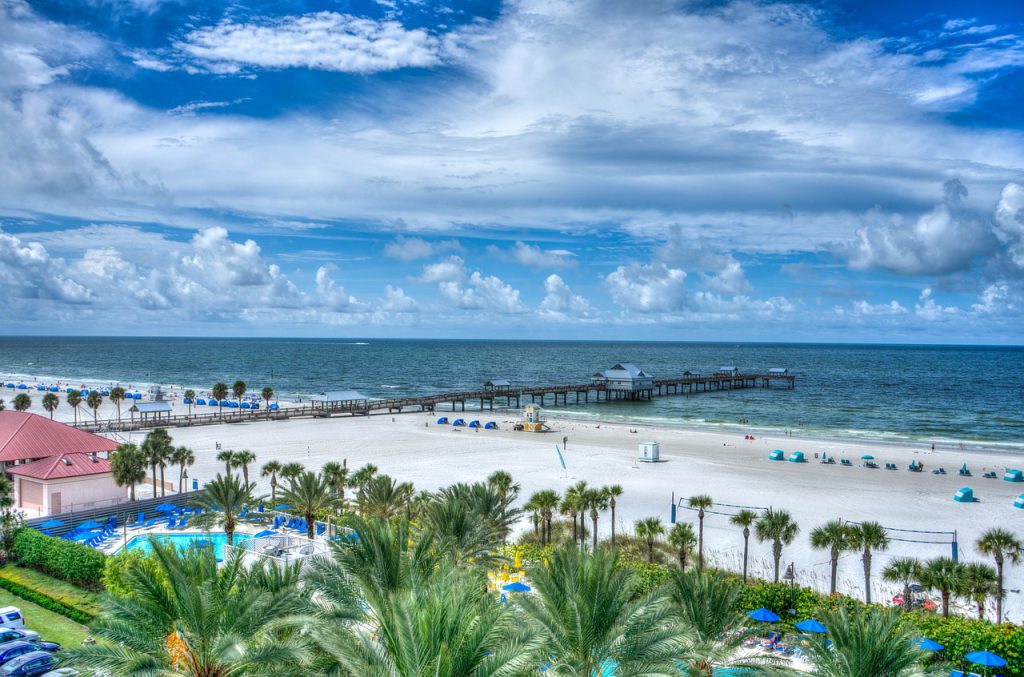 Having historically beaten out even Hawaiian beaches as visitor favorites in TripAdvisor rankings, Clearwater Beach has a certain special something it's hard to come by elsewhere in this admittedly-beach-filled state. Soft gulf shore sands and calm, tepid waters make it feel like you're walking into a giant, natural bath tub… and there's also the superfluity of deliciously fresh seafood to consider.
Clearwater is also close to the cities of Tampa and St. Petersburg, which are two of the most vibrant and diverse places to see what Florida life is all about. From wandering down the party-hearty streets of Ybor City to taking in the largest collection of Dali art in the world down in St. Pete, you've got plenty of options to keep you busy just in case you get rained out.
Click here to see RVshare rentals near Clearwater, Florida.
3. Indiana Dunes National Park, Indiana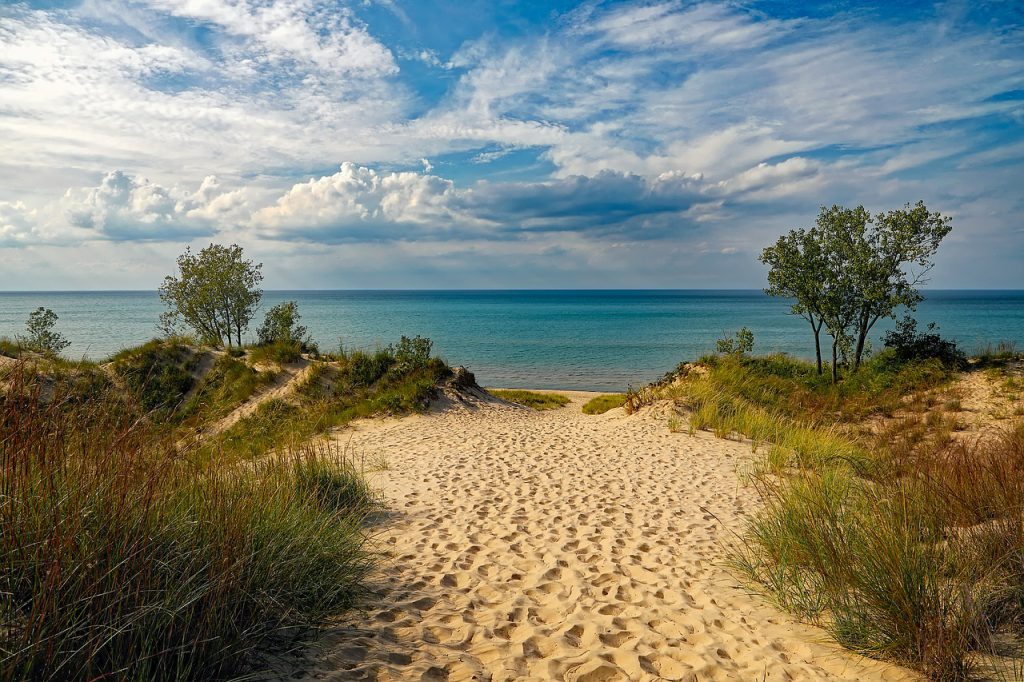 If you're a midwesterner who thinks you have to travel far away to enjoy a fall beach vacation, think again. What's more, you can double up by making it into a national park trip by visiting Indiana Sand Dunes, the newest national park in the register.
Tucked on the north border of the state along the shores of Lake Michigan, this sprawling beachfront is beautiful and surprisingly temperate even into October. Daytime highs hover in the 70s through September, though they do start dipping as the end of the year draws closer… but if you're in it more for the view than the swimming, it's definitely a hard view to beat.
Click here to see RVshare rentals near Indiana Dunes National Park in Indiana.
4. Montauk, New York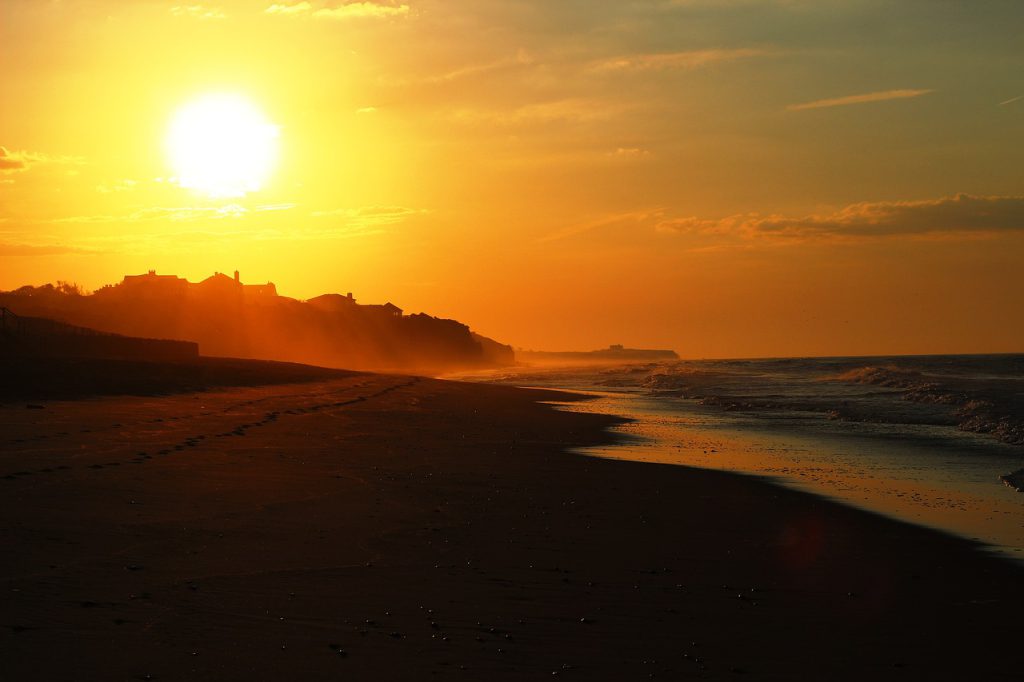 Lighthouses, sandscapes, and temperatures in the 60s all the way into October? You'd never guess you're just a few hours from the biggest metropolitan area in America.
For those in the tri-state area looking for a pre-holiday break, we highly recommend making a trip to Montauk for sun, sand, and seagulls. It's a party town over the summer, to be sure, but after Labor Day, things quiet down a touch, making it a much more attractive destination for most laid-back RVers.
Click here to see RVshare rentals near Montauk, New York.
Best Beaches to Visit in October
If the spookiest idea in the world to you is missing out on an opportunity for sunbathing, don't worry — we've got you covered. Here are some of the very best beach vacations to take in October.
5. Carmel, California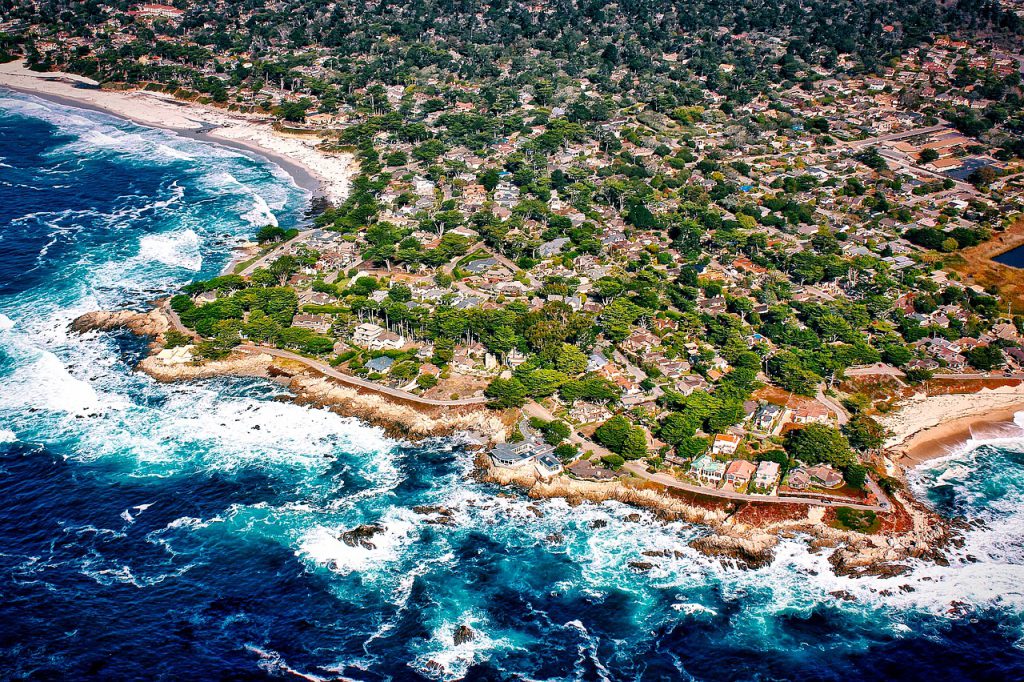 Clint Eastwood famously chose Carmel-by-the-Sea for his home instead of more popular celebrity options like Los Angeles — and after visiting the area, you'll understand why. Along with its quaint downtown area chock-a-block full of cute shopping and delicious dining, the city is also home to an array of lovely beaches, including a large dog-friendly one… and the temperature hovers just under 70 degrees in October.
Click here to see RVshare rentals near Carmel, California.
6. Gulf Shores, Alabama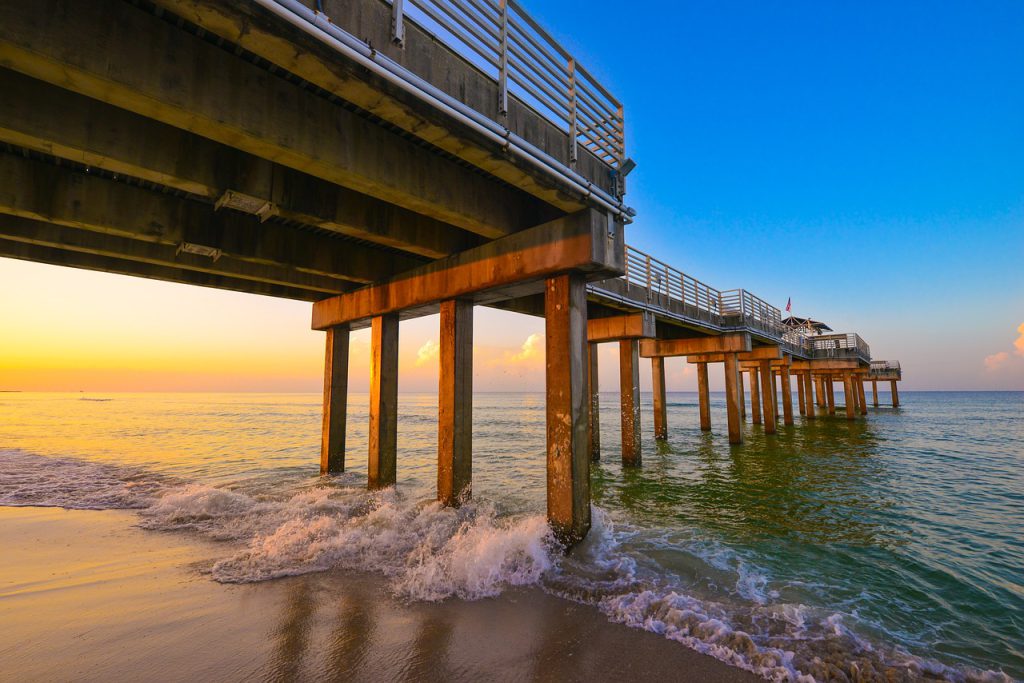 You'll be sure to understand the inspiration behind "Sweet Home, Alabama" when you head to this gulf coast beach town in late fall. The temperatures can still reach 80 degrees in the daytime, and you'll also get to take advantage of the Annual National Shrimp Festival if you time your visit right. (It takes place over the second weekend of October.)
Click here to see RVshare rentals near Gulf Shores, Alabama.
7. Jekyll Island, Georgia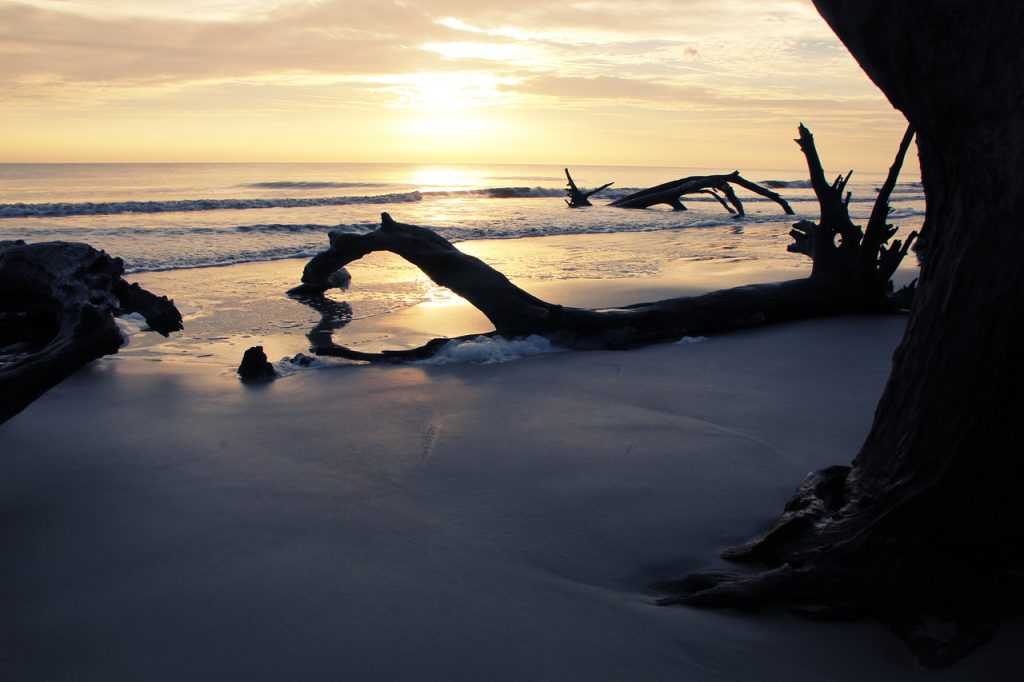 If you're planning on enjoying some sweet southern charm as part of your Halloween-time excursions — and considering the ghostly history of the area, why wouldn't you? — swinging by Jekyll Island might just be the cherry on top. Nestled between such major ghost-tour attractions as St. Augustine, Florida (the oldest city in the country) and spooky Savannah, Jekyll Island is both stunning and surprisingly convenient.
A bonus for those after the slightly macabre experience: the area's Driftwood Beach is also known as the "tree graveyard," thanks to its multiplicity of striking-looking branches. It's the perfect marriage of all the things we love about fall: slightly creepy, super beautiful, and perfect for exploring. Oh, and it can be as warm as 80 degrees even into November!
Click here to see RVshare rentals near Jekyll Island, Georgia.
8. Port Townsend, Washington
You might think anything this far north is definitely NOT on the table if you're looking for a temperate fall beach experience — and to be sure, you're looking at daytime highs closer to 58 degrees than 78.
But if you're alright with strolling along the coast with a jacket and are eager to explore the nearby Olympic Peninsula, which is chock-full of hiking, biking, and wildlife-spotting adventures, Port Townsend might just be the perfect place to do so. This quaint island town is just an hour outside of Seattle, and you'll even get to ride a ferry to get there if you're coming from the city side. Once you make it, enjoy not only the beach and nearby mountains, but also shopping, dining, and meandering around the harbor where you can see the results of the nearby boat building school.
Click here to see RVshare rentals near Port Townsend, Washington.
9. Maui, Hawaii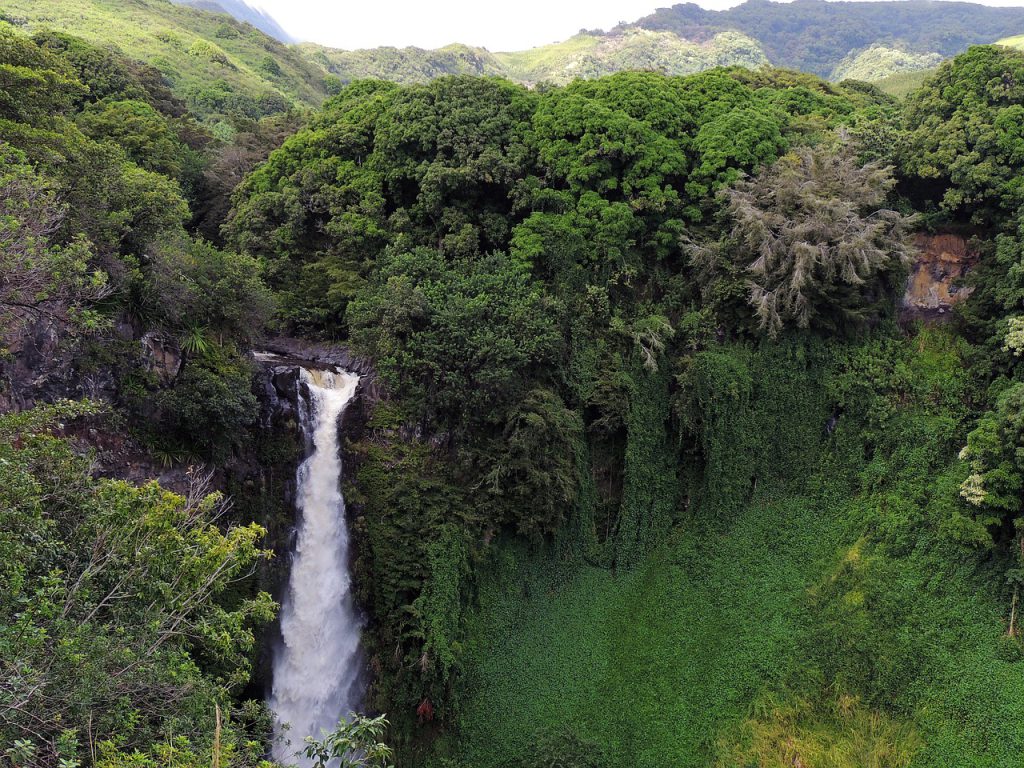 It's definitely out there, and you certainly won't be driving all the way from the mainland if you already have your own RV. (Or if you do have an RV that can handle open water, let us know — we want to get in on that patent!)
But if you fly out and rent on-site, October is a wonderful time of year to visit Hawaii: fewer tourists than the high summer months, temperatures still hovering between 70 and 80, and much less rain than you'd experience if you pushed your trip back to Christmastime. Plus, if you're into other natural landscapes as well as beachfront, there's plenty of diversity on the Hawaiian islands. From lush jungle to mysterious volcanoes to all the sights and sounds to discover at inclusive resort swimming pools, everyone on board is sure to get their fill of fall delight.
Click here to see RVshare rentals near Maui, Hawaii.
RVing for Fall Beach Travel
No matter which of these beaches caught your attention, or even if you have a trip planned somewhere else entirely, RVing is a wonderful way to couple the luxury and comfort of a place of your own with the freedom of going wherever the road may take you. And when you rent through RVshare, you'll get access to high-quality rigs at a fraction of the price you'd pay at a traditional dealership.
For more information on RVshare listings in your area, head over to our homepage and enter your criteria to scope 'em out. You could also fly to your destination and rent there — either way, we know you'll enjoy your extended summer!
This post may contain affiliate links.