National Parks
February 7th, 2021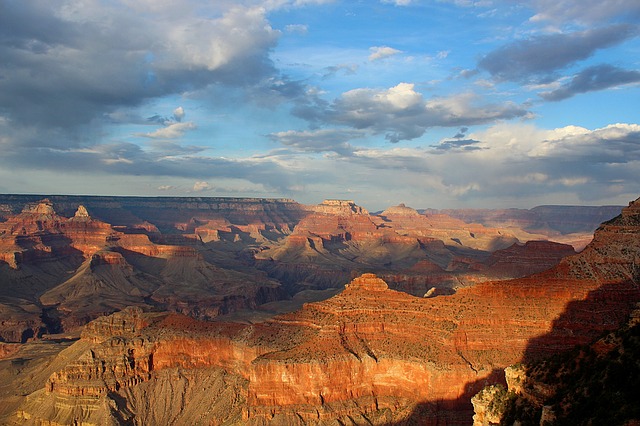 Spring break is the perfect time to hop in your RV and hit the road!
If you live in a colder area, you may be dreaming of escaping somewhere warmer for a week. If you live pretty much anywhere, you may be dreaming of adventure, exploring somewhere fun, or spending some quality time with your family while perhaps they learn something new.
National parks are the perfect place to do all of the above. In fact, the six most popular national parks for spring breakers are all in warmer areas of the country (no surprise there). They include some of the most iconic parks, so your kids can see the real thing after seeing pictures of these places for their entire lives. These parks include great hiking, biking, and even swimming or wading across streams and rivers while exploring. Check them out and see if you want to make one of them your next spring break destination!
The Most Popular National Parks for RVshare Spring Breakers
Spring at the Grand Canyon is a beautiful season! The weather can be a little chilly, especially after dark, with temperatures ranging from a high around 70 during the day (depending on how late in spring you visit) to the 40s at night. The park does get snow in winter, and you'll want to pack jackets, hats, and other clothing to keep warm just in case. However, the sun often warms things up during the day, and you should have pleasant weather for exploring.
The South Rim of the Grand Canyon is the most populated, and has the most options for activities for visitors. The North Rim is less crowded, but you may also find less to do. Although the rims are separated by only about 20 miles, it takes roughly five hours to drive from one rim to the other.
The Grand Canyon also has activities for all levels. The Rim Trail is relatively flat and allows you to walk as far as you wish along the top of the canyon, with various lookouts where you can take pictures and admire the view. You can venture down part, or all, of various trails that lead to the bottom of the canyon including the steeper Kaibob Trail, or the longer but somewhat milder Bright Angel Trail. If you plan to take either of those to the bottom of the canyon, make sure you have researched your trip and are well-prepared not only for the trek down but for getting back up as well! If you are going to hike to the bottom and back, many experts recommend you plan on backpacking and making that an overnight trip so you are well-rested.
Grand Canyon Village is the hub of the park, with places to eat, visitor centers, souvenir shops and bookstores, bicycle rentals, and more. Stop in at a visitor center to find out about ranger-led talks, hikes, and other activities planned by the park.
Zion is another southwestern national park with pleasant days to hike, bike, rock climb, or wade through the river at the bottom of the canyon. In fact, one of the most well-known hikes at Utah's first national park is a trek through The Narrows which involves a good amount of wading through the water. A spring visit can be more pleasant than heading to Zion in summer, when temps can climb above 100°F, but spring can also be wet and chilly so be sure to check the weather. Temperatures can also fluctuate, so you may need both a short-sleeved shirt and a heavy coat all in one day.
There are a variety of hikes in the park besides The Narrows, and the National Park Service hosts nature talks, guided hikes, and other opportunities to learn more about the park, the rock formations, and the history of the area. You can also check out nearby petroglyphs, or visit the Zion Human History Museum to learn about the people who have inhabited the park and surrounding areas over the centuries.
Big Bend National Park is another place you can safely assume you'll spend a warm spring break. The West Texas park has kayaking, hiking, mountain biking, and other ways to get outdoors and enjoy the glorious weather. Like Zion, the park can get hot in summer, so spring is a great time to visit although you'll want to plan for both warm and chilly weather – often all in the same day.
The park is near the Mexican border along the Rio Grande (a bend in the river gives the park its name). Along with the river where you can float, kayak, or enjoy other water sports, there are mountains, canyons, deserts, and even some hot springs.
Rangers lead many nature hikes, talks, and other educational opportunities, and Big Bend has the least amount of light pollution of any national park within the continental U.S. so be sure to rest up and spend some time stargazing at night.
Yellowstone was America's first national park and covers parts of Wyoming, Montana, and Idaho. The park is on top of a dormant volcano that makes it the home of more geysers and hot springs than anywhere else on earth. It's also situated next to the Rocky Mountains and that, combined with the variety of wildlife that lives at the park, make it a fascinating place to visit.
Yellowstone can't brag of the warmer weather that parks further south enjoy – it's over 6,000 feet above sea level which means spring is not the end of the snowy season there. You may also encounter rain and just plain cold weather. However, you could also enjoy sunny, warmer days so be sure to check forecasts and pack for just about every kind of weather.
There are plenty of opportunities to hike in the park, as well as to cross-country ski or snowshoe through the spring. Visitors can also go horseback riding, fishing, or enjoy a variety of other outdoor activities.
You'll find ten visitor centers throughout the park, so you'll have plenty of help as you plan your day. Rangers lead talks, hikes, and tours, and kids can participate in the Junior Ranger Program and earn a special patch.
Yellowstone is also near the popular town of Jackson Hole, WY, where you can eat, indulge in luxury shopping, or relax at a spa after the strenuous activities of the park.
Spring in the Smokies is a beautiful time of year! Wildflowers dot the mountains and wooded areas, and you may see shy spring wildlife – moms and babies – venturing out (be sure to keep your distance!). The mild spring weather is another bonus, and spring temperatures range from 42-80°F. Your location inside the park can also determine the temperature, with mountaintops being much colder than the area at the base.
The park encompasses parts of Tennessee and North Carolina and has entrances in both states. You'll find ranger-led programs, talks, and hikes to help you understand the ecosystem and history of the area.
You can also find plenty of outdoor activities to enjoy the spring weather, with hiking, biking, horseback riding, and fishing all as options.
This is another popular Utah national park, and you could in fact combine this with a stay at Zion if you wanted to hit several parks in one road trip. Like other southwestern parks, spring is a great time to visit Arches, before the sweltering summer heat sets in. The high desert climate means you can see temperature changes of up to 40 degrees in one day, but spring is one of the best seasons to visit, with daytime temperatures averaging between 60-80°F.
Visitors to the park can hike, go horseback riding, bike, or rock climb at various points throughout the park. If you are climbing or hiking, be sure to check with the visitor center to make sure your route is allowed – the delicate arches are protected so they can be preserved for future generations and there are rules about where visitors can walk. Rangers also lead talks, hikes, and other events to help you learn more.
Arches is also very close to the town of Moab, which makes a great base for exploring the park. Moab also offers nice options for eating and shopping for souvenirs and has many places to rent bicycles or other outdoor equipment, and book Jeep tours or climbing excursions.