Travel Inspiration
Last updated on January 9th, 2023. Originally published on July 15th, 2018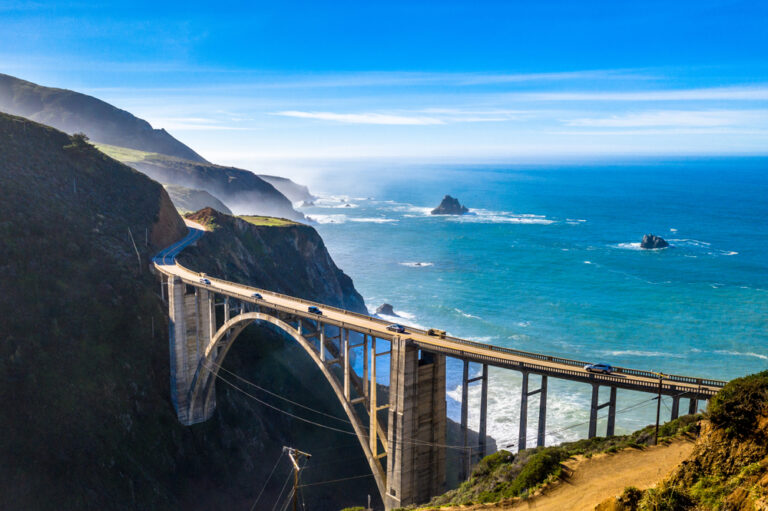 You know what they say: West coast, best coast! Or maybe you're a mid-Atlantic baby who hasn't heard that particular prideful slogan yet. Either way, if you're planning to take a West Coast road trip, there's no doubt you'll be nodding in agreement very soon. Or, perhaps, even tossing the phrase around yourself.
Of course, one of the reasons the West Coast is the best-known site of legendary American road trips is because it's vast and diverse. And while that means plenty of opportunities for adventure and new experiences, it can also take a lot of planning. Especially if your time and funds are limited. (Whose aren't?)
So we put together this post to help guide you through the amazing, endlessly novel journey of West Coast travel. We'll point out some can't-miss western destinations. We'll provide tips and tricks on how to get there as comfortably and affordably as possible. We will even suggest specific campgrounds to help you create an epic western itinerary as easily as possible. That way, you're free to focus on the important thing: enjoying and making memories of your once-in-a-lifetime West Coast trip!
West Coast Road Trip Ideas
Let's start with a general overview. What are some of the best tips for stress-free trip planning?
First, it's important to note that each traveler and trip planner will prefer a different level of rigidity in their schedule. For example, when I plan my road trips, I do make some reservations, particularly when I'm aiming at highly-trafficked areas like national parks. But I also like to leave a few nights empty here and there in case I decide I'd like to extend my stay. Or, make a stop at an intriguing spot I hadn't originally considered.
As in all things traveling, your mileage may vary — pun definitely intended. One of the best things about RVing is how easy it is to custom-craft a trip to your preferences. You can plan out every single night of your journey or just drive off into the horizon, making it up as you go along.
Do keep in mind, though, that many of the destinations we'll discuss in this post are very popular travel destinations. Particularly in the summer months when you're most likely to be able to visit. If you leave too much up to chance, you may find yourself passing a number of nights boondocking in a decidedly-un-scenic Walmart parking lot. (Not the worst thing in the world, of course, but just be forewarned!)
No matter where you fall on the plan-it-out scale, here are a few general guidelines that can help ensure your vacation is as easy — and epic — as possible. From itinerary to Instagram-worthy vista.
Start with a time frame.
Like we said, the American west is big. It's so big, in fact, that even some of the individual destinations take multiple days, or even weeks, to see in their entirety. Olympic National Park, for instance, encompasses nearly 1,500 square miles. It has dozens of hikeable trails to choose from. In other words, you're definitely not going to see the whole thing in a weekend!
But that doesn't mean West Coast weekend getaways aren't worth it. It just means you need to customize your trip based on how much time you have to spend. For example, if you've only got a weekend, stick to just one destination. Make a very short list of absolutely-must-dos before you arrive. That way, you won't exhaust yourself running around the whole time, trying to see everything.
If you have a longer amount of time, you can add in extra destinations and activities as time allows. Or you can double down on your experience of just one place. For example, a week-long West Coast road trip might give you enough time to get a basic feel for all of the Olympics' different environments. Or, you could enjoy shorter trips to a couple of relatively-nearby parks. For example, northern California's Redwoods and Oregon's Crater Lake.
Of course, the ideal scenario is to have multiple weeks, or even months, to really explore each stop along the trail of your western road trip. Many travelers complete the winding Pacific Coast Highway in just a few days, for instance, but you could easily spend much longer!
Get a travel guide for your West Coast road trip
Once you've established how long you can stay on the road, it's time to narrow down your specific destinations. We'll get to some of our best West Coast road trip ideas and destinations a little bit further in this post. But, with so much territory to cover, you might find you need even more guidance.
Investing in a West Coast road trip guide or a decent set of annotated maps, like the National Geographic Road Atlas, can help you learn more about your prospective destinations. You'll discover what kinds of activities and scenery are available at each. This can make picking a few specific sites out of the vastness of the wide-open west slightly more doable.
Depending on how in-depth you want to go, you can also purchase specific travel guides for the sites you do choose, such as books listing day hikes or city guides for urban adventures. Some common and well-trusted names in the travel guide industry include Fodor's, National Geographic, Lonely Planet, and Moon, among many, many others.
You might also consider purchasing a West Coast road trip planner or journal. You can record your thoughts and experiences at each destination. It makes for a great way to reflect on your adventure as it unfolds, as well as a lasting piece of affordable memorabilia.
Traveling in the summer on your West Coast road trip? What to know before you go.
There's a reason summer's the most popular travel time. The weather is wonderful, the kids are off school, and you don't have any major holidays to worry about (or spend money on) coming up any time soon.
However, those reasons hold true for just about everybody. This means those famous destinations on your list are bound to get pretty darn crowded.
There are exceptions to every rule, of course, but in general, it's a really good idea to make campground reservations ahead of time if you're traveling to uber-popular spots. Like any of the national parks or hot destination cities like Portland. Plus, arranging campground accommodations upfront can help you save money. Particularly if you're using a Passport America membership — which you definitely should be. For less than $50 per year, you get a full 50% off your campsite fees at almost 1900 participating campgrounds, and we're talking about sites with full hookups and lots of extra amenities. Considering some resort-style spots cost as much as $75 per night, you can see how quickly Passport America can pay for itself and start stacking up some serious savings!
If you've got flexibility in your work schedule — or better yet, a way to earn money remotely — you can hold off on the super-popular spots until fall or spring. You'll not only enjoy your scenic vistas blocked by fewer selfie-stick-toting tourists, but you'll also experience these famous sites in a season fewer people get to. Thanks to the magic of shoulder season savings, you may even keep some extra cash in your pocket!
Highway 1 Road Trip
Perhaps the most iconic West Coast drive is the famous Highway 1, or Pacific Coast Highway. This stretch of California roadway runs almost 700 miles. It starts in the south off I-5 at Dana Point and runs north until it intercepts 101 near Leggett.
The real draw of this one-of-a-kind road, however, is all about what you find along the way. From the quirky college town of San Luis Obispo to the inspiring cliffs of Big Sur, meandering your way along the PCH is pretty much the ultimate West Coast road trip.
The drive along the coast is stunning in and of itself; with redwoods on one side and striking, boulder-strewn beaches on the other, there's no shortage of things to look at on this Pacific coast drive. But if you make the highway road trip in an RV, you'll also have an opportunity to stop and explore all the must-sees and small towns along the way, taking this lengthy itinerary at your leisure.
Of course, there's plenty of incredible camping off the California coast, and further inland as well. And just because the highway's northern terminus doesn't reach Oregon doesn't mean the state's northern neighbors are worth skipping.
Below, we'll start with Washington and take you south from the evergreen forests of the pacific northwest to the arid deserts of California's interior. It's going to be a heck of a ride — are you ready?
Places to Visit on a West Coast Road Trip
Though this list is by no means comprehensive, here are some places along the western U.S. coast that will prove to you that the Pacific is home to a powerful kind of magic.
Olympic National Park, Washington State
From glacier-capped mountains to old-growth, temperate rain forests, Olympic National Park has it all (and way more). It's no surprise it's a Washington State Road Trip must-do. Where else can you find yourself mountaineering by morning only to enjoy an unparalleled West Coast sunset by dinner time?
Plus, this national park is nestled between some of the most worthwhile urban stops in the world: Seattle and Vancouver. Be sure to bring your passport along so you can experience both while you're in the area.
Camping information: Olympic National Park boasts a plethora of campgrounds, but not all of them are open to or recommended for RVers. Also worth noting: Only Kalaloch and Sol Duc are available for summer reservations, which are a really good idea in this northwestern slice of paradise. Click here for the full details and to decide which campsite is right for you, as well as to see up-to-date rate information.
Click here to see RVshare rentals near Olympic National Park in Washington State.
Crater Lake National Park, Oregon
The first time I went to Crater Lake, I watched quietly as the woman beside me wept. "I didn't know that color of blue existed," she said, to no one in particular.
While I wasn't quite moved to tears myself, I had to agree that the shade of the water pooled in this ancient, defunct volcano is absolutely preternatural. No surprise, then, that the first words on the official NPS website are "Crater Lake inspires awe."
Camping information: Crater Lake has two developed campgrounds, but only Mazama can accommodate motorhomes and travel trailers. There's a 50-foot length limit for motorhomes and a 35-foot length limit for travel trailers. Sites are $32 per night and don't feature hookups, but there are potable water and flush toilets on-site, as well as shower facilities and a campground store. Reservations may be limited and the campground is first-come, first-served in June, so be sure to arrive early!
Click here to see RVshare rentals near Crater Lake National Park in Oregon.
Nehalem Bay State Park, Oregon
Think all the best beach camping is in southern California?
Move aside, Malibu — because the Oregon coast can give you a run for your money. Nehalem Bay State Park boasts four miles of pristine, white rolling sand dunes; a short walk over those lovely hills and you'll find yourself agate-hunting at the beach. If you need a break from the sun, enjoy the two miles of shadowy, forested bike path, where you might spot elk, deer, coyotes, and dozens of types of birds.
Camping information: Nehalem Bay offers 265 electrical sites with water, as well as flush toilets, a dumping station, and a meeting hall. Day-use permits start at $5; campsites start at $31.
Click here to see RVshare rentals near Nehalem Bay State Park in Oregon.
Best Vacation Spots for a West Coast Road Trip
It's hard to conceive of such thing as a "best USA West Coast road trip" — after all, with so much beauty to be seen all along the way, you pretty much can't go wrong.
But there are certain spots you might want to give a second thought to as you're planning your itinerary. Here are a few you might not have already considered.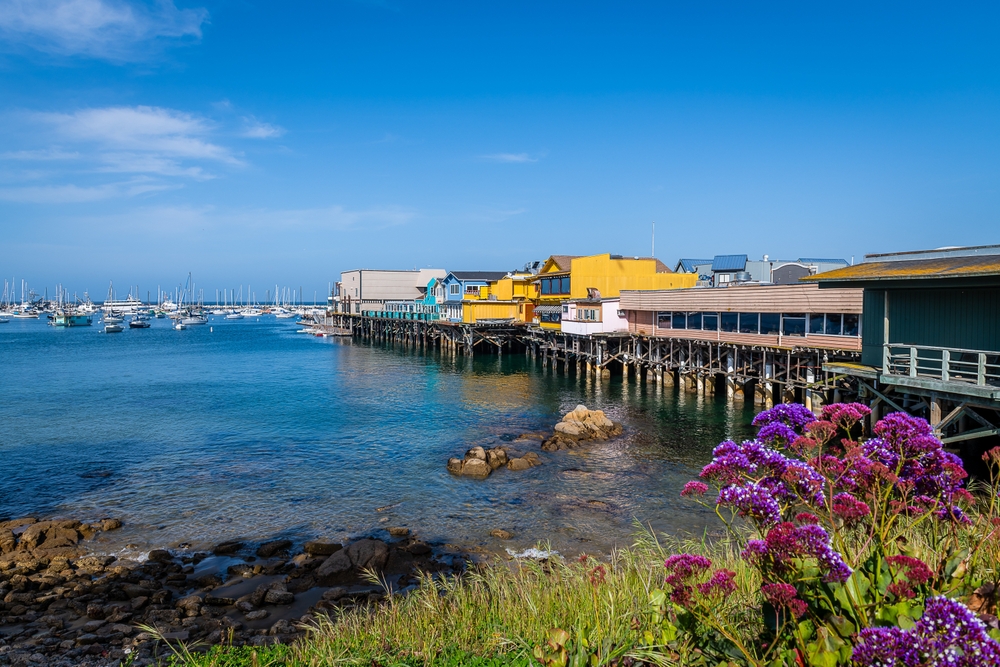 Monterey Bay, California
If you're a snorkeler or SCUBA diver, you can't miss this central coast gem. It's smack-dab in the middle of a National Marine Sanctuary stretching from Marin County to Cambria, encompassing a shoreline of almost 300 miles and over 6,000 square miles of ocean.
More of a landlubber? No problem: You can experience this area's unique wildlife at the Monterey Bay Aquarium, one of the most famous ocean conservatories in the country. Not to mention all the boutiques, restaurants, wine-tasting rooms and general frivolity to be had in the surrounding communities of Carmel-by-the-Sea, Santa Cruz, and Monterey proper.
Camping information: Although the nearest RV-friendly state park is a bit far afield to enjoy all that this bay area has to offer, there are several privately-owned developed campgrounds to choose from, including a KOA and a resort-only steps away from the oceanfront.
Click here to see RVshare rentals in the Monterey Bay Area of California.
San Luis Obispo, California
Not every city can lay claim to attractions as kooky and singular as SLO's Bubblegum Alley. And don't worry — if the thought of strolling through a walkway lined with others' chewed-up gum grosses you out, the town has plenty of other diversions on offer.
Whether you're an art-gallery wanderer, fine-wine-taster, craft-beer drinker, or just looking for the classic California beach bunny experience, San Luis Obispo's got it. It's the perfect spot before or after your Big Sur journey, situated just on the southern end of the epic drive.
Camping information: Port San Luis offers five areas for recreational vehicles, including Woodyard turnout, Nobi Point turnout, and — undeniably our favorite — Babe Lane, which is also the only site with hookups. Reservations aren't accepted, and per-night prices are on the pricey side, but it's hard to beat the coastal location!
Click here to see RVshare rentals near San Luis Obispo, California.
San Elijo State Beach, California
Just a few miles north of San Diego along some of the most stunning coastline in the U.S., you'll find this surfer's paradise — which is also home to some incredible beachside camping. With a camp store offering firewood, snacks, and even boogie boards for sale, you'll have everything you need for a relaxing (and tubular) vacation within easy reach.
Since it's nestled in between two of the most populous cities in America, it does fill up fast, so it's worth making your reservation well in advance. Fortunately, it's super easy to do so using California's intuitive online reservation system.
Camping information: Maximum camper size 35 feet, with fees starting around $35 depending on campsite type and amenities.
Click here to see RVshare rentals in the San Diego, California area.
Eureka, California
Just about an hour north of where you'll run out of PCH in Leggett — which is where you'll find one of those redwoods large enough to drive a regular-sized vehicle through — you'll come upon this small, foggy town, the seat of scenic Humboldt county.
But just because it's small doesn't mean it's skippable. Even if you're a born and raised San Franciscan, Eureka will show you a whole new side of northern California, and it's one you don't want to miss. Wander through the elegant Victorian homes in the city's Old Town district, capped with a visit to the famous Carson Mansion. If the thought of an architectural tour has your kids yawning, don't worry; head for Sequoia Park Zoo for wild fun the whole family will enjoy.
At the very least, don't deprive yourself of a simple walk down the coast itself, which is almost too stunning for words — and totally free to enjoy.
Camping information: Eureka is something of a gateway town to the nearby Redwoods National and State Parks, which we'll get to in a moment. But if you're looking for a spot slightly closer to town, there are plenty of privately-owned, developed campgrounds to choose from. Redwood Coast Cabins and RV Park comes highly rated and offers a variety of discounts for camping club members and those staying an appreciable amount of time. As if you needed any incentive to extend your stay!
Click here to see RVshare rentals near Eureka, California.
California Road Trip
While they're not exactly beach-coastal, these destinations are classic Cali — and totally worth a short detour away from the crashing waves.
Redwoods National and State Parks, California
Want to shirk adulthood for a second?
When you wander through northern California's majestic redwoods, you'll feel like a fairy-sized person wandering through an enchanted forest. The sun pierces the greenery high above, dappling the trail with golden light. And depending on where you are, you can still hear the Pacific crashing away at the shore just a few miles west.
Camping information: The Redwoods Parks offer four developed campgrounds: Jedediah Smith, Mill Creek, Elk Prairie, and Gold Bluffs Beach. All of them can accommodate RVs, though maximum lengths and other amenities differ; nightly fees are $35. Click here to download the Redwoods National Park campground directory to decide which is right for your trip.
Click here to see RVshare rentals near Eureka, California.
Joshua Tree National Park, California
The lush reaches of the pacific northwest are nice, don't get us wrong. But sometimes, you just need the stark, challenging beauty of the desert.
If you're feeling the high, dry vibe, it's hard to beat Joshua Tree National Park, which sits on not one but two sweeping American deserts, the Mojave and Colorado. These two distinct ecosystems come together to create the completely unique, surreal landscape of Joshua Tree.
Camping information: Joshua Tree has nine developed campgrounds to choose from, though not all of them have electrical hookups or even water. Fees start at $15 but can go up to $20 depending on which location you choose.
Click here to see RVshare rentals near Joshua Tree National Park in California.
Yosemite National Park
You don't have to be a world-champion climber like Tommy Caldwell or Alex Honnold to stand in total awe of the rock faces that rise up like giants from the Yosemite Valley. With nearly 1,200 miles of high Sierra wilderness to discover, there's plenty to see and do for campers of all fitness and experience levels.
In fact, aside from its towering mountains and sequoia trees, Yosemite National Park is perhaps best known for its waterfalls; counting the "ephemeral" falls that appear only seasonally, it has more than 20! You can also encounter a huge range of wildlife, from the area's iconic bighorn sheep to bobcats, deer, and coyotes. (The park is home to black bears, too, so be sure to play it safe when it comes to food and waste storage, and consider carrying bear spray, especially if you like to hike alone!)
Camping information: Yosemite has not one or two but ten campgrounds that can accommodate RVs, though none of them offer electrical or water hookups. Maximum motorhome and travel trailer lengths vary by location, and reservations are highly recommended. Click here for the full details and to reserve your campsite online.
Click here to see RVshare rentals near Yosemite National Park in California.
West Coast RV: The Best Way to Cruise on a West Coast Road Trip
There's no doubt we're biased — this is the RVshare blog, after all — but when it comes to seeing the West Coast as conveniently and comfortably as possible, it's pretty darn hard to beat an RV. Yes, campgrounds might fill up and it's a good idea to make reservations ahead of time… but it's a whole lot better than worrying about booking a dozen hotel rooms along the way, not to mention unpacking and repacking your suitcase every time.
When you travel by RV, you never really have to worry about where you'll lay your head each night. After all, even if it's just a roadside turnout or a Walmart parking lot, you know exactly where your bed is! You can also save money and keep your commitment to fitness while you're on the road by cooking your own meals in your mobile kitchen. Also, did we mention you have your own private bathroom? For those of us road-trippers who are used to the gas station experience, that fact alone is totally worth the upgrade!
America's scenic West Coast is best seen at a leisurely pace and with lots of opportunities to stop and explore each intriguing-looking bend in the coastline. RV travel makes it easy to enjoy the scenery at your own pace, with ample room to stretch your legs and bring all the gear you need for the journey.
So. Ready to get on Pacific Coast time? Click here to browse RVshare rentals in your area. That epic coastline and all the gems along the way are waiting for you — so what are you waiting for?