Uncategorized
September 21st, 2020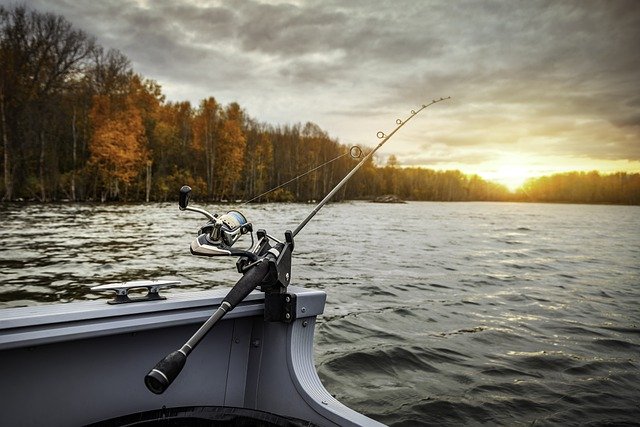 Staying in an RV is one of the best ways to travel on a fishing trip! You have plenty of room, and space outside to clean gear or store things, unlike a hotel room. But unlike camping, you have a comfortable bed and possibly even a shower to return to after a day on the lake or at sea. An RV allows you plenty of room to bring all your favorite fishing gear along, and you have a convenient spot to grill or cook up your catch and serve it up when you return to camp. You're also assured of a good night's sleep both the night before you head out, and the night after you fish when you may be exhausted from your efforts.
Planning the Ultimate RV Fishing Trip
Whether you're taking your family so the kids can catch their first fish, or heading out on a weekend fishing trip with friends, an RV fishing vacation is a fun adventure.
Campgrounds with fishing near me
There are plenty of RV campgrounds that are near good fishing spots. You'll want to decide what type of fishing you want to do first – will you head to a lake, or a stream, or to the ocean for deep-sea fishing? You'll also want to make sure you check the fish & game website for the state in which you're fishing so you can obtain any necessary permits and so you know the regulations about what you can keep.
Here are some great fishing trips to consider:
1.) Cape Cod, Massachusetts
Cape Cod is a great place if you're interested in saltwater fishing. There are plenty of charter boats that operate on the Cape, so you can schedule a trip with an experienced guide who can get you to some great places for fish. You could catch striped bass, bluefish, flounder, mackerel, and maybe even bluefin tuna.
Cape Cod also has charming villages and numerous lighthouses so if there are people in your party who aren't fishing, there is still plenty for them to do all day.
2.) Colorado
Colorado has over 6,000 miles of rivers and streams, many in the breathtaking Rocky Mountains. Glenwood Springs is known for its fly fishing on the Roaring Fork and Colorado rivers. Durango, in the southern part of the state, has fly fishing on several rivers, as well as fishing on Vallecito Lake. There are numerous other spots in the state, including several near Denver and other urban areas.
3.) Minnesota
It's no surprise the "Land of 10,000 Lakes" has excellent fishing. You can fish in Lake Superior, or one of the smaller, numerous lakes dotted across the state. You may catch crappie, catfish, sunfish, perch, bass, or other varieties. You can also find trout in several of the rivers and other areas. Minnesota is also a great place for ice fishing if you like to brave the winter elements.
4.) The Gulf of Mexico
The Gulf of Mexico is another great option for saltwater fishing, and you can catch king mackerel, groupers, mahi-mahi, tuna, and maybe even sharks.
5.) California
California's varying terrain offers a lot of different fishing options. Charter a boat and go saltwater fishing off the coast. Go fly fishing in the area around the redwood forests in northern California, or in the streams near Mammoth Lakes. Or fish in the Mammoth Lakes themselves or in one of the other lakes throughout the Sierra Nevadas.
6.) Lake Michigan
Lake Michigan has great fishing and plenty of campgrounds for RV campers to set up. The regulations you follow for fishing will depend on which state bordering the lake that you're in when you fish, so make sure you know the rules for that state. You can catch Chinook, Coho, and pink salmon, small and largemouth bass, a variety of trout, yellow perch, and more.
RV fishing
Before you go:
Before you head out on your RV fishing trip, you'll want to look over your rig, make sure you have everything you need, and make sure everything's in working order. Check to make sure your fridge and freezer are working, and that you have plenty of space for your anticipated catch. If you plan not to eat your fish the night you catch it, you'll want to freeze your fish, so make sure you have the proper containers to do that. Also, if you plan to catch more fish than your fridge or freezer will hold, consider whether you need an external freezer or cooler as well.
Make sure your freshwater tank is full and your black water tank is empty. Fill any propane tanks. Check your towing hitch if you're planning to bring a boat and do a full check of your towing system.
Gear to pack:
Fishing gear: Of course, you'll want your fishing gear. Make sure you have the right gear for your planned trip – a trip to a calm lake is obviously going to require different reels and other gear than deep-sea fishing, or fly fishing. Make sure you have your bait, or plans to get it before you fish. If you're going with kids, having a pole just their size can mean the difference between a fun few hours (even if they don't catch anything!) and a frustrating experience trying to manage a pole that's too much for them to handle.
Cooler: You'll want somewhere to store your fish between the time you catch him and the time you eat him. A cooler for your catch, and a separate one for drinks or snacks and lunches you want to keep cold will be a huge help.
Outdoor grill: If you're planning to grill your catch at the end of the day, you'll need something to grill it on! Your RV may come with a grill, or you may want to bring your own, but either way nothing tastes better than fish that was just on the grill…and before that was just in the water. You may want some other grilling equipment also, including a spatula, tongs, and a fish basket
Awning accessories: If you're going to be spending time outside grilling and enjoying the weather, you'll want an awning. You may also want some accessories like chairs, lights, and maybe a small table for snacks or drinks.
Portable chairs: You can use the chairs you plan to put under your awning to save space in your RV, or you can pack separate chairs for your fishing trip. Either way, you'll likely want a comfy place to sit while you're out during the day.
Fishing vacations
You have a variety of choices for planning fishing vacations, and the beauty of traveling in your RV is that your possibilities are endless! You'll have everything you need right with you. You can find more suggestions for great fishing vacation spots here and here.