Travel Inspiration
Last updated on January 8th, 2023. Originally published on June 29th, 2018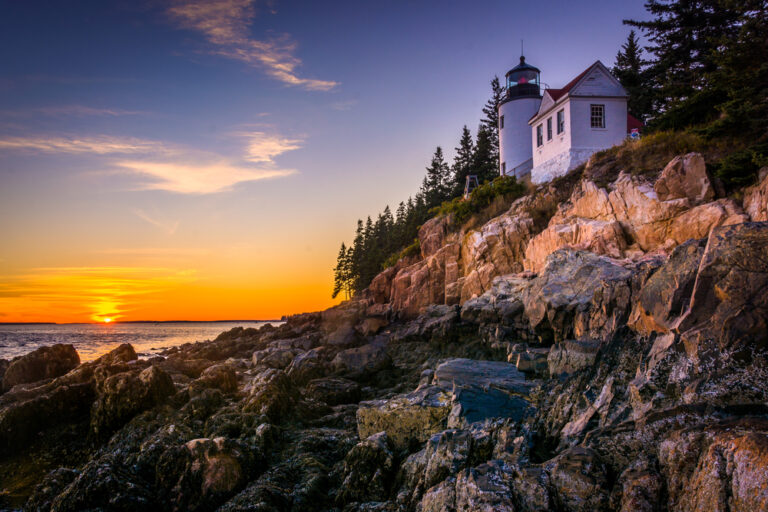 When someone says "great American road trip," your thoughts might instantly jump to the west coast's attractions. And don't get us wrong, Yosemite, Yellowstone, and the Grand Canyon have their charms. Lots of them.
But if you haven't considered the possibility of an equally-epic East Coast road trip, we're here to set you straight.
East Coast vacations may not be able to offer 14,000-foot mountain peaks, but they've got just about everything else — and a whole lot the west can't bring to the table, to boot. For instance, if you're interested in exploring our nation's most historically salient sites, you'll mostly be wandering east of the Mississippi. (Now, Native American history might be a different story.)
The East Coast also offers world-class beaches, some of America's most remarkable and famous cities (sorry, LA, but New York is just something else), and yes, it's got mountains too. In fact, the reason they're so much shorter is that they're that much older. Take that, Colorado!
So if you're figuring out where to head on your next USA road trip, we're here to tell you that the east is a beast — of the very best kind. Here's our guide to everything you need to know to plan amazing East Coast vacations. (Yes, plural. Because you're definitely going to want to do it more than once.)
Make an East Coast RV Road Trip Your Next Adventure
Still not convinced that the East Coast can compete with the west's many attractions?
As RVers, we want to see everything, so we're definitely not knocking the big square states. It's all out there to be explored!
But the East Coast does have a few benefits that make it an attractive vacation area for many.
For one thing, most people in America live on the East Coast, which means these destinations are much more achievable, even if you only have time for a few quick weekend getaways. Our country is big and beautiful… but driving from, say, Richmond out to the Rockies will take you a full day of driving. As in, twenty-four hours.
And as we mentioned above, if you're interested in American history, the East Coast will send the west on a run for its money. Although you'll have to venture toward the Pacific to learn more about the gold rush and dust bowl, the east is where you'll find all of the Revolutionary War and Civil War battle sites.
There's also, of course, absolutely amazing seafood, from Maryland crab cakes to Maine lobster. But if you're not quite ready to (metaphorically) bite, don't worry. We've got some specific destinations for your consideration that we know will change your mind.
Best Vacation Spots on the East Coast
So, ready to start drooling at the thought of an East Coast excursion?
Here are some of our favorite destinations this side of the Mississippi — just a brief taste of what the east has to offer.
Great Smoky Mountains National Park, Tennessee and North Carolina
It's easy to make the mistake of thinking all the best national parks are out west. But the most-visited one is actually here on the East Coast — and better yet, it's actually free to enter. Let's see Yellowstone do that.
Whether you hike or bike through the park's endless miles of verdant trails or enjoy some fun nights on the town in the gateway city of Gatlinburg, the Great Smoky Mountains are not to be missed. And luckily, since the park covers over 800 square miles, it's within easy reach of a slew of different East Coast origins.
Click here to see RVshare rentals near the Great Smoky Mountains National Park in North Carolina and Tennessee.
Charleston, South Carolina
World-class fine dining, nigh-unparalleled historical significance, and proximity to all kinds of outdoorsy fun: Charleston, South Carolina really does offer something for everyone. You've gotta visit Fort Sumter, of course; it's the site where the very first Civil War battle took place. But don't worry, the pastel homes in the Battery will brighten your day right back up, not to mention a delicious trip to the historic City Market.
Once you're done exploring town, head to one of the marshy coasts or nearby Francis Marion National Forest for some nature-filled R&R. If you're observant, you might even befriend an egret or two.
Click here to see RVshare rentals near Charleston, South Carolina.
Saint Augustine, Florida
So you know how we called Charleston's historical significance nigh-unparalleled?
That's because this town is actually older. In fact, it's also older than Plymouth Rock — or Jamestown, for that matter.
Originally settled in 1565, Saint Augustine is the oldest continually-run European settlement in America. So why don't you remember it from your high school history books? Because those settlers weren't English, but Spanish.
Today, it's a bustling college town filled with world-class eats, craft cocktails, and enough historical tourism to make even an avid hobbyist's head spin. Oh yeah, and there are lots of ghost tours, too.
Click here to see RVshare rentals near Saint Augustine, Florida.
Savannah, Georgia
Another can't-miss spot for any southern charm seeker, Savannah is nothing if not a crowd-pleaser. I mean, how can you not love a city that lets you drink to-go cocktails on the street?
Even teetotalers will appreciate the undeniable beauty of the Spanish-moss-strewn trees around its famous squares. And the hour's ride out to Tybee Island? Totally worth it. Don't skip the museum across the street!
Click here to see RVshare rentals near Savannah, Georgia.
Williamsburg, Virginia
When it comes to East Coast family vacations, Williamsburg is hard to beat. After all, if grown men in tights and wigs won't get your kids at least a little interested in history, we're not sure what to tell you.
If your family tires of the daily reenactments and demonstrations at the Colonial Williamsburg, there are a few other, arguably more exhilarating, parks to choose from — like Busch Gardens and Water Country USA. And let's not forget why the settlers chose the site in the first place: surrounded by water sources, the landscape is lush, green, and perfect kicking back and relaxing in.
Click here to see RVshare rentals near Williamsburg, Virginia.
Boston, Massachusetts
Thinking of shipping up to Boston? We highly recommend you do. From retracing the steps of the American Revolution along the Freedom Trail to browsing the delicious wares at Faneuil Hall, this city brings everything to the table for campers looking for an urban excursion.
Once you're ready to retreat back into the open arms of mother nature, you're in luck: the windswept coasts of Cape Cod are just an hour and a half away, not to mention all the wilderness in western Massachusetts.
Click here to see RVshare rentals near Boston, Massachusetts.
Asheville, North Carolina
If you could only choose one destination to visit on your East Coast road trip, we'd recommend you make it Asheville.
A bold statement, I know. But here's why Asheville is one of the very best places to visit on the East Coast.
Although it's a relatively small town, with less than 100,000 people (for now), it boasts some of the finest dining and cultural opportunities in the country, thanks in part to its status as a college town. Everywhere you turn, you find artists of all stripes — especially in the grittily enchanting warehouse district down by the river.
If you like to party, you're in luck, too: Asheville boasts one of the highest numbers of breweries per capita in the country. And we're not talking PBR and Miller; these establishments are serving fine craft brews at affordable prices.
Finally — as if that all weren't enough — Asheville is smack-dab in the middle of the Appalachian Mountains, less than an hour's drive from hiking, biking, whitewater kayaking, waterfall-chasing, and climbing galore. Heck, the Blue Ridge Parkway literally runs through the city. I mean, come on, right?
Click here to see RVshare rentals near Asheville, North Carolina.
Acadia National Park, Maine
So here's the thing. The East Coast might have fewer national parks than they do out west… but the ones it does have just as breathtaking, not to mention easier for most of the population to get to!
Acadia National Park combines stately granite peaks with sweeping views of the magnificent, churning Atlantic Ocean. Hike along its more than 150 miles of trails or take a horse-drawn tour along its 45 miles of carriage roads, complete with 16 iconic stone bridges. When you're ready for some slightly more urban exploration, head out of the park gates to nearby Bar Harbor, replete with fine restaurants, adorable boutiques, and even more stunning seascapes.
Click here to see RVshare rentals in the state of Maine.
Disney World, Orlando, Florida
If you've got kids along for the ride, this one's a no-brainer — but as a Florida native, let me tell you, Disney World is a lot of fun for adults, too.
Maybe you're ready for thrills and spills on the park's many roller coasters and water slides. Or perhaps you're after a more indulgent experience. (Hint: "eating around the world" at Epcot is basically the local state sport, especially during the annual Food and Wine Festival.)
No matter what your angle, you might be surprised at how much you'll feel like a kid again in the living world of Disney's imagination.
Plus, there's actually an amazing RV resort right on Disney property, complete with full hookup sites and tons of fun things to do and eat without even leaving the campground. If you're going, though, we suggest you book early; Fort Wilderness, as it's called, can fill up fast!
Click here to see RVshare rentals in Orlando, Florida.
Assateague Island National Seashore, Maryland and Virginia
Not all East Coast vacations are about blindingly-bright sunshine and getting sand and sunscreen all over everything you own.
If you're looking for a coastal destination with a little bit of novelty, check out Assateague Island National Seashore, which spans the barrier islands straddling the Virginia-Maryland state line. You'll get sun and sand, alright, but you'll also get a side serving of wild ponies. Who can argue with that deal?
Click here to see RVshare rentals along Maryland's eastern shore.
Hidden Gems Worth Seeing on Your East Coast Road Trip
While these areas might not make for full-on destinations in and of themselves, they're definitely worth stopping by during your East Coast drive.
The Georgia Guidestones, Georgia
Located along the northern Georgia-South Carolina border, this one will take you a little bit off the beaten path — but it's weird enough to be worth it. Erected in 1980 and sometimes known as "American Stonehenge," the Georgia Guidestones have a mysterious and intriguing history and mission… but you'll have to make the trek to learn more. (Or, I mean, I guess you could Google it. But what fun would that be?)
Ruby Falls and Rock City, Georgia and Tennessee
Chattanooga and nearby Lookout Mountain are already worth destinations in their own right. But even if you're not planning on spending very long straddling the Georgia-Tennessee border, you've definitely got to heed the advice of all those barn rooftops imploring you to "SEE ROCK CITY." The view from the top alone is worth the price of entry; on a clear day, you can see seven states from one vantage point.
The underground Ruby Falls are operated by the same company, so save some cash by purchasing a combo ticket. And while you're at it, swing into town for a look at the historic Chattanooga Choo Choo — yes, that one!
Mammoth Cave, Kentucky
Move over, Carlsbad Caverns. The East Coast's best-known cave system is actually much longer — in fact, it's the longest one in the world with over 400 miles of excavated tunnels, and scientists say they still haven't unearthed it all. Crazy, right?
If you want to go down into Mammoth Cave, however, be aware that you'll need to take a tour, which your National Parks Annual Pass doesn't cover. Further, the tours can get sold out during the high summer travel season, so it's best to book online ahead of time to ensure you don't drive all the way there just to wind up disappointed.
And if you're at all claustrophobic or scared of the dark… maybe think twice about going. Or at least bring someone who won't mind holding your hand.
Ben & Jerry's Flavor Graveyard, Vermont
You're not a serious ice cream aficionado until you've visited this, what is simultaneously the saddest and silliest East Coast roadside attraction. Located behind the Ben & Jerry's factory in Waterbury, Vermont, the Flavor Graveyard pays its respects to the "dearly de-pinted" — i.e., the company's retired flavors.
But don't worry, there are still plenty of flavors alive, well, and ready to be tasted during your visit.
Russell Cave National Monument, Alabama
Take a moment to imagine what life was like for people living over 10,000 years ago.
Actually, first, take a moment to really try to imagine what 10,000 years even means.
A surprisingly smallish cavern, Russell Cave National Monument is located in the northeastern corner of Alabama, and is one of the oldest known sites where human beings took shelter. Archeologists have discovered reliable prehistoric records as early as 10,000 B.C., and today it's an incredibly scenic monument with a lovely short hiking opportunity.
While you're in the area, you can also pay your respects by traveling a few miles down the Trail of Tears, which follows I-24 for some distance. There are also several nearby forts and battle sites to explore.
The Donut Trail, Ohio
You know about Kentucky's famous Bourbon Trail and to sample each southeastern state's unique twist on barbecue.
But if you've got a sweet tooth, your next foodie traveling adventure is waiting in an unlikely place: Butler County, Ohio.
Just 20 minutes from Cincinnati or 30 from Dayton, you'll find yourself on the Ohio Donut Trail — and yes, possibly in a sugar coma shortly thereafter. There are a dozen (of course) participating bakeries, and you can track your progress, if you'd call it that, with an official Donut Trail passport. Once you're done, mail it in for a free T-shirt… though you may need to order a size up, at that point.
Mount Mitchell, North Carolina
If you're looking for bragging rights, hike this peak — at 6,684 feet, it's the tallest east of the Mississippi. Depending on your fitness level, it can be done in about three to six hours, but it's definitely a pretty epic day hike.
(Or, you could always just drive to the top like sane people.)
East Coast RVing: See it The Easy Way
Alright, this might be predictable… but in our opinion, an RV is the very best way to enjoy an East Coast journey. Even though towns, and therefore hotels, are closer together here, it's a whole lot simpler to just travel in your very own getaway bungalow. (Plus, you know exactly when the sheets were last changed!)
The East Coast boasts a huge variety of RV parks, from resort-style campgrounds with fun amenities and activities (like the Jellystone Parks family, one of our very favorites), to backwoods boondocking sites where you can camp for just a few dollars and enjoy the wild side of our eastern country.
We'll get into planning specifics in a second. But one thing you should know before you set out: a Passport America membership can save you a huge chunk of change on your RV trip, especially if you want to camp with full hookup sites most of the time.
Here's how it works: You buy a year-long Passport America membership for under $50, and you get instant access to 50% off campsites at almost 1900 campgrounds across the country, including a ton here on the East Coast. Considering that high-end, pull-thru sites with hookups and fire pits — i.e, the ones you want to stay in — can often cost more than $50 per night, it's easy to see how quickly the savings add up!
There are a ton of different camping discount memberships out there, but Passport America is one of our very favorites for its simplicity and ease of use. Click here to learn more and buy your own membership today!
How to Plan Your Road Trip, No Matter Where You Go
Even with all the amazing East Coast vacation spots and to-sees we've mentioned above, we've barely even scratched the surface of what America's right half has to offer.
And besides, the best part of RV travel is its customizability. As in, you get to decide which places count as can't-miss East Coast travel destinations.
But planning a road trip through the USA's most amazing areas can be a daunting project, especially if you're set to hit the road for a few weeks or longer. Aside from simply figuring out where in the heck to go in the first place, you also need to contend with setting a budget and nailing down specific activities and campgrounds.
Here at RVshare, we know that taking on the job of road trip planner — whether for the East Coast or otherwise — can be both exciting and overwhelming, so we've written a good deal of blog posts aimed at making the process a little bit easier. Once you've got the right preparation and mindest, road trip planning is just plain fun. Here are a few of our favorite posts for you to start with.
We also recommend you invest in a physical travel planner or journal — yes, the old-fashioned, paper kind you write in with a pen or pencil. Committing your plans to paper and keeping a daily log are great ways to force yourself to really slow down and enjoy your travels, as opposed to just moving through a long list of "must-dos." Plus, you'll automatically create a keepsake to remind you of your journey for many years to come!
Road Trip Tips
When you're meandering through some of the world's most stunning countryside in a cozy home-away-from-home on wheels, it's honestly hard to go too, too wrong.
But brushing up on a few road trip essentials can help you take your dream vacation to the next level.
For instance, if it's your first time traveling by mobile home (or considering doing so), you might quickly find yourself drowning in camping clutter. Even in a large RV, that all that extra storage room — as compared to your car — doesn't necessarily mean you can bring everything along with you. And the stuff you do bring has to be stored properly!
To help you navigate this super-common beginner RVing problem, we've written a few posts about what to pack and how to organize it to ensure a nice, relaxing, non-cramped camping trip.
As with any new hobby or travel style, you'll also run into a few other learning curves, such as how to adjust your driving to accommodate such a large vehicle (it's easier than you think!) and how to handle your RV's plumbing and sewer system (which is also easier — and way less gross — than you think!).
You might also encounter some new lingo when you make new friends around the campground, so read this post to make sure you're up on the vernacular before you head out. And as always, keep your eyes peeled for more helpful, fun content on the RVshare blog. We're working hard to make sure you have the very best camping experience!
The Ultimate East Coast Road Trip Awaits
We hope this post has helped convince you that some of the very best travel opportunities and vacations are right here on the East Coast. And if you're ready to take the plunge yourself, we want to be your one-stop shop to help you organize your East Coast road trip and make it a reality!
RVshare is used by RV owners across the country, which means affordable listings are available no matter where in the USA you're starting from. And with our comprehensive insurance coverage, 24/7 roadside assistance, and a completely secure platform, it's one of the easiest ways to go about renting your dream motorhome or travel trailer.
So what are you waiting for? That epic journey isn't going to take itself. Click here to browse RVshare listings in your area and get ready for the adventure of a lifetime — and one that will likely lead to many more camping trips spent exploring our beautiful nation.
This post may contain affiliate links.