Uncategorized
October 19th, 2020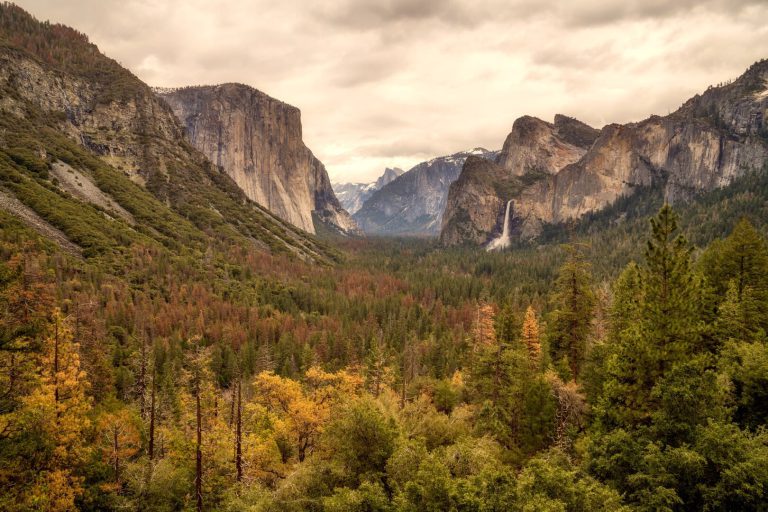 The Best National Parks for Leaf Peeping
Autumn is easily one of our favorite times of year. Cold nights huddled around warm campfires, lovely hot drinks such as cocoa and tea, and yummy treats such as caramel apples and pie are all part of why we love this season so much. That said, the absolute best things about fall are the amazing colors that surround us.
Anyone who appreciates the great outdoors understands our infatuation with the reds, yellows, and oranges of autumn. While these are perfectly fine viewed from the kitchen window, they are even better seen in the perfect setting while on an RVing adventure.
Want to experience just how amazing fall colors can be? Below we've listed the best national parks to visit in fall for the ultimate leaf peeping getaway. Head to one of these parks and you won't be disappointed by what you see.
The Best US National Parks for Fall Foliage
Yosemite National Park
California
Yosemite is one of the most stunning places in the entire country. In October and November this beauty is even more incredible, as the leaves turn to the most vibrant reds and yellows and fill the landscape with gorgeous pops of color. Additionally, many animals in the park become more active during this time, meaning you might just see a local resident or two.
Shenandoah National Park
Virginia
Another wonderful place to visit for leaf peeping is Shenandoah National Park. Here, the winding roads take you around the mountains, and if you visit during the second half of October, they'll take you right through the heart of some of the most beautiful fall foliage you'll ever set eyes on.
Great Smoky Mountains National Park
Tennessee and North Carolina
With a similar landscape to the one found in Shenandoah, Great Smoky Mountains National Park is another place well worth visiting during the autumn months. The colors are especially phenomenal in late October, and looking down on them from high on a mountaintop is simply incredible.
Blue Ridge Parkway
Virginia and North Carolina
Located relatively close to the Great Smoky Mountains, Blue Ridge Parkway offers explorers an opportunity to drive through some of the most incredible views in the US. These become even more stunning as the leaves change from green to gold in October, especially as you get into the thicker trees and are absolutely surrounded by falltime beauty.
Cuyahoga Valley National Park
Ohio
You've likely heard of all the parks mentioned so far. This one is a little bit more obscure, but no less beautiful. In fact, the Cuyahoga Valley National Park fall foliage might be some of the best on our list. Again, you'll want to visit during the end of October, and be sure to ride the scenic railroad to get the best experience.
Grand Teton National Park
Wyoming
Grand Teton National Park is on the cooler side. For this reason, you can expect to see some yellows peeking through as early as the beginning of September. That said, you should be able to see pretty fall colors through the end of October most years.
Acadia National Park
Maine
Maine is another chillier spot in the US. Therefore, it only makes sense that the gorgeous red, orange, and yellow foliage in Acadia National Park is best viewed in the very beginning of fall. By mid-October most color is gone and the area is too cold to have much outdoor fun.
Mount Rainier National Park
Washington
Because it sits at such a high elevation, the fall colors can be seen much earlier in Mount Rainier National Park. In fact, many report seeing lovely leaves as early as August! Late September tends to be the prime time to check out the foliage here, and the park actually starts to shut down in October.
Grand Canyon National Park
Arizona
Most people don't think of fall colors when they think of Grand Canyon National Park, but they are absolutely beautiful. This is especially true when you're sitting up on the rim during one of the canyon's famous sunrises or sunsets and looking down on all the gorgeous colors. The only problem is that much of the park begins to close in October, so late-September is the ideal time to catch these fall leaves.
Zion National Park
Utah
Most people choose to visit Zion National Park during the summer months. The funny thing? It's actually much prettier and more pleasant during October and November. This is when the weather cools to a crisp but comfortable temperature, and it's when the reds and yellows come out to play throughout this already spectacular park.
Guadalupe Mountains National Park
Texas
If you're running late to the leaf peeping this year, you might consider heading down to Guadalupe Mountains National Park. This southern natural paradise boasts what many consider to be the most beautiful fall colors in the entire state of Texas. Best of all, they can be seen as late in the year as mid-November.
Congaree National Park
South Carolina
Finally, there is Congaree National Park. Like, Cuyahoga Valley National Park, this is not a very well known park, but it is beautiful nonetheless. It is the perfect escape into nature, and from mid-October through mid-November, it is absolutely brimming with bright yellows and oranges as the leaves fall all around.
There you have it folks, some of the very best national parks to visit in the fall for leaf peeping. Why not rent an RV and start planning your leaf viewing adventure right away before you miss your chance?