How Tos & Tips
September 18th, 2019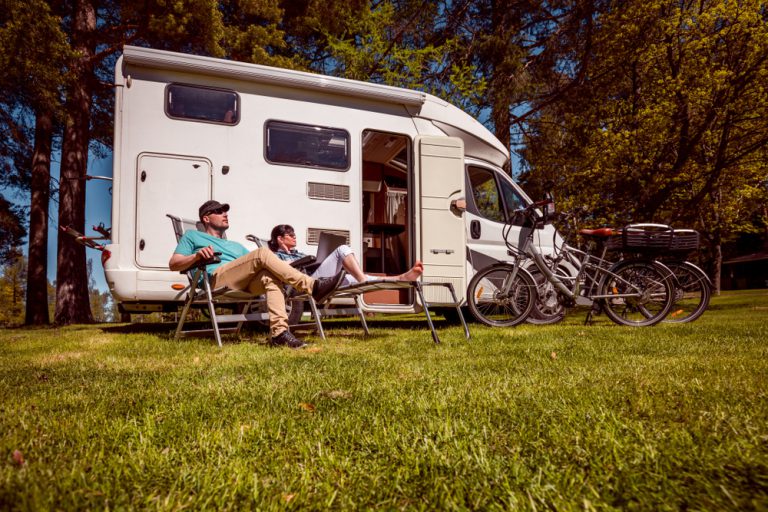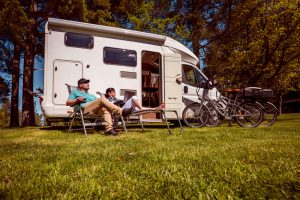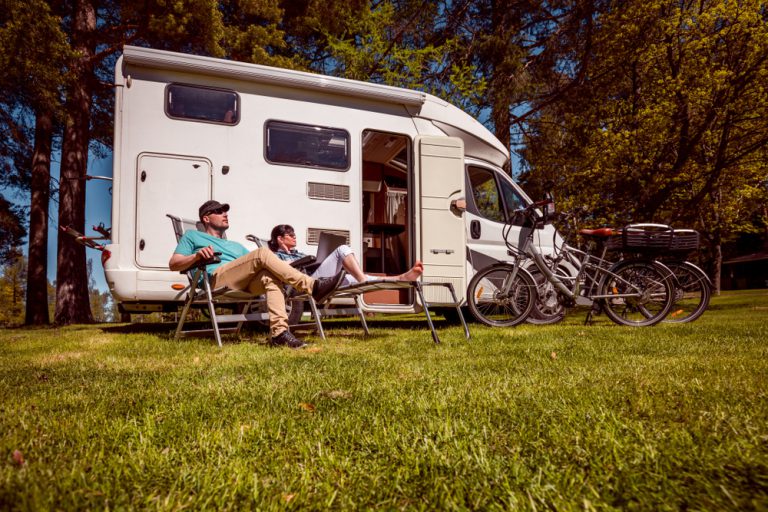 Got your heart set on an RV trip (or twelve), but a little bit intimidated by the process of actually learning, well, how to RV?
Although these big, seemingly-complicated vehicles can be overwhelming for beginners, in reality, they're not that difficult to use. (Just think about how many people are successfully living the RV life — if they can, you can, too!)
There can be a bit of a learning curve involved when it comes to figuring out how to drive a very large motorhome or tow a travel trailer, and some of the interior fixtures work a little differently than the ones you operate at home. But in general, you can go from RVing newb to a confident traveler in no time… especially if you read this RV travel guide post, which is full of all the RV basics most of us don't know when we're first timers.
Read on for an overview on all the need-to-know components of a solid RVing experience, from deciding on a destination, learning what to pack (and what not to), getting comfortable behind the wheel, and more!
How RV Travel Differs
Even seasoned road trippers and tent campers will notice some significant differences in their travel style when they switch to the RV life. Here are a few major changes to be aware of and prepare for.
Choosing a Destination
Although any destination can be an RV destination, campers quickly find themselves drawn to certain types of areas that are easier for RVers to explore. For example, although cityscapes are full of adventure and discovery, it can be really difficult to find one that has RV parks in easily-accessible areas… and if you do venture to a major metro, you may be in for a whole lot of driving to get from your rig to the bustling downtown area.
Cities are also, of course, expensive, which can make them less appealing to some campers. And it is called camping, after all… so even though you have a cozy couch to kick back on and a TV to lounge in front of, most RVers find themselves wanting to be closer to natural, untouched areas.
Finding the Perfect Campsite
As anyone who's even taken on tent camping knows, there's more to finding a campsite than just looking for the nearest flat, dry area and putting down your tarp (or in the case of RVers, your stabilizing jacks… which we'll come back to in just a moment!). Even wilderness areas generally have specific rules about where you can camp and how long you can stay there, and you may be required to pay fees even if there aren't any developed amenities or hookups.
With RVing, it all gets a little bit more complicated… because the first thing you need to figure out is whether or not a given campsite can actually accommodate your vehicle's size. Plus, if you want to take advantage of all the extras that make RVing so luxurious, like running water and A/C, you likely want to spring for a campsite with hookups (or a boondocking site that allows you to run your generator or, if you've got them, display your solar panels).
There are all sorts of different RV campgrounds out there, from public sites on state park land to private, resort-style campgrounds chock-full of extras. Click here to learn more about the different kinds of RV campgrounds.
Learning How Your Rig Works
Like we said above, RVs aren't really that complicated, and you can totally become a pro in no time… but it does take a little bit of learning up front to get there, even when the fixtures seem similar to the ones you're familiar with at home.
For example, your RV refrigerator works differently than the one in your house's kitchen. It can be powered by either electric power or propane, and regardless of which fuel source it's using, it needs to be very level in order to work properly and not break down. (That's part of the reason those stability jacks we mentioned above are so critical… they also aid in ensuring your RV is level so all its features can function normally!)
The best way to get familiar with your rig specifically is to check with your dealer or owner's manual — or, if you're renting, the person you're renting from. They should walk you through everything from how to start your RV's generator to how to secure the kitchen cabinets, and rental agencies should also provide a customer service line to call if you run into confusion on the road. (Psst: RVshare offers a 24/7 roadside assistance option!)
RV Packing List
Once you've got a destination picked out, an RV to get there in, and you feel relatively comfortable with the basics of working the rig itself, you have to figure out what to bring along for the ride… and perhaps even more importantly, what not to! Even the biggest, most luxurious RVs are pretty limited when it comes to storage space, so if you bring too much stuff, you'll be feeling claustrophobic in no time.
Fortunately, we've written a ton of great content about this issue, no matter where you're going or what season you're planning to travel there in. Check out the following RVshare posts to help you power through packing:
RV Camping Checklist
Packing your RV camping essentials is, well, essential… but as any RVer who's ever driven away only to realize their RV antenna or front door step was still extended knows, it's equally important to double-check your rig from top to bottom every time you get behind the wheel. While nothing on your RV should be excruciatingly hard to operate, there are a lot of little moving parts, and it's all too easy to forget to close you fan vent or even drive off with your hose or electric plug still attached. (Trust us, we've been there… and it's not pretty!)
We recommend making a camping checklist and doing a complete walkaround each and every time you move your RV, now and forever. Even once you consider yourself a camping expert, this list can help ensure you don't make any silly mistakes. Hey, it happens to all of us!
Driving a Motorhome
One of the biggest barriers to entry for many people who would otherwise love to try out the RVing lifestyle… is actually driving the thing. Especially when you're talking about large fifth-wheel travel trailers or Class A motorhomes, driving an RV can be downright intimidating.
And to be sure, it's a little different than scooting around town in your sedan or even a pickup truck. But think about it this way: RVing doesn't require any special licensing, and pretty much anyone can rent an RV and set off without needing special training. So long as you're careful and take your time, you shouldn't have a problem.
We have, however, written about common driving fears and misperceptions, as well as how to handle inclement weather and other issues. Check out the following RVshare blog posts if you still need some peace of mind as far as actually driving the rig goes:
RV Maintenance
Although first-time or even repeat renters don't have to worry about much in the way of maintenance, if you fall in love with this travel style — which isn't hard to do — you're going to have to learn about creating a preventative upkeep schedule, DIYing as much of your maintenance as possible, and also finding trustworthy professional help when you need it. From RV roof maintenance to RV plumbing system basics, these issues are one of our most popular blog topics, so be sure to read through the following posts if you're wondering what goes into keeping an RV ship shape.
From your first camping trip to your fiftieth, we know this special travel style will soon win your heart… and we'll be here to help you along and celebrate your discoveries every step of the way.
This post may contain affiliate links.