How Tos & Tips
Last updated on October 3rd, 2023. Originally published on September 17th, 2017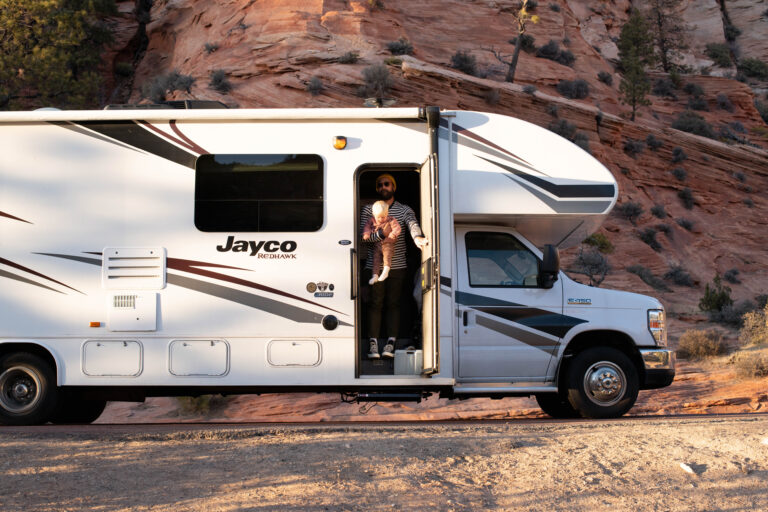 Ready to head out to your favorite fall destination?
Whether you're looking to go apple picking, take adorable pictures in a pumpkin patch, or even just drive through northeastern roads lined with some of the most beautiful fall foliage in the United States, autumn travels are some of the best. The produce is fresh, the weather is cooler, and everyone seems to be just a little bit cheerier as we slowly ramp up to the holidays.
But packing for fall does take some special considerations. After all, those dropping temperatures mean you need to have layers on hand to bundle up in, especially if you plan to take any long hikes or other outdoor adventures.
So what do you absolutely need to make sure is on your list of fall travel essentials?
From clothes to shoes and everything in between, we've got you covered.
Fall Travel Attire
You likely already have a few favorite fall outfits, whether you're traveling or holed up at home. I mean, when else do you get to break out the adorable sweaters and boots that are a bit too warm for summer, but not quite cozy enough to keep you safe in winter's snows?
But when you're traveling by RV, your fall clothes have to be about more than just fashion. They have to be functional, too.
How to Pack for Fall Travel
Your fall travel essentials list will depend on your destination and planned fall activities. After all, some parts of the country are a lot chillier than others during this transitional season.
At bare minimum, however, you'll need to pack a jacket or a coat for each camper on board. You don't want a day's outing ruined because you're too cold to enjoy it.
Along those lines, you'll want to ensure that each camper has several days' outfits composed of many layers. In fall, days start out chilly and get warm before cooling down again, so your togs need to transition!
If you're going to be spending ample time outdoors, choose lightweight, moisture-wicking materials that will help keep you warm and dry even if you're sweating. If you're planning on taking a long walk around a city or hiking through a scenic natural park, you'll also want to make sure you have some sturdy shoes. Hiking boots are wonderful, especially if they're waterproof, but they can also be quite heavy if you're not used to walking long distances. If you're only planning to go a few miles or are staying mostly in urban areas, a decent pair of sneakers or even tall waterproof rainboots will suffice.
Women get to have extra fun with their fall travel wardrobe, because when the temperature's unpredictable, it's all about layers! Spice up outfits that you usually reserve for summer by adding in fun accessories. You can totally still wear dresses, for instance… just as long as you pair them with tights, socks, and scarves.
One more thing: Don't forget to pack your trusty travel bag so you have a way to carry around those extra layers once you start shedding them at midday. It might be a backpack, a messenger bag, or even a large purse — but no matter what you choose, you'll be happy you don't have to walk around with your coat and your sweatshirt tied around your waist.
Packing Tips for Fall Travel
Now that we've talked about what to pack for fall travel, let's touch briefly on another issue: Actually packing it!
Unlike during summer travel, the stuff you need to bring for fall is bulky. Sweaters, sweatshirts, coats, and rain boots all take up lots of space, whereas simple cotton dresses and bikinis don't!
But that's one of the best parts about traveling by RV: You have ample room to bring all you need with you for your journey — and honestly, probably more than a few things that you don't. Overpacking is a common problem for RV campers.
In order to ensure you've got enough, but not too much, fall wear for each camper, check out your planned itinerary and ensure that every member of your party has at least one outfit for each day, with a few backup outfits or extra outfits if special activities are planned. One or two extra pairs of underwear or socks are never a bad idea (and barely take up any room at all) — but there's no reason anyone needs to bring more than one coat or pair of hiking boots!
Fall Travel Trends
So now that you know what you're going to bring for your trip and how to pack it, let's talk about the really fun stuff… where should you go?
We've discussed some of the best fall break vacation ideas, from remote, romantic getaways and vacations for couples to cities filled with all kinds of fun fall activities for the whole family.
Many RV rental companies and campgrounds also run autumn specials, since it does tend to be a slower time of year for travel than the busy summer months. You might be able to find special October vacation packages, which is the perfect excuse to create a fall break vacation — after the summer but before the holidays, you'll have many campgrounds and destinations all to yourself to explore!
Still not sure where to go? Well, the northeast is an autumn classic; nothing's quite like seeing the leaves change in Vermont, upstate New York, and New Hampshire. There are also a variety of exciting fall harvest festivals taking place across the nation.
But if leaf peeping isn't your baileywick, there are actually plenty of warm places to visit when the temperatures start dropping, even in October. In the USA, you could head to a coastal area in Florida or southern California — and if you're feeling really adventurous, you could even head south of the border into Mexico.
No matter where it takes you, fall travel in the United States is a special and unique joy you simply can't emulate anywhere else — and now, you know you're good and prepared for it.
Happy fall travels!