RV Owners
Last updated on November 7th, 2023. Originally published on August 1st, 2020
As an RV owner, one of the most important things you can do to ensure your RV stays usable year after year is to keep up with routine maintenance. Unfortunately, many RV owners have no idea what kinds of things they should be doing in terms of RV maintenance. Others may be aware of what they need to do but feel overwhelmed by it all.
If you fall into either of these categories, this is the article for you! Below, we've compiled an RV maintenance checklist that is easy enough for anyone to follow.
Keep up these motorhome and travel trailer maintenance tips, and you can rest assured you'll be enjoying years of camping fun in your rig.
Before Each Trip
The countdown is on! In just a few days, you will be leaving on your next RV adventure. What should you do to prepare? Many RVers neglect to take the time to properly prepare their RV for travel, but annual maintenance is an important part of RV ownership. Even if you have been living full-time in your RV, you still need to perform regular checks to keep your rig in top shape.
Here are a few MUST-KNOW RV maintenance tips that will give you peace of mind and ensure that your next trip is a success.
Examine Tires
Avoiding blowouts is crucial for ensuring your safety while traveling with an RV. Therefore, you will want to check the pressure of each tire and check the rims for cracks or stress. Add air to the tires that may need it. Additionally, check for wear and tear, making sure that no places are worn excessively, bubbling, or showing other signs of damage.
Check Headlights and Brake Lights
Brake lights and headlights are also important parts of traveling safely. Make sure yours work before each road trip.
Check Your Hitch
It's easy to hook up your travel trailer and hit the road without ever thinking about the strain on your trailer hitch. The A-frame section of your trailer has many areas that need to be inspected. Look for cracked or worn welds that can easily break if you hit a rough section of road.
Make sure that the nuts and bolts are tight around the coupling and any other area where metal is holding connections. Nuts should be checked often as the vibration and jolts of the road can lead to damage.
Check Propane for Leaks
If your RV uses propane, be sure to check all the fittings and regulators for leaks. Also, check the dates on your tanks. Propane tanks expire and require recertification to be filled. Make sure your tanks are safe and up to date.
An easy way to check a gas leak is to spray some soapy water on the gas connections. If a leak is present, there will be bubbling where the soapy water meets the escaping gas. If this happens, it's time to get your tanks and fittings checked.
Clear Roof of Any Debris
RV roofs have a tendency to gather debris, and letting this sit can cause damage to the roof. It can also be dangerous if things fly off the roof during travel. You will want to clear the roof before you leave.
Check Your Power
Test all of your electrical switches, including your slide and awnings. Plug things into your outlets. Turn your water pump on and off. Is everything working properly? Turn your appliances on. Try your 12V power. Plug in your shore power and check your house batteries and generator.
Give Yourself an Extra Weekend
It's better to be safe than sorry. Smart RVers may book themselves at a local RV park for a weekend at the beginning of the season prior to travel. During this weekend, plug into the power, check the sewer, and fill the water tanks. An RV park with full hookups is equipped with the power you need to know if everything is operational. These two test days are the perfect dry run before a big adventure.
Monthly RV Maintenance Tips
The following motorhome and travel trailer checklist includes everything you'll want to do to your RV on a monthly basis.
Drive Your Motorhome
Axels and engines don't do well when sitting still for long periods of time. Therefore, it's a good idea to get out and drive your motorhome at least once a month, even if you don't have a trip planned.
Run Your Generator
Gas goes bad when sitting still for too long, and generators don't like sitting unused for too long anyway. Avoid any problems by running your generator at about 50% load at least once a month.
Top Off Batteries
Did you know RV batteries need to be refilled occasionally? Be sure to check the water level in your batteries monthly and refill with distilled water wherever necessary.
Clean the Air Conditioner
Air conditioning units have a tendency to become clogged over time. Keep yours in tip-top shape by cleaning the vents and intake, and cleaning or replacing the filter about once a month when the A/C is in use.
Check Under the Hood
Out of sight does not mean out of mind with an RV! Motorhome owners should take a look under the hood of their RV once a month or so to make sure there are no signs of leaking and that all clamps and hoses are securely attached.
Look Underneath Your RV
Don't forget about the underneath of your rig. Climb under and see what's happening. Are there nuts and bolts that need to be tightened or are missing? Check around the suspension and axles. If you're not sure what to look for, check YouTube for a few training videos.
What about your chassis? Look for rail and cross-member concerns. Do you see any rust or fractures from the wear and tear of the road? If so, get to a professional immediately.
Test Safety Equipment
Test and clean your smoke detector and carbon monoxide detector regularly, and replace the batteries. Additionally, you'll want to check that your fire extinguisher is still in good working order.
For travel trailers, check to see if both the jockey wheel and hand brake are easy to maneuver. If not, add lubrication and remove any built-up rust. What about the safety chain? Are there signs of cracking, broken links, or overall wear and tear? If so, replace the chain before travel.
Look for Cracks
Avoid an infestation by checking all around your rig for pest access points. Little critters only need a hole about a quarter-inch wide to enter your home-on-wheels, so look closely for cracks and holes and fill them if necessary.
Lubricate the Slides
Slides are wonderful things to have on your RV. That said, they do come with a bit of added maintenance. RV slideouts should be lubricated once in a while to ensure they continue to pull in and out smoothly.
Check Your Seals
Water is an RVer's enemy. Any space water can seep into may result in mold or moisture damage. Check for tiny gaps in your window and door seals. Look at all the seals, and if they are cracked, dry or broken, take the time to replace them. Check your awning. Are there gaps that allow water to drip down into your rig?
How's your sealant? Inspect the windows, doors, basement storage doors, and all moldings around the RV. If you see signs of splitting or cracking, you need to replace the sealant. You may need to cut out the old and replace it with new. Remember, when buying sealant, do your research. There are many new products on the market in a variety of colors. Check online RV forums and ask people what they are using.
Check Your Awning
Take a few minutes to roll out your awning. Are there gaps that allow water to drip down into your rig? Are there any cuts or tears? If you see any holes, you may want to use a vinyl or canvas repair kit. Helpful suggestions can be found on both Facebook RV groups and RV Forums such as IRV2.com.
Seasonal RV Maintenance Tips
The following tasks should be added to your RV maintenance schedule once every 6 months.
Check and Change Motorhome Fluids
Your motorhome is just like any other vehicle. This means you will need to change the oil once every 3,000 miles or so. While you're at it, check the other fluids and filters and replace or top off anything that needs it.
Deep Clean Your RV Interior
Make sure to deep clean your RV at least a couple times a year. Old food dropped under furniture, unknown water spills, and other common messes can cause bigger problems down the line, especially if left when the rig goes into storage.
While you are cleaning, check for signs of moisture on the walls, under the sink, or along the plywood. Do you see any water marks, discoloration, or signs of drips? Any of these could indicate that you have a leak. Check your plumbing, your roof, and the joints to see where the water may be coming in.
The cushions on your couch, dining set, and mattress can start to stink if moisture is present inside your rig. If anything needs to be dried out, remove it from the rig, place it in the outside air, spray it with Febreeze, and give the RV some serious ventilation. While your cushions are drying, locate and eliminate the water leak. It's important!
Clean and Wax your RV Exterior
Nobody wants a dirty or dull-looking RV. Keep yours clean and shiny by giving it a good wash and wax a couple times a year.
Cleaning your RV's exterior is super important — when dirt sits on your rig for too long, you run the risk of potential damage. Regularly waxing your RV will also help to protect your exterior from damage-causing elements like road tar, road salt, UV exposure, and bird droppings.
Start by rinsing your RV down with clean water (do not use hot water). Then use a mild soap to wash from top to bottom using a sponge or a mitt. After you've scrubbed it down, give it another good rinse and be sure to dry thoroughly. To apply wax, scoop a small amount onto a clean cloth, then apply gently to your RV in sections.
Weigh Your RV
Having an overweight RV can be extremely dangerous. For this reason, it's incredibly important to keep tabs on the weight of your rig, especially if you'll be adding new cargo. Make sure to weigh your RV at least twice a year. Click here for a detailed guide on how to weigh your RV.
Treat Metals
Lubricating metals that rub against other metals helps keep those things moving. This includes jacks, hitches, and fold-up stairs.
Yearly RV Maintenance Tips
Run through this RV maintenance checklist at least once a year to keep your motorhome or trailer in good shape.
Service Brakes
Obviously, you will always want to be keeping an eye on your RV brakes. However, if no red flags are jumping out at you before the one-year mark, we recommend having your brakes serviced by a professional every 12 months or so.
Inspect Your Propane
Propane systems are another thing you'll want to watch year-round. However, making a point of having the whole system inspected once a year can help you avoid problems.
Reseal Exterior of RV
We mentioned checking seals regularly above. Even if you don't find any obvious issues during those monthly inspections, resealing the exterior of your RV yearly is a good way to prevent future leaks.
Clean Your Water System
Nobody wants funky water in their fresh tank. To avoid funky fresh water, clean the system once a year. Simply dump a cup of bleach into the fresh tank, fill it with potable water, let it sit for a day, and drain. After this, fill the tank with potable water again and run the faucets until the bleach smell is gone.
Recommended Safety Products
Smoke Detector:

Equip your RV with working fire safety technology, including a dual-sensor smoke alarm

.
Carbon Monoxide Detector:

Install a carbon monoxide detector and make sure it always has fresh batteries

.
Fire Extinguishers:

Keep one or more up-to-date fire extinguishers on board

.
First Aid Kit: Have a kit with bandages, gauze, Neosporin, and aspirin to help take care of minor injuries that may happen on the road.
Gas Stop: Propane is highly flammable! If a propane leak occurs, the gas stop will shut off the gas flow immediately.
Brake Controller: For travel trailers, brake controllers sense when you've applied the brakes in your vehicle and will automatically engage the brakes on your trailer.
Tire Pressure Monitoring System: This handy device will let you know within seconds of a tire leak or failure.
Surge Protector: Prevent large power surges with a surge protector. Unexpected power surges can damage expensive electronics and appliances!
Road Side Safety Kit: Most come with flares (clear signage in the event of an accident keeps you safe until help arrives), jumper cables, towing rope, tools, reflective warning signs, life blankets, compasses, and more!
Common RV Problems
While it would be impossible to create a comprehensive list of all the RV problems it's possible to encounter, some rear their frustrating heads more often than others. Here are a few of the most common categories of RV problems, including specific issues and how to fix them.
HVAC Issues
A properly working HVAC (heating, ventilation, and air conditioning) system is one of those things you don't always properly appreciate til it's gone. The ability to relax in a temperature-controlled climate is one of the main factors differentiating RV camping from camping al fresco.
And although our temperature control technology is pretty amazing these days, if you own a travel trailer or motorhome, chances are you're going to run into an AC issue or two.
Fortunately, there are a few common RV HVAC problems that are relatively simple to troubleshoot. If you find yourself sweating (or shivering, depending on the season), here are a few quick tips to try.
Check your air filters. We all know it's important to regularly replace the air filters on any AC unit, whether in your RV or in your sticks-and-bricks home. Otherwise, you're breathing all the gunk you see accumulating on the filter… no good.
But a clogged air filter can also affect how well your cooling system works, choking the airway and leaving you without that cool, refreshing breeze.
Fortunately, replacement RV AC filters aren't hard to come by or expensive — depending on your model's exact requirements, you can find four-packs for less than $10. The replacement itself is a breeze, too; just pop the cover off, take out the gunky one, and stick the new one in.
If that doesn't work, there are still more RV air conditioner and furnace troubleshooting steps to take.
Next up, check the thermostat. Although the AC itself might seem like the problem, sometimes an ill-performing unit is the symptom of a much simpler issue — a broken thermostat. If the control unit is on the fritz, it can't properly tell your HVAC unit what to do. You can figure out whether or not the issue is with the AC itself or the thermostat by testing it with a volt ohm meter. This will tell you whether or not your cooling system is powering up at all. If you don't have a meter lying around, you can also bypass the thermostat by cutting the power, removing the thermostat from the wall, connecting the wires, and powering the unit back up to see if it fires. If the thermostat's okay and your filters are clean, you might have a freon leak. Freon is the chemical your RV's AC unit uses to create cold air. When freon leaks occur, you might see ice deposits around your AC unit, even though it's failing to cool the interior of the rig. Look for the source of the leak, and if you can find it, repair it. Keep in mind that sometimes you won't find an active leak, and that's okay, too. Top off your unit's freon levels and see if that fixes the issue.
Don't forget, when it comes to your RV's HVAC system (and pretty much every other system onboard), prevention is 90% of the cure. Maintain a regular maintenance schedule and be sure to regularly clean your RV's HVAC unit. Chances are any repair issues you encounter will be minor and easily solved.
Plumbing Problems
When you've gotta go, you've gotta go. That's why it can be such a bummer to encounter plumbing problems, which can turn a carefree vacation into a sticky, or even stinky, situation. There are a few different approaches to take when it comes to RV water pump troubleshooting, and figuring out what's going on with your plumbing system as a whole.
If you're having problems flushing the toilet or otherwise making wastewater go down, the issue could be as simple as one you're likely familiar with from home: a clog. There are a few different ways to take care of a clogged RV toilet, including using a flexible toilet tank wand and also trying to clear the clog with boiling water.
For issues more specific to the water pump itself, assessing the symptoms is a good way to get a sense of what the problem is and how to fix it. A common cause of RV toilet clogs and backups is simple user error: too much toilet paper or too little water can keep your camper potty from properly flushing. Making sure everyone knows the right way to "go" will go a long way toward avoiding any problems.
If your water pump is running, but no water is flowing, you may be dealing with clogged lines, a kinked supply line, or an air leak somewhere in the plumbing. Or maybe you simply have a low level of fresh water in your reservoir tank. (Hey, these simple mistakes happen to all of us!) A common error is to leave the black water drain pipe open constantly if you're hooked up to a sewer connection. But doing so is a bad move: it will allow all the liquid waste to drain first, which can lead to a sludgy clog in your holding tank or sewer drain pipe — the type of clog you do not want to have to deal with on your vacation. (Or ever.)
Check your tank's levels, and then, if you've got an ample supply, look over all the easily accessible water lines. If you spy a kink or a leak, that's probably your issue. Beyond that, you'll have to dig deeper into the RV's guts, looking for leaks in interior plumbing fixtures, or pump-specific problems like a cracked housing or stuck backflow valve. In most cases, you'll be able to clean or repair a single element of your water pump rather than needing an all-out replacement — and yet again, proper maintenance and prevention are key.
One of the best ways to avoid RV plumbing problems? Be sure to take the time to properly winterize your RV, whether you're traveling or letting it get a nice long winter's rest. If there's water in your tank when Jack Frost arrives, it can easily freeze. As we all remember from seventh-grade science class, as water freezes, it expands, wreaking potential havoc on your pipes. Along with keeping the tank empty as winter approaches, you should also flush your system with RV antifreeze.
Slide-out Situations
We all love RV slide-outs for their ability to make our rigs much more spacious and comfortable when we're set up at camp.
But at the same time, we're talking about moving an entire room (or at least part of one). Moving parts are already prone to issues, and this moving part might be hundreds, or even more than a thousand, pounds. In other words, running into issues with your slide-outs is not that surprising.
Keeping your slide-out arms and mechanics well-oiled is the first step to preventing sticky situations in the first place. But once you've got a busted slide-out on your hands, you may need to turn to a professional to help fix it.
Before you do, however, you can try to discern the problem. In some cases, an electric slide-out that doesn't work may be due to a very simple and self-solvable issue, like faulty wiring or a weak battery.
If your slide-out won't move, first check to ensure the lock arms aren't locked. You'd be surprised how often this simple mistake happens! If your RV isn't level, you might also encounter issues getting the mechanism to work. (And as always, be sure to check for obstacles that might be in the way.)
Barring those kinds of physical problems, you may be dealing with an electrical issue or not having enough power to get the slide-out to go. If you're comfortable with doing so, check for a blown fuse or wiring issues. Taking care of these may resolve the slide-out problem.
Water Leaks and Damage
If there's such a thing as the RVer's boogeyman, it's unwanted water. Yes, it's the source and sustenance of all life… but it can also spell a quick death for your RV's interior and sensitive systems.
Since RVs are structures that move frequently, eventual water damage is almost a given — though build quality and keeping up with your maintenance schedule both go a long way toward putting that off. Checking for water leaks on a regular basis is the best way to get ahead of the problem because you'll detect leaks while they're small enough to still be repaired… as opposed to finding yourself with extensive damage.
Where might these leaks occur, you wonder? And where should you focus your leak-finding efforts? Look anywhere your rig has seams, seals, and moving parts, paying particular attention to windows, doors, and slide-outs. The place where your walls meet your ceiling is also a good spot to scope out, and don't be afraid to open cabinets that may be hiding stains and soft spots. Using your eyes is good, but running your hands along those walls is even better: if you feel something give, it might be a problem.
Keep in mind, also, that certain types of RVs are more prone to water damage than others. For instance, one of the reasons Airstreams keep so well is because their hand-built, aluminum frames resist water better than prefabricated fiberglass models. The same can be said for Casitas, which don't have that vulnerable seam along the top wall.
Older rigs are obviously at a greater risk than brand-new ones since they've had more time to deteriorate due to exposure to the elements and motion. The same can be said of Class Cs, whose cute and iconic "attics" are a prime place for water to get in. (This is a good time to mention the importance of keeping your RV protected while it's in storage. Find either an actual indoor facility or use a protective RV cover.)
What if you find a leak? The good news is, if you catch it early enough, you can usually get ahead of it — and the repair is often surprisingly simple. A dab or so of Dicor might do it. But if the water has infiltrated your interior and soaked through furniture or fixtures, you might be facing a more serious repair bill, not to mention the time- and labor-intensive process of ripping the damaged stuff out, replacing it, and running a dehumidifier. In some cases, water damage can sideline your rig entirely.
RV Refrigeration Troubleshooting
Having access to a fully functional kitchen on the road is one of the best parts of RVing. Cooking your own meals can help you stay healthy while you travel, not to mention saving you boatloads of cash.
But a working refrigerator is an important part of that kitchen! And if you discover yours is on the fritz, it can feel like an overwhelming nightmare — particularly if it stops cooling while it's full of an expensive load of groceries.
There are a few RV refrigerator troubleshooting steps to take, however, before you start ripping your hair out. And the good news is, the first one is shockingly simple:
Make sure your RV is level.
Because of the unique way RV refrigerators are built and operate, they won't work properly if they're off-kilter. That's why it's so important to ensure your rig is leveled once you set up camp. (Keeping some leveling blocks and wheel chocks around is definitely helpful for this reason, and we know more than one camper who keeps a plain old level in their RV toolkit, too!)
Once everything's straightened out, it's time to determine if your RV refrigerator is working at all, or if it's totally kaput. The best way to do so is with a thermometer, but you can also press your hand against the place where the cool air usually comes out in the main refrigerator compartment or freezer.
In some cases, you may find that your freezer is fine, but your refrigerator is warmer than expected. In most RVs, cool air starts in the freezer before circulating into the main refrigerator compartment courtesy of the evaporator fan and diffuser. Either of these can become stuck or get clogged with ice. If your frozen goods are sitting pretty but your main fridge area is looking a little limp, this might be your problem. Listen to your evaporator fan to ensure it's running, and visually inspect the diffuser, which is usually in the upper, rear center area of the main fridge compartment. Sometimes the evaporator fan cycles on and off or turns off automatically when you open the door, so give it time and listen through the door if possible. It may be possible to dislodge stuck parts yourself or to replace them if they're entirely broken.
You can also check to see if your RV refrigerator will work on a different power source. Most RV refrigerators can be run on the liquid propane that fires your onboard generator or through a traditional electric current. If the fridge is on electric mode and not working, try switching to LP — if things cool down, you could have an electrical wiring issue on your hands, rather than a refrigeration issue.
Another common RV fridge issue: the cooling has stopped, and you whiff the acrid smell of ammonia. Since most RV refrigerators cool air by using a chemical coolant, this scenario usually means there's a leak in the system, and chances are you'll need a professional repair or a new fridge.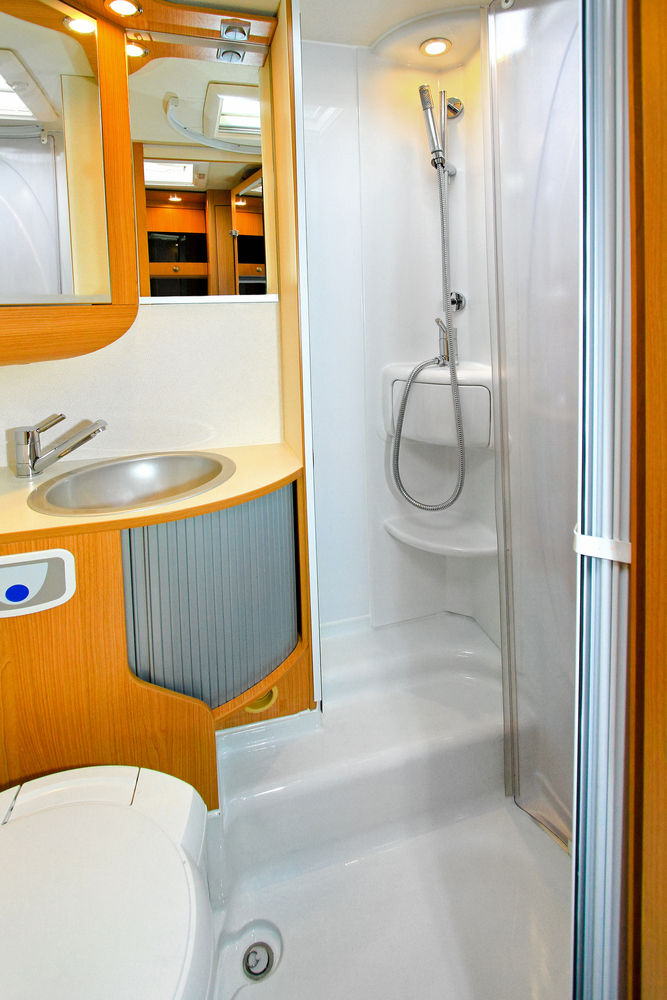 RV Water Heater Troubleshooting
Some like it hot — especially when it comes to doing your dishes or taking a shower. (OK, we all like it hot).
And usually, your rig's onboard water heater keeps things nice and toasty. But when your taps run cold, it's not necessarily a reason to panic… though it might be a reason to put off washing your hair until you figure out what's happening.
One of the most common errors that causes a hot water heater issue: forgetting to return the bypass valve to its original position after winterizing your RV. If you're headed out for a springtime jaunt and you suddenly find you're without hot water, be sure to check the bypass valve to ensure it's in the correct orientation!
Another easy fix: check for other open faucets in the rig. If your kitchen sink's running hot water, the shower will only run cold, and vice versa… and besides that, you're wasting water!
If your RV's water heater is making noises, listening closely can help you determine the source of the problem. A high pitched whine might indicate calcium deposits are forming on the heating element, which can lead to corrosion. On the other hand, a whistling noise could indicate there's something stuck in the check valve.
Hot water heater issues can also be caused by faulty parts that could need replacing, like your thermocouple or gas control magnet. You should also check the pilot light and clean or replace the pilot orifice as necessary.
And just as with HVAC issues, your water heater is controlled by a thermostat. That's how it knows exactly how hot to heat the water, and when to click on. It's totally possible that the thermostat itself is the issue, rather than the actual heating elements.
Common RV Electrical Problems
Let's start with something very important. If you're at all uncomfortable handling electrical issues, it's a good idea to hire professional help. After all, with other DIY repairs, you run the risk of causing damage to your rig. But with electrical DIY repairs, you run the risk of causing yourself serious damage — possibly injury or even death.
From tip to toe, RVs are filled with all sorts of electronic gadgets that make camping easier and more convenient, both in our interior fixtures and in the mechanical elements that make our rigs go.
When you encounter an outage or other electrical annoyance, one of the first places you should turn is the same as it is at home: your breaker or fuse system. If you drive an older travel trailer or motorhome, chances are you'll have fuses; the newer your rig, the more likely you'll have breakers.
Sometimes, simply tripping the breaker or fuse will fix the problem, at least temporarily. (These issues can sometimes indicate a larger, unresolved problem, and can be a symptom rather than the cause.) Keep in mind, too, that the breakers themselves can go bad and need replacing. However, it's important not to try to DIY an upgrade to your fuse system, which was designed with your safety in mind — no matter how old and seemingly outdated it is.
After checking the breakers and/or fuses, you can also look for minor wiring issues, unresponsive outlets, and other simple solutions that can explain why something in your rig isn't powering up. Loose connections or overworked batteries can sometimes be the root cause of a seemingly complex situation. You might also be having problems with your RV inverter, which transforms 12-volt DC power into 120-volt AC power. Your air conditioner, refrigerator, and other appliances need this power in order to run.
Finally, don't forget that your RV electrical issues could be coming not from the rig itself, but from your outside source of power. For instance, the shore power line you're connected to could be providing too little power or too much. This can not only make it impossible to power things up but can also potentially surge and fry your systems, which can make for a decidedly nasty repair bill! Always ensure you're hooked up to the right level of power — usually 20, 30, or 50 amps, depending on the size and model of your rig. If you aren't sure about how well the power coming from the ground source is regulated, consider testing it with a multimeter before you plug in… and be sure to use surge protectors in order to safeguard all your expensive electronics.
RV Brake Repair
When you're driving such a heavy vehicle, stopping is important. (Actually, stopping is important no matter what vehicle you're driving!)
And it's a well-known fact that over time, certain brake components break down.
From topping off your brake fluid to actually replacing the brake shoes, drums, or rotors, if you're comfortable doing mechanical work on other vehicles, you can easily translate those skills to your RV. You'll need the proper equipment, of course, like a strong jack to lift your travel trailer up.
Easily-Replaceable RV Parts
Although most RVs are outfitted with high-quality components, it's just a fact of life: things break sometimes.
Fortunately, many motorhome and camper parts are pretty simple to replace, even if you don't consider yourself particularly handy. Here are a few common areas where a replacement might do just the trick.
RV Lights
Just like the light bulbs in your house, the light bulbs in your RV will burn out periodically. Depending on the specific light fixture, a standard 100-watt bulb might not fit… but that doesn't make the replacement any less simple. Ensure you have backup bulbs in stock for all the lights in your RV you use most commonly. That way, when you flick the switch and nothing happens, you'll be able to fix the problem in a jiffy. (Just make sure you have the switch set to "off" before you do so to avoid electric shock and burns!)
If you replace the bulb and find the light still isn't working, you could be dealing with a deeper electrical problem, like a wiring issue. If you're comfortable going into your RV's electrical systems, you can remove the light fixture to see what's going on. However, if in doubt, don't hesitate to contact a qualified electrician.
RV Windows and Seams
You know that water damage we keep talking about? Another prime access point is your RV windows. Keeping them closed is one thing, but those seals also play a big part in keeping the interior of your rig dry.
RV windows are also prone to other types of damage. For example, an errant stone thrown by a tire while you're cruising down the highway can crack your RV window glass. The good news is, replacing or resealing RV windows is pretty easy. All it takes is a screwdriver and some good RV sealant.
Here's a great guide to replacing RV windows by Mark Polk, who writes about his RV journey. Just make sure you purchase the correct windows when you set out to do the replacement. It's a good idea to take your measurements twice!
RV Awnings and Canopies
Your RV's awnings may seem like a luxurious extra and an easy way to extend your living space.
But for those of us who camp in hot locales, those awnings serve a functional purpose. Shading the windows can help keep your RV's interior temperature cooler and avoid putting undue stress on your HVAC system.
What's more, the LED lights on modern RV awnings can guide you to your campsite after dark and help you avoid safety issues. This is especially helpful if you're wild camping or boondocking. In short, your awning actually does a whole lot of heavy lifting. It's important to take good care of it!
We've written before about awning maintenance, including this easy guide to cleaning your RV canopy of dirt and debris. However, replacing your awning is also totally doable — and with some of the fancy, pre-lit, automatically unrolling models on the market, it's a great opportunity for an upgrade. Click here to learn more about RV awnings, including how to select a new one for a replacement.
This post contains affiliate links. RVshare may receive compensation if you make a purchase after clicking on a product link.