How Tos & Tips
Last updated on January 9th, 2023. Originally published on June 17th, 2018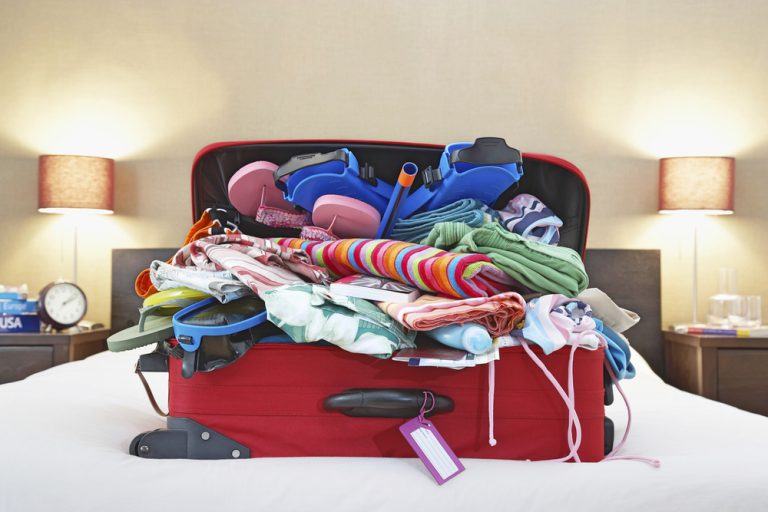 If you're used to road tripping out of your car or tent camping, it may seem like an RV offers unlimited storage space by comparison. I mean, let's be honest; even the roomiest SUV in the world doesn't come complete with a closet and kitchen cabinets. Depending on the size of your rig, you may even have a large basement storage compartment, perfect for large pieces of adventure gear like skis, surfboards, or kayaks.
But once you set out on your RV camping adventure, you'll quickly realize exactly how limited your storage space really is — especially if you're traveling with a significant other. (And especially if you're traveling with children.) Even once you add in clever storage hacks like hanging closet organizers, you may still find yourself drowning in stuff. Somehow, the gradual accumulative creep of goodies is just part of our human nature.
But packing light can make the difference between an exciting, footloose journey and a prevailing sense of claustrophobia and road-weariness. So we put together this post to help you learn to travel light, and keep your camper bright, clear, and breezy.
Overpacking
Overpacking is the number-one enemy of RVers everywhere. It makes your space feel cramped and crowded and can even put your travel trailer dangerously overweight, which can put additional wear and tear on your tires or even void your insurance coverage.
It's easy to bloat your packing checklist with stuff you don't really need, especially as a beginner. Travel toiletries, camping cookware, and clothes can quickly pile up to nigh-obscene levels. On the other hand, of course, you don't want to be without something that actually will come in handy.
Traveling Light
Traveling light is all about finding the delicate balance between bringing too much and too little. To help you draw your own line in the sand, here are some of our best travel packing tips and ideas about what you don't want to bring along with you for your journey.
1. Too many kitchen goodies.
No doubt about it, being able to cook on the road is one of the most appealing parts of RVing.
But if you're the type to invest in a variety of As-Seen-on-TV, single-use kitchen devices, your tiny camper kitchen is soon to feel super crowded — rendering it basically unusable.
the best camping cooking supplies are usually the most basic: a medium-sized pot for pasta and sauces, a pan or two for fried eggs and veggies. If you've got an oven on board, a baking sheet will come in handy. But aside from those basics, proceed with caution. You can live without your Slap Chop and panini press for a week or two, we promise!
2. A different outfit for every day of the week.
This one can be a toughy. Bringing your wardrobe along is one of the fun parts of RVing!
But when you're sharing your closet space with other campers, things can quickly become unwieldy. One great tip: try to make sure every piece of clothing you bring can be worn with at least two or three outfits. Great staples include jeans, yoga pants, and thin tops for layering. Don't go overboard on the shoes, either; chances are you'll be spending most of your time in your sneakers or hiking boots, anyway!
3. Extras of toiletries and other consumables.
Deodorant, shampoo, conditioner, toothpaste — it's easy to justify picking up multiples of these, especially when they're on sale. After all, you'll always need them.
But when it comes to your RV, those extras just take up valuable space. Better to spend an extra fifty cents on picking some up if you run out than to spend your camping trip feeling like you're drowning in bottles of body lotion.
One possible exception to this rule: sunscreen. You absolutely can't have too much of that, especially during your summer travels!
Travel Light Hacks
Here are a few more items to avoid hauling with you on your RV trip.
4. Too much food.
Don't get us wrong, packing your own road trip snacks can go a long way toward minimizing your travel budget (and helping you stay healthy and fit on the road).
But if you try to cram an entire farmer's market worth of goodies in your camper fridge for a quick weekend getaway, you're likely to end up with some spoilage and waste — especially once you're tempted by that awesome-looking taco truck at your destination.
Our best suggestion? Bring a few things to eat along the way, and maybe ingredients for one quick dinner so you won't have to stress on your first night in. Then, consider a larger grocery store trip once you've arrived at your destination and have a better idea of your needs.
5. Stuff you can get at the camping store.
Sure, necessities like chapstick and bug spray can be crazy overpriced at the camping store, and it's a good idea to bring your own from home.
But when it comes to big, heavy stuff you're not even sure you'll necessarily need — like firewood, for example — it might be better to pay a little extra to buy some when you get there. That way, you won't be hauling around all that weight for your entire journey… which is especially frustrating if you realize you're too busy to build a fire in the first place!
Camping Checklist
Although this list of items not to bring might not immediately make it obvious, there is some RV gear that's absolutely necessary — like a quality sewer hose, for instance. But unfortunately, it's really easy to get wrapped up in unnecessary extras.
One of the best ways to overcome the impulse to overpack? Confine yourself to a premade RV trip checklist, which will help ensure you've got everything you need with you and also keep you from inadvertently crowding yourself into oblivion.
Not sure where to start? No worries — we've created the ultimate weekend getaway packing checklist to help you figure out what you need and what you don't.
So go out there and see those once-in-a-lifetime destinations, campers. You've got nothing weighing you down!
This post may contain affiliate links.