Travel Inspiration
Last updated on May 23rd, 2023. Originally published on August 24th, 2017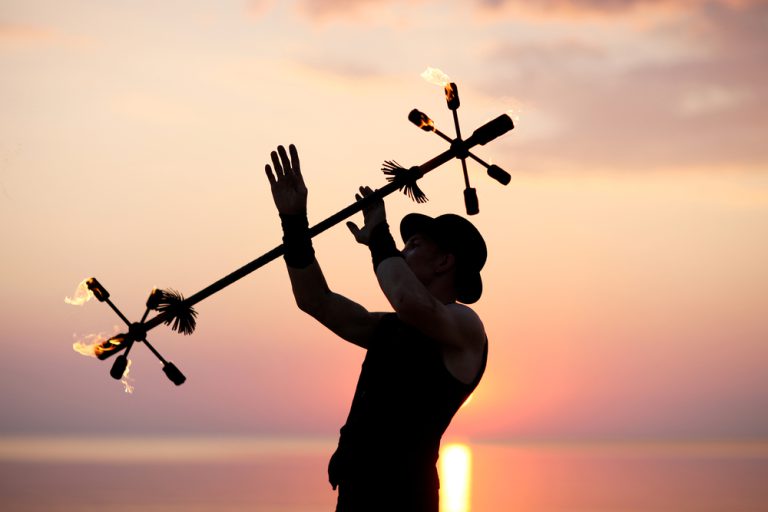 Once a year, something pretty magical happens on an otherwise deserted stretch of sand in Nevada.
Thousands of people congregate on the burning playa to create a temporary city — a thriving community based on art, immediacy, de-commodification, and inclusion.
In case you haven't guessed yet, we're talking about Burning Man. Since it's exploded in popularity in recent years, it's more likely than ever that you're enviously eyeing friends' social media posts about the (quickly!) approaching event… or perhaps staging the final preparations for your own journey into the desert.
Of course, being radically present in the stark landscape of Black Rock City is part of the Burning Man experiment. But that doesn't mean you don't want a little comfort available at the end of a long, hot day.
That's why renting an RV for Burning Man has become an increasingly fashionable option for festival-goers. Freedom and expression are great, but when it's a hundred degrees out, it sure is nice to have AC!
But how do you go about finding an RV rental for Burning Man — especially if you've waited until the last minute? What's the best Burning Man RV rental available on the market and how much will it cost?
We put together this quick and easy guide to help you experience the celebration of a lifetime in comfort and style.
Renting an RV for Burning Man
Before we dive into the nitty gritty, it's important to realize that Burning Man camper trailer rentals tend to book up fast. That means that you'll have the best chance to secure a rental if you make your arrangements several months, or even a full year, ahead of time.
As the festival draws nearer, more and more RVs in the Black Rock Desert area will be reserved by other participants. Plus, specific Burning Man RV packages that are advertised close to the dates of the event are generally very expensive — much more so than regular area camper or trailer rentals that aren't connected to the big name.
Some companies even offer luxury RV rentals for Burning Man that include delivery and setup services, so all you have to do is get yourself to Black Rock and find your tricked-out camper waiting for you. Of course, this kind of all-inclusive package can run up a hefty bill. Your luxury RV rental alone will cost several thousand dollars, and that's not counting the cost of transporting yourself from your home to Nevada, the fuel you'll need to run the generator if you decide to do so, the Burning Man ticket price, food, and, of course, all the fun and creative outfits and projects you'll want to bring to participate in the festival.
So what's the best way to rent an RV for Burning Man without going broke?
Burning Man RV Rental Cost
Obviously, no one's headed off to Burning Man looking for a cheap vacation. The ticket alone costs over $500 — and up to $2,000+ depending on the tier you choose.
If you're already paying that much just to get in the door, you'll probably want to try to find as cheap an RV rental for Burning Man as possible. After all, there's way more fun stuff to spend money on than your camper!
Obviously, the size and type of RV you choose to rent will have a huge impact on how much you can expect to pay. For instance, you might be able to secure a small sleeper van or campervan rentals for Burning Man at lower prices than you'd pay for a large, Class A motorhome.
If you're renting early enough, try to find modest RVs that aren't in super-close proximity to the Burning Man site. That way, the renters might not be tempted to hike up the price specifically for the festival. (However, remember that you'll have to trade off on those savings by paying for gas to get the rig from point A to point B… so make sure you don't start off too far away unless you're specifically wanting a road trip!)
Another option is to check out the peer-to-peer RV rental market, such as here at RVshare, which often has more affordable options than commercial dealerships. Once again, the more time you give yourself between booking and Burning Man, the more options — including cheap options! — you're likely to have.
Burning Man RV Rental Tips
Here are some more Burning Man RV tips to help ensure your time on the playa is safe and enjoyable for you and those around you.
Minimize your generator use. Yes, it's nice to cool down from the hot desert sun with your very own air conditioning unit… but propane-burning generators are noisy and produce fumes that could irritate other participants.
Make sure your fresh water tank is full — and bring extra! You can't stay too hydrated in the desert, and if you run out of water, it could be a very dangerous situation.
Don't forget: leave no trace. Packing out everything you pack in is one of the main tenets of Burning Man, so have a plan for every ounce of garbage or drop of dirty water you produce.
Be prepared and keep cool. The desert sun is no joke, so you need to make sure you have everything you need to stay safe and healthy: extra food and water, sunscreen, and an emergency kit for starters. Check out Burning Man's own guidelines for RV camping.
How to Keep the RV Clean
While the desert's playa is beautiful to look at, RVs can take a beating simply because of the dusty location. The combination of playa itself and hard winds can send the dust into any crevice and surface of the RV, including the engine and vents. Since the sand has such a fine texture, it can cause damage if not tended to properly. This is why you may see cleaning fees or higher deposits for Burning Man rentals – the playa gets everywhere! But nothing beats having a comfortable bed and home to retreat to while also enjoying the festival. Luckily, we have some tips that can help keep it as contained as possible once you get the keys.
Keep everything covered! Floors can easily be covered with plastic or thick paper. Seams for windows and doors may be taped. Furniture and some windows may be covered. These measures are some of the top ways to minimize dust in the RV. The RV owner may have these done for you before you head out.
Be mindful of the door. Keep an old rug outside the door (make sure it's weighed down), and brush your shoes/feet off before entering the RV. Maybe even leave shoes outside in a tub or bucket to avoid additional dust that can be tracked in. Also, try not to leave the door open except for the brief moments you're going in and out!
Clean as you go. The last thing we want is to take away from your time at Burning Man with chores, but this will make your temporary home much more comfortable! Simple tasks like wiping down counters, changing sheets, and inspecting the unit will go a long way.
Last Minute Burning Man RV Rental
If you're searching for an RV for rent just days before the event, you may find yourself in a bit of trouble. It can be tough to rent an RV for Burning Man even when you're well prepared, so it's even more difficult at the last minute!
However, even if online listings seem to turn up one disappointment after another, it never hurts to call RV rental agencies in the area. You never know when someone might have a cancellation, and you might be able to get on an RV rental waiting list… as long as you're prepared to pay up if your name is called!
Whether you sleep in a camper, a tent, or under the stars, enjoy your once-in-a-lifetime Burning Man experience… and stay safe out there.