How Tos & Tips
Last updated on January 6th, 2023. Originally published on May 21st, 2018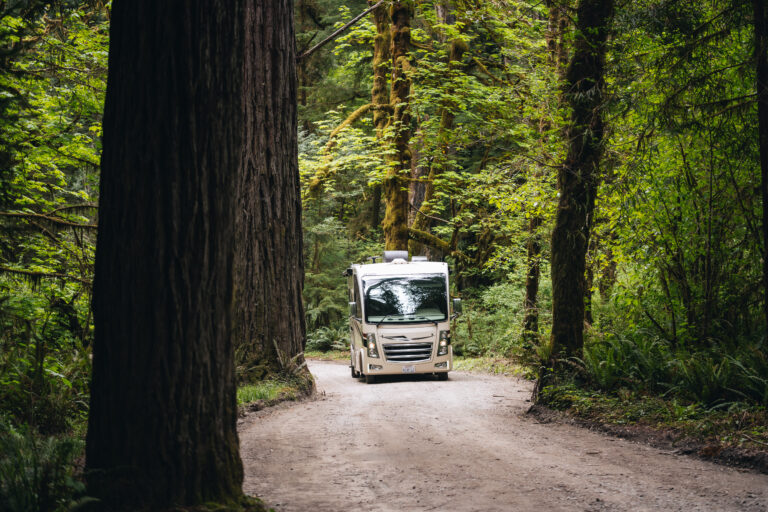 Has the impending summer got you poring over your road atlases and travel guides, getting excited for your next big road trip? Considering trying out an RV rental for your next road trip adventure?
Whether you're toying with the idea of a trailer or motorhome rental or you're just curious to learn more about this type of travel, there are a whole lot of misconceptions out there about rental RVs. That's especially true when it comes to RV rentals by owner — for those of us used to dealing with large, commercial rental dealerships, it can feel a little intimidating to go down the peer-to-peer route at first.
But we're here to show you that renting an RV through RVshare doesn't have to seem strange or scary. On the contrary, in fact: not only does RVshare help you find cheap RV and camper rentals, but it can also lead to lasting friendships and even make you fall deeply enough in love with RVing to buy a rig of your own.
So, ready to crush some common misconceptions?
1. Driving campers is crazy difficult.
Even the boldest driver can be a little nervous when it comes to driving a vehicle that's more than twice the size of your day-to-day car. But most RVs are actually surprisingly simple to drive — in fact, it can even be fun once you get used to it!
Think about it this way: driving an RV doesn't require a special license, so how much different from regular driving can it be? Class C RVs, for instance, are built into traditional truck chassis, so it feels almost exactly the same as driving a pickup truck.
Of course, as in any driving situation, it's always important to take your time, brake early, and double check your blind spots. Just like any other new vehicle, driving an RV comes with a slight learning curve… but you'll be a pro in no time.
2. Rental RVs aren't worth the cost since you have to do the work to drive them.
Psst: want to know a secret?
If you really don't want to drive an RV, there are lots of RVshare rental owners who will drive it for you! Of course, we're not saying they'll let you hire them on as your personal chauffeur (although we guess it couldn't hurt to ask). But if you have a specific campsite in mind, the RVshare owner might be able to deliver and set up the rig at your destination for you.
3. Finding rental RVs by owner near me is difficult and unreliable.
You may think that renting through a peer-to-peer RV rental marketplace like RVshare is unreliable or complicated, or maybe you're concerned that once you spend your money, the RV's owner will leave you hanging.
But nothing could be further from the truth. RVshare makes the whole process simple and safe, taking care of all the rental logistics so all you have to do is sit back and enjoy your vacation.
For example, each of our RV rentals comes with a comprehensive insurance coverage plan, as well as 24/7 roadside assistance just in case something does go wrong on the road. The listings also feature user reviews to help you know what to expect from the vehicle and its owners. It's all just about as clear and straightforward as possible!
4. Instant rental RVs do not exist.
Maybe you're attracted to the idea of walking onto a commercial rental dealership lot in the morning and walking away that afternoon with the keys. It seems like working out a deal one-on-one with a private RV owner could be a much longer, more drawn-out process.
But if you're looking for fast RV rentals, RVshare is arguably a better choice than your local big-box rental chain. We have many listings featuring instant RV rental bookings — just look for the lightning-bolt symbol. We challenge you to find a commercial dealership that can act that fast!
5. Cleaning RV holding tanks is a certified nightmare.
For many would-be RV renters, this is the one problem they simply can't get past. The convenience of traveling with a bathroom does mean you may have to clean your RV rental's waste tank… which can sound like a nightmare if you've never done it before.
But in truth, emptying an RV's waste tank is just about as simple as turning on a faucet, and possibly even cleaner (especially if the faucet in question is one in a public restroom). RV sewer hoses are opaque and sturdy, so you won't see, smell, or deal with any of the waste material up close and personal. The whole thing takes less than ten minutes!
RVshare really is one of the easiest and most effective ways to find an RV rental unit, no matter where in the USA you're starting from or headed to. Our owners offer unique and comfortable RV listings in every state in the country, and all the information you need is right there on the front page — no need to worry about any last-minute fees or surprises.
In fact, many RVshare renters end up falling head over heels for this unique travel style, ultimately purchasing their own vehicles… and possibly even renting them out on RVshare. Full circle!
For more details on the RVing lifestyle, we recommend the following books, which are available affordably on Amazon:
We've also written lots of great content about living that #rvlife right here on the RVshare blog. Here are a few of our favorite posts to get you started:
RVing is such a fun and special way to travel, and we hope this post has helped quell any fears that may be keeping you from getting started on your journey. Chances are, once you take the leap and secure your first RV rental, your only regret will be that you didn't do so sooner.