RV Owners
November 4th, 2017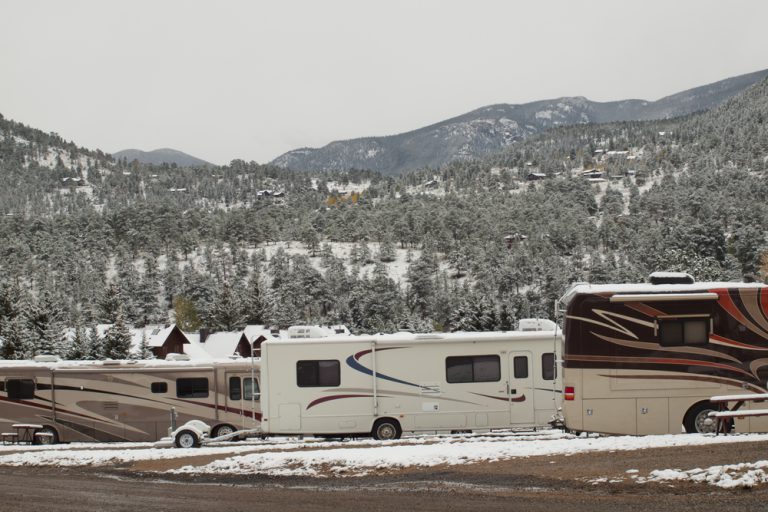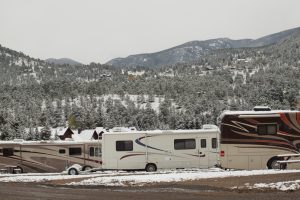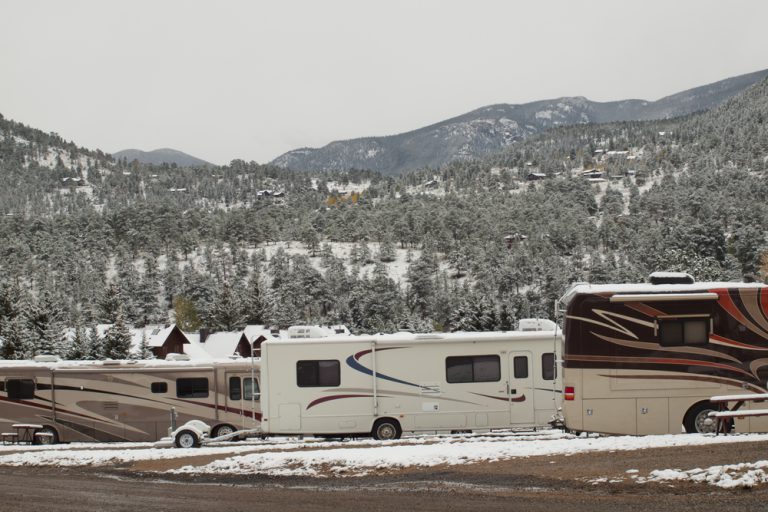 Winter is coming.
For many RVers, that means it's time to batten down the hatches, warm the cider on the stove, and put the trusty ol' camper into storage. (Psst: Here's how to ensure your RV rests well during its long winter's nap!)
But for a few brave travelers, and those who live in their RVs year round, winter is just another season to conquer. All it takes is a little bit of RV antifreeze and a puffy jacket, right?
Well, sort of. Winter camping is certainly possible, and can lead to some of the most beautiful and unique experiences you'll have while enjoying the lifestyle. Maybe you'll find yourself zipping down the slopes at one of the RV-friendly ski resorts in the U.S. or Canada, or perhaps you just want to watch the snow fall through the window while tucked cozily in your favorite blanket, sipping hot cocoa.
No matter what your winter camping angle, it's very important to winterize your RV or trailer — and we're not just talking about making sure the pipes don't burst! Surviving a winter on wheels requires some extra planning when it comes to packing.
Here's how to winterize a camper to live in during the coldest months of the year… including winterizing your wardrobe.
Winterizing Inside RV
Before we get into the nitty gritty of packing winter clothes for RV camping, it's worth reiterating the importance of winterizing your RV's systems, especially your water tanks.
Don't worry, we've already written a great post listing the RV winterizing supplies you'll need and tips on how to get the job done effectively. It also covers how to insulate a camper trailer and its pipes, which is very important for living in a travel trailer during winter!
You should also review our tips for driving your RV in winter weather. Ice and snow can be dangerous even in regular-sized vehicles, so be sure to take your time and pull over whenever necessary!
Alright, now that we've moved down the exterior winterizing checklist, let's get to the good stuff: packing tips for travel in winter weather!
Packing for Winter Travel
Obviously, you're going to have to bring some extra clothing if you're traveling in the cold season. You don't want your fingers to freeze off!
But there are also some other items you shouldn't neglect that will help keep your family safe, warm, and merry during your winter wanderings.
Here's a short packing list for travel during winter weather.
A winterized emergency kit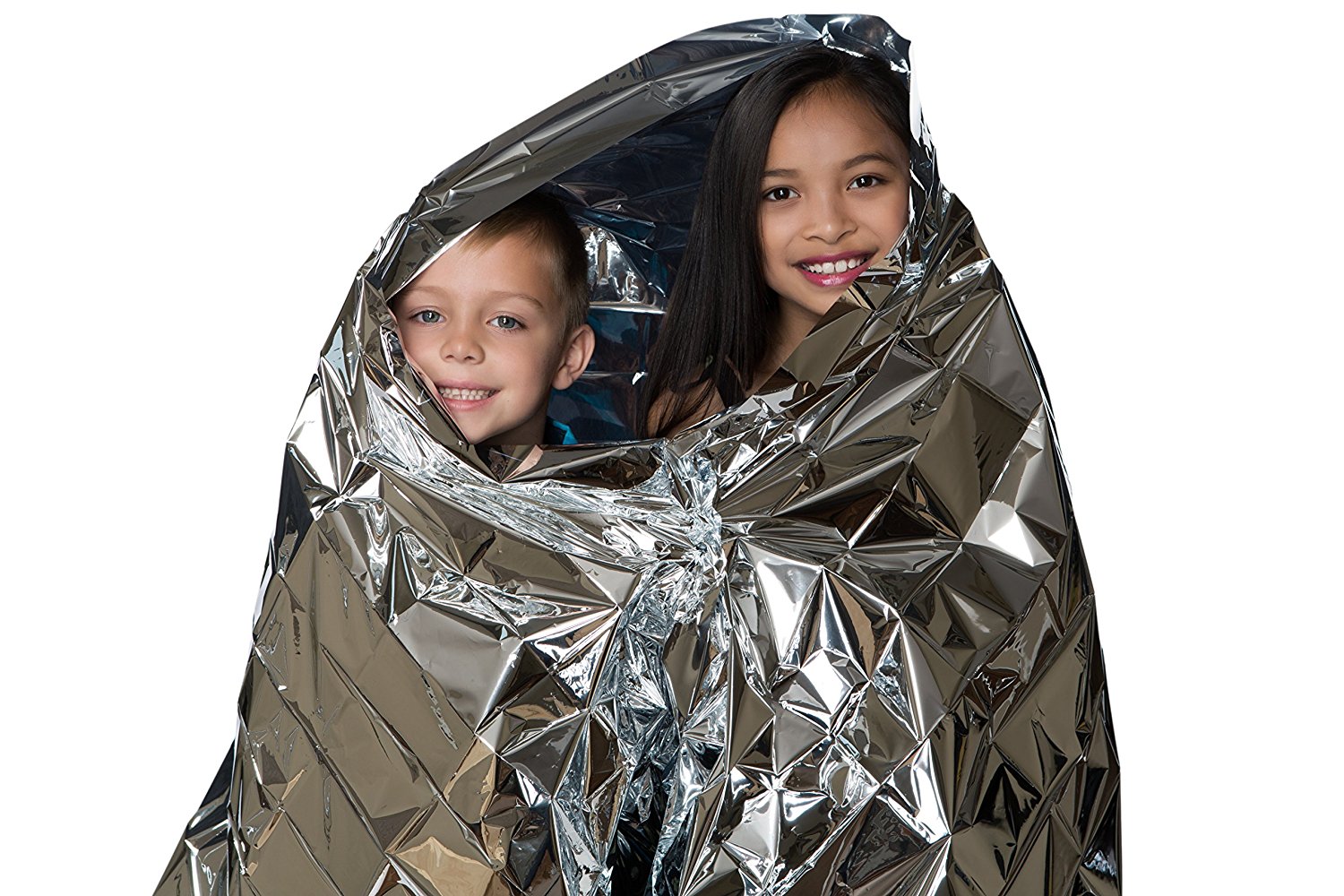 You already know you should never hit the road without some basic first aid on hand. Bandages, disinfectants, healing ointments, and anti-inflammatory painkillers (like Advil or aspirin) can save the day during inevitable camping mishaps.
But when it's cold out, you've got some extra concerns to contend with. You never know when you might get stuck in a snow drift for a while or lose power — and therefore warmth. So when you're RV camping in winter, be sure to add thermal blankets, a windshield ice scraper, and extra food and water to your emergency stash. A collapsable water container is a great way to bring more potable water on board, and can help you save space when it's not in use.
Hey, it all might end up being totally useless… but you'll sure thank yourself if not!
Winter adventure gear
If you're headed to a snowy destination, it's likely you want to enjoy that fresh powder in one way or another!
So whether you go all in for a lightning-quick snowboard that'll have you down the mountain in seconds or just want to hang out in a fun inflatable toboggan, don't forget to bring the adventure gear you'll need to get outside and play! Ski poles and protective goggles are easy to leave behind in the midst of packing mayhem.
Psst — if you've got a young camper onboard, try out an inexpensive child's sled. An afternoon of snowy fun for less than $50 can't be beat… especially considering the solid night's sleep it promises for mom and dad.
Best Cold Weather Travel Clothes
As anyone who lives in a four-season area knows, staying warm is less about big, bulky coats and sweaters and more about layers.
That's why when you're packing cold weather clothing for winter travel, it's important to make sure you have multiple layers for each part of your body. For instance, you can layer long underwear under jeans under snow pants or tights under trousers.
This is also a great thing for RV travel in cold weather, since these thinner layers take up a whole lot less room than bulky exterior garments.
Of course, your exact winter wardrobe will depend on your individual preferences and style, as well as what you plan to do during your journey. If you're planning on spending the majority of your trip outside exploring the freshly-fallen winter wonderland, you'll probably need at least a pair of waterproof hiking boots and warm socks that will wick away moisture to keep your feet dry and happy.
No matter what clothing you bring, don't forget the most important rule: cotton kills. Although it's a great way to stay cool in summer, cotton holds onto every ounce of moisture it seeps up… which can be dangerous when temperatures are literally freezing. If you're looking for the perfect winter fabric, we suggest wool — especially when it comes to layers close to the body, like socks and long johns.
Here are some more winter clothing items not to overlook while you're packing:
Jacket/vest
Sweaters of varying weight (including lots of lighter ones for lower layers)
Moisture-wicking underwear and sports bras
Hats
Mittens and gloves
Water/snow-proof garments, if necessary
What to Pack for Cold Weather Travel
We hope these RV winter camping and packing tips will help keep you warm and comfy even in the coldest and darkest part of the year.
After all, no matter how gloomy the weather may be, there's nothing that can't be solved by gathering your favorite people around the warmth of a campfire. (Which reminds me of one more thing to add to the packing list: S'mores ingredients!)
This post may contain affiliate links.