RV Repair Near Me: Tips for Finding a Trustworthy RV Repair Service
RV Owners
September 19th, 2017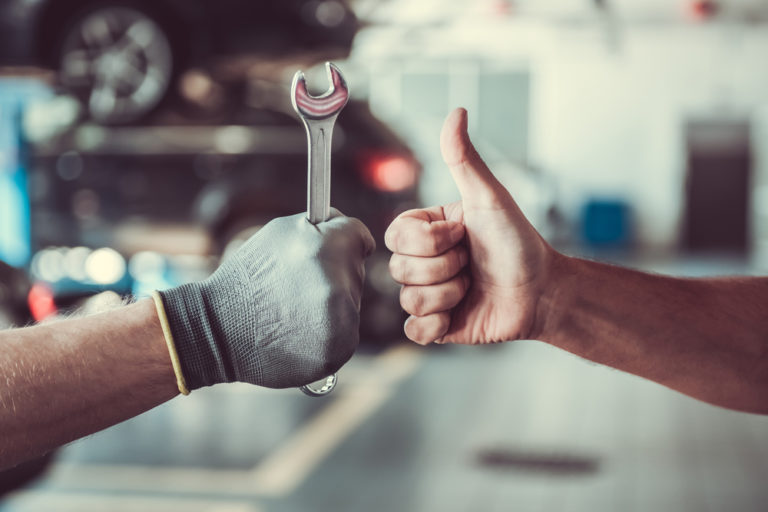 While not typically the case, sometimes auto mechanics may not be entirely honest, or inflate their prices. For those of us who are totally ignorant about the magic that keeps our motors running, there's no choice but to turn to a qualified professional. This is why finding a reputable and trusted mechanic is an important part of keeping your RV in tip-top shape.
If you don't know anything about the inner workings of your vehicle, there's nothing to do but trust the advice of the professional. And if they tell you the spiralatimus gyro-turner has gone kaput and will cost a cool two grand, you have no choice but to believe them… and cough it up.
The same is true when you're looking for professional RV service and repairs. In fact, in many cases, it's even more expensive. Key RV components, like your rig's refrigerator, are super costly to replace and not always easy to fix… not to mention the hassle of even getting it out of your rig in the first place.
But a trip to the mechanic shop doesn't have to fill you — and your wallet — with dread. Here are our best tips for finding an honest, dependable repair and maintenance source and getting the best RV service possible.
RV Service and Repair
Whether you're looking for motorhome or travel trailers repairs, or just general RV service and parts, you're bound to find a whole lot of mechanics vying for your business. As RVing has increased in popularity, more and more handymen (and women!) have picked up RVs as one of their specializations.
But how can you discern the honest mechanics from the ones who may be overcharging you?
We'll show you. But before we do, let's talk about taking matters into your own hands.
Affordable RV Repair
When you start seeking out the answer to the question, "How much do RV repairs cost?" … well, you may just find yourself wishing you'd never purchased an RV in the first place.
And the unfortunate reality is, you will have to pay for some repairs. Whether you buy brand new or spruce up a vintage rig, breakdowns and issues are part of the package, which is why smart RVers always build some repair expenses into their travel budget.
But one amazing way to minimize those costs is to learn how to do some basic DIY RV repair yourself — whether it's simply changing the oil or even renovating your entire cabin.
If you've never so much as held a toolbox in your life, you may be shaking your head… but you'd be surprised what you can learn to do with a little effort!
No matter what kind of issue or maintenance problem you're facing, there's likely a YouTube video or tutorial available from some helpful RVer who will show you the way to get the job done yourself. You might not have years of practice… but you know for sure you'll do the very best job you can.
If you're not even sure what the problem is in the first place, you could also consider turning to an RV mechanics forum to get help with diagnostics. The internet makes it so much easier to take matters into your own hands these days.
But every once in a while, a job will be complicated enough that you'll want to hire some professional help. In that case, we're back to square one. How do you find a decent mechanic?
Quality RV Repair
What's the best way to find the very best of something — no matter if you're looking for a pizza joint, a veterinarian, or RV repair help?
Ask the locals.
Whether you're in your own town or you run into trouble at your destination, the best way to get a feel for which RV repair shops and service centers are reputable is to… well, learn about their reputation. Luckily, again, the internet makes it much easier to do this than it used to be!
In fact, there are whole websites devoted to publishing user reviews of businesses, specifically for the purpose of helping you suss out the good from the bad. These websites — one of the most popular of which is Yelp — are a great way to get a sense of RV mechanics in your area, since the business doesn't have access to amend or remove any of the reviews.
Of course, companies can also host user reviews on platforms like their Facebook pages, but those reviews are usually subject to their own editorial decisions. In other words, if someone posts something the company doesn't like, they can just take it down.
Just remember to always take any reviews, good or bad, with a grain of salt. After all, people usually aren't moved to write a review unless they received exceptional service… whether it was exceptionally good or bad.
Dependable RV Repair
Another great idea, especially if you're in need of emergency RV repair at a destination you're unfamiliar with, is to ask around at the campground or any local RVing message boards online. People who live in an area have to form long-standing relationships with their mechanics, as opposed to one-off jobs that may or may not be of high quality.
The Importance of Regular Maintenance
Keeping up with your RV maintenance schedule helps avoid unforeseen issues down the road. An RV that is well taken care of and regularly looked over by you and a professional will go a long way in making sure it runs smoothly for as long as possible.
Finally, don't make assumptions based on the appearance of the auto shop. Even a tiny mobile RV service could be run by a dependable handyman, and that's what really matters! Run a Google search for "best RV repair near me" or "RV repair in my area," and then follow it up by reading reviews and asking the people around you who would be most familiar with the local options. Whether it's a tiny garage or a giant dealership, it's the service itself that matters.