7 Super Cool RV Accessories Under $25
RV Parts & Accessories
September 2nd, 2019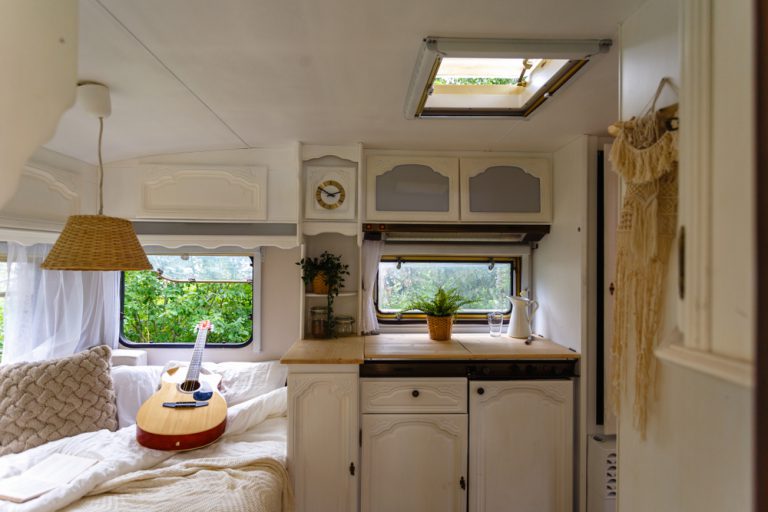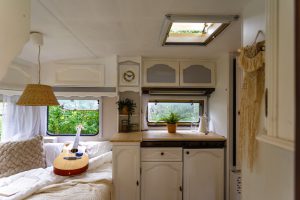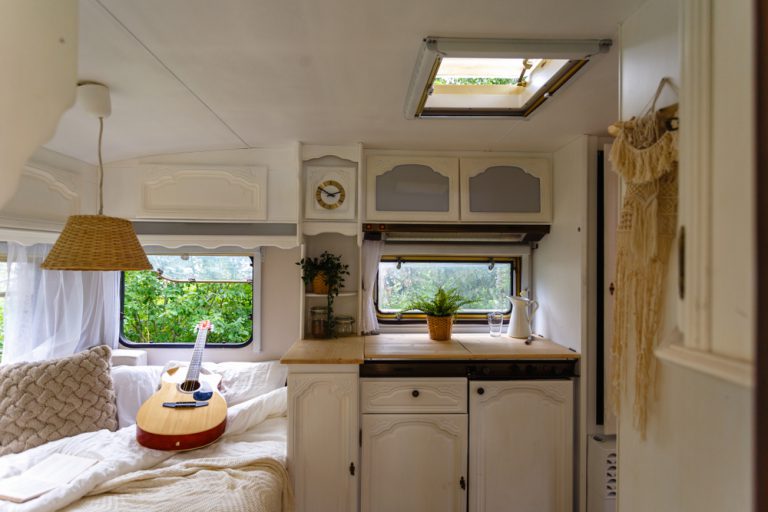 RVing is awesome in large part because it's so affordable, right?
Well, in theory. But anyone who's ever spent more than a couple of days on the road in their rig knows that expenses can stack up pretty fast. Between feeding that gas tank and paying campground fees, it's easy to find yourself with little left over for cool RV accessories. But that doesn't mean you can't find some fun ones to add for less than $25! (Psst: want help with the campground fees, too? Try a Passport America membership! You'll get 50% off your campsite accommodation fees at almost 1900 campgrounds across the country, all for a membership fee of less than $50 per year. At that price, it pays for itself in a jiffy!)
Adding the right gear to your packing list can go a long way towards making your RV a more comfortable place to be — not to mention fun and stylish! And if you know what you're looking for, it doesn't have to make you go broke.
Here are some of the top RV accessories you can find for $25 and under — or, in other words, a single week's worth of Starbucks drinks.
RV Camping Accessories
There are all sorts of RV accessories out there. They might make your rig cozier or more efficient, or even just be for fun.
But let's start with a few that can make a big difference in your actual camping experience. Here are some of the best RV accessories for an easier trip!
1. High-Pressure Handheld Shower Head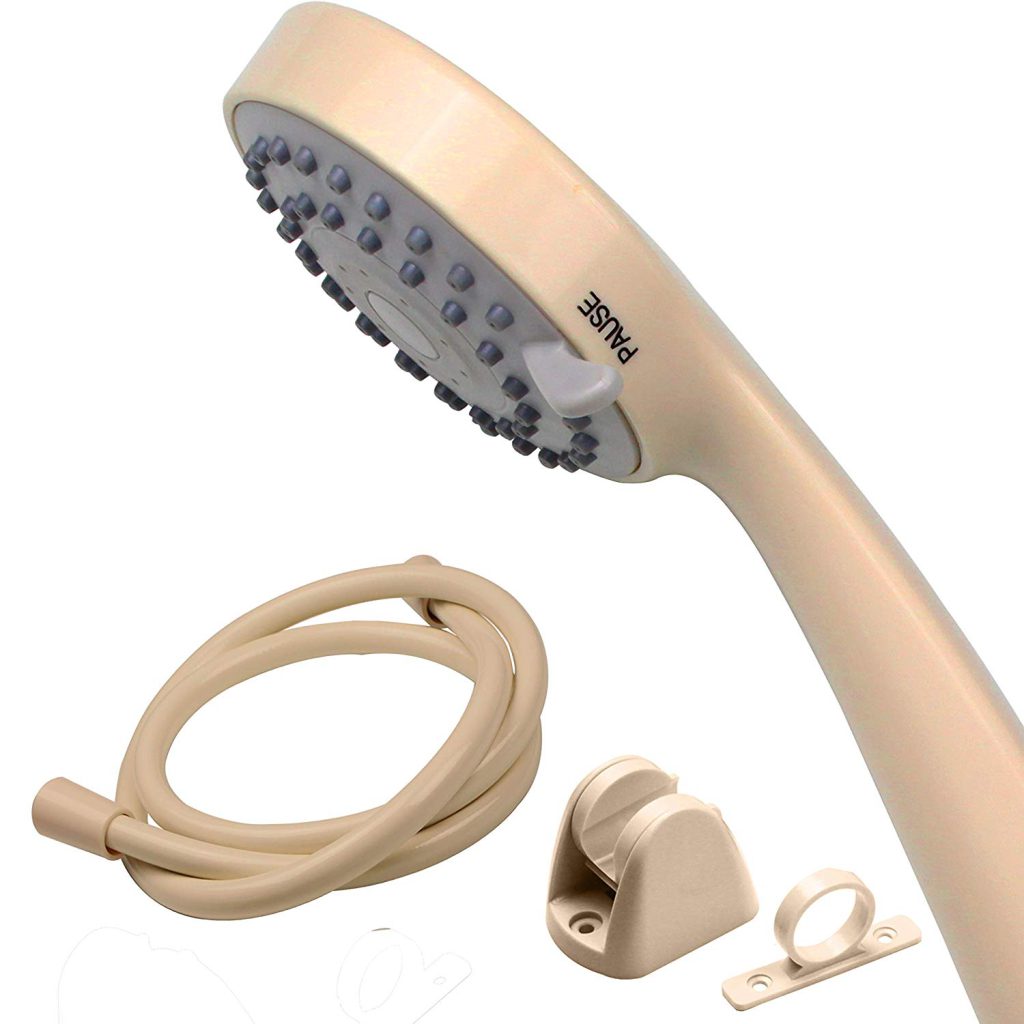 Let's get real: your RV's built-in shower might be convenient, but few campers have ever accused an RV shower of being any good. Even in the highest-end Class A diesel pushers, you may be craving a bit more pressure than your regular showerhead can provide.
Good thing you can get a great high-pressure handheld RV shower unit for less than $25! This model from PIH runs $15.99 for the yellow version or $21.99 for the chrome color, and when you step under a stream that will actually get the conditioner out of your hair, you'll thank yourself for making the investment. Plus, it helps conserve your water, which is a great way to lengthen your trip if you're off-grid camping or boondocking.
2. Hanging Mesh Shower Organizer
While we're in the bathroom, let's turn our attention to organization, shall we? Because as we all know, even in the largest rigs on the market, storage space is at a premium, particularly in the smallest room in the house. That's where this quick-dry hanging mesh shower organizer comes in. It gets all of your toiletries and must-haves out of the way while still leaving them accessible, and it helps save space in your cramped camper bathroom. Plus, since its pockets hold onto your accessories tight, you don't have to worry about them flying all over the place when you're under way!
We also love that this shower organizer has nice, big pockets, so you aren't stuck using frustrating sample-sized products. Go big or go home, baby!
3. Collapsible Food Storage Containers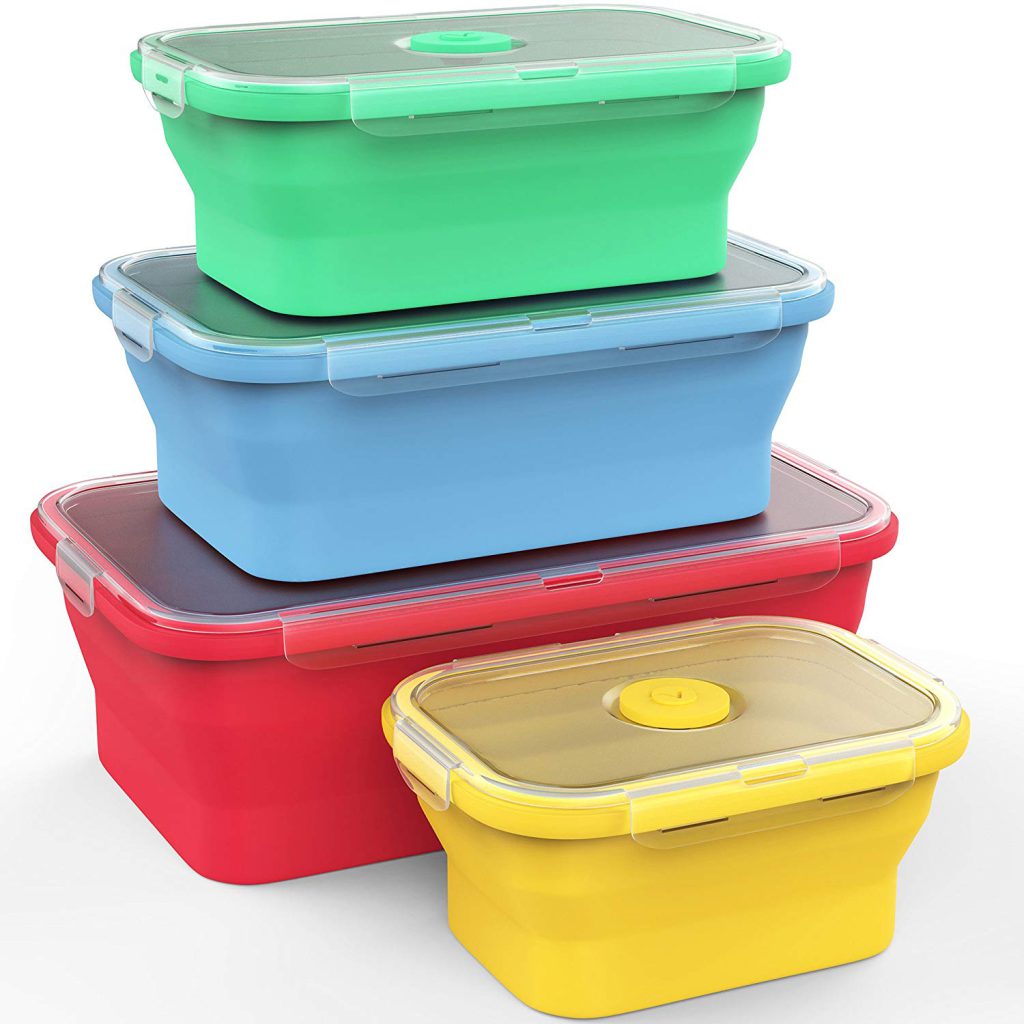 Your RV bathroom isn't the only place where saving space is important. In fact, although it might have more space, many campers report having more trouble making room in the kitchen — after all, it is the heart of any home, whether or not it has wheels. And although cooking in can help you save money and eat more healthfully, it can also be a challenge to find storage containers that don't take up way too much precious cabinet space.
Enter this set of collapsible silicone food storage containers, which come in inviting, bright colors and a variety of sizes. Airtight and safe for both the microwave and freezer, these inventive dishes are game-changers when it comes to creative RV cooking — all for less than $20, let alone $25!
Fun RV Accessories
Some of the coolest RV accessories aren't about productivity or making your space more efficient — they're about plain old fun! And at less than $25 a pop, you don't have to feel guilty about spending your travel dollars on these delightful additions.
4. Scratch-Off Map of America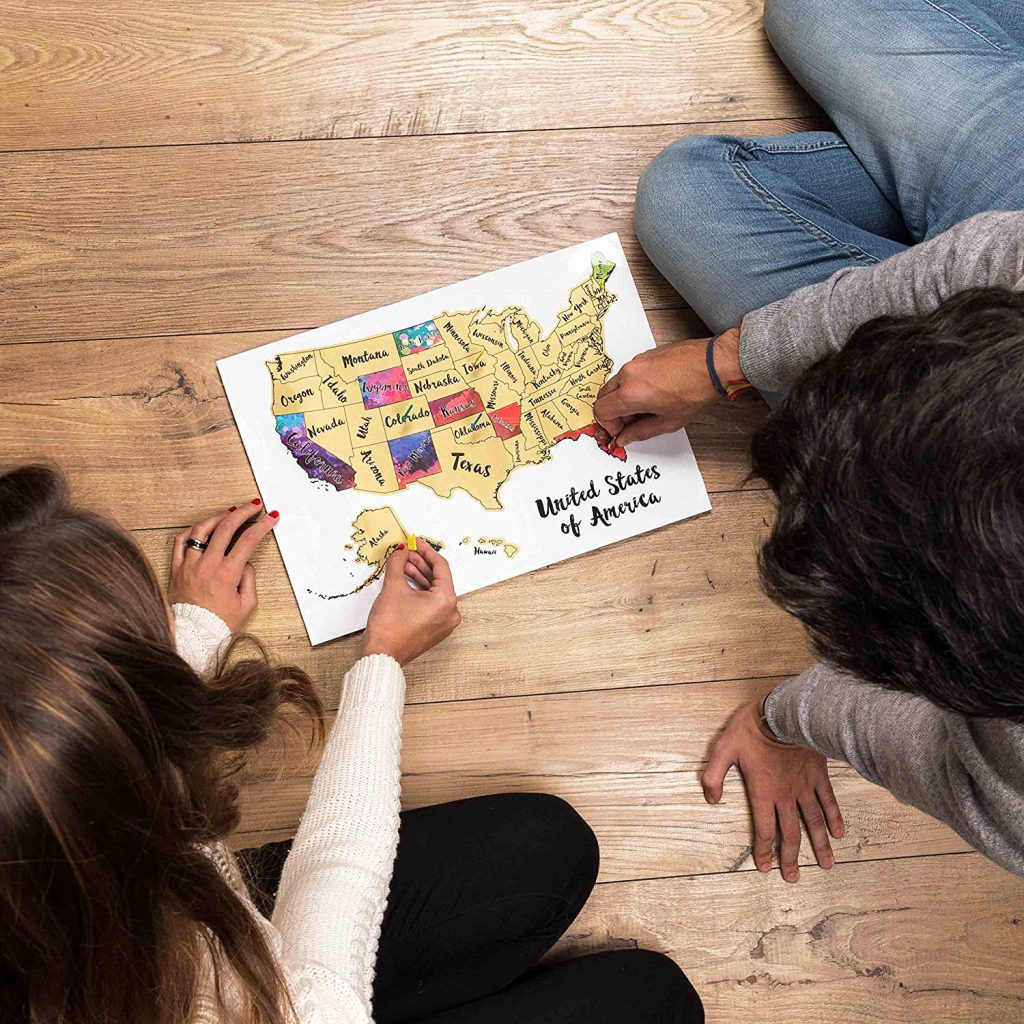 Traveling is awesome — but it's even more awesome when you actually remember where you've been. And although chances are you'll have enough fun to solidify some places in your memory, it's a simple truth that the human brain isn't wired perfectly, and sometimes, we forget even places that amazed us.
You won't have to worry about that when you invest in a scratch-off map of America to track your travels… and at $12.99, we use the word "invest" pretty generously. This is a great and simple way to create an affordable and fun memento, and your entire family will love the ritual of marking each state. (Plus, it's safe and easy for kids of all ages to participate in!)
5. Flameless Candles
Love the romantic light of an open flame, but realize it's probably not the smartest idea to have one in your camper? With propane tanks and tight quarters, a real candle can spell trouble in a flash… perhaps even literally.
Even if you feel pretty confident about your safety record with fire, flameless candles have the helpful benefit of never melting and needing to be replaced. You will have to replace the batteries occasionally, of course, but modern versions offer more than 400 hours of "burn" time off a pair of plain old AAs. Not bad, right?
We love this three-pack of ivory-colored flameless candles, which are designed to look like they've naturally dripped and include a realistic "dancing" LED flame. As if battery-operated candles weren't high-tech enough, these guys come with a remote control that allows you to control timing and intensity with a few button pushes. Pretty fancy… and all for just $13.99!
6. Camping-Themed Dish Towels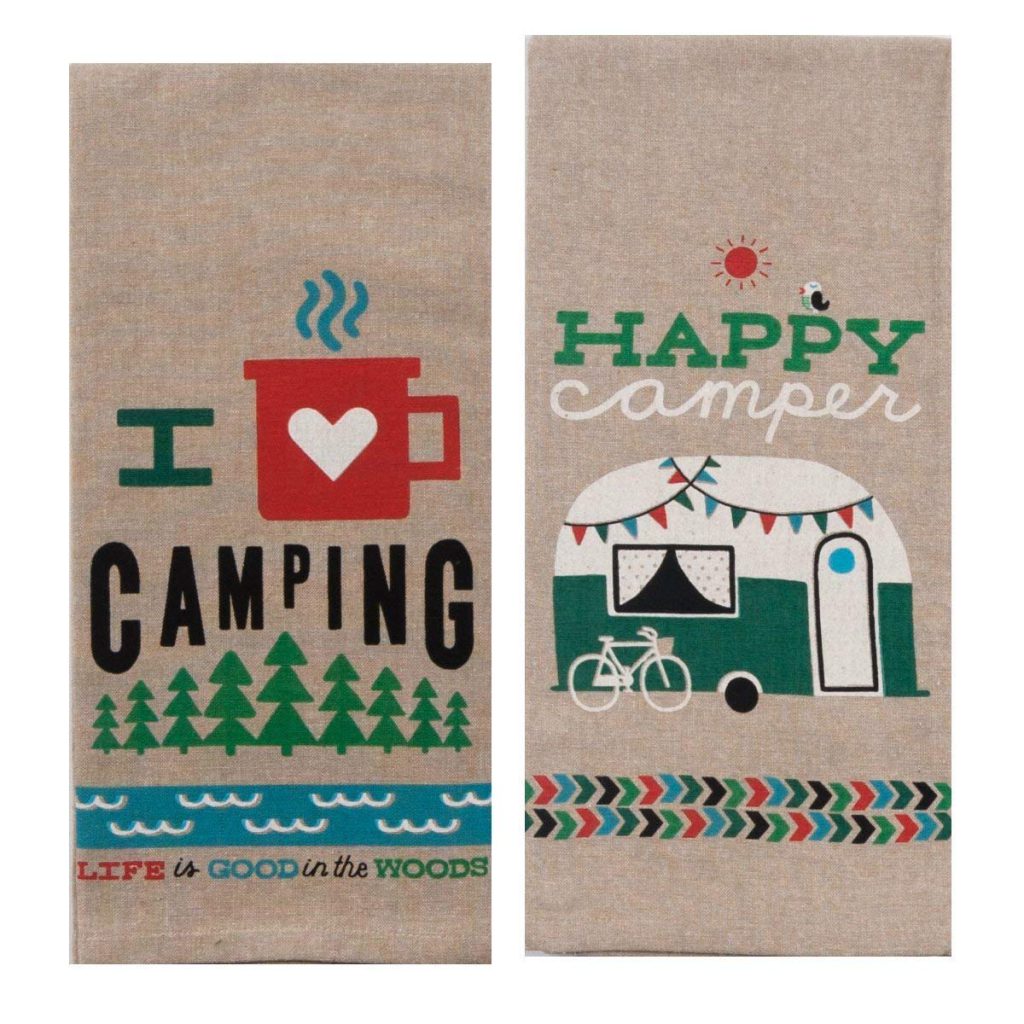 You need reusable dish towels in your rig. Why not make sure they're thematic? This set of two 100% cotton chambray towels rings in at under $15, and they're absolutely perfect for RVers of all stripes. (They're also washing machine safe, which is super convenient!)
7. RV Awning Lights
One of the very best RV accessories in the book. If you really want to upgrade your patio experience, RV awning lights aren't just an option — they're a necessity. And the good news is, they don't have to be expensive! Indoor/outdoor LED rope lights can be purchased on the cheap, and will last for years in all manner of weather. You can simply wind them around your awning's arms when you set up camp.
If you're looking for a more convenient option built specifically with RVers in mind, you might consider an RV rope light track, which transforms an existing awning utility track into the perfect receptor for rope lighting. That said, it is slightly outside of the budget limits of this post, ringing in at closer to $35. (Still worth it!)
Looking for Even More RV Parts and Accessories?
From cheap RV accessories to high-tech gadgets and upscale luxury items, treating ourselves with a few new pieces of RV gear is one of our favorite pastimes here at RVshare headquarters. That's why we've written tons of great content to help you find some fun new additions of your own — here are just a few more RVshare posts about camping goodies!
Psst: not in the market for accessories quite yet, because you don't have a rig of your own? Renting an RV on the peer-to-peer market at RVshare is one of the very best ways to get a taste of this unique travel lifestyle. You'll have the opportunity to rent a wide variety of vehicle shapes, sizes, and footprints — as opposed to being stuck with the straight-from-the factory Class As and Class Cs you find at the big rental dealerships.
Furthermore, since you're renting from our trusted network of private owners, you'll pay a fraction of the price you would at the big box stores. And your travel dollar goes right back into the hands of the camping community… who will doubtless use some of it to buy fun accessories like the ones in this post!
This post may contain affiliate links.