RV Owners
October 1st, 2017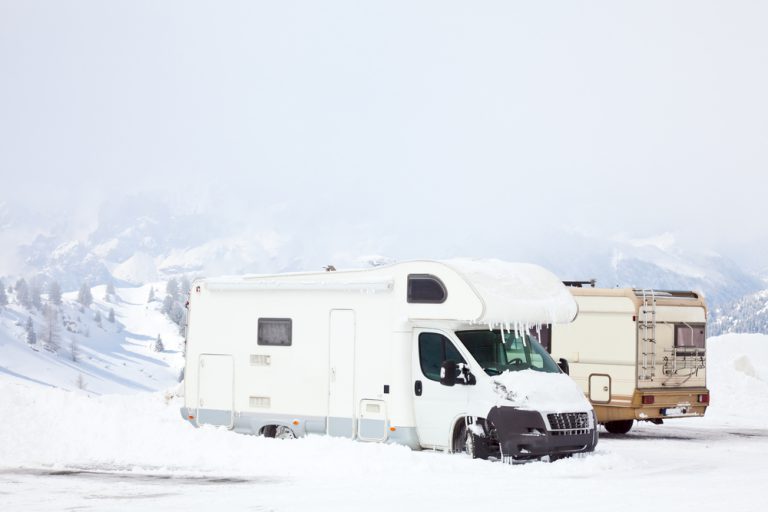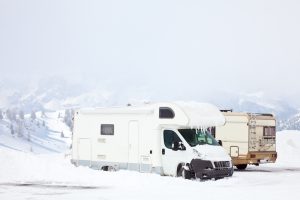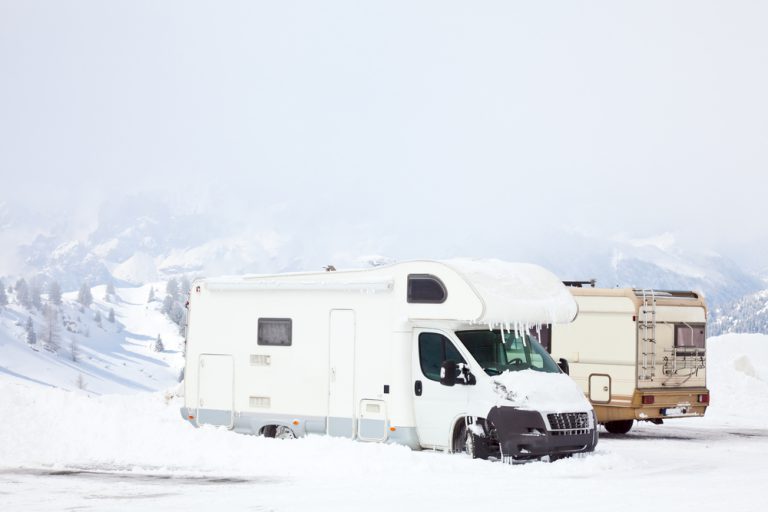 Unless you're lucky enough to live somewhere like Florida, the end of sunny summer days also means the end of RV camping — at least for a little while.
But that's okay. Everyone could use a bit of a break from time to time, and your RV is no exception! Besides, what with all that holiday shopping and the newly-necessitated snow shoveling you'll be doing, you won't even have a spare second to think about going camping.
But if you're hoping to return to a fresh, smoothly-running rig come springtime, it's important to take a few extra steps to prepare your RV for its long winter's nap. There's more to it than just dumping RV antifreeze down your kitchen sink and calling it a day.
Don't worry, we'll talk you through it! Here are some of our best best RV storage tips and ideas for your motorhome or trailer's seasonal siesta.
Why Winterize Your RV?
First things first: Is it necessary to winterize an RV? And what is winterization, anyway?
Well, the first question is easy to answer: If you live in an area where temperatures will go below freezing and you're going to be parking your rig outdoors, yes, you need to winterize. Doing so ensures that your RV will weather the cold temperatures with all its systems in proper, working order for when you're raring and ready to head out on your next adventure come spring.
Obviously, finding long-term heated, indoor RV storage is the best possible solution to ensuring your rig gets through the coldest part of the year with all its systems intact. But that's impossible for many RV owners, which makes winterization a must.
As far as what that process entails and how to go about it, don't worry: We'll guide you every step of the way.
How to Winterize an RV
Wondering how to winterize a camper trailer? Want to know the best way to winterize your RV?
Luckily, it's not that difficult. In fact, RV winterizing doesn't even necessitate that many supplies.
First, you've got to get some RV antifreeze, which is specially formulated and will always be pink in color. When properly used and diluted, this product will keep your pipes from bursting all the way down to temperatures as low as -50 degrees Fahrenheit, and it's totally non-toxic, biodegradable, and safe to use.
Before you utilize the antifreeze, however, it's a good idea to completely drain and clean out your RV's water tank system, including both the freshwater and wastewater tanks. You can then use an RV blowout plug in order to start blowing out your RV's water lines to ensure everything is totally clean and ready to go. (NOTE: Always double-check your owner's manual for full winterization details, including maximum compressed air PSI to use during this time.)
At this point, you can begin to introduce the RV antifreeze into your water system. To circulate it throughout the system, you can either use the existing RV water pump or an external hand pump — but keep in mind that if you use your rig's existing, onboard water pump, you'll need to buy a bypass kit, as you don't want the antifreeze getting into your fresh water tank, which that pump feeds from. You may also use this to bypass your hot water heater. If using an external hand pump, follow its included directions to connect the pump to the bottle of antifreeze and the city water inlet. Then, pump antifreeze into your system until all the faucets drain a bright pink liquid.
Guess what? The bulk of your winterization is done! However, if you do need to store your RV outdoors, there are a few extra steps to consider before you throw on the slipcover and call it a day.
You may also want to remove your RV's batteries and bring them indoors to keep them from freezing, as extreme temperatures can have an effect on battery life. But bear in mind that taking out the start battery will reset the CPU, which means you might have to go through some extra steps before your rig is ready to get on the road come springtime. (Once again, check your owner's manual for full details!)
Best RV Storage Ideas
Whether it's winter or not, whenever you're putting your rig into storage, there are a few steps you should follow to help ensure all your RVs parts stay in tip-top shape.
The very first of these is to always park under a covered area if possible. Water damage is one of the leading reasons RVs need costly repairs, and keeping detritus like bird droppings, leaves, and twigs off your RV's roof can go a long way toward extending its life.
Of course, some of the most affordable RV parking and long-term storage isn't covered, which means you may need to invest in an RV cover to help keep out the elements. We like the Classic Accessories OverDrive PermaPRO Deluxe Travel Trailer Cover, which fits 24′ – 27′ RVs. It's got adjustable front and rear tension panels and is made of extra-strength, waterproof and UV-resistant fabric, so it's well worth its cost. A cover is one of the most important RV storage accessories you can have!
You'll also want to ensure that the interior of your RV is as clean as possible, which serves a couple of purposes. First of all, it keeps your rig free of pests and bugs, which can easily invade your RV if there's any leftover food, beverages, or dirt to attract them while it's in storage. Plus, it makes it a lot easier and quicker for you to get back on the road when the sun comes back out again in spring if you don't have to worry about doing a deep cleaning first!
RV Storage Cost
If you're looking for cheap RV storage, you'll likely find that outdoor lots offer the best prices. And if you winterize your rig well enough, you shouldn't suffer any adverse effects from keeping your trailer outside during the coldest part of the year.
To figure out where there's outdoor RV storage in your area, you can run a Google search for "outdoor RV storage near me" or "RV storage + [your zip code]." And don't forget to check out the RVshare archives on the best RV storage facilities across the United States, which you can find here.
Stay warm out there!
This post may contain affiliate links.
Looking for more tips on how to RV in the winter? Check out How to RV in The Winter Without Freezing to Death!