RV Owners
Last updated on March 20th, 2023. Originally published on February 10th, 2018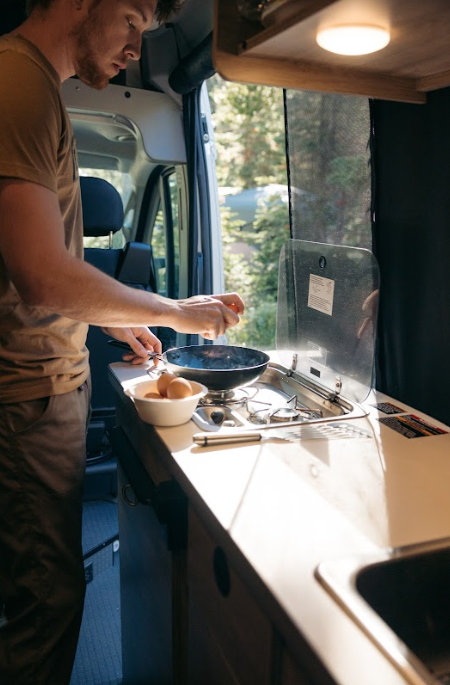 You may have the very best intentions for staying fit and healthy on the road, and even keeping up with those New Year's resolutions.
But there's nothing like a teeny tiny RV kitchen to make eating healthy, home-cooked meals a little bit more complicated… no matter how many fridge organizers and produce keepers you've invested in. Fresh foods like fruits and vegetables might be healthy, but they take up space — and there just isn't that much room in most RVs. If you're like most of us, you end up cramming food into any available space you can find and hoping for the best.
But with a little bit of ingenuity (and, yes, some Tetris skills), it's totally possible to store a week's worth of fresh goodies in your RV, even if you're feeding a small family. In fact, if you follow our suggestion and start a meal prep routine, you may even find you're saving money while you eat more healthfully than you have in ages.
Ready to learn more? Put down the Cheetos and pick up that big bunch of carrots — yes, the ones with the leafy greens still attached.
Here's how to make eating healthy in your RV super easy.
Food Storage Containers
See, the problem with storing food in your RV isn't really that you don't have enough space for all the goodies. It's how those goodies are packaged.
Whether it's a rectangular box of nuts or cereal or a big, round tin of cookies (hey, not everything can be fresh and "clean"), most food manufacturers aren't thinking about how to cram as much nutrition into as little space as possible when they're creating their packaging. That's why it's up to you to do a little bit of reorganizing for them!
Having the right food storage supplies and containers is the key to keeping more fresh foods in your rig. For example, say you purchased three boxes of cereal, a round plastic container of fresh popcorn, and a box of trail mix — which, of course, is a totally different shape and size than the cereal. The popcorn container doesn't lie flush with anything else's edges, so it takes up even more space since you can't fit anything close in next to it. You're probably looking at several square feet worth of storage space for a relatively small amount of food.
But all that changes if you invest in some square food storage containers, which are built to be stacked and stored close with one another and take up as little space as possible. For instance, this set of 18 food storage containers includes various sizes, but all are square to use space as efficiently as possible — and they're glass, which means they won't stain, and are also microwave, freezer, and even dishwasher safe.
Then, you can simply unpackage your goods and transfer them to these storage devices, which are more easily stored and stacked. You can also forgo the packaging entirely by shopping at the bulk bin of your local market or grocery store. In lots of cases, it's also cheaper!
Clean Eating Meal Prep
Getting creative with your storage will go a long way toward helping you keep all the fresh foods you want on board. But if you're really committed to keeping up with your healthy lifestyle on the road, you might want to take meal prep into consideration.
Meal prepping involves cooking up and packaging several days, or even a whole week, worth of meals ahead of time. You can meal prep only lunches, for example, or do it for breakfast, lunch, and dinner.
Either way, it's a great idea for RVers — not only because it can help you stick to your healthy eating goals, but also because it means all those fresh ingredients will already be broken down and cooked, a process that renders most ingredients smaller.
You can even find food containers specifically made for meal prepping, which have separated sections for your entree and sides. They're square, stackable, and really helpful for controlling portion sizes!
Easy Meal Prep for Beginners
Of course, not all recipes are meal-prep-friendly. Some ingredients can get soggy or lose their flavor when made ahead of time.
But there are plenty of easy, tasty meal prep ideas and foods that lend themselves well to this approach. Here's a list of 36 easy food prep meals from blogger Dinner at the Zoo to get you started; you can also find weekly meal prep ideas and recipes for any specific dietary restriction, whether you're following a low-carb diet or going vegan.
Doing meal prep can be a fun weekly ritual that'll help keep your RV's kitchen and fridge organized and full of tasty, nutritious food. Plus, you're less likely to forget about items and let them go to waste — which means your food bill might just be a bit cheaper than you remember! That's a serious win-win, right?
How to Meal Prep for the Week
If you decide to try it for yourself, the best way to meal prep is to get really organized ahead of time. Make sure you have your grocery list for your weekly meals and all your containers set to go before you even head to the store.
Then, when you come home with all those overflowing bags of groceries you never know how you'll stuff into your RV's refrigerator, you'll have your work cut out for you — literally! You can chop up veggies, cook up meat, and package everything neatly for the next few days of stress-free eating. The nice little square containers fit easily in your RV's fridge, taking up every inch of available space as efficiently as possible, and you'll be free to focus on enjoying your days exploring rather than cooking again and again.
For more information and ideas on meal prepping, check out a meal-prep cookbook, like Toby Amidor's The Healthy Meal Prep Cookbook: Easy and Wholesome Meals to Cook, Prep, Grab, and Go or Tyler Smith's Meal Prep: Beginner's Guide to 60 Quick and Simple Low Carb Weight Loss Recipes. You'll be looking good and feeling great in no time — no fridge-cramming required.
This post may contain affiliate links.