How Tos & Tips
Last updated on November 21st, 2022. Originally published on May 21st, 2017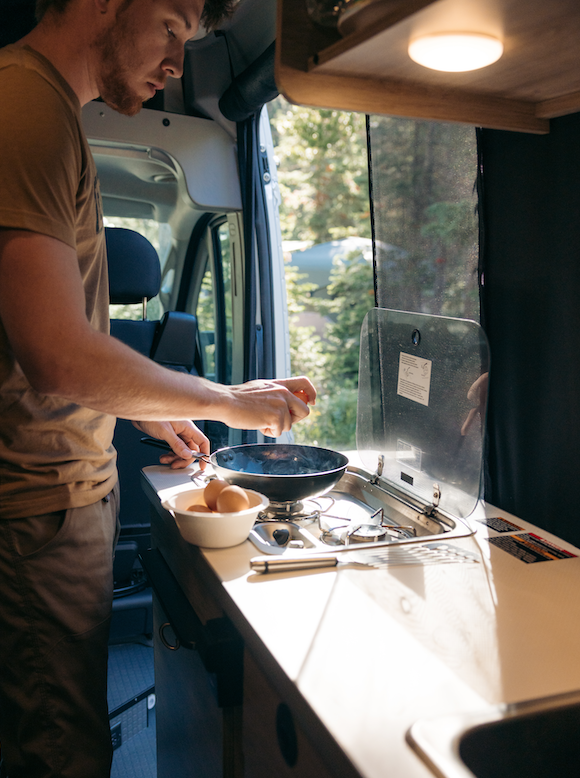 One of the coolest things about traveling in an RV is the opportunity you have to save money by making your own meals. After all, it's the only way to take a road trip where you actually can bring the kitchen sink along for the ride.
But on your RV, you might not have access to the same kinds of kitchen accessories you rely on at home. In fact, you might not even have an oven — and if you do, it surely won't be the full-size version you're used to baking, roasting, and broiling in at home.
That doesn't necessarily mean the promise of saving cash and eating well by camping with a full-blown kitchen is moot. There are tons of amazing, RV-friendly recipes and meals that are delicious, healthy, affordable, and easy to make. Plus, since you're dealing with limited space and cooking tools, many of them also require less clean-up than some of the go-to dinners you make at home, which means you might just end up adopting them even after your vacation is over.
Although you might not have all the comforts of home, most modern RVs come equipped with at least two stovetop burners, and many campers also bring a slow cooker along for the trip — it's a convenient, hassle-free way to get an easy, yummy dinner together while the family's out exploring. And keep in mind that what your RV's kitchen lacks in space, you make up for in the great outdoors. The grills you'll find at almost every campground make for a versatile and fun extension to your tiny kitchen. (We do highly recommend bringing along a cast iron pan, which works well over any sort of heat source, making it an incredibly versatile, and RV-friendly, cooking device!)
So whether you're looking for breakfast, lunch, a generous dinner, or just a quick snack, we put together this list of our 16 favorite meals to make while we're RV camping — with no oven, and minimal other cookware required.
RV-Friendly Breakfast Recipes
1. Pancakes
A family-friendly, weekend-y, comforting favorite, pancakes require little more than a burner and a pan. You can make a fancy, homemade, berry-filled version like the one linked here… or stick with the box mix. We bet your kids won't mind, and we won't tell!
2. Egg and Potato Breakfast Scramble
If you've got eggs, potatoes, and some dried spices, you've got a simple but hearty breakfast ready to whip up. A dash of cheese makes this dish even more irresistible.
OK, you might be sensing a pattern, here… scrambles are a simple, easy way to whip up a complete breakfast with limited space and tools.
But we love this recipe especially because of its use of Stovetop stuffing mix, which is a great nonperishable ingredient perfect for camping. You can either make a batch specifically for this recipe, or use up your leftover side dish from last night's chicken dinner.
Think you can't have a hot, delicious, baked pastry dish for breakfast without an oven? Think again.
This easy, 30-minute recipe utilizes premade, packaged biscuits, and it comes together in a flash over your stovetop burner. The best part — the icing — is the part you make from scratch, and it's surprisingly easy and utterly delicious.
Even if you didn't bring a toaster with you, you can still have your favorite carb for breakfast. The linked recipe calls for coconut, fancy nut butter, and cinnamon, but you can top your bagel however you like!
6. Omelettes
Although traditional for breakfast, this savory egg dish could work at any mealtime, and the only hard requirements are eggs, butter, a frying pan, and a stovetop burner. Omelets are infinitely customizable, so just use whatever ingredients you have on hand!
RV-Friendly Lunch and Dinner Recipes
Want to seriously up your sandwich game? Just add a little heat.
You'll transform your favorite lunch sandwich from everyday to extraordinary when you press it on the grill. Plus, it takes almost zero time or effort, and doesn't increase necessary clean-up much at all.
Camping somewhere with awesome freshwater fishing opportunities? Take advantage of last night's catch and grill up this savory lunch. It's easy, delicious, and a great way to infuse your day with a healthy dose of protein — all the better to power your outdoor adventures with!
9. Grilled Corn
If you think this delicious, affordable, starchy vegetable can't be a meal in itself, you clearly haven't had it over the grill. The linked recipe ups the ante with homemade mint butter, but you can top your cobs however you see fit. They can even transform from savory to sweet with a sprinkle of cinnamon and a drizzle of honey!
10. Honey Mustard and Rosemary Chicken
We love this recipe because it's all-inclusive: from the potato side dish to the main event, the whole meal comes together right in one skillet, making cleanup a breeze!
11. Mac and Cheese
Here's another classic you might think you can't make without an oven — or without resigning yourself to frozen, microwavable fare. Not so, my friends. This scrumptious recipe comes chock full of fresh bell peppers and savory sausage, and it's all done in one pan right on top of your stove.
Pasta might be a no-brainer when you're camping; it's simple, stove-top, and made up of nonperishable ingredients.
Don't on't make the mistake of thinking you're relegated to boring old spaghetti with canned sauce. This recipe from The Wholesome Dish is less boring and healthier than simply unscrewing the lid of a jar.
If you're headed out for a long day of adventuring, you'll need something warm and hearty when you head back to camp. Chili might be just the thing, especially since you can make it out of canned and dried ingredients. Just dump everything in and let it simmer in the slow cooker all day. Few things in life offer such delicious returns for such a small effort!
RV Friendly Desserts
14. Homemade Fudge
You'd be surprised at exactly how easy this decadent treat is to make at home, and it's way better than the stuff in the gift shop.
Craving a sweet, but healthy, treat? You'll be surprised how much a bit of flame can transform your favorite fruits. These kabobs are easy and fun to make and eat and are a great way to get your kids excited about a healthy dessert alternative.
Yes, cake without an oven is totally possible! This peachy "baked" treat will turn out perfectly on your RV's burners, can be eaten alone or topped with vanilla ice cream. Mmm.
I don't know about you, but I'm getting hungry just thinking about all these dishes! What's your favorite RV-friendly recipe?