How to Stay Connected when you're on the Road
RV Owners
October 16th, 2017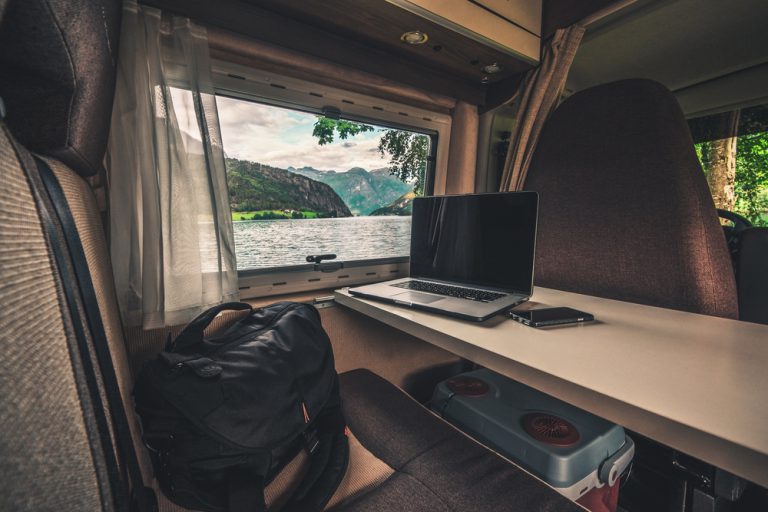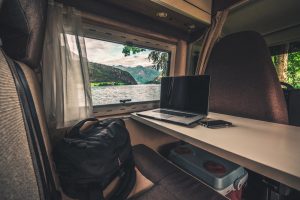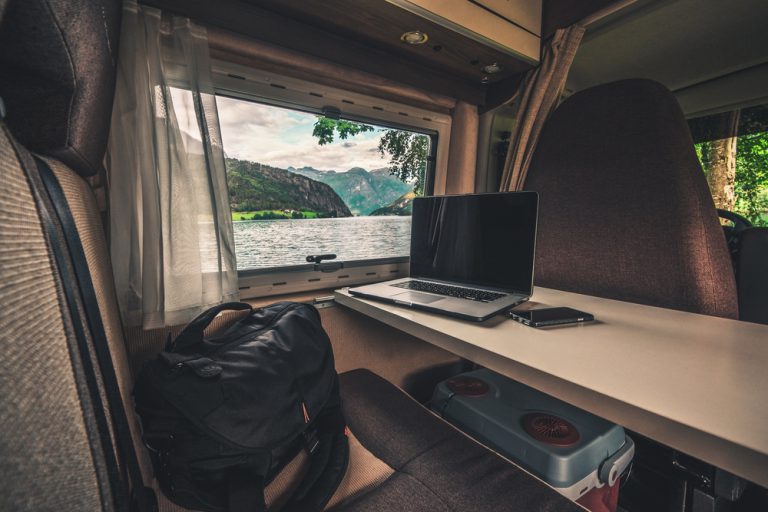 There's just no getting around it: Nowadays, almost everything we do is online, whether you're accessing the net from your tablet, laptop, or smartphone.
From keeping in touch with friends and family to paying bills and checking your bank statements, having good cell reception and internet access on the road isn't a luxury anymore. It's a necessity. (Heck, for many full-time RVers, it's the only reason they can travel so extensively in the first place — because it's more than likely their main source of income is remote work done entirely online!)
But the question of how to get a solid internet connection while you're on the road in an RV is actually more complicated than it may seem at first. Although many campgrounds advertise free WiFi, for instance, it's unlikely that you're going to just pull in and find yourself basking in the cyber glow of a speedy, lag- and cost-free connection.
Not to worry, though. We know how imperative it is that you stay connected while you're traveling, and we happen to know a few ways to get around the most common accessibility problems you may encounter.
Here are our best tips for getting high speed internet access while you're on the road.
How to Access WiFi While Traveling
Let's start with the most obvious way to get online, and what can be the most frustrating.
If you're camping in privately-owned, developed campgrounds, you've doubtless seen advertisements for "free" high-speed WiFi that's included in the price of your campground accommodations. This sounds like a fantastic RV internet solution — it's available at no extra cost, and all you have to do is open up your device's list of WiFi connections and log in.
However, although many campgrounds have the best of intentions when they offer free WiFi, it can be difficult for one signal to adequately cover a large campground property — and the demands of so many users can tax the bandwidth so heavily, "surfing" feels more like viewing a slideshow.
All of this to say nothing of the fact that RVs tend to be made of pretty non-WiFi-conducive materials. From fiberglass to aluminum, you may be dismayed to discover you're basically traveling inside a Faraday cage on wheels.
But fortunately, there are some alternative internet solutions for RV travelers you might not have thought about yet.
Best Way to Connect to the Internet on the Road
One way to go about it is to find ways to make that WiFi signal at the campground more accessible in your RV. This can be done by using a WiFi extending antenna or repeater, which serves to strengthen the signal you're able to receive.
Chris and Cherie at Technomadia have been full-time nomads for over a decade, and since they both work remotely in tech, they know a thing or two about staying online while on the road. They recommend the Ubiquity Nanostation M2 for WiFi repeating, and for added effect, they mount it on the back of their rig with a flagpole holder.  (Clever, right?)
They've also got a lot of other details about how to keep a connection no matter where you find yourself, which you can read here — from travel WiFi routers to satellite and hotspot options and more.
WiFi While Traveling in an RV
Another option you may have heard about for maintaining mobile WiFi while traveling is to purchase a personal WiFi hotspot. These devices work off a cellular data signal, which means you can find a strong connection anywhere your network has coverage.
There are all sorts of different hot spots to choose from, though which is available to you will depend on which cellular network you're part of. You can check with your existing cellular provider about their options, which vary depending on which network you patronize. Make sure to check and see if any roaming charges would apply, so you'll be prepared for a higher bill if necessary!
You can also purchase unlocked mobile hotspot devices on Amazon, such as this one — but keep in mind that the cost you see doesn't include the price of the data you'll be using up. As mobile connectivity increases in demand, manufacturers are coming up with more and more creative solutions, such as this Zubie GPS tracker that includes a WiFi hotspot, or this pricier Android version that includes a quad-core processor and a backup camera.
Phone and Internet During Road Trips
Two out of three Americans over 55 years of age are planning vacations in 2021. The most popular? Road trip! One recent survey shows that 92 percent of Americans are confident they'll finally be ready for a road trip by September. New data from Ookla confirms T-Mobile's 5G network covers more Interstate highway miles than any other wireless provider. This means that Americans traveling the highways for an RV vacation, visiting relatives in another state or even working from the road can benefit from this reliable network.
Wondering about satellite TV and internet for your RV? There are many mobile satellite internet providers out there, and they do tend to offer good, fast, reliable service. However, this speed and stability comes at a price. Satellite providers can be very expensive, with some plans costing up to $400 per month or more!
And keep in mind that satellite TV and satellite internet aren't the same thing. Just because you sign up for a satellite TV program doesn't mean you'll be able to use it to get internet access, so make sure you know exactly what you're purchasing before you sign any papers. Furthermore, many satellite systems are not equipped to deal with mobility and are designed instead for regular, at-home use in one place… so again, make sure you get the full details from the providers you're looking at before you make any purchase decisions!
Obviously, the question of how best to connect your laptop to the internet on the road is a complicated one, although vitally important. From work to play, we hope this post has given you a good idea of some of the best ways to attain wireless internet you can count on while you're on the road.
That said, it is called camping, after all… so don't forget to shut down your screens and get outside every once in a while! The whole point of RVing is to spend time reconnecting with loved ones and exploring exciting new destinations, with a heaping helping of outdoor fun added in to make it even better.
So don't waste the whole time sitting in front of a computer. Instead, make sure your internet connection is fast enough that you won't have to!
This post may contain affiliate links.