Hiking Trails
Last updated on April 19th, 2023. Originally published on March 29th, 2022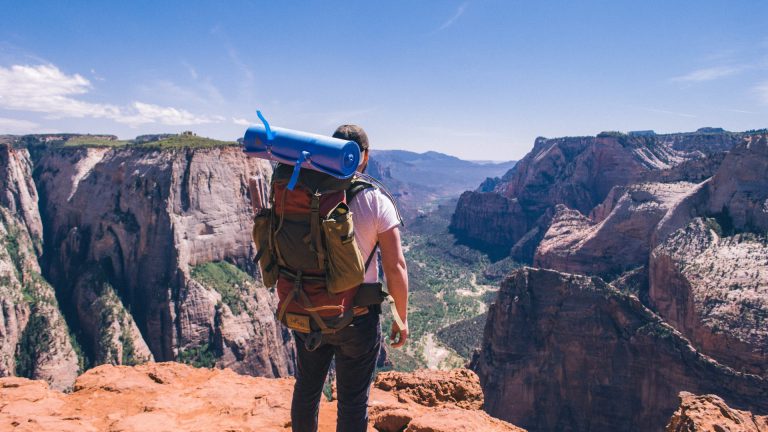 Springtime has finally arrived and that means it's time to hit the spring hiking trails. As the snow melts, we're going to start seeing wildflowers, waterfalls, and beautiful greenery all around. This makes for some amazing outdoor spaces, and when these are paired with the beautiful spring weather, they are just perfect for exploring. 
Not sure where to go hiking in March, April, May, and June? Here are our picks for the best spring hiking trails in the US. 
Best Spring Hiking in the US: West
It really doesn't matter what time of year you visit, the west has some of the best hiking in the country. That said, it is especially spectacular in the spring when the gorgeous vistas are filled with color, wild animals are abundant, and the rivers and waterfalls come to life once again.
These western US hikes offer some of the best glimpses of the western waters as they awaken with the warmer weather.
Yosemite National Park: Upper Yosemite Falls Trail
Yosemite National Park is amazing in the spring months and you're going to find a lot of truly incredible trails during the months of May and June. Our favorite? The Upper Yosemite Falls Trail. Yes, this is a more challenging trail, but it's also less crowded and provides some of the best views in the park, including an awesome view of the roaring Yosemite Falls.
Mount St. Helens: Ape Cave Lava Tubes
Want to take an early spring hike in Washington? In most parts of the state, you'll probably have to hike through the snow if you're looking to hike in March. That said, the Ape Cave Lava Tubes at Mount St. Helens are open year-round, and because they are underground, they are an excellent escape from the snow. Besides, who wouldn't want to go on a self-guided tour of a lava tube?
Columbia River Gorge: Multnomah Falls Trail
If you can wait until mid-to-late April, there is always the option of heading down to the Columbia River Gorge where there will be tons of greenery to admire. While here, be sure to check out the iconic Multnomah Falls by hiking the Multnomah Falls Trail. This will give you some seriously amazing photo ops, so make sure to bring a camera along.
West Spring Hiking Hotspot: Hiking in Utah
Want to condense a lot of spring hiking into one trip out west? We recommend heading to Utah. This state is home to some of our favorite hikes in the world, and spring is the very best time to explore these trails because the weather is ideal.
Salt Lake City Hikes
Believe it or not, the Salt Lake City area is home to some of our favorite springtime hikes in the state. These include the Mount Olympus Pipeline Trail and 10420 Peak.
Check out this article on the best Salt Lake City hiking trails for more of our top picks!
Hiking Around Utah's Mighty 5
Of course, Utah's five major national parks also have a host of awesome hiking trails to choose from. We could easily spend a whole spring season exploring this gorgeous area and hiking the many amazing trails.
Some of our top picks for spring hiking around Utah's "Mighty 5" include:
Best Spring Hiking in the US: Midwest
Okay, so hiking is not the first thing we think of when we think of the midwest. Oddly though, there are actually tons of great hikes in this part of the country. The national parks and state parks of the midwest offer plenty of amazing trails, and places like Michigan's UP (Upper Peninsula) give hikers a chance to explore some serious natural beauty.
We highly recommend these Midwestern hikes during the spring months.
Badlands National Park: The Notch Trail
If you've never been to Badlands National Park, it's time you went. This is a hauntingly beautiful place that you won't soon forget. Of course, you will want to hike while you're there, and springtime is the perfect time to do so. One of the best options is the Notch Trail, which is a short and sweet hike that features a fun ladder climb and a rewarding view at the end.
Starved Rock State Park: Starved Rock and Sandstone Point Overlook
Want to take advantage of the spring waterfalls? You should head to Starved Rock State Park in Illinois. This is a lovely park, and the popular Starved Rock and Sanstone Point Overlook trail offers cool views and a chance to check out a waterfall. The trail is all-accessible so everyone can enjoy this fun adventure, and springtime is the best time to see the waterfall at its finest.
Ottawa National Forest: Bond Falls Loop
Another fantastic waterfall hike can be found in the gorgeous Upper Peninsula of Michigan. The Bond Falls Loop in Ottawa National Forest is best enjoyed in late spring, as even well into April the steps down to the falls tend to be icy. That said, once that ice melts, it is absolutely beautiful. The trail takes you through the lush greenery of the national forest and to a rushing waterfall that is just stunning to see.
Midwest Spring Hiking Hotspot: Hiking in Ohio
Okay, so what if you want to find a bunch of spring hiking trails all in one spot in the midwest? Well, for that we recommend heading to Ohio. Ohio is home to a lovely collection of amazing hiking trails and the spring weather in this state is top-notch. 
Buckeye Trail in Hocking Hills State Park is one of our favorite Ohio hikes for seeing wildflowers in the springtime, and Upper Rim Trail to Cedar Cliff Falls in Indian Mound Reserve is a perfect waterfall hike.
Cuyahoga Valley Hikes
Of course, you'll also find a whole lot of amazing Ohio spring hikes in Cuyahoga Valley National Park. This park has a few beautiful waterfalls to check out and the greenery here can't be beat.
Our favorite trails in Cuyahoga Valley include:
Best Spring Hiking in the US: Southwest
Next on our list of spring hiking trails: the southwest. We love this part of the country because it is nice and warm, even in the early spring months. That said, this warm weather turns extra hot during the summer, so the beautiful hikes found here are best done during the springtime. Why not head out on one of these amazing hikes before summer rolls around? 
The trails below are absolutely perfect for hiking in March, April, or May.
Palo Duro Canyon State Park: The Lighthouse Trail
The Lighthouse is probably the most iconic rock formation in Palo Duro Canyon State Park. You will definitely want to see this amazing feature, but in order to do that, you have to hike the Lighthouse Trail. Because the hike doesn't provide much shade, it's best to take advantage of the cooler spring weather to hike to the Lighthouse and snap those must-have photos before the temperatures soar.
Guadalupe Mountains National Park: McKittrick Canyon Trail
Another fantastic Texas hiking spot, Guadalupe Mountains National Park really doesn't get the attention it deserves. One of our favorite areas in Guadalupe Mountains is McKittrick Canyon, and we especially love this area in the springtime when everything is blooming and the creek is running. One of the best ways to experience the canyon is to hike the McKittrick Canyon Trail, which runs alongside the creek much of the way and offers beautiful views.
Need an easier trail? The McKittrick Canyon Nature Loop Trail is a great option for less experienced hikers.
Big Bend National Park: Hot Springs Historic Trail
Yes, we are adding another trail in Texas. (Clearly we love hiking in the Lone Star State.) The thing is, Big Bend is yet another Texas park that is just perfect in the spring. Honestly, any hike in Big Bend would be great during these months, but we especially love the super short Hot Springs Historic Trail, which passes by petroglyphs and ends up at a hot springs pool that is perfect for relaxing, especially in spring temperatures.
Southwest Spring Hiking Hotspot: Hiking in Arizona
The best place to go for a high concentration of excellent springtime hiking trails in the southwest? That would have to be Arizona. This amazing state is especially gorgeous during March and April, and there are so many incredible hikes here that one could easily spend both of those months checking them all out. 
A couple of our favorite Arizona hikes include Antelope Canyon and The Wave. Antelope Canyon is a slot canyon that features stunning colors and formations, and The Wave is a very famous hike that requires a permit and features some of the most spectacular wave-like rock formations we've ever seen.
Grand Canyon Hikes
For even more awesome Arizona hikes, we recommend heading to Grand Canyon National Park. Here you will find awesome day hikes as well as incredible backpacking trails. No matter your hiking level, you're sure to find a hike you can enjoy while taking in the incredible views.
Some of the best hikes in Grand Canyon include:
Best Spring Hiking in the US: Southeast
Moving on, we need to cover the southeast. Like the southwest, this region is pretty warm in the springtime, making it an excellent place to take a hike in March, April, or May. This area is home to tons of wildflowers, gorgeous waterfalls, plenty of wooded areas, and even beautiful wetlands and beaches.
Here are some of our favorite southeast hikes in the springtime.
Congaree National Park: Boardwalk Loop Trail
Congaree National Park is a fantastic place to be as the weather warms up. The wildflowers start to bloom during this time, and the animals come out of hiding. We especially love walking the Boardwalk Loop Trail to take a walk through the wetlands and see everything blooming and greeting the sunshine. The fact that this trail is totally accessible is a major bonus.
Everglades National Park: Anhinga Trail
Another accessible trail through a wetlands area, the Anhinga Trail in Everglades National Park also makes our list. We recommend visiting this trail in early spring, as the temperatures will be cooler and you're less likely to have to deal with rainstorms in the months of March and April. While you're walking the trail, be sure to keep an eye out for gators, turtles, and the many species of birds that call this park home.
New River Gorge National Park: Endless Wall Trail
New River Gorge is an incredible place to go exploring in the southeast and provides a totally different landscape when compared to the two southeast parks mentioned so far. There are tons of amazing trails that wind their way through these mountains and near the river, and many of them offer awesome views. One of our favorites is the Endless Wall Trail, which takes you to the fantastic Diamond Point Overlook.
Southeast Spring Hiking Hotspot: Hiking in Tennessee
Of course, you might be looking to experience several great springtime trails in a single trip. In this case, you will want to head to the spring hiking hotspot of Tennessee. It's no secret that Tennessee is a beautiful place, and with so much beauty around every corner, finding amazing hiking trails is a cinch.
Some of our favorite Tennessee hiking trails include the very difficult Fiery Gizzard Trail in South Cumberland State Park, as well as the amazing Twin Arches Loop Trail in Big South Fork National Recreation Area.
Great Smoky Mountain Hikes
Obviously, you'll also find a whole lot more awesome Tennessee hikes in Great Smoky Mountains National Park. This beautiful, mountainous, forested park is chock-full of gorgeous hikes. Some have waterfalls, some have hikes, and some have beautiful views. No matter what you want out of your hike, you're sure to find one that you love in this national park.
Some of our favorite Smoky Mountains hikes include:
Psst… If you visit Great Smoky Mountains or Congaree in early June, be sure to check out the synchronous fireflies!
Best Spring Hiking in the US: Northeast
Lastly, there is the northeastern US. Unfortunately, this area of the country takes a little bit longer to thaw out. That said, it is downright gorgeous once the spring thaw does come around in later April or early May. At this point, you will definitely want to head out to check out the hiking trails below.
Minnewaska State Park Preserve: Sam's Point Overlook to Ice Caves Trail
Have you ever seen an ice cave? Minnewaska State Park has some that you can hike right through on the Sam's Point Overlook to Ice Caves Trail! Not only that, but if you visit in the spring, they are very likely to have a good amount of ice left in them. Besides the caves, we also really love the views we get while hiking along this beautiful New York trail.
Delaware Water Gap: Hornbecks Creek Trail
Delaware Water Gap is another spot in the northeast that offers some beautiful hikes. There are a number of great ones and many are very popular. That said, our favorite is actually a quieter trail known as Hornbecks Creek Trail. This path runs alongside a creek and has some fun little bridges that hikers get to cross along the way. At the end, there is a small yet mighty waterfall that makes for excellent photos.
Another great option in this area is Bushkill Falls.
Buttermilk Falls State Park: Lake Truman Loop
Another fantastic New York State Park trail, Lake Truman Loop is found in Buttermilk Falls State Park. This lovely little trail is 4.5 miles all the way around (but you can always stop and turn back part way) and has some of the most beautiful wildflowers once spring rolls around. Keep an eye out for red trillium and foamflower, and be sure to enjoy the sunshine reflecting off the churning waterfalls.
Northeast Spring Hiking Hotspot: Hiking in Maine
Our spring hiking hotspot pick for the northeast? That would have to be Maine. While you will definitely need to wait until well into May to enjoy spring weather in this gorgeous state, it is well worth the wait. The beaches, forests, waterfalls and wildflowers found in Maine are some of the best out there.
Some of our favorite Maine hikes include the super easy and rewarding creekside Peter's Brook Trail just outside of Acadia, as well as the incredibly challenging Mount Katahdin Knife Edge Trail in Baxter State Park.
Acadia Hikes
Most of the very best hikes in Maine are found in Acadia National Park. This park is beyond pretty during the later spring and summer months, and should be on every traveler's bucket list. From forested hikes and lighthouses to incredible stretches of shoreline and even sea caves, you're sure to find something to love about Acadia.
Some of our favorite Acadia hikes are listed below:
Best Spring Backpacking
Sometimes you need to fully immerse yourself in nature. This is where backpacking comes into play. As the weather starts to warm up, backpacking becomes a much more enjoyable option. That said, nighttime temperatures can still dip pretty low in many parts of the country even in the late spring. For this reason, we recommend sticking to the southern section of the US if possible.
Some of our favorite places to go backpacking in the spring include:
What to Wear Hiking in the Spring
Wondering what to wear hiking in spring? You're not alone. Figuring out what to wear when the weather may fluctuate from one hour to the next can be difficult. To top it off, the weather will be very different from one area of the country to another, making it even more difficult for us to answer this question.
As a general rule, we recommend keeping the temperature of the area you'll be hiking in mind when picking your outfit. Layers are your friend, as they will allow you to stay comfortable in the cool morning and evening as well as the warmer afternoon. You'll also want to consider whether you might end up walking through streams or getting caught in the rain, as these things can change how you dress.
Depending on where you're planning to hike, it might be a good idea to wear or carry all of the following when hiking in the spring:
Quick-drying footwear
Warm socks (pack an extra pair!)
A moisture-wicking, breathable bottom layer
A warm middle layer
A waterproof top layer for rainy hikes
A wide-brim hat and sunglasses to shade and protect your eyes
Yes, our country is an amazingly beautiful place, and this becomes especially apparent as the spring season comes onto the scene. Go out there and see some of this beauty for yourself. You're sure to come out of your spring hiking adventure feeling more alive than ever before!