Canyonlands National Park
WIDE-RANGING INVENTORY
From affordable pop-ups to luxury motorhomes
LARGEST RV RENTAL MARKETPLACE
Thousands of 5 star reviews from happy customers
SECURE AND MOST TRUSTED
24/7 Emergency roadside assistance on every booking
Canyonlands National Park
Ringing in at over 520 square miles, Canyonlands is the largest of Utah's five national parks, and doubtless one of the most stunning. Known for its sweeping vistas of colorful desert landscapes carved by rivers into countless canyons, Canyonlands National Park draws thousands of visitors each year both with its views and its endless outdoor recreational opportunities.
The park is divided into four distinct areas, each offering a unique perspective on this stark desert ecosystem. Island in the Sky is a flat-topped mesa, while the Needles are tall, sharp spires; the Maze is a seemingly-endless system of crevasses and canyons, and finally, visitors can see where the Colorado and Green rivers intersect at the Colorado Plateau. The park also boasts some original Native American rock paintings inside its iconic Horseshoe Canyon.
Like its neighbor Arches to the north, Canyonlands is served by the small, but busy gateway city of Moab, Utah, where visitors can enjoy a variety of restaurants, shopping opportunities, museums, and cultural events. Other small towns in the Canyonlands area include Monticello and Spanish Valley.
The weather at Canyonlands is characterized by the wide temperature fluctuations of a high desert environment; the area sometimes sees temperatures change by more than 40 F in one day. The summer is excruciatingly hot and prone to sudden afternoon thunderstorms, while the spring and fall bring temperate climates -- and crowds.
With its singular landscape, Canyonlands offers unparallelled outdoor adventure opportunities, both terrestrial and on water. Visitors can enjoy the park on foot, horseback, or bicycle, or take to its two formative rivers for both flat- and whitewater boating. The Park Service also hosts a number of organized, ranger-led activities, such as geological talks and stargazing parties. Check the official park calendar for up-to-date information on these opportunities.
Read more
Weather
Spring 60-70 F
Summer 85-95 F
Fall 60-70 F
Winter 40-50 F
Park Info
Canyonlands National Park Private Vehicle: $30
Canyonlands National Park Motorcycle: $25
Canyonlands National Park Per Person: $15
RV Rentals Near Canyonlands National Park
Nearby RV Rentals Heartland Mallard M26
2021 / Travel Trailer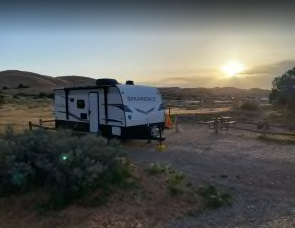 Keystone RV Springdale Mini 1800BH
2022 / Travel Trailer Dutchmen RV Coleman Expedition CTS184BH
2016 / Travel Trailer
Canyonlands National Park Hiking Trails
No matter your fitness level or which part of the park you're in, you'll find miles and miles of hiking trails beckoning you to wander.
As in any hiking scenario, all members of your group should be outfitted with sturdy shoes, protective clothing, and an ample supply of water. Given Canyonlands' desert environment, hats and sunglasses are recommended, as is sunscreen and an early start.
Below, find a few of our favorite Canyonlands trails in both the Island in the Sky and Needles districts. For complete details on hiking opportunities in Canyonlands, including information about backpacking and backcountry camping, click here.
Canyonlands National Park Island in the Sky Trails
Canyonlands National Park The Needles Trails
Things to do Outside Canyonlands National Park
Thanks to its location between two of Utah's most commonly-visited national parks, the small town of Moab is a bustling center of culture, cuisine, and activities. If you find yourself in need of a non-park adventure, here's where to head for the best eats, drinks, and diversions.
Discover Nearby Towns and Cities
RV Resorts & Campsites in Canyonlands National Park
Canyonlands features two on-site campgrounds, which are accessible and open to RV camping. However, neither campground has RV hookups, and both have a tendency to fill up fast.
Fortunately, campers can also choose from a wide array of privately-owned RV parks and campgrounds in this popular travel area, as well as a number of free or low-cost dispersed camping or boondocking options.
For more information on camping in and around Canyonlands National Park, click here.
Campgrounds Near Canyonlands National Park
Find the Best Dumpstations Near Canyonlands National Park
An unglamorous but necessary aspect of RVing? Dump stations. Knowing where the best dump stations are near you will allow for more ease and less stress in your travels. Dump stations are an easy and convenient way to clear waste from your RV. Use our guides to find dump stations on your route, so you can get back to the good stuff – exploring, relaxing, and making memories on the road.
Dumpstations Near Canyonlands National Park
How to get to Canyonlands National Park
The two main districts of Canyonlands, Island in the Sky and the Needles, must be accessed separately; there are no bridges or roads connecting them within the park.
Traveling in an RV is one of the most comfortable and convenient ways to stay, allowing you to camp on-site and move between different park districts at your leisure. If you don't have a motorhome or travel trailer of your own, check out the RV listings in your area -- or in the Canyonlands vicinity, if you'd rather fly in and rent locally.
To access Island in the Sky (the northern part of Canyonlands), take US 191 north of Moab to UT 313. To access the Needles (the southern part of Canyonlands), take US 191 south of Moab to UT 211. Do not rely on a GPS, which can be unreliable in these remote desert landscapes. Instead, invest in a map.
The closest large airfield to Canyonlands is Salt Lake City, but smaller airports exist in Grand Junction, Colorado (Grand Junction Regional) and just outside Moab itself (Canyonlands Field). Amtrak trains also stop in Grand Junction, Colorado and Green River, Utah, which are both within a two-hour drive of the park.
Frequently Asked Questions
Is Canyonlands National Park accessible for disabled visitors?

Parts of Canyonlands National Park are accessible for disabled visitors. The road at Island in the Sky has lots of accessible viewpoints. The park also has an accessible campsite, visitor center, several overlooks, and other facilities. Trails at the park are rocky and uneven and not easy to manage with a wheelchair.

Are pets allowed at Canyonlands National Park?

Pets are allowed in certain areas of Canyonlands National Park. Leashed pets can be on established front-country roads, parking areas, campgrounds, and picnic areas. They are not allowed on hiking trails, off-trail, at overlooks, in any buildings, or in the backcountry.

What are the top things to do in Canyonlands National Park?

Top things to do in Canyonlands National Park include stopping at Grand View Point to admire the scenery, hiking to Mesa Arch, and checking out Shafer Canyon and Shafer Trail Viewpoint. There's lots of hiking, boating, horseback riding, and more activities you can do as well.

Are there designated camping spots in Canyonlands National Park?

Yes, there are two designated campgrounds at Canyonlands National Park. The campgrounds have no hookups and can accommodate RVs or trailers up to 28 feet in length. The nearby town of Moab has many more options for RV campgrounds in the area.

What is the climate of Canyonlands National Park?

Canyonlands National Park has a high desert climate and temperatures can very widely. Spring and fall are mild, while temperatures in summer can peak above 100ºF. Winters can be cold with lows from 0-20ºF.