Big Bend National Park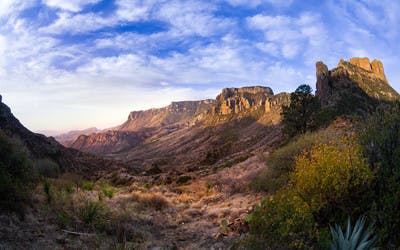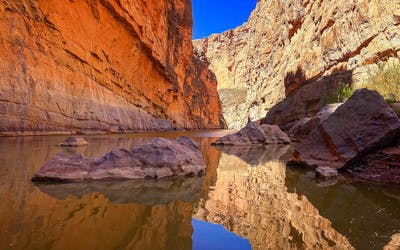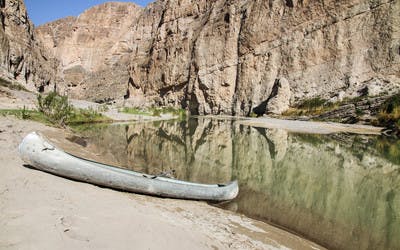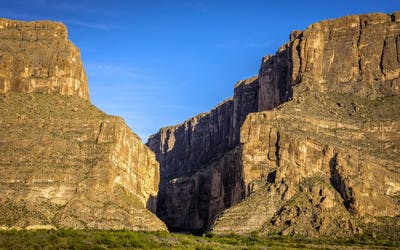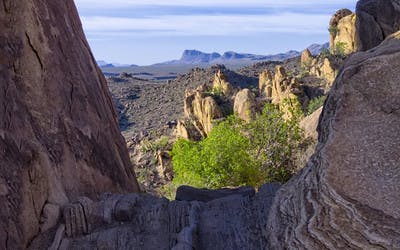 Four-and-a-half hours southeast of El Paso, Big Bend National Park is an adventurous West Texas destination for kayakers, hikers, and mountain bikers. The 801,000-acre park at the U.S.-Mexican border was named after a bend in the Rio Grande River, which separates the two countries. The terrain includes, of course, the majestic river, but also mountains, canyons, deserts, and several thermal hot springs. The highest point is Emory Peak, located 7,832 feet above sea level in the Chisos Mountains.
Big Bend is known for extremes in weather, from arid summer days that can get hotter than 100 degrees to cool winter evenings, where temperatures sometimes drop below freezing. Spring, the most popular season for visitors, ushers in temperatures between 48 and 89 degrees. Summer typically ranges from 70 to 92 degrees, while fall ranges from 65 to 70. In the winter, temperatures can be as low as 37 degrees and as warm as 67. Those averages can be much colder if you're up in the mountains, where temperatures can be 5-20 degrees cooler than they are along the Rio Grande. It's rare that a storm will ruin your visit -- even during the rainy summer season, the park generally only gets 2 inches of rain per month.
Because it is one of the most remote national parks in the continental U.S., only a few small towns surround Big Bend, including Lajitas, Study Butte, and an actual ghost town called Terlingua. With a population of 430, the village of Marathon is actually the biggest nearby "city," although it's about a 40-minute drive from the park's entrance.
Some of the region's most popular events pay homage to the area's proximity to Mexico. On November 2 each year, people flock to the historic cemetery in Terlingua Ghost Town to celebrate Dia De Los Muertos, or the Day of the Dead. Then, on December 1, the party moves to the town of Marathon, where locals and visitors celebrate the annual Fiesta De Noche Buena to usher in the holiday season with dancing, caroling, and an outdoor tree lighting.
Inside the park, the National Park Service also offers a wide variety of programs for visitors. Rangers often lead guided walks with themes like "Nature All Around Us" or "Life at the Windmill," while those who prefer self-guided activities can enjoy bird-watching, hiking, bicycling, fishing, and horseback riding. And for a truly unique experience, don't forget about stargazing -- Big Bend has the least light pollution of any other national park within the continental U.S.
What is today called Big Bend National Park rests on lands first stewarded by Chizo, Apache, Comanche, and other Native Americans, and has served as a place of refuge since prehistoric times. Learn about the park lands history and the people who originally inhabited it here.
Weather
Spring 48-89 F
Summer 70-92 F
Fall 65-70 F
Winter 37-67 F
Nearby Cities
Alpine, TX
Trip Planner
Use our FREE RV trip planner to begin customizing the perfect RV trip.
Continue
RV Resorts & Campsites in Big Bend National Park
Plenty of campgrounds and RV parks are available inside and outside of Big Bend National Park. The National Park Service runs three campgrounds with a total of 184 campsites: Chisos Basin Campground, Cottonwood Campground, and Rio Grande Village Campground. All three provide restroom facilities, grills, and picnic tables. A limited number of reservations are taken for the Chisos Basin and Rio Grande Village campgrounds.
The park service also operates the Rio Grande Village RV Campground, which has 25 sites with full hookups for water, electrical, and sewer. The RV park takes reservations for 20 of the sites, while the remaining five are available first come, first serve.
Big Bend National Park Public Campgrounds
RV Rentals Near Big Bend National Park
Nearby RV Rentals
Hit the Trails
Hiking in Big Bend means you get your pick of hikes in the desert, up in the mountains, or alongside the river. The vast changes in terrain give hikers plenty of variety when choosing which trail to take on any given day. Whether you're a serious trailblazer or a total beginner, there's bound to be a day hike that fits what you're looking for.
Here, we've chosen what we think are the best hikes around Big Bend. For a full list of trails, check out the National Park Service's list here.
Big Bend National Parks Hiking Trails
Santa Elena Canyon
Distance: 1.7 miles round trip
Terrain: The Santa Elena Canyon Trail is considered moderately difficult. The river trail crosses Terlingua Creek and leads to the towering Santa Elena Canyon.
South Rim
Distance: 12.4 to 14.5 miles round trip
Terrain: The South Rim trail is one of the most strenuous but beautiful hikes in Big Bend. One of the most popular hikes in the park, South Rim contains a combination of different trails throughout the Chisos Mountains.
Lost Mine
Distance: 4.8 miles round trip
Terrain: The Lost Mine Trail makes for a moderately difficult hike. The trail juts in and out of the forest and up to a summit ridge with sweeping views of Pine Canyon and the Sierra Del Carmen in Mexico.
Rio Grande Village Nature
Distance: .75-mile loop
Terrain: Considered easy and is known to be one of the most scenic hikes in Big Bend National Park. Perfect for spotting wildlife or watching a sunset at the end of a long day, this wheelchair-accessible trail has great views of the Rio Grande River and the Chisos and Del Carmen mountains.
Boquillas Canyon
Distance: 1.4 miles round trip
Terrain: The Boquillas Canyon Trail is considered moderately difficult. This gorgeous hike ascends a cliff overlooking the Rio Grande River and down into the Boquillas Canyon at the water's edge.
What to Do at
Big Bend National Park
A trip to Big Bend National Park is the perfect opportunity to enjoy the area's unique blend of Texan and Mexican culture. Whether you're a foodie looking to experience the local cuisine, an art lover interested in the region's cultural attractions, or a shopaholic searching for a great souvenir, here are our top recommendations around Big Bend.
Type: Enjoy West Texas favorites like chicken-fried antelope strips and chili con queso at this former movie theater in Terlingua. Starlight frequently has live entertainment, and there's a huge back porch where locals like to mingle with tourists.
Type: This craft brewery in Alpine makes a variety of different beers, including the La Frontera IPA and National Park hefeweizen. The taproom is open to visitors Thursday through Monday from 4 p.m. to 8 p.m. and on weekends, starting at 1 p.m.
Type: Don Baucham's iconic barbecue stand in Terlingua is known for its savory smoked chickens, tender brisket, and meat by the pound. Open Wednesday through Saturday from 11 a.m. to 6 p.m., this food truck with covered outdoor seating is worth the wait.
Type: This laidback coffee shop at the La Posada Milagro hotel in Terlingua serves a killer breakfast with options like eggs benedict or breakfast burritos. Open daily from 7:30 a.m. to 2 p.m., Espresso … Y Poco Mas serves organic coffee from Big Bend Roasters in Marfa.
Type: Located inside the Lajitas Golf Resort in the town of Lajitas, the Thirsty Goat Saloon serves up cold Lone Star beer alongside mouthwatering fajitas, chicken-fried steaks, and catfish sandwiches. Open seven days a week, this bar and restaurant frequently has live entertainment.
This eclectic clothing store is located inside an Airstream trailer in the town of Alpine. Inside, you'll find metallic huarache sandals, Southwestern-inspired earrings, and dozens of funky graphic tees.
Find vintage clothing, antique furniture, books, and comics at this charming storefront in Alpine.
This feminine boutique in Alpine is known for its selection of clothing, home decor, and gifts. The shop also hosts painting classes and other arts-inspired events several times a month.
Independently owned since 1995, this local bookstore stocks both new and used books in Alpine.
Looking to embrace your inner cowgirl while in Texas? This kitschy shop in Alpine has everything you need to play the part, from vintage boots to ten-gallon hats.
This museum highlights the history and culture of the Big Bend region. Located on the campus of Sul Ross State University in Alpine, admission is free.
You've probably heard of -- or at least seen an Instagram photo of -- Prada Marfa, the art installation in West Texas designed to look like a real Prada store. Now, the Big Bend area has its own attraction: the Marathon Target. Find this quirky roadside attraction on U.S. 90 between the towns of Alpine and Marathon.
Photographer James Evans came to Big Bend in 1988 and has been taking striking black-and-white photos of the region ever since. His gallery is the perfect way to get a local's eye for the area.
This tiny museum in Marathon pays homage to one of the first female settlers of West Texas, Hallie Stillwell.
No trip to Big Bend is complete without a visit to Terlingua Ghost Town. This old mining town is great for exploring and taking pictures of the abandoned buildings, including an old-timey jail.
This small county park was once used as a military outpost called Camp Peña Colorado. With a freshwater spring, it's a great spot for picnicking or birdwatching.
If you've got a valid passport, you can take a day trip to the small Mexican village of Boquillas. Located just across the border, this tourist town has an arts market and offers popular horseback tours of the village.
Check out the local art scene with a tour of Alpine's many colorful murals. The majority of the murals are within walking distance of each other near Holland Avenue and Fifth Street.
How to Get to
Big Bend National Park
Traveling to Big Bend National Park isn't the easiest, but once you get there, it's well worth the trip. That said, planning the logistics of your arrival and departure in advance is crucial.
The closest airport to Big Bend is the Midland International Air & Space Port, which is about 195 miles and a three-hour drive away. The airport is serviced by Southwest, American Airlines, and United and several car rental companies.
The next closest airport is in El Paso, about 287 miles away. The quickest route to Big Bend takes about four hours and 20 minutes by car. The El Paso International Airport is serviced by Allegiant, American Airlines, Delta, Frontier, Southwest, and United, as well as several car rental companies.
Due to the remote nature of Big Bend, many visitors prefer to travel by RV. Renting a motorhome or camper allows you to camp directly in the park while bringing all the comforts of home along with you. Many RVs can be rented for less than $50 a day, making RV rentals an economical -- and fun! -- option. If you're interested in RV camping at Big Bend, the park offers 25 sites with full hookups for water, electrical, and sewer, plus several other primitive roadside campsites. For more details on the National Park Service's policies about RV camping, check out their page here.
Entering Big Bend National Park
Once you've arrived at Big Bend, you'll be charged $30 for a seven-day entrance pass. The pass acts as your admission to the park as well as a parking permit. For motorcycles, the cost is reduced to $25, while bicyclists and pedestrians pay just $15.
We hope you enjoy your time at Big Bend National Park! At RVshare, we love serving people like you who are passionate about travel, nature, and the outdoors. Whether you visit Big Bend in one of our RV rentals or simply want to share your national park experience with other travelers, email us your vacation photos at [email protected] or tag us on social media for a chance to be featured on our blog or social media channels.