Badlands National Park
South Dakota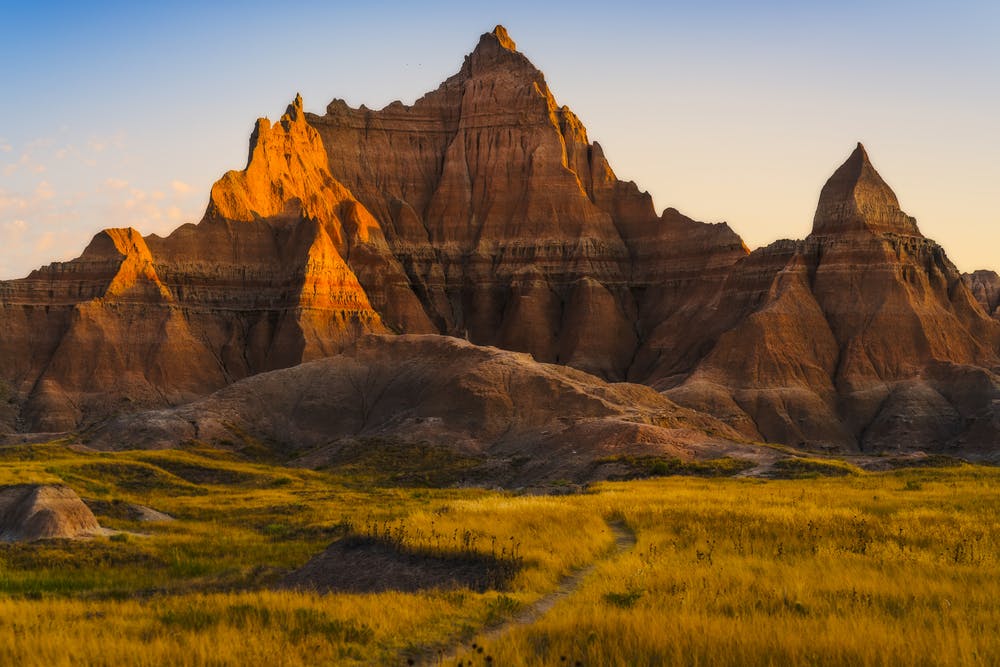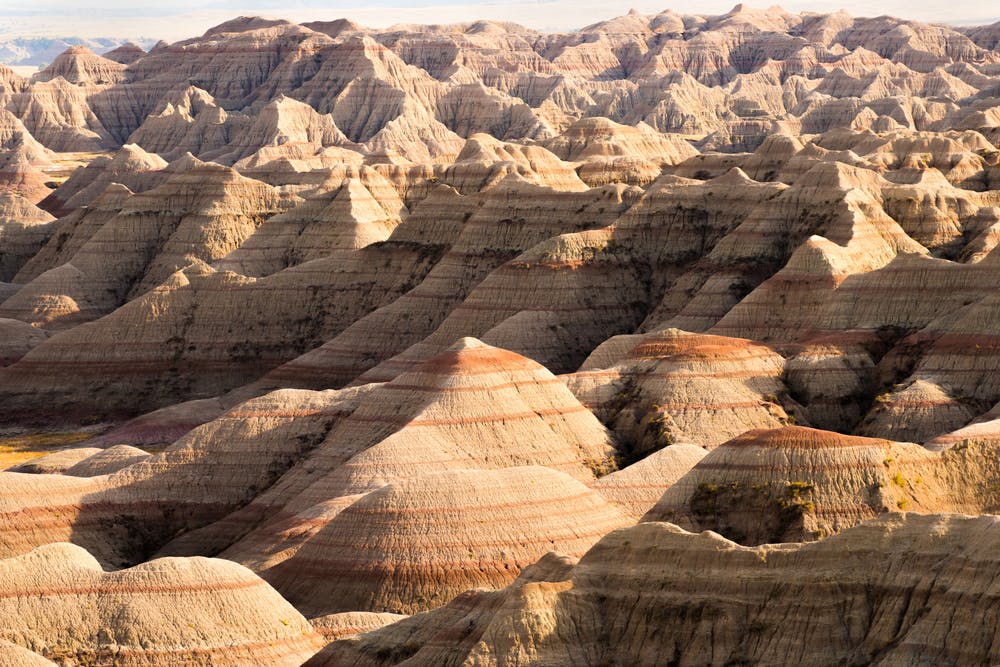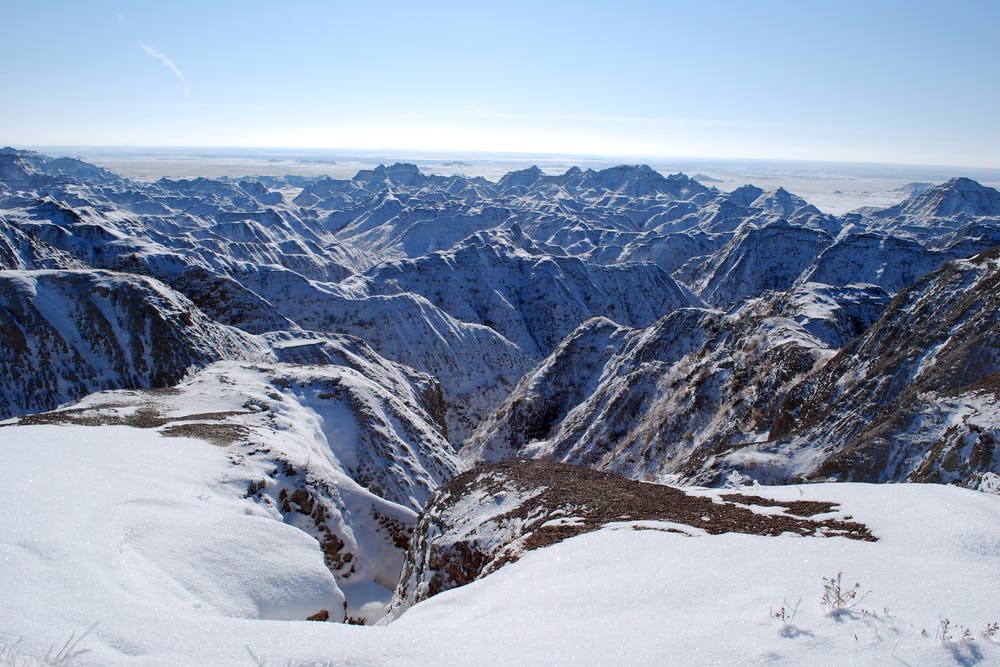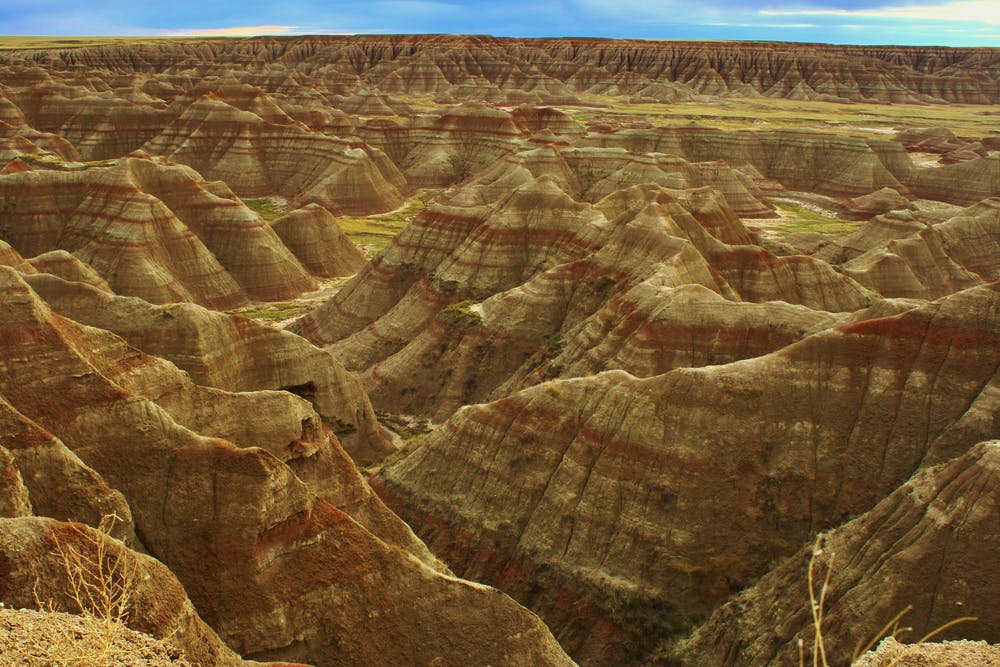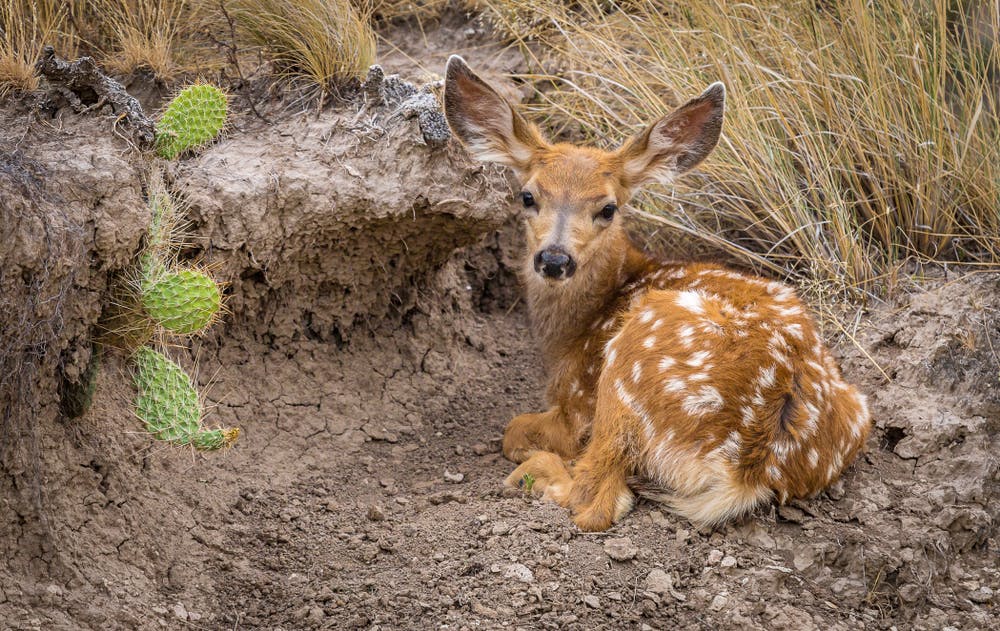 Rising up out of the flatlands of the great plains, the Badlands occupy over 370 square miles of western South Dakota, surprising and fascinating visitors with its unique and alien landscape. Along with its iconic vistas of eroded buttes and pinnacles, the park is also home to a wide variety of wildlife, including bighorn sheep, prairie dogs, and bison.
According to the official park page, the weather at the Badlands defies simple characterization. It's unpredictable and extreme, with temperatures ranging from -40 F to over 110 F. The park experiences hot, dry summers with occasional thunderstorms, but can also fall victim to sudden and ferocious tornadoes or hailstorms. In the winter, the park can see over 20 inches of snowfall.
Badlands National Park is just a few miles east of South Dakota's famous Black Hills National Forest, a beautiful, tourism-driven landscape dotted with an abundance of quaint western towns. Immediately adjacent to the park, visitors can explore the small cities of Wall, Interior, and Scenic; South Dakota's second-largest municipality, Rapid City, is just an hour northwest.
Travelers are drawn to the Badlands for its unique landscape, and frequently set out on foot to explore it better. Other common park activities include bicycling, backcountry camping, and stargazing. In fact, the park hosts an annual Astronomy Festival to help visitors celebrate and fully experience its uniquely dark skies. Along with this program, the rangers lead an abundance of interpretive and educational talks and guided hikes to help orient guests to the Badlands wilderness. For the latest details on upcoming park events, check out the park's official calendar.
Weather
Spring 55-65 F
Summer 80-85 F
Fall 60-70 F
Winter 30-35 F
Nearby Cities
Rapid City, SD
Trip Planner
Use our FREE RV trip planner to begin customizing the perfect RV trip.
Continue
RV Resorts & Campsites in Badlands National Park
Badlands National Park features two on-site front country campgrounds, but only one, Cedar Pass, can accommodate motorhomes and travel trailers more than 18 feet in total combined length. If you're tent camping, you can take advantage of the park's liberal backcountry policy, which allows backpackers to camp anywhere in the park so long as you're at least a half mile from, and invisible to, park trails and roads.
Although Cedar Pass fills up quickly, RVers can also choose from a wide variety of off-site campgrounds, including both resort-style properties and simpler accommodations. Click here for more details on camping in Badlands National Park.
On-Site RV Camping in Badlands National Park
Off-Site RV Camping in the Badlands Area
RV Rentals Near Badlands National Park
Nearby RV Rentals
Hit the Trails
Along with the park's designated hiking trails, visitors are also free to explore the area on foot as they see fit, as well as to backcountry camp nearly anywhere within the park boundaries. However, explorers should keep in mind the park's tendency toward extreme weather, as well as the landscape's strenuous difficulty in certain areas -- which is actually how it got its name in the first place.
The National Park Service recommends you carry two quarts of water per person per two hour hike, and also that you wear a hat and sunglasses. Sturdy boots are necessary both for ankle stability and to protect your feet from cactus spines, and always keep at least 100 yards' distance from any wildlife you may encounter.
Below, find brief descriptions of the park's demarcated hiking opportunities. For full details, visit the official park page.
Badlands National Park Trails
Castle Trail
Distance: 10 miles
Terrain: A moderate, but lengthy, hike through paradigmatic Badlands formations.
Cliff Shelf Nature Trail
Distance: 0.5 mile loop
Terrain: Short, easy loop through a juniper forest, featuring a small pond and ample opportunities for wildlife spotting.
Door Trail
Distance: 0.75 miles
Terrain: Perhaps the most popular hike in the park, Door Trail starts out as an accessible, quarter-mile boardwalk before leading hikers into an open area of Badlands formations.
Fossil Exhibit Trail
Distance: 0.25 miles
Terrain: An easy and fully-accessible boardwalk allows visitors to learn more about the ancient animals that once roamed the area.
Medicine Root Loop Trail
Distance: 4 mile loop
Terrain: An easy-to-moderate loop trail through the park's mixed grasslands. This trail offers little shade, so bring lots of sunscreen!
Notch Trail
Distance: 1.5 miles
Terrain: Although short, this trail features a moderate-to-strenuous -- but totally worthwhile -- climb into and up a canyon, ending in a "notch" with sweeping views of the White River Valley. This trail may not be appropriate for those with a fear of heights.
Saddle Pass Trail
Distance: 0.25 miles
Terrain: A short, but strenuous climb up the Badlands Wall for a view of the valley below.
Window Trail
Distance: 0.25 miles
Terrain: An easy, short hike leading to a natural window for a dramatic view of an eroded canyon.
What to Do at
Badlands National Park
You could easily spend all day watching the sun cast its playful shadows on the ominous Badlands canyons and spires… but at some point, you're gonna need to eat. And while you're at it, there's a ton of other fun stuff to do in western South Dakota -- and if you have the time, you won't want to miss it.
Here are our suggestions for what to see, eat, and do outside of the park property.
Restaurants
You're officially in the wild west, so if you're looking for a meaty meal, you won't be disappointed -- but there are some lighter and more refined options out here, too.
Type: Whether you're after a fresh-cut steak or a heaping helping of pasta, this Wall joint's got you covered. Breakfast, lunch, dinner, and drinks.
Location: Wall
Type: Fresh-made Indian fry bread, buffalo burgers, and other local delicacies grace the menu of this uniquely South Dakota kitchen. Plus, you can see the Badlands' spires from your seat!
Location: Interior
Type: An hour and a half west of the park, find this Custer charmer, serving hand-crafted cocktails and stick-to-your-ribs fare. Start with the Guiness cheese dip or beer-battered onion rings -- but save room for your hand-breaded chicken tenders or 1/3-pound burger.
Location: Custer
Type: Get away from it all at this cozy diner, which dishes up all three meals and a selection of homemade desserts. No full bar, but enjoy beer and wine, including a local treat: South Dakota berry wine!
Location: New Underwood
Type: For down-home eats and drinks in a low key atmosphere, head to this local favorite. The food is fresh, and more importantly, the beer is cold!
Location: Interior
Shopping
Need something to bring home to grandma -- or a brand-new pair of cowboy boots for yourself? The towns surrounding Badlands National Park have you covered.
There are lots of souvenir shops to choose from, but not all of them offer the opportunity to feed prairie dogs. This one does -- so make sure you don't miss it!
Location: Philip
This classic gift shop sells take-home-able goodies like hats, T-shirts, keychains, and more. Perfect for bringing back to the loved ones you left behind during your vacation… or for yourself. (We won't tell!)
Location: Wall
Not only is this the best place to stop in Scenic… it's just about the only place to stop in Scenic. Regardless, if you're looking to stock up on bison jerky and authentic Native American jewelry, be sure to pull off.
Location: Scenic
You'll start seeing billboards for this quintessential Badlands stop miles before your exit, and for good reason. Explore its 50,000 square feet to find gifts, gear, apparel, books, and essentials like batteries and phone chargers -- or head to the adjacent cafe for some homemade donuts.
Location: Wall
Museums
Rainy day got you down? No worries. Head to one of these area exhibits and museums to get in a little bit of learning -- and a lot of fun.
Offering both an outdoor park and an indoor museum exhibit, this Kadoka collection of the area's largest petrified logs and trees is a stunner. You'll also find minerals, agates, rocks, and fossils on display. Adults $6, children 6-13 $3, and children under 6 free to enter.
Location: Kadoka
Journey back in time to discover what life was like for the early settlers, including the opportunity to dress up in period duds if you so choose. Entry and tour fee is $5 for persons aged 10 and over; children under 10 are free to enter.
Location: Philip
We weren't the first people on these sacred lands -- and our history with Native Americans hasn't always been a happy one. But if you're interested in learning more about the battle at Wounded Knee (and the Native American lifestyle in general), don't miss this Wall exhibit. Open seasonally May 19th through October 15th. Adults $6, seniors $5, and children under 10 free to enter
Location: Wall
Sightseeing
As beautiful as the Badlands are, western South Dakota has even more to offer. Here are some stops not to miss.
Famous for its breathtaking Needles Highway and rolling plains dotted by buffalo, you can't say you've been to the Black Hills if you haven't been to Custer. The park also offers abundant hiking, biking, and other outdoor recreation opportunities, but do keep in mind there is a fee to enter. ($20 for a day pass, $30 annual)
If you're into road tripping, chances are you've heard of (or seen Instagram snaps of) this iconic roadside attraction. Don't miss the brontosaurus photo opp -- after all, this small park is free to enter.
You can't go to the Badlands without taking the extra hour to visit four of our country's greatest heros. Seeing the stone-carved figures of George Washington, Thomas Jefferson, Theodore Roosevelt, and Abraham Lincoln is more than a road trip tradition; it's an undeniably moving experience.
How to Get to
Badlands National Park
By Car
Driving to Badlands National Park is quite simple thanks to its close proximity to I90. From the interstate, exit onto Highway 240, also known as Badlands Loop Road. Ample signage points you toward the park entrance. The official park page also offers specific addresses of the park headquarters and all three entrances in order to facilitate GPS usage. Click here for full details.
By plane
If you're planning to fly in, the closest airport is Rapid City Regional Airport, which lies about 70 miles and one hour west of the park. You might also fly into a larger hub in the area and make a longer road trip out of it; Badlands is about six hours from Denver and eight from Minneapolis.
By RV
Traveling by RV is one of the most comfortable and convenient ways to experience any national park, and the Badlands are no exception. On-site RV camping gives you a front-row seat for the area's stunning sunrises and sunsets, and the plethora of resort-style campgrounds give you the opportunity for a truly luxurious experience. If you don't already have an RV of your own, be sure to check out RV rentals in your area. Whether you're looking for a large motorhome or modest towable rig, the RV of your dreams may just be waiting for you on the peer-to-peer market.
View RV Rentals
Entering Badlands National Park
When driving into the park, you should be aware of the fees required to enter. Here are the latest entry cost figures from official park literature.
Private Vehicle : $20
A seven-day pass for private, non-commercial vehicles (15 passenger capacity or less) and all occupants.
Motorcycle : $10
A seven-day pass for one or two passengers on a private, non-commercial motorcycle.
Per Person : $10
A seven-day pass for one individual with no car (bicyclist, hiker, pedestrian). Youth 15 and under are admitted for free.
You can also choose to upgrade to an annual Badlands pass for $40, or opt for the $80 America the Beautiful Pass, which gets you into over 2,000 NPS-managed recreational lands.
Despite their name, you're sure to have a good time in the Badlands -- and we can't wait to hear more about it! Tag us in your Instagram photos and Facebook posts, or send pictures and stories directly to us at [email protected]. We may just feature your epic tales on our own blog and social media channels!