National Parks
June 1st, 2021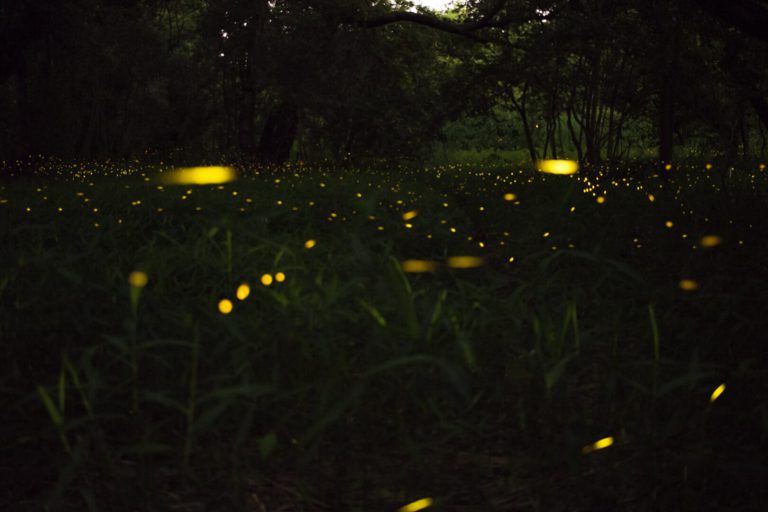 Some of the coolest things about the US are the incredible natural wonders found around every corner. Whether you want to see an amazing cave, a mind-boggling canyon, a gorgeous waterfall, or wonderful wildlife, there's something out there for you.
Of all the awesome sights nature provides us in this country, one of our absolute favorites is the synchronous fireflies of the Great Smoky Mountains. These fireflies are truly incredible, putting on a gorgeous nighttime show at the same time each and every year. In fact, the Smoky Mountains fireflies are so spectacular that thousands of people flock to see them!
Wondering how you might catch a glimpse of this beautiful nighttime show? Read on to learn the ins and outs of seeing the Great Smoky Mountains lightning bugs. 
Great Smoky Mountains Fireflies
If you've never heard of the fireflies that call the Smoky Mountains home, you're likely wondering what the fuss is about. After all, we've all seen fireflies flitting around on a summer evening. Yes, they are beautiful, but they aren't something to drive across the country to see.
The fireflies of the eastern Tennessee and the surrounding areas are a bit different though. In late May or early June of each year, these lovely little bugs really put on a show. All of the bugs flash the lanterns in their abdomens simultaneously, lighting up the entire forest and then leaving it in total darkness for a period of 6 seconds before flashing as a group once again.
This is an important part of the lightning bugs' mating ritual, and is an incredible thing to watch happen.
When to See the Smoky Mountains Synchronous Fireflies
As mentioned above, these bugs typically perform their mating ritual in late May or early June. Exactly when the bugs come out to play depends on their location though, and the fireflies of the Smoky Mountains tend to prefer the very first part of June and only stick around for about a week. 
How to See the Smoky Mountains Synchronous Fireflies
Wondering how you can catch a glimpse of this amazing firefly show? There are a few ways to go about it.
The first option is to enter the NPS lottery to win a parking pass for the most popular viewing area within the park: Elkmont Campground. This is the official place to see the fireflies and the place you are most likely to get a good show. Unfortunately, the lottery for this year's event (which takes place June 1st–8th) has already ended, but another lottery will open for next year in the future.
Luckily, there are a few other options if you really want to see the fireflies this year.
Snag a Spot at Elkmont Campground Before or After
You may not be able to get into Elkmont Campground for the actual event, but if you can get a campsite a few days before or after the event, there's a chance you'll catch some early birds or some late bloomers.
See the Start of the Show in Cades Cove
Cades Cove is another great viewing spot within the park. Unfortunately, the road into Cades Cove closes at sunset. While you likely won't be kicked out right as the sun sets, you won't be able to stay long after, so be prepared to only catch a few minutes of the performance.
It's also important to note that the road into Cades Cove is closed to vehicles on Wednesdays. Only bikes and pedestrians may use the road during this time.
Try Your Luck at the Rainbow Falls Trailhead
The last location in the Smoky Mountains that we recommend trying is the Rainbow Falls Trailhead. As you might imagine, the limited parking here fills up fast, so you will want to arrive early. If the two parking areas you come to first are full, continue down the road a bit to see if the other parking areas are also full.
Firefly Viewing Tips
Once you find a good place to check out the fireflies, you will want to make sure you do everything in your power to ensure the show happens. Our advice? Turn off headlights, interior car lights, and all other light sources. Invest in a red headlamp or flashlight—or cover your flashlight with red cellophane—and use this to find your way around, turning it off once you've arrived at a viewing spot.
Of course, it's also important to stick to trails and walking paths and avoid catching the fireflies.
RVing at Great Smoky Mountains National Park
As is the case with most national parks, the absolute best way to see the Great Smoky Mountains is via RV. Fortunately, this national park has a total of 10 frontcountry campgrounds, making it very possible to RV camp within the park.
That said, while the campgrounds do boast restrooms with flush toilets and cold running water, there are no showers, electrical hookups, or water hookups in the park. This means you must drive to the nearest shower and arrive prepared to do some off-grid camping.
Where to Stay near Great Smoky Mountains National Park
Prefer to camp with a few more amenities? Lucky for you, there are several wonderful RV campgrounds just outside of the park, making it easy to camp in comfort while still staying nearby.
Some of our favorites include:
(Check out this list for more awesome options!)
Of course, no matter where you decide to camp, you will need an RV to camp in. If you don't own an RV, consider renting one of our many units in the Great Smoky Mountains area. 
Other Places to See Synchronous Fireflies
If the locations listed above won't work for any reason, you may be wondering about other places to check out the amazing synchronous fireflies. Fortunately, there are a few other options. Below are some of our favorites.
Rocky Fork State Park
Rocky Fork State Park is another super popular place to see the synchronous fireflies. Not only that, the park is also home to the hauntingly beautiful ghost firefly. See both in one visit by scoring a lottery ticket to this park's event.
Joyce Kilmer Memorial Forest
A seriously impressive old-growth forest, Joyce Kilmer Memorial Forest is the perfect habitat for both synchronous and ghost fireflies. Hike in on the two-mile trail loop, find a place to sit, and wait for the sun to go down and the bugs to come out.
Congaree National Park
Lastly, if you find yourself in South Carolina, we highly recommend a visit to Congaree National Park. This park also hosts an official event (May 20th–22nd and 27th–29th, 2021) and holds a lottery for tickets (which is already closed for this year).
That said, it is possible to camp in the park before, during, and after the event in order to see the fireflies come out to play outside of the official viewing area.