Everglades National Park
WIDE-RANGING INVENTORY
From affordable pop-ups to luxury motorhomes
LARGEST RV RENTAL MARKETPLACE
Thousands of 5 star reviews from happy customers
SECURE AND MOST TRUSTED
24/7 Emergency roadside assistance on every booking
South Florida may first bring to mind white-sand beaches, but it's also home to Everglades National Park, a 1.5-million acre swath of coastal mangroves, sawgrass marshes, and pine flatwoods. It's the largest tropical wilderness in the country, and the largest wilderness of any type east of the Mississippi River; in the size rankings of U.S. national parks, it's beaten only by Death Valley and Yellowstone. Everglades National Park is also home to a broad range of exotic -- and often endangered -- animals, such as manatees, American crocodiles, and Florida panthers. In addition to its national park designation, the land has also been listed as a UNESCO World Heritage Site and is one of the Ramsar Convention's Wetlands of Importance; only three places in the entire world appear on all three of those lists.
Florida is well-known (and loved) for its temperate weather, and the climate at Everglades National Park is no exception. Daytime temperatures hover between the upper 50s and lower 70s during spring and winter, with ample sunshine; summers are characteristically hot and humid, but 90+ degree temperatures are tempered by afternoon thunderstorms. The park sees about 60 inches of rainfall per year on average, the majority of which comes down between mid-May and November. Furthermore, because the park is so large, weather can vary depending on which area you're exploring; check the park's official weather pagefor full details.
Everglades National Park spans a wide swath of the tip of south Florida, putting it in close proximity to many densely-populated metropolitan areas. Entrances to the park proper exist in the towns of Homestead, Everglades City, and Miami, but many other cities are within an easy day's driving distance.
With a wide array of different ecosystems, this immense landscape draws a million visitors a year for its ample outdoor adventure opportunities; favorite activities include boating, backcountry camping, and birdwatching. Airboat tours are also very popular, as are the host of ranger-led educational programs offered by the NPS. Be sure to check the park calendar to learn what's going on during your stay.
Read more
Weather
Spring 50-70 F
Summer 70-90+ F
Fall 50-70 F
Winter 50-70 F
Park Info
Everglades National Park Private Vehicle: $25
Everglades National Park Motorcycle: $20
Everglades National Park Per Person: $8
RV Rentals Near Everglades National Park
Nearby RV Rentals Keystone RV Bullet Crossfire 1700BH
2021 / Travel Trailer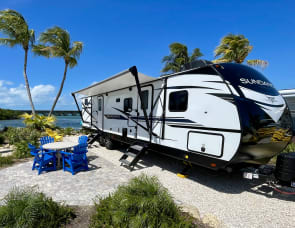 Heartland Sundance Ultra Lite 324 BH
2022 / Travel Trailer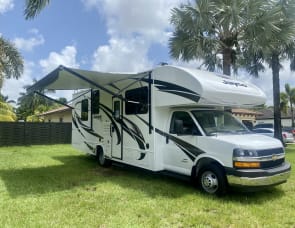 Jayco Redhawk SE 27N
2022 / Class C Motor Home
Everglades National Park Hiking Trails
Although much of the Everglades is better explored by water, the park does offer a variety of hiking trails to help you familiarize yourself with this unique marine estuary on foot. From short interpretive nature trails to unmaintained backcountry ventures, there's a hike to suit every fitness level and interest set.
When hiking in south Florida, be aware that severe thunderstorms can develop suddenly; always seek shelter at the very first sign of thunder or lightning. Keeping the park's hot, humid climate in mind, it's also important to bring an ample supply of water for each hiker. Finally -- and the writer speaks from experience -- do not attempt to hike in Florida without bug spray, especially during the summer.
For a more detailed explanation of hiking opportunities inside Everglades National Park, click here.
Everglades National Park Trails
Things to do Outside Everglades National Park
With well over a million acres of wetlands to explore, chances are you're going to work up an appetite. And since the park is in one of the most culturally-diverse and thriving parts of the country, you've got plenty of options -- culinary and otherwise -- when you venture off campus.
Discover Nearby Towns and Cities
RV Resorts & Campsites in Everglades National Park
Along with a host of backcountry campsites, Everglades National Park features two drive-in frontcountry campgrounds, both of which are accessible to RVs. RV campers can also choose from a wide variety of privately-owned, resort-style campgrounds in the greater Everglades area.
For full details on camping inside Everglades National Park, including backcountry options, click here.
Campgrounds Near Everglades National Park
Find the Best Dumpstations Near Everglades National Park
An unglamorous but necessary aspect of RVing? Dump stations. Knowing where the best dump stations are near you will allow for more ease and less stress in your travels. Dump stations are an easy and convenient way to clear waste from your RV. Use our guides to find dump stations on your route, so you can get back to the good stuff – exploring, relaxing, and making memories on the road.
Dumpstations Near Everglades National Park
How to get to Everglades National Park
Given its extreme size, the best way to get to Everglades National Park depends on where exactly you're going -- and where you're coming from, too. Park entrances exist in three separate cities, and the park property extend across vast swaths of the Collier, Monroe, and Miami-Dade counties. Find up-to-date road directions and GPS coordinates for each of the three entrances at the Everglades National Park website.
The nearest major airports to Everglades are Miami International and Fort Lauderdale/Hollywood International, but visitors could also choose to fly into any of Florida's many airfields and road trip south.
Whether you fly in or rent and drive from home, an RV is the perfect way to experience South Florida's "river of grass." You'll get front-row seats by staying inside the park (or very close to it), and you won't have to worry about unpacking and repacking all your gear into a series of hotel rooms. Don't have a motorhome or travel trailer of your own? No problem; check out the RV rental listings near you.
Frequently Asked Questions
Are pets allowed at Everglades National Park?

Yes, pets are allowed at Everglades National Park. They may be on roadways open to public vehicles, in roadside campground and picnic areas, on maintained grounds at public facilities, and on private boats. Pets may not be on any trails, unpaved roads, or the Shark Valley Tram Trail or Road.

What are the top things to do in Everglades National Park?

Some of the top things to do in Everglades National Park include taking the Shark Valley Tram Ride, hiking the Anhinga Trail to look for alligators, taking an airboat ride, or going on a canoe tour.

Are there designated camping spots in Everglades National Park?

Everglades National Park has two campgrounds that are suitable for RV camping. The Flamingo campground has showers, dump stations, picnic tables and grills. The Long Pine Key campground is open from November to May and has RV and tent camping.

How large is Everglades National Park?

Everglades National Park is 2,357 square miles, or 1.5 million acres. It's the largest subtropical wilderness in the United States.

Is Everglades National Park accessible for disabled visitors?

Everglades National Park has accessible facilities that include front and backcountry camping, boat tours, and devices to help with hearing and sight accessibility. A variety of visitor centers and trails can be accessed by wheelchair, along with trams and boats.