Everglades National Park
Florida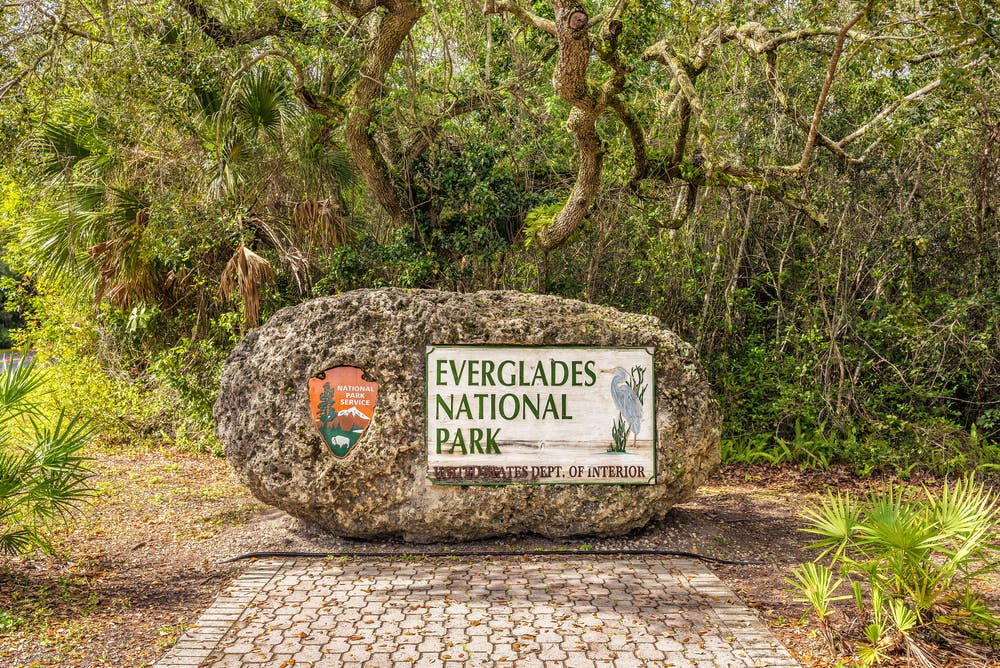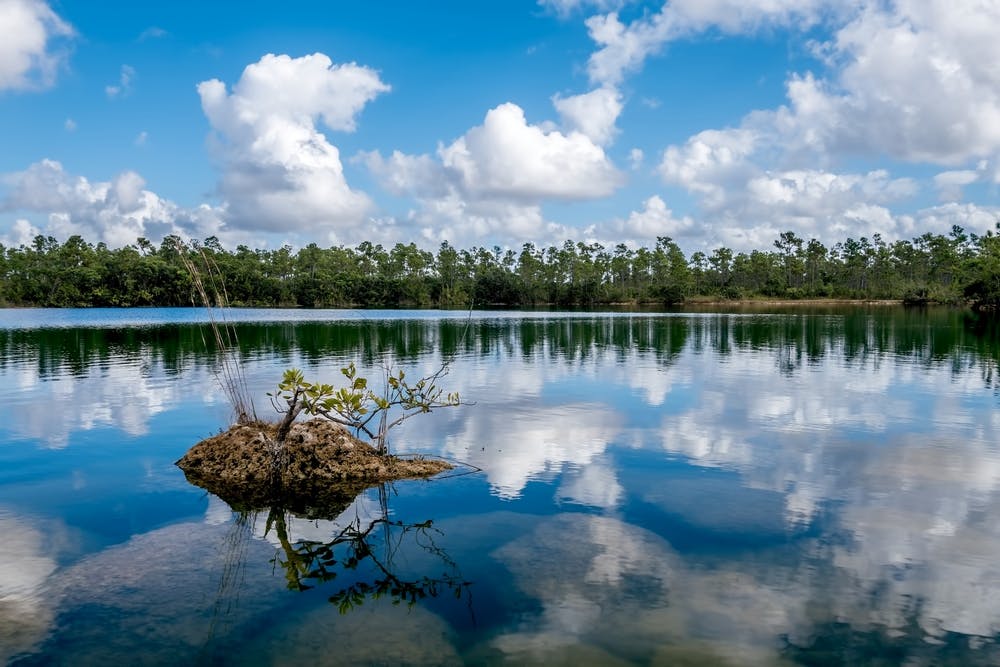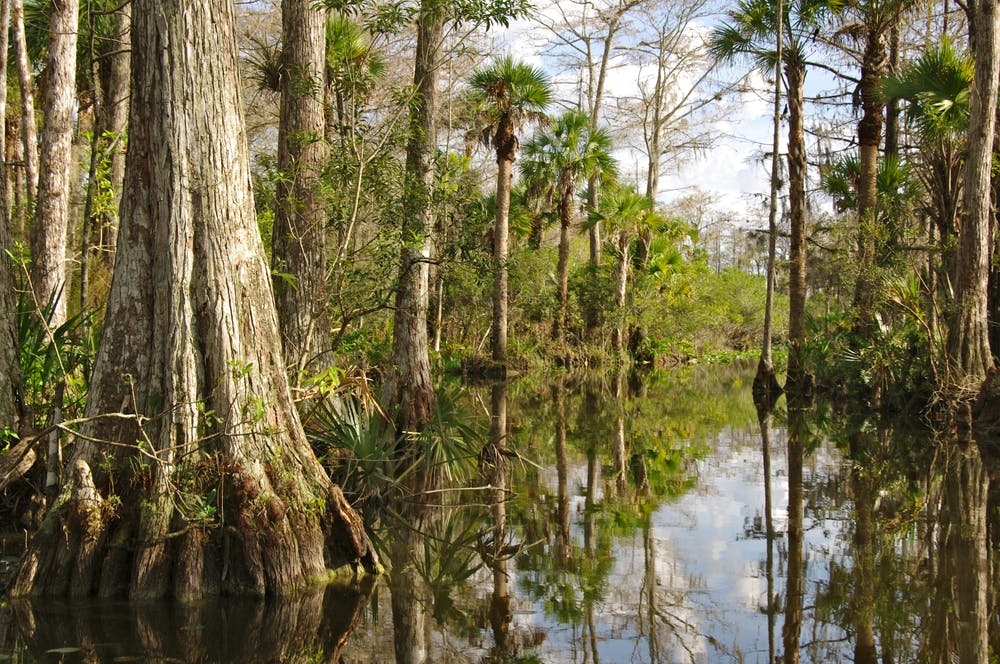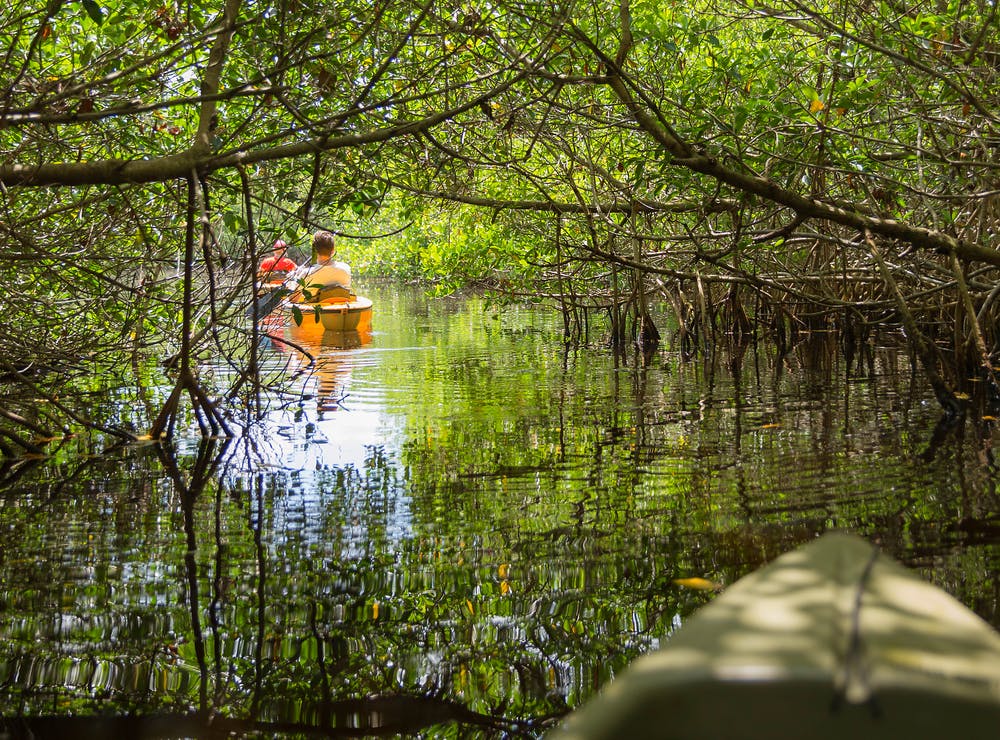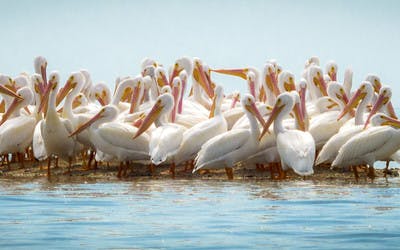 South Florida may first bring to mind white-sand beaches, but it's also home to Everglades National Park, a 1.5-million acre swath of coastal mangroves, sawgrass marshes, and pine flatwoods. It's the largest tropical wilderness in the country, and the largest wilderness of any type east of the Mississippi River; in the size rankings of U.S. national parks, it's beaten only by Death Valley and Yellowstone. Everglades National Park is also home to a broad range of exotic -- and often endangered -- animals, such as manatees, American crocodiles, and Florida panthers. In addition to its national park designation, the land has also been listed as a UNESCO World Heritage Site and is one of the Ramsar Convention's Wetlands of Importance; only three places in the entire world appear on all three of those lists.
Florida is well-known (and loved) for its temperate weather, and the climate at Everglades National Park is no exception. Daytime temperatures hover between the upper 50s and lower 70s during spring and winter, with ample sunshine; summers are characteristically hot and humid, but 90+ degree temperatures are tempered by afternoon thunderstorms. The park sees about 60 inches of rainfall per year on average, the majority of which comes down between mid-May and November. Furthermore, because the park is so large, weather can vary depending on which area you're exploring; check the park's official weather page for full details.
Everglades National Park spans a wide swath of the tip of south Florida, putting it in close proximity to many densely-populated metropolitan areas. Entrances to the park proper exist in the towns of Homestead, Everglades City, and Miami, but many other cities are within an easy day's driving distance.
With a wide array of different ecosystems, this immense landscape draws a million visitors a year for its ample outdoor adventure opportunities; favorite activities include boating, backcountry camping, and birdwatching. Airboat tours are also very popular, as are the host of ranger-led educational programs offered by the NPS. Be sure to check the park calendar to learn what's going on during your stay.
Weather
Spring 50-70 F
Summer 70-90+ F
Fall 50-70 F
Winter 50-70 F
Nearby Cities
Florida City, FL
Everglades City, FL
Trip Planner
Use our FREE RV trip planner to begin customizing the perfect RV trip.
Continue
RV Resorts & Campsites in Everglades National Park
Along with a host of backcountry campsites, Everglades National Park features two drive-in frontcountry campgrounds, both of which are accessible to RVs. RV campers can also choose from a wide variety of privately-owned, resort-style campgrounds in the greater Everglades area.
For full details on camping inside Everglades National Park, including backcountry options, click here.
RV Camping Inside Everglades National Park
Private RV Campgrounds in the Everglades Area
RV Rentals Near Everglades National Park
Nearby RV Rentals
Hit the Trails
Although much of the Everglades is better explored by water, the park does offer a variety of hiking trails to help you familiarize yourself with this unique marine estuary on foot. From short interpretive nature trails to unmaintained backcountry ventures, there's a hike to suit every fitness level and interest set.
When hiking in south Florida, be aware that severe thunderstorms can develop suddenly; always seek shelter at the very first sign of thunder or lightning. Keeping the park's hot, humid climate in mind, it's also important to bring an ample supply of water for each hiker. Finally -- and the writer speaks from experience -- do not attempt to hike in Florida without bug spray, especially during the summer.
For a more detailed explanation of hiking opportunities inside Everglades National Park, click here.
Everglades National Park Trails
Anhinga
Distance: 1.5-mile loop
Terrain: Trail begins at the Royal Palm Visitor Center. Flat and paved/boardwalk pathway makes this easy loop wheelchair accessible.
Coastal Prairie
Distance: 7.5 miles
Terrain: This longer trek is currently unmaintained, as it passes through a critical habitat for Cape Sable thoroughwort -- a small, endangered herb in the sunflower family which features beautiful violet flowers. While the trail is open for hiking, visitors are encouraged to be extremely careful not to damage the surrounding flora and to stay on the path.
Pahayokee Overlook
Distance: 0.2-mile loop
Terrain: What this extremely short Pine Island loop lacks in length, it makes up for in both beauty and accessibility. Well-maintained boardwalk featuring sweeping marsh views; a great way to introduce yourself to the "river of grass."
Shark Valley Bike
Distance: 15-mile loop
Terrain: Given its length, this trek is a prime candidate for trail bikers -- but it's open to hikers, too. Features restrooms, water fountains, and an observation tower at the far end… but no shortcuts exist, so make sure you're prepared for the long haul! Click here to learn more about the Shark Valley Bike Trail.
Snake Bight
Distance: 3.6 miles
Terrain: Located in the Flamingo area of the park, this medium-length out-and-back trail offers hikers the opportunity to spot wildlife and a wide range of the park's ebullient flora.
What to Do at
Everglades National Park
With well over a million acres of wetlands to explore, chances are you're going to work up an appetite. And since the park is in one of the most culturally-diverse and thriving parts of the country, you've got plenty of options -- culinary and otherwise -- when you venture off campus.
Restaurants
You're in Florida, so we're going to assume (and hope) you like it hot. Cuban, Jamaican, or good old southern barbecue -- no matter how you like to spice it up, you can find your fix in close proximity to the Everglades.
This is about as Florida as it gets: a no-frills joint serving up fresh-caught seafood within throwing distance of the water it came from. Psst: Florida's famous stone crabs are in season between October and May, so if you're snowbirding, don't miss it!
Type: Seafood
Location: Everglades City
For authentic Cuban treats on the west side of the park, head to this little slice of Havana. Grab a chorizo and egg sandwich for breakfast or finish off a long day with freshly-simmered mussels over a heaping bed of pasta.
Type: Cuban
Location: Chokoloskee
As deeply south as the park is, it's not exactly in the deep south, culturally speaking… but once you step into this barbecue joint, you may as well be in Carolina. Family-owned and featured by Thrillist, Fodor's, and Eater, you can't go wrong no matter what you order.
Type: BBQ
Location: Homestead
A Miami institution since 1971, it doesn't get more authentically Cuban than Versailles (despite the weirdly French name). Go classic with the country's famous sandwich, or opt for something a bit more exotic, like deep-fried red snapper or stuffed green plantains.
Type: Cuban
Location: Miami
If you're really looking to spice it up, Yardie's your target. With Jamaican and Haitian delicacies to choose from, jerk chicken is just the beginning. We recommend you try the goat curry. Hey, you only live once!
Type: Caribbean
Location: Homestead
Shopping
Whether you're simply looking for an indulgent excuse for some urban explorations, or you're in need of a critical piece of gear to tackle the park's great outdoors full-force, you can find everything you need and way more in south Florida's swampland corridor.
Like REI, but more… Florida. Think: all the camping gear and outdoor clothing you could possibly want, with a heaping side dish of fishing, shooting, and hunting.
Location: Dania Beach; Miami
Want to refresh your mani-pedi before you head home from the park? In the mood for a new outfit or handbag? This Simon mall is one of the closest to the park's entrance -- and if you can't find what you're looking for amongst its umpteen stores, well, we're not sure what to tell you.
Location: Kendall
Information, souvenirs, and -- most importantly -- that national parks passport stamp you're after!
Location: Inside the park
Want haute couture for not-so-haute prices? This sprawling outlet mall offers steep discounts on clothing, shoes, accessories, and more.
Location: Florida City
When it's time for a grocery run in Florida, you've got lots of options… but ask any local and you'll know that there's really only one. Come see why this southern regional grocer has amassed something of a cult following. (Hint: head to the deli and order a chicken tender sandwich to truly understand.)
Location: Multiple
Museums
If there's one thing you can count on in south Florida, it's rain. But with countless museums and cultural exhibits, that thunderstorm doesn't have to be a bummer.
Learn how the East Coast Railway system transformed Florida from a deserted swamp into the bustling slice of paradise it is today -- and see more than 40 historic railcars in the bargain!
Location: Miami
This University-of-Miami-owned art museum has humble origins: back in the 1950s, it was nothing more than three creatively-decorated classrooms. Today, it houses more than 19,000 objects, including works from Native and ancient Americans.
Location: Miami
If the kids are along for the ride, there's no way you can skip this world-famous children's museum, rainy day or no. Let them tucker themselves out by exploring and interacting, then bask in that beautiful night of uninterrupted sleep.
Location: Miami
Want to learn how settlers tamed this southern swamp -- and the obstacles they faced to do so? This Collier County museum will give you some insight into the human side of the Everglades.
Location: Everglades City
It's a bird! It's a plane! It's… several planes, actually, and a whole lot of educational and entertaining information about them. Located inside the Miami Executive Airport, this museum is a must-stop for any aviation enthusiast.
Location: Miami
Sightseeing
Yes, Everglades National Park is so sprawling it's impossible to see in a single lifetime. But hang on to your airboat seat, because south Florida has even more amazing sightseeing opportunities to offer.
You've experienced a saltwater swamp -- so now head next door to this freshwater version, and learn how these two unique ecosystems effect and rely on each other.
Wading through the marsh is one thing. But if you really want to get wet and wild, head to Biscayne, whose 172,000 acres are mostly underwater. Bring your snorkel!
Considering the only way to get there is by boat or seaplane, it's no surprise that the Dry Tortugas are one of the nation's least-visited national parks. But if you make the effort, you'll quickly learn how thoroughly everyone else is missing out.
You might catch a glimpse of one of these pretty predators while you're wandering around the Everglades. But if you want to up your chances, just head to the nearby National Wildlife Reserve -- and learn more about this unique species, too.
Boat tours, birding, lectures, and more await you at this large estuarine research preserve, dedicated to protecting this unique ecosystem and all its native wildlife.
How to Get to
Everglades National Park
Given its extreme size, the best way to get to Everglades National Park depends on where exactly you're going -- and where you're coming from, too. Park entrances exist in three separate cities, and the park property extend across vast swaths of the Collier, Monroe, and Miami-Dade counties. Find up-to-date road directions and GPS coordinates for each of the three entrances at the Everglades National Park website.
The nearest major airports to Everglades are Miami International and Fort Lauderdale/Hollywood International, but visitors could also choose to fly into any of Florida's many airfields and road trip south.
Whether you fly in or rent and drive from home, an RV is the perfect way to experience South Florida's "river of grass." You'll get front-row seats by staying inside the park (or very close to it), and you won't have to worry about unpacking and repacking all your gear into a series of hotel rooms. Don't have a motorhome or travel trailer of your own? No problem; check out the RV rental listings near you.
Entering Everglades National Park
Like many of the U.S. national parks, Everglades does charge an entry fee to visitors. However, the funds go directly into maintaining and upgrading the park facilities, and your fee covers you and all included guests for a full seven days (which must be consecutive). Here are the latest park entry fees for Everglades National Park:
Private Vehicle : $25
Private, non-commercial vehicles (15 passenger capacity or less) and all occupants.
Motorcycle : $20
One or two passengers on a private, non-commercial motorcycle.
Per Person : $8
One individual with no car (bicyclist, hiker, pedestrian). Youth 15 and under are admitted for free.
We can't wait to learn more about your trip to the Florida swamp! Tag us in your photos and posts or send details to us directly at [email protected]. We'll be featuring a select number of national parks trips on our own blog and social media channels!