Travel Inspiration
October 24th, 2020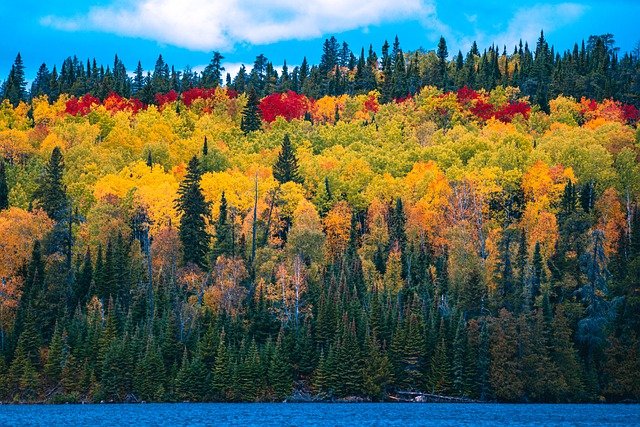 Although talk of travel starts winding down after Labor Day, and many people start packing it in and tucking away for winter, they're missing out on one of the best seasons for camping! Camping in the fall has several advantages and you may find it ends up being one of your favorite times to hit the road.
Fall Camping
Autumn camping provides some advantages you can't get when you're on the road during the more popular summer months. In fact, that right there is one perk – at popular parks and other places, summer can be crowded. Once the school year has started, crowds begin to dwindle and many places that are overrun in summer are pleasantly quiet in the fall.
Best Campgrounds to Stay at This Fall
Fall is also a great time to visit hotter areas of the country. Death Valley National Park, the Petrified Forest in Arizona, and even the Grand Canyon can be sweltering in the mid-summer months and your options for hiking and other outdoor activities can be limited when the temperature is high. Fortunately, things cool off as you get into late fall and these parks can be downright pleasant. They're also a fun getaway if you live somewhere that gets early snow that you'd like to avoid!
Finally, there's the perk we all think of when we think of fall travel – the scenery! Fall camping allows you lots of time to explore changing leaves in several areas, and you can spend a day (or several!) hiking, driving, biking, and otherwise getting outdoors to see the fall foliage. There are also fall festivals, pumpkin patches, farmstand harvests, and options for apple picking and other autumn events. It's even fun to celebrate a holiday like Halloween at a campground instead of at home!
Best Fall Camping East Coast
When you think of camping on the East Coast in autumn, likely your mind goes straight to leaf-peeping. There are so many options for gorgeous fall drives and for exploring the changing foliage in New England and other parts of the east. There are also a few temperate parks that have great weather extending well into fall, so if you want to extend your time at the beach or exploring the ocean there are some great options for that as well.
This campground is close to Acadia National Park and has a longer season than many in the area, staying open until late October. They host a few celebrations right at the campground, including a wine tasting and a brewfest in October. They also have suggested itineraries if you're looking for things to do, or you can ask for ideas when you get there – the staff is eager to help you plan a great fall vacation! If you want to make plans to see the foliage, it generally peaks from October 13-22, but check out mainefoliage.com for more detailed information.
You can find more choices for Maine campgrounds here. If you don't have an RV, you can also rent one with RVshare! They have RVs, campers, and trailers and you can narrow your search to look for a vehicle in Maine for the perfect fall camping trip.
This campground on the edge of the Berkshires is close to beautiful fall drives through the mountains. You can also wander picturesque New England towns, and pop into a cafe for some cider or a pastry while antiquing.
For more suggestions on where to camp in Massachusetts, check out our roundup of the top ten campgrounds here. You can find RV and trailer rentals on RVshare's Massachusetts page here!
This campground in the heart of the White Mountains is open year-round, which means you can do leaf-peeping in the fall, or snowmobiling and winter activities in winter. The White Mountains have vivid colors and beautiful scenery for a beautiful weekend (or longer!) getaway. Try the Mt. Washington Cog Railway for a one-of-a-kind excursion through the foliage and up the mountainside.
You can find more places to camp in Vermont here, and you can find rentals on RVshare's Vermont page here.
Another perk of fall camping is that you can head to warmer places that won't be overrun with visitors! This campground near Dry Tortugas National Park is on the water and you can fish, swim, boat, and more all year-round.
Just about any place in Florida is going to boast beautiful weather! Check here for more Florida campgrounds, and here to find RV rentals in the area.
Enjoy fall in the center of Chincoteague Island, close to beaches and the famous wild ponies. You're also close to restaurants and shopping and there's plenty of nature to admire! The weather on Chincoteague is warm through November, and the park stays open until November 30 – plenty of time to get lots of activities in!
For more ideas on camping in Virginia, you can check here and for Virginia RV rentals start here.
Best Fall Camping West Coast
When it comes to fall color and warm weather, the East Coast doesn't have all the fun! There's plenty of both on the western side of the U.S. as well.
The Rocky Mountains are no slouch when it comes to showing off fall colors! Elk Meadow Lodge in Estes Park is next to Rocky Mountain National Park and you can see gorgeous fall foliage and wander the streams and trails at the park. Fall is also a great time to see the elk rut, when the males compete by bugling and clashing while they try to get the attention of the females. Estes Park can get overrun by elk in the fall and it's an exciting experience as long as you keep a safe distance!
You can find more campgrounds in Colorado here, and you can see how to rent a trailer or RV in Colorado here.
This campground just on the Nevada-side of Lake Tahoe is very close to the lake, allowing you to boat, paddle, or just sit on the shore and watch the sun set. And Lake Tahoe in autumn is a sight worth seeing! The trees are turning, the bears are getting in those final calories before winter, and the salmon in nearby Taylor Creek are running and are a vivid red (they're also a lure for those hungry bears!).
If you want to check out more lakes in nearby California, this list has some great campgrounds! If you want to rent a motorhome or trailer in California, try RVshare's localized listings.
This campground at The Oasis at Death Valley allows guests to swim in the spring-fed pool, use the sports courts, and eat at the restaurants on-site. And after the sweltering, often unbearable heat of summer, fall in Death Valley has milder temperatures that allow visitors to do a lot more hiking and exploring in a much safer environment.
You can find more campgrounds in California here, and you can discover RVs and motorhomes for rent here.
This beautiful spot in the Pacific Northwest is perfect in fall! There are numerous scenic hikes you can take, including the Trail of Ten Falls – where five of them are over 100 feet tall. You can even walk behind several of the waterfalls. The leafy park really shows off its beauty every autumn!
If you want to find other Oregon campgrounds, check here. You can look here for motorhomes, trailers, and other rentals using RVshare's listings.
With a variety of choices for destinations, from gorgeous autumn foliage to warm fall escapes, you're sure to find the perfect getaway!