Boondocking in Massachusetts
Top Campgrounds
Last updated on June 23rd, 2022. Originally published on April 28th, 2021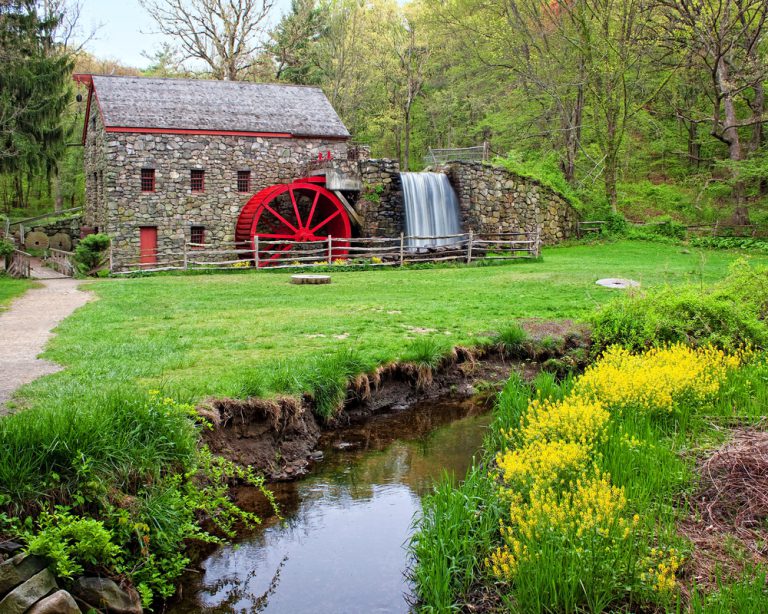 From the northern cities like Lowell to the southern communities like Fall River, there are fantastic places to boondock in Massachusetts. You can also find great places to camp for free in Massachusetts on the western edge of the state, so it is easy to visit the Berkshire Hills. If you prefer playing in the water, select great dispersal camping in Massachusetts near Cape Cod or Nantucket. History explorers will love boondocking near Boston and Plymouth. Select from these fantastic locations for free camping in Massachusetts. 
Boondocking Sites in Massachusetts
Cape Code National Seashore
You can camp up to 21 days right on the beach at Cape Cod National Seashore in Wellfleet. You must obtain a free permit before driving onto the sand or by 8 a.m. the following day if arriving overnight. Stays are limited to the off-road vehicle corridor. 
Mount Greylock State Reservation
From Columbus Day to March 31, you can camp at Mount Greylock without paying a fee. There are various options, including the Sperry Road Campground near Adams, which has bear-proof lockers, picnic tables, and fire rings at each site. You may also camp for free in one of their lean-to shelters throughout the year. Each of these shelters holds 12 people, and they may be shared with strangers. 
Mount Everett State Reservation
You can camp for free along the Appalachian Trail at Mount Everett State Reservation near Mount Washington. You can also dry camp in the parking lot near this park's headquarters. Consider bringing along your boat to enjoy boating at this reservation. 
Mount Washington State Forest
Mount Washington State Forest near Mount Washington is a fantastic place to go boondocking in Massachusetts. You can hike through the red oak northern hardwood forest or go mountain biking. There are several free tent sites, and RVers can camp for free near the park's office. 
Cabela's
There are eight special sites for RVs behind the Cabela's in Hudson. These are on a paved lot and are marked for RV use only. While there are no hookups, you can use the dump station for a nominal fee if you show a Cabela's receipt. This location is a great area to camp in if you need some retail therapy as there are many stores nearby. 
Crystal Mountain
This location, which is about halfway between Dalton and Cheshire, offers two camping spots, and there is a privy. The wildflowers at this site near the Appalachian Trail and the Greylock Traverse are beautiful in the springtime when the wildflowers are blooming and when the trees change colors in the fall. This campsite offers a bear box to keep your food safe and a picnic table. The area near here is rough and very rocky, so keep this in mind when driving your RV. 
Upper Goose Pond
From May to October, you can camp at the Upper Goose Pond. You cannot stay at this primitive campsite when a caretaker is not on duty. Hikers of the Appalachian Trail often use this area near Lee, and it is a beautiful place with lots of hiking trails nearby. This location is also a great place to camp if you love to go bird-watching. 
Where to Boondock in Massachusetts
Finding free camping in Massachusetts can be challenging. Consider heading to the Cape Cod area and camping at the Cape Cod National Seashore if you love playing in the water. Alternatively, head to the Berkshire Hills as there are options along the Appalachian Trail. Additionally, some state forests in Massachusetts offer dispersal camping. Some of these sites are available only in the winter, making them perfect places to stay while cross-country skiing or sledding. 
Free Camping in Massachusetts
When preparing for your boondocking trip, there are different factors that you need to keep in mind. One basic necessity that you will need to consider is water. Many primitive campsites do not offer water hookups, and some are not near a source of potable water. Therefore, it is often a great idea to carry not only water with you but also a water sterilizer if you plan to stay for a while. If you are planning a full day of activities, especially during the warm summer months, be sure that you and everyone in your group are drinking enough. 
Another thing to think about is how you plan to handle trash. Many sites for boondocking in Massachusetts do not offer trash service. Therefore, you will need to pack out what you bring in. Consider eliminating as much trash as possible before leaving on your free camping adventure. For instance, if you plan to cook many items together, consider combining them before leaving home and packing them in one bag. That way, you will have less trash to pack out. Since you want places to continue allowing free camping in Massachusetts, consider going the extra mile and picking up someone else's trash that they carelessly left behind. 
You can find many terrific places to go boondocking in Massachusetts. Think about the activities you enjoy doing the most, like hiking, boating, and swimming, when deciding which site meets your needs the best. There are beautiful spots across the state to go, but before you head out on your trip, check out our blog for all you need to know about boondocking in Massachusetts. 
Massachusetts is a terrific place to go camping for free in an RV. If you don't have an RV, then take advantage of this opportunity by renting one on RVshare.com.