Travel Inspiration
Last updated on December 29th, 2022. Originally published on April 28th, 2018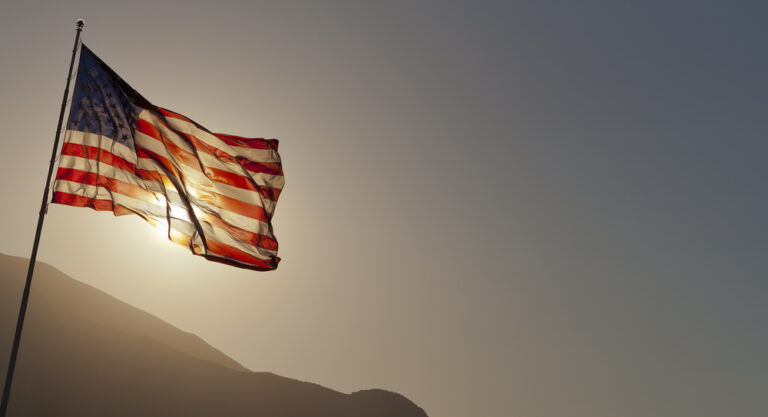 Whether or not someone you know and love has served our country, Memorial Day is one of the most important holidays we celebrate here in the United States. It gives us a chance to remember not only how lucky we are to have our many freedoms, but also to memorialize the brave men and women who fought and died to protect them.
On a lighter note, it's also the unofficial start of summer — and a great opportunity for a last-minute weekend getaway. In fact, Memorial Day is one of the biggest travel dates of the year!
Which means, for adventuresome RVers like you, there's only one question: Where to?
We've put together this post of some of the best places to go for Memorial Day weekend (or any miniature summer getaway, for that matter). Time to open that road atlas, update your Passport America membership, and hit the road. Don't forget your sunscreen… or to sport some stars and stripes!
Here's the ultimate RVer's guide to Memorial Day travel.
Memorial Day Travel Deals
Whether you're planning a longer trip for later on in the summer or you're just trying to pinch a few pennies wherever you can, cheap travel doesn't have to feel like a sacrifice — especially in an RV!
That's why we've filled this post with Memorial Day vacation ideas in state parks with RV campgrounds, which are often much cheaper than private, developed campgrounds with lots of luxurious amenities.
Of course, if you do want to spring for a premium campsite, the best way to do so is to get a Passport America membership, which saves you 50% off your accommodation fees at almost 1900 campgrounds across the country — and in Canada and Mexico, if you're feeling adventurous enough to cross the border!
Here are some other easy ways to save money on your next camping trip.
Memorial Weekend Getaway
No matter what part of the country you call home, there are great Memorial day travel destinations to explore — even if you only have time for a quick weekend getaway.
1. Honeyman Memorial State Park, Oregon
Nestled along a stunning stretch of the Oregon coast, Honeyman Memorial State Park is best known for its rolling sand dunes, just waiting to be hiked through and explored. There are also two freshwater lakes ready for fishing, swimming, boating, and other water-based adventures — and the rental office opens on Memorial Day weekend!
The park is only two miles from the ocean, and while there's not a hiking trail, it's not difficult to get there. You can also head out to the Sea Lion Caves about 15 miles to the north, and continue just a little bit further to get the perfect Instagram pic of Heceta Head Lighthouse.
2. Anastasia State Park, Florida
Want a taste of Florida's east coast that's nothing at all like South Beach? Just an hour and a half south of the Georgia line, this park's dunes, walkways, and affordable campsites beckon.
Along with the most obvious draw — the beach — Anastasia State Park also allows you easy access to all the fun of St. Augustine, the oldest continually-run European settlement in the states. Even if you're not a history buff, you won't want to miss this vibrant, artistic little community… or its many delicious restaurants.
3. Nickerson State Park, Massachusetts
Dreaming of a Cape Cod getaway without the Cape Cod price tag? This 1,900-acre park offers more than 400 campsites, as well as endless wooded hiking trails and ponds perfect for your first dip of the summer. Click here to learn more about Nickerson State Park's full range of amenities — or to reserve your spot, if you're already convinced!
Memorial Day Weekend Trips
Here are a few more options for a Memorial Day weekend you'll remember for years to come.
4. Cunningham Falls State Park, Maryland
Known for its 78-foot waterfall, Cunningham Falls State Park offers over 170 campsites and also boast shot showers, flush toilets, and a camp store. Plus, it's only an hour outside of Washington, D.C. — the arguable epicenter of Memorial Day celebrations.
5. Red Rock Canyon State Park, California
In the unique stretch of land where the Sierra Nevadas converge with the El Paso Mountains, you'll find Red Rock Canyon State Park, a different way to enjoy a warm, sandy getaway. The desert cliffs and buttes are home to hawks, lizards, and even roadrunners — and once you lay eyes on this beautifully alien, multicolored landscape, you might want to move there, too.
Memorial Day RV
We're not quite done yet! Here are a few more last-minute Memorial Day getaways to consider.
6. Rainbow Springs State Park, Florida
Not all Florida destinations are about the beach or Mickey Mouse. If you want to see what the real Florida is like, you've got to head to the source — of all that water the state is known for!
Although there are many different springs to choose from in Florida's interior, Rainbow Springs State Park is one of the most famous and well-traversed. Whether you relax with a leisurely tubing trip down the river or get more active in a kayak or canoe, you'll see a totally different side of the Sunshine State.
7. Tahquamenon Falls State Park, Michigan
Think you have to head south for a proper Memorial Day getaway? Not so! These stunning falls are nestled in Michigan's scenic upper peninsula, surrounded by a state park of almost 50,000 acres. There's plenty of camping available, but even so, you'll want to reserve your site at Tahquamenon Falls State Park as early as possible.
8. Galveston Island State Park, Texas
From its amusement-park boardwalk to its famous, Gulf-fresh seafood, there's no shortage of reasons to visit Galveston — and Galveston Island State Park is the perfect home base for a camper.
Only about 50 of the available campsites feature water and electricity, however, so you'll definitely want to make your reservations ahead of time.
This list is just the beginning of Memorial Day options when you're traveling by RV.
So what are you waiting for? Grab your sunglasses and get out there! After all, our soldiers defended this land with their lives for a reason.
This post may contain affiliate links.