Dry Tortugas National Park
Florida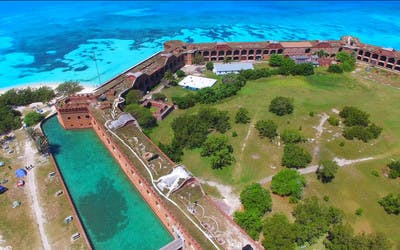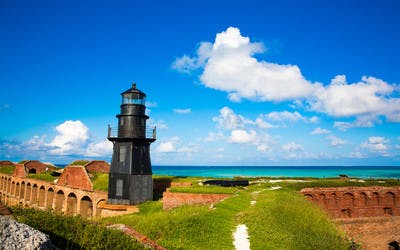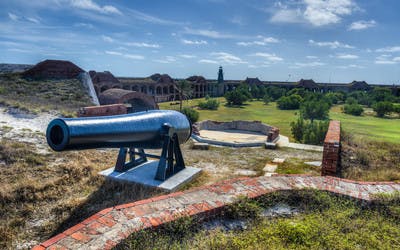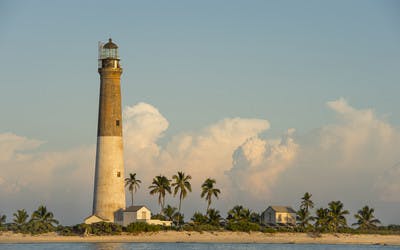 >

Dry Tortugas National Park
Tucked away down south, 70 miles west of Key West, Dry Tortugas National Park really is a hidden treasure. Comprised of seven islands and their associated coral reefs, this preserve is home to a stunning 19th-century fortress, a lighthouse, and a large population of sea turtles, just to name a few of its attractions. However, due to its remote location -- and the fact that it's accessible only by boat or seaplane -- the park sees far fewer visitors than many of its more-famous brethren; according to the National Park Service, only about 63,000 brave explorers make the trek annually. (Compare that to just about a million for relatively nearby Everglades National Park.)
Given their remote location, these islands were probably not well populated in precolonial times. But the islands and surrounding water today known as Dry Tortugas National park is, like many other parts of Florida, the historic and ancestral lands of the Seminole Indians. Read more about the indigenous history of Dry Tortugas National Park here.
Though the south Florida islands may call to mind sunshine-filled days and warm, sandy beaches, it's important to stay apprised of the weather before heading to the Dry Tortugas. During the winter months, between November and April, 20-knot winds and 8-foot wake are not uncommon; though the summer brings largely calmer seas, it's also the start of hurricane season (June 1-November 30). For current weather observations and more complete details, check the park's official weather page.
Being as the park is a series of offshore islands, there's not exactly a gateway town like you'd find at Yellowstone or Acadia. However, Key West serves as a home base and jumping-off point for a majority of visitors and is home to a bustling and vibrant community.
Visitors are drawn to the Dry Tortugas for an array of outdoor activities; boating, paddling, fishing, and swimming are all popular. Snorkelers can enjoy the park's multitude of coral reefs, and SCUBA divers can explore the nearby Windjammer Wreck -- which, situated in only 20 feet of water, offers some accessibility even to adventurers without tanks. Visitors can also enjoy guided tours of Fort Jefferson and a variety of other ranger-led activities. Check the park's official calendar for full details.
Weather
Spring 67-86 F
Summer 74-89
Fall 79-92 F
Winter 67-76 F
Nearby Cities
Key West, FL
Trip Planner
Use our FREE RV trip planner to begin customizing the perfect RV trip.
Continue
RV Resorts & Campsites in Dry Tortugas National Park
RV Campgrounds in the Florida Keys
RV Rentals Near Dry Tortugas National Park
Nearby RV Rentals
Hit the Trails
Although there's not much in the way of hiking trails at this almost-entirely-aqueous park, there's no shortage of outdoor exploration and sights to discover!
So trade those hiking boots for a snorkel mask and a pair of fins, and find yourself totally immersed in the Dry Tortugas -- literally.
What to Do at
Dry Tortugas National Park
They say you shouldn't swim for a few hours after you eat to avoid cramping up -- so take advantage of the downtime to explore some of the many cultural pursuits and diversions in nearby Key West. Seafood, sunshine, and historic sites await!
Restaurants
Yes, obviously, you've got to have seafood while you're in the Florida Keys. But thanks to its status as a world-famous destination, Key West also serves up just about every kind of dish your heart could desire.
Although the dress code is "Key West casual" in this local favorite situated in a former home, the food is anything but low-key. Start out your meal with a hunk of fresh burrata and authentic prosciutto de Parma before moving onto a heaping bowl of linguine -- and finishing with tiramisu, of course.
Type: Italian
Location: Key West
If you looked up "the Florida Keys" in the dictionary, you might see a photo or three of a bar like this one: down-home, thatched roof rustic, serving up tropical pub-friendly favorites like conch fritters and hogfish sliders. To drink: a frozen rum runner, for sure.
Type: Grill
Location: Stock Island
This casual Peruvian joint was voted best ceviche in town -- and considering their sprawling and diverse menu, that's just the beginning.
Type: Peruvian
Location: Key West
Inspired by -- what else? -- Ernest Hemingway's The Old Man and the Sea, this charming and intimate eatery serves an array of tapas washed down with house-made sangria. So bring the whole crew and order to your heart's delight. Everything's better when you share!
Type: Spanish
Location: Key West
If you come at the right time of year, stone crabs are a non-optional Florida treat -- and where better to get them than this hot-spot restaurant? Open for brunch, lunch, and dinner, and also serving freshly-mixed cocktails at the Eco Bar.
Type: Seafood
Location: Key West
Shopping
Had enough of Key West restaurants and ready to make a meal at home on your rig? Or maybe you've just realized that the dress code calls for flip-flops, and you've got nothing with you but boots.
Either way, you'll be able to find what you're looking for in Key West's shopping centers.
Whether you brought along your own set of wheels and are in need of a part or repair or you're looking for a great way to see the island, this locally-owned bike shop's got you covered. Rentals start at just $12 per day!
Location: Key West
When it comes to diving, your gear isn't just tangential -- it's keeping you alive. In other words, it matters. A lot. So if you're looking to SCUBA during your stay, head to this dive shop to get set up right
Location: Key West
Helpful information about the park, convenience-store items, souvenirs -- and, of course, a stamp for your national parks passport. It's all here, and best of all, net proceeds go right back into maintaining and improving the park's educational and visitor services.
Location: Garden Key (inside the park)
One thing's for sure: in the keys, you'll find plenty of people selling seashells by the seashore. But this shell-seller has stellar user reviews -- and enough gifts and goodies to make your head spin. (Psst… we won't tell anyone you're shopping for yourself as well as grandma!)
Location: Key West
When it's time for a grocery run, head to this beloved southern regional chain to stock up on fresh meat, dairy, and produce. And if you need a quick bite on the go, make a pit stop at the deli. Those fresh-cut subs are a huge part of why it's a "pleasure" to shop at Publix!
Location: Key West (and elsewhere)
Museums
The southernmost end of the States has seen some serious history -- and had a number of very famous denizens, too. When you need a break from the park (or maybe just to dry out for a moment), check out the following cultural exhibits and attractions.
You needn't have majored in English to be familiar with the work of this American powerhouse author -- and even if you don't care for his prose, his one-time home is undeniably scenic. (And also famously filled with seven-toed cats.)
Location: Key West
A visit to this museum is anything but a wreck of a day -- but you'll certainly learn a lot about shipwrecks. (And treasure.)
Location: Key West
Did you know that President Truman called Key West home for 175 days over 11 visits? Well, now you do -- and you can explore the little white house he stayed in.
Location: Key West
Want to see what life is like on a real Coast Guard cutter? The Ingham is the only one afloat today to have received two Presidential Unit Citations for extraordinary heroism in action -- and it's open to visitors.
Location: Key West
Sightseeing
While you could certainly keep yourself busy for days on end with the Dry Tortugas alone, there's a whole lot more you won't want to miss if you already made it this far south.
Located just half an hour from the heart of downtown Miami, this may be the second-wateriest national park in the roster -- and it's a great stop for even more boating, swimming, and wildlife-watching fun.
Although it's within an easy drive of Biscayne and South Beach, America's largest wetland wilderness feels like a whole different world. It's a wild one, and you'll want to experience it.
Can't get enough of the incredible aquamarine life in the Dry Tortugas' waters? The Key West Aquarium displays sea turtles, jellyfish, sharks, and more. (And, hey, you don't even have to get wet to see them.)
You can't visit Key West without crossing this photo opp off your Instagram bucket list!
How to Get to
Dry Tortugas National Park
Unlike most of the national parks, the Dry Tortugas are entirely surrounded by water -- which complicates the whole "getting there" thing considerably. Although you can access the Florida Keys by motor vehicle, you can't drive to the park itself. (At least not without sustaining serious engine damage.)
The National Park Service lists the primary ways to get to Dry Tortugas National Park as follows:
- Bring your own boat
- Charter a boat or seaplane
- Ride a ferry
- Fly a seaplane (like, your own)
You can learn more about the available charter options, ferries, schedules, and fares by visiting the park's official directions page.
Entering Dry Tortugas National Park
Park Enterance Fee : $15
Per person. Good for one week.
Although you can't actually camp in the park, renting an RV is still an ideal way to experience the Dry Tortugas and the surrounding area. You'll be able to kick back and relax in your own private space after a long day of exploring, without having to worry about common hotel annoyances (like thin walls and noisy neighbors). Whether you fly in and rent on-site or drive down from your own point of origin, there are plenty of rental RVs on the peer-to-peer market to choose from. And by renting through RVshare, you save tons of cash on expensive traditional dealership fees and addendums.
No matter how you arrive at Dry Tortugas National Park, the important part is… well, that you do arrive! We're especially excited to hear all the juicy details about this little-visited gem, so please tag us in your social media posts and photos. You can also send trip stories and pictures directly to our inbox at [email protected]. We're looking for extra-special travel tales to share with our own followers on our blog and social media channels… and your journey might just fit the bill!