RV Owners
Last updated on December 8th, 2022. Originally published on November 13th, 2017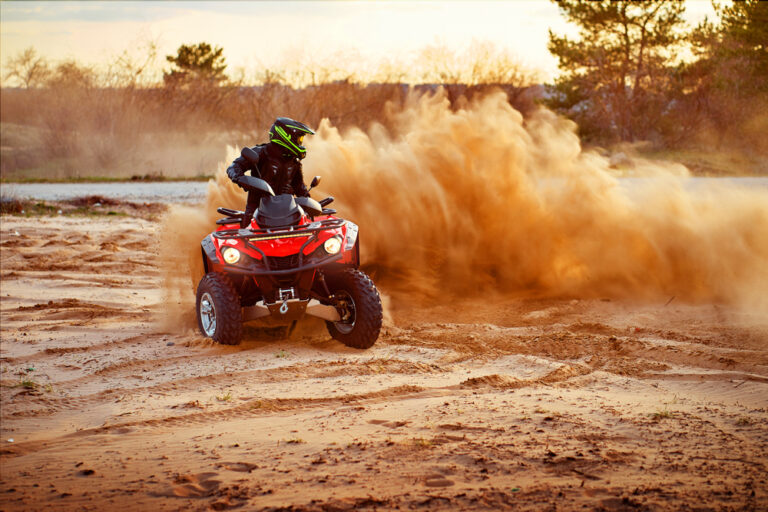 The best part of RVing is that there's enough room for everybody… but what about the members of your family with wheels instead of feet?
If you've got adventure vehicles like four-wheelers and ATVs, or even just a golf cart, moped, or motorcycle to get around town with, leaving home without your extra motor power can feel like a downright betrayal. Think of all the off-road adventures you could be having at your destination!
Of course, if you're traveling in a big Class A motorhome, you could tow one of these vehicles behind you… but you'd give up the option of towing an actual car, and it can be a pain to set up.
And if you prefer the flexibility of a travel trailer, well… unless you want to deal with not one, but two tow hitches, dragging your ATV along simply isn't an option. (Note: That kind of setup would actually be illegal in many areas, so don't try to attempt it!)
But luckily, there's a way to combine the comforts of travel trailer camping with the liberation of these smaller, powerful motorized gadgets — or "toys."
They're called toy hauler RVs. And if you've been wondering how to bring your favorite adventure vehicles along on your next camping trip, here's what you need to know about these unique hybrid campers.
Toy Hauler RV Campers
A toy hauler is a travel trailer that includes a large open cargo port, garage, or "toy box" in the back, allowing you to easily bring along four-wheelers and other small auxiliary vehicles. You could also use the space for any other large adventure gear you travel with, such as kayaks, stand-up paddleboards (SUP boards), and bicycles.
When you've set up at camp and you've taken the vehicles out to play, you can also use this garage area as additional outdoor living space. With the addition of some steps and an expandable shaded mosquito net, the ramp you use to load and unload your vehicles easily transforms into a patio — a perfect place to sit back with a beer after a long day of off-roading or mudding!
Like other travel trailers (and RVs in general), toy haulers come in a wide range of types, floor plans, and sizes, and they're offered by manufacturers running the gamut as far as price point and quality. From the smallest, lightweight toy haulers to big 5th-wheel versions, whatever type of trailer you're used to towing, there's likely a toy hauler in your preferred style!
How Much Weight Can a Toy Hauler RV Carry?
So, what are the specifications as far as how much you can load into a toy hauler?
Well, like any travel trailer, a toy hauler's graded capacity depends on its size and weight — not to mention what kind of vehicle you tow it with. For example, even though the smallest, lightweight toy haulers might not require a full-sized truck to tow on their own, you'll likely need a hefty vehicle to pull the RV when it's loaded with your heavy-duty "toys."
Although the actual capacity varies according to which make and model you're towing, toy haulers tend to have a maximum limit of around 2,500 pounds — which is a little bit over a ton! To put it into perspective, most ATVs weigh less than 1,000 pounds, even when filled with fuel. Many are as low as 400-500 pounds. A capacity of that size means that some very small, lightweight cars, like the Mitsubishi Mirage or a Smart car, might even be permissible for towing in your toy hauler.
However, you also have to consider the weight of the food and other goods you'll carry in the trailer, such as propane gas for your generator. As in any travel trailer scenario, it's always good to keep your total load as light as possible, as it's safer as well as easier on the machinery in the long run. (If you overshoot the rated weight limit, you may also forfeit your insurance coverage… so always make sure to keep an eye on the scale!)
Toy Hauler RV Prices
So, what can you expect to pay for one of these puppies?
Again, as in any other RV category, the price of a toy hauler depends on its quality. For example, if you want to purchase a toy hauler from one of the best, top-rated high-end luxury brands, or have one custom built, you'll be looking at a price tag of thousands, or possibly hundreds of thousands, of dollars. Even a more modest brand will be pricier if you go big: a heavy-duty fifth-wheel toy hauler with a gooseneck tow hitch is going to cost more than a smaller version.
Keep in mind, too, the cost of the tow vehicle, which is nothing to sneeze at when you're talking about the big duallies and one-ton trucks you need to safely pull a lot of weight. Toy haulers aren't cheap — but if you want to bring your gadgets along for the ride, they're a worthy investment!
If you're not quite ready to buy your own, it's also possible to rent a toy hauler through the peer-to-peer market at RVshare. Although these vehicles aren't usually on many commercial dealership fleets, private owners can offer theirs for rent, provided you have the right tow vehicle!
RV Toy Hauler Accessories
Already have a toy hauler of your own, or on the market to get one? There are some parts and accessories that will make your camping journey much easier, and help you transform your "toy box" into usable living space.
Here are a few of our favorites to start with!
Happy hauling!
This post may contain affiliate links.