RV Owners
Last updated on December 13th, 2022. Originally published on January 10th, 2018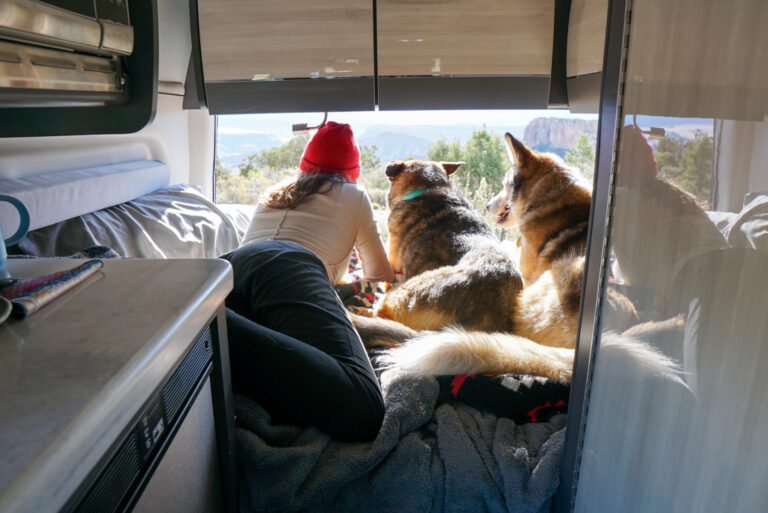 Backup camera and monitor kits, mountable home security cameras, RV GPS systems… there's just no doubt about it. RV accessories can be pricey!
And as useful and convenient as all those additions are, sometimes, you're looking to make some improvements to your rig without basically taking out another loan on the darn thing.
Fortunately, there are a ton of RV supplies, gadgets, gear, and additions that are both inexpensive and awesome. Trust us: just because something doesn't cost a ton doesn't mean it isn't useful!
So here's our list of fun stuff for your RV that won't set you back more than fifty bucks — and some tips on finding whatever else you need on the cheap, too.
RV Supplies List
Here are some of the best RV camping supplies money can buy, even if you don't want to spend a whole lot of it.
1. Compact ovenware set
If you love cooking and baking your favorite goodies from scratch, the oven might have been a huge selling point in your decision to travel by RV in the first place — but even in the most luxurious rigs, you usually won't be working with full-sized appliances.
That's why it's imperative that you have compact bakeware, like cookie sheets and baking tins, that will fit the oven your RV is equipped with. This five-piece set costs less than $25, which we think is a total steal! It comes with a muffin pan, a roasting pan with a rack, and a standard sheet pan, so you'll be all set to whip up your favorite oven-cooked treats, no matter what they are.
2. RV-sized drawer dividers
As far as can't-live-without kitchen accessories are concerned, drawer dividers are up there. No one wants to have to pick through an ambiguous pile of forks and knives every time they're ready to eat.
But if you try to get your RV's storage organizers at your local home goods store, you may end up disappointed when you get home and find the dividers you just purchased won't fit, no matter how you push and shove. Luckily, Camco makes kitchen drawer dividers specifically sized for an RV's smaller spaces. In fact, they even make an adjustable version, so you know for sure it'll fit no matter how teeny-tiny your drawers are — and it's less than $15!
3. Non-skid liner
If you've spent more than a split second in an RV, you likely already know the incredible power of this essential RV supply, which will help keep your dishes, glasses, and everything else from slip-sliding away. It might not be the most exciting thing on the list, but at under $5 for a 12-foot roll, it's definitely a worthy investment!
Gadgets for RV Camping
Looking for cool new gadgets for your RV? Some of the best are also the cheapest.
4. A level
Simple? You bet. Cheap? Hard to find cheaper. And when it comes to travel trailer accessories, it's an absolute must-get! After all, living in a slanted RV is no fun — not to mention the fact that it can have an effect on your refrigerator and other appliances. Grab this level for less than $5 to make sure you're actually on the straight and narrow!
5. Bed suspenders
If you've ever cursed as your fitted sheet popped off again in the middle of the night while RV camping, get ready to be wowed. Somebody came up with bedsheet suspenders, and I seriously can't think of a single better idea I've come across any time in recent memory.
Plus, as frustrating as it is to have your bed falling apart at 2 a.m., I'd say $11 is even more of a bargain than it already sounds like!
Basic RV Supplies
You can't leave home without these accessories. Good thing they're so affordable!
6. Wall-mounted toothbrush holders
You want your toothbrush to be nice and clean for obvious reasons, but in an RV's cramped — er, cozy — environment, it can be difficult to find a safe place to put it. You might not have the counter space for a toothbrush stand, and no one wants to deal with taking a cap on and off every time you want to use it.
Enter this wall-mounted toothbrush holder, which solves all the problems without adding a single square inch of footprint space to your already-crowded bathroom counter. Win, win!
7. Sewer hose support
When it comes to draining your waste water tanks, you definitely want things to go with the flow. After all, if things get a little, er, backed up, it could result in a mess you do not want to deal with.
That's why a sewer hose support is an essential piece of RV gear. It keeps your hose situated at an angle so gravity can help aid in the draining process, as well as keeping the hose itself off the ground and in better repair. A nice, sturdy one, like this 20-foot version from Camco, will only run you about $30… and if it saves you from ending up in deep doo-doo (literally), it's $30 well spent in our book!
Best Prices for RV Supplies
While our list of favorite affordable-but-amazing RV supplies could go on forever, this blog post can't. But if the RV supplies and gadgets you need didn't make the list, you might be wondering how you can source them affordably.
Luckily, there are lots of options for finding discounted RV parts, whether you shop online or in person — and even if it's a pretty sizable purchase.
Discount RV supplies are often available at wholesale and surplus supplies stores, as well as other camping-specific vendors. In fact, you may even be able to find used RV supplies, which will also knock some percentage points off the price. Just make sure they're still in good working order!
You can run a search for "discount RV supplies in my area" to get started. And never forget the power of asking other campers in the community. After all, chances are, if you've got something on your list, someone else once did, too… and might know exactly where to get it.
Happy shopping!
This post may contain affiliate links.