How Tos & Tips
Last updated on December 2nd, 2022. Originally published on August 26th, 2017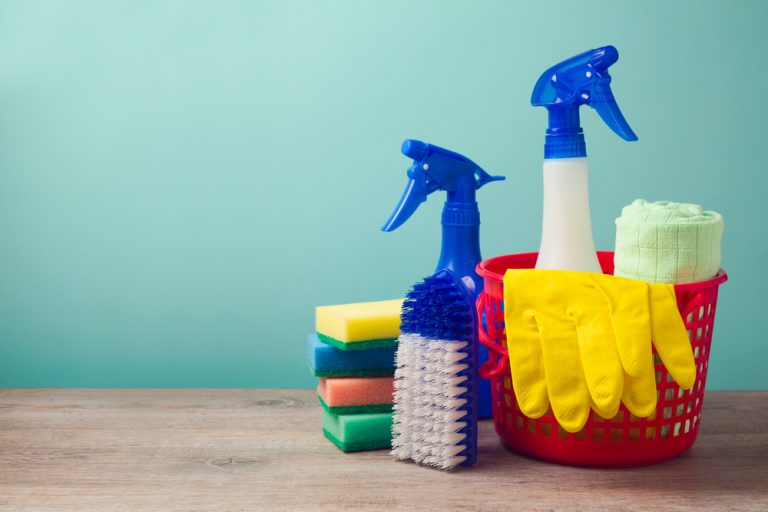 As Frank Sinatra once sang, "It's oh so nice to go traveling, but it's so much nicer to come home."
Of course, the last thing on your mind after a long, relaxing journey is cleaning an unkempt, post-road-trip RV. But by doing so first thing, not only will you get it over with so you can actually unwind from your journey — you'll also help ensure all of your RV's systems and appliances stay in good, working order for many more trips to come.
And cleaning up your rig after a vacation doesn't have to be difficult or onerous, we promise! We've put together this checklist of RV cleaning steps and tips to make sure you don't forget anything — and that you get the job done as quickly as possible so everything's spic and span and ready for your next big adventure.
NOTE: In light of COVID-19 it's important to clean your RV in accordance with CDC guidelines if you will be renting it out to others. Additionally, RVshare has named an official cleaning partner, TaskRabbit. TaskRabbit will help match RV owners with local cleaning pros – individual contractors called Taskers – to effectively clean their RVs pre- and post-rental. The partnership comes at a time when disinfecting vehicles by following CDC guidelines is more important than ever in the midst of the Coronavirus pandemic.
Cleaning the Inside of Your RV
First things first: Let's get the inside of your RV back into ship shape!
1. Unpack all your belongings.
Obviously, your first step is to take all the stuff you brought onto your RV for the trip back off again. Although it's a pain, you'll be happy to have everything back in its place. (This is also why some people buy a second of certain items, like kitchenware and linens, specifically to keep on board. It's an especially good idea in the case of inexpensive consumables like shampoo, conditioner, and sunscreen!)
2. Empty your fridge.
Trust me, the last thing you want to see when you're getting amped up for your next vacation is the spoiled remains of last trip's leftovers. Yuck!
3. Clean the bathroom.
Listen, you don't have to deep clean the whole RV every time you travel. For instance, cleaning your RV's mattresses, carpet, and oven are probably only once-a-season chores.
But the bathroom is a different story. Be sure to give the whole thing a thorough wiping down with bleach-based products and clean the RV toilet with appropriate chemicals. It'll help ensure your family stays safe and well next time you take on an adventure!
4. Air it out.
As you likely know, RVs are notorious for developing funky odors, both from the holding tanks and just the smallness of the space in general. It's a good idea to open the windows and let everything breathe for a few hours before you put your RV back into storage… and to do so again when it's time to take it out!
Cleaning the Outside of Your RV
Now that the inside of your rig is looking snazzy, let's move on to the exterior.
5. Dump and clean out your fresh and wastewater tanks.
Cleaning out all of your RV's holding tanks is imperative every single time you travel. You want to make sure your potable water tank, in particular, stays as fresh and clean as possible — and keeping your blackwater and greywater tanks clean will help minimize odors and also keep your tank sensors working well. (Here's a quick guide on how to get them nice and fresh.) Don't forget about cleaning your RV drains both inside and out!
6. Give your awning some love.
That shady canopy is a godsend, isn't it? But cleaning your RV awning can easily be overlooked. Don't forget to give it a nice spray down. Simple dish soap can get rid of any stubborn stains from tree sap or bird droppings!
7. Wash that bus!
Even if you're driving a class C or a travel trailer, this means you!
There are plenty of RV exterior cleaning products and chemicals on the market, but just like with a regular car, any gentle soap will do. Just make sure not to use harsh chemicals that might harm your RV's finish.
If you've got any specific or stubborn stains, you may need to give them extra love. For example, if you're wondering how to remove black streaks from a fiberglass RV, it doesn't actually take expensive chemicals or special products. What it takes is a little bit of old-fashioned elbow grease — this camper shows us how!
RV Cleaning Supplies
The good news is, when it comes to RV cleaning supplies and chemicals, you likely already have everything you need under the kitchen sink of your foundation-built house. Your RV's interior can be cleaned with the exact same products as your regular home, so long as they're not excessively harsh — when in doubt, always make sure to test a small, discrete part of the carpet or upholstery before using a cleaner on a large surface area.
Every camper has his or her own opinions about the best RV cleaner out there on the market. The best way to find what works for you? Experiment! Just don't fall into the trap of purchasing overpriced products that make outlandish promises about their effectiveness. Cleaning is pretty simple: You just need soap, water, and a little bit of effort.
RV Cleaning Service
If all else fails and cleaning your RV is truly the last thing in the world you want to do, it is possible to hire out the job to someone else!
Cleaning and maid services that would clean the interior of your house or apartment can easily be hired to clean the interior of an RV, and automobile cleaners (or even your friendly neighborhood teenager) would love to earn a few bucks by giving the outside of your rig a good spraying off.
Of course, these services aren't free — and in many cases, they're pretty darn expensive. For instance, a deep cleaning of even a small space can easily run you over $100.
But depending on how long your trip was, how dirty the rig got, and how much you hate cleaning, spending the money might be worth it if it means you get to just sit back, relax, and not worry about chores right after your vacation.
But whether you do it yourself or hire someone, when you make sure to clean your RV right after a journey, you'll know your rig is waiting for you, fresh and ready, for your next trip. And if that isn't something to look forward to… we don't know what is.