How Tos & Tips
Last updated on January 12th, 2023. Originally published on November 29th, 2018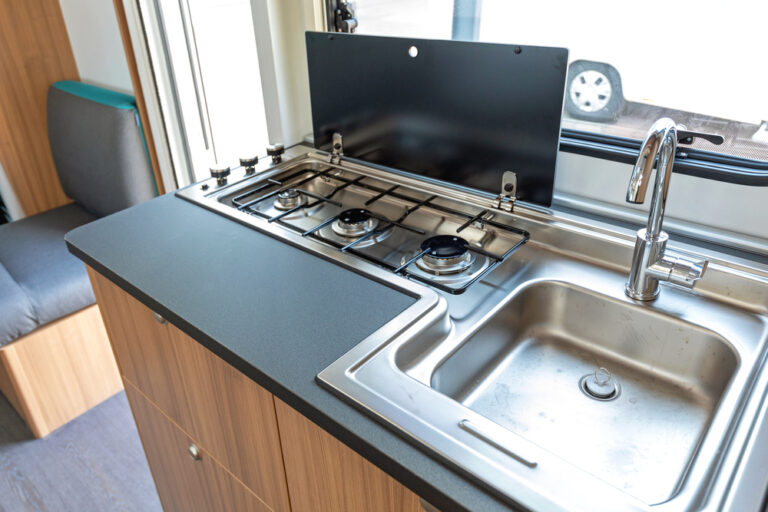 So you've purchased a new RV, but the interior could use, well, a little work. Making cosmetic changes is one of the easiest ways to update your camper and give it a fresh new look. Luckily, changing your RV faucets takes little work at all. In fact, it's a project that can be done in an afternoon's time if you're somewhat handy around the house.
Many older RVs come with plastic faucets that can become faulty and leaky over time. By replacing your faucets, you'll be able to reduce your overall water use and add a modern touch to your camper's kitchen and bathroom.
Shopping for RV sinks and faucets
First, you'll want to head to your local hardware store to pick out a replacement faucet. Instead of simply choosing based on looks, think about what you really want from your RV shower valve or camper faucet. Do you need a handheld showerhead or sink faucet to spray down dishes or give your dog a bath? Do you want a faucet with a high neck so you can better wash pots and pans in a shallow sink? Do you prefer separate hot and cold water taps?
Next, consider your price range and aesthetic preferences. Metal faucets tend to last longer than plastic ones, and a nickel or chrome finish is likely to stand the test of time, unless you're looking for something more trendy.
Connecting to your RV plumbing
Now it's time to get started with the replacement process:
First, shut off the water supply and water pump, and clear out any clutter from beneath your RV sink or shower.
Using a wrench, disconnect the hot and cold water lines from the old faucet.
Take off the nuts or screws that connect the faucet to the sink or shower.
Remove the existing RV shower faucet or sink faucet.
Using the nuts or screws from your new faucet, attach the replacement faucet to your sink or shower.
Connect the hot and cold water lines to the new RV sink faucet or shower fixture.
Turn on your water supply and run the water to ensure everything is working properly.
Once you've made sure there are no leaks, run the water for a few minutes to flush out any debris from your RV faucets.
Keeping up with RV maintenance
To keep your faucet and faucet parts in tip-top shape, regular maintenance should be a part of your routine. Clean your faucets and shower heads at least weekly with soap and warm water or a gentle cleaning product. If your RV uses hard water, you may also need to use a window cleaning product to clear away any hard water deposits.
Once a year, consider removing the aerator from your RV kitchen faucets or bathroom faucets. Using an old toothbrush, scrub them clean to remove any debris or deposits.
What to do if you need a faucet repair
Even after you've replaced your RV faucets, from time to time, you may find that it starts leaking. Don't panic — in most cases, this is a simple fix that can be accomplished in less than an hour's time.
To repair a leaky faucet, first turn off the water and plug the drain. If the handles are the culprit, remove them and replace the O-ring. If the problem lies with the faucet, the seat washer is most likely the part that needs to be replaced. For more detailed instructions, check out this do-it-yourself tutorial.
This post may contain affiliate links.