How to Weatherize Your RV
RV Owners
December 3rd, 2018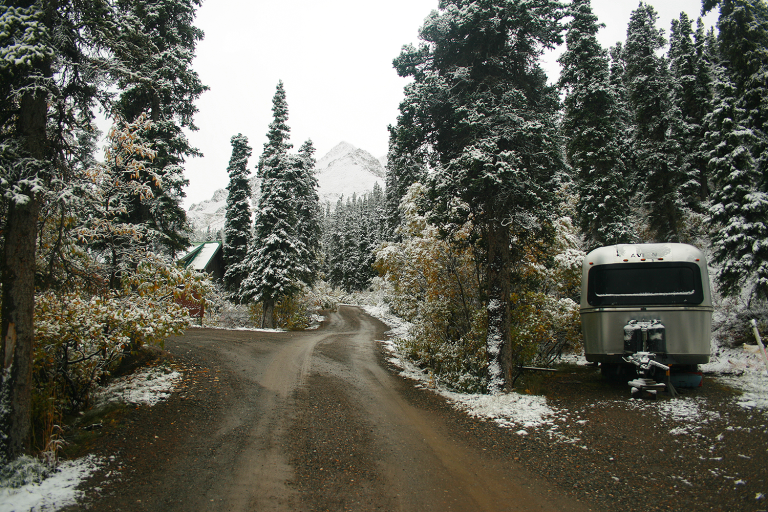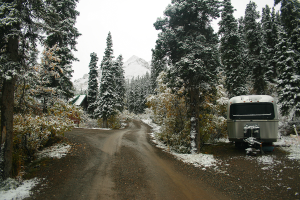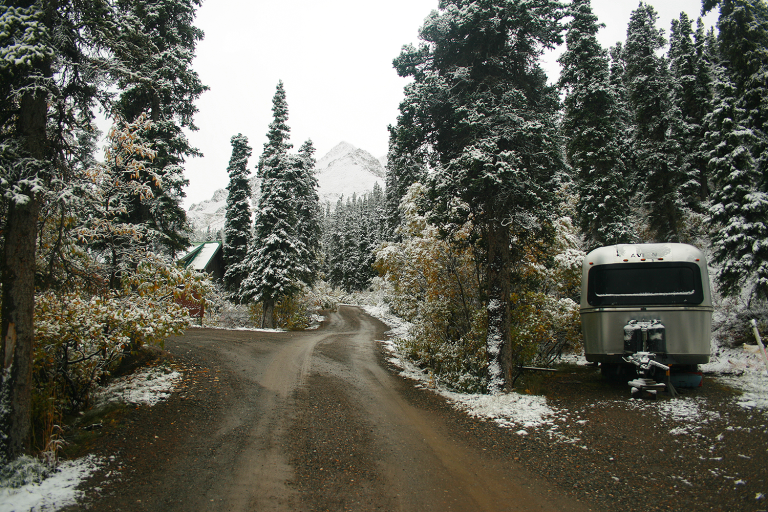 So it's that time of year again — there's a chill in the air, holiday tunes on the radio, and a half-dozen scarves strewn about your bedroom. With the cold weather settling in, you're suddenly searching for information on how to winterize RV windows and tires for the icy, snowy season.
Whether you will be living in your RV, storing it for the season, or planning to take a trip during winter, it's important to prepare your camper for freezing temperatures. Trust us: You do not want to deal with a frozen black tank!
To help you get ready for cooler temps, we've put together a short guide with steps to winterize RV plumbing and other parts. Read on to learn more!
Making an RV weather resistant
For those of you out there who plan on staying in your RV during winter, let's talk about some ways to keep things nice and toasty. Addressing your windows is an important first step. Many RVers add window insulator film to their windows during the winter season. This simple DIY project, which should take no longer than an hour, can stop cold drafts from getting inside your RV while preventing frost buildup. Don't forget to add some film to your front door!
The same insulation principle applies to winterizing a camper exterior. RV skirting can help the battery bays, plumbing, and other components stay protected from the wind while keeping everything a bit warmer than if it were left exposed. It might look funny, but it sure comes in handy if you're planning on being at your campsite longer than a few days.
If you have a skylight or vent in your roof, you can also buy an RV vent insulator to help trap the heat inside your camper. This handy accessory works just as well during summer to block harsh sunlight and keep your RV from getting too hot.
Other ways to winterize a motorhome
Adding thermal curtains to your windows is a great way to keep the heat from escaping through cracks and crevices. During the day you can open them up to let in the sun, then at night, you can make it cozy by drawing them before you go to bed. As a bonus, most thermal curtain panels double as blackout curtains, helping you sleep in later in the morning!
To keep things extra warm, don't be afraid to invest in a few space heaters. Although most modern RVs can handle running a couple of them at a time, check your manual if you're concerned about energy output. Just be sure to unplug any space heaters before you leave as a safety precaution.
Speaking of safety, it's not a bad idea to add some adhesive treads to your RV's stairs during this time of year. With plummeting temperatures comes frost and ice, and you don't want to be slipping as you enter and exit your camper every day.
Protecting your RV water tank and plumbing
Perhaps the most important part of preparing for below-freezing temperatures in an RV is learning to winterize camper plumbing. During the winter months, you run the risk of having your water tanks freeze, which can be an expensive newbie mistake and a huge headache to deal with.
In general, protecting your plumbing involves draining your tanks and adding RV antifreeze to the system.
To start, you'll want to drain the fresh water tank, gray water tank, and black water tank.
Then flush the toilet, turn on the shower, and open any RV faucet — remember, the goal is to get rid of all the water in the system.
Drain the hot water heater, being careful to make sure it's not hot or under pressure before undertaking this step.
Recap all tanks and close all of the faucets and drains.
Next, bypassing the water heater, dump some non-toxic camper antifreeze down the sinks, shower drain, and toilet.
Open the faucets and flush the toilet to make sure antifreeze comes out of them.
For more detailed instructions on how to winterize RV plumbing, check out this guide or this how-to for details.
What to buy at the RV parts store
Thankfully in these modern times, there's no shortage of supplies to help you winterize travel trailer and RV components. If you don't have a nearby RV parts store, these accessories are widely available for purchase online.
Just like at home, adding some foam insulation tape to your pipes, doors, windows, and vents is a great way to keep things warm during winter. If your RV water tanks aren't heated, consider buying some water tank heating pads. These self-adhesive pads are great for keeping your tanks warm to prevent them from freezing.
Looking for winterize RV supplies in bulk? There are many value sets that include dehumidifiers, deodorizers, RV winterizing fluid, and more.
Finally, if you're planning on storing your RV or camper during the winter, you'll definitely want to invest in a fabric RV cover. These protective covers are great for keeping your RV looking good as it sits at home during the off-season.
This post contains affiliate links.