RV Owners
Last updated on December 17th, 2022. Originally published on February 26th, 2018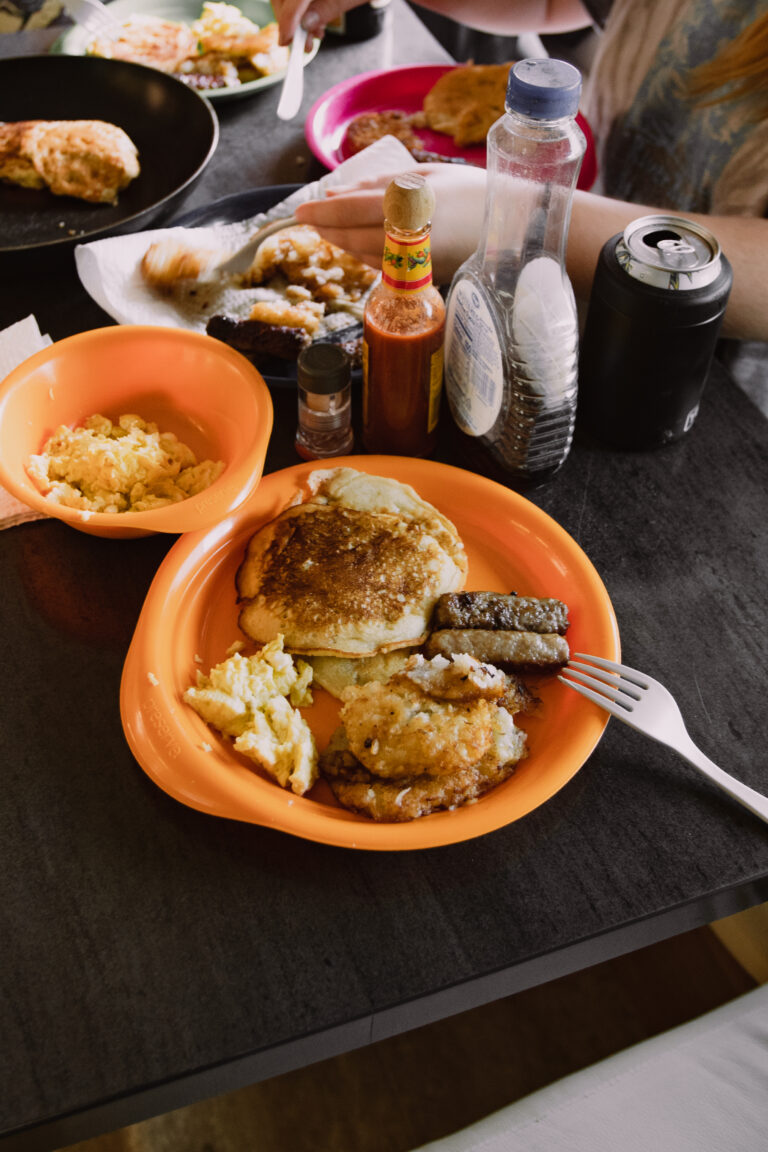 If you're like most campers, chances are, the opportunity to cook your own meals on the road is part of what attracted you to RVing in the first place. I mean, who wants to live off overpriced restaurant chain meals every single night of their vacation?
Not only is cooking meals in your rig healthier, but it's also a great way to save money. If you're feeling really industrious, you can even meal prep ahead of time so you won't have to worry about spending too much cash or overeating while you're on the road. (Psst — while we're talking about ways to save money while camping, give your wallet a check. Is your Passport America membership up to date and active? Since it gets you 50% off your campsite accommodation fees, you definitely don't want to let it lapse!)
But as you may have noticed, even the nicest RV kitchens aren't exactly on par with the one you're used to in your foundation-built home. You may not have an oven, for instance, and everything you do have is smaller.
But with the help of a few affordable kitchen accessories, you won't have to sacrifice your cooking abilities just because you have less space to make the magic happen.
Kitchen Accessories for Campers
Here are some kitchen accessories and appliances everyone needs when they hit the road in a motorhome.
1. A coffee brewer
The easiest way to ruin a wonderful camping trip? Not to have access to that delicious, freshly-brewed cup that's part of your morning ritual. An unmanaged caffeine craving can turn the happiest camper into a grouch!
That's why it's imperative that you outfit your rig with some sort of java brewing system, whether it's a small drip pot, a French press, or even a Chemex or pour-over — an electric kettle makes any of these latter systems super simple and convenient. Don't forget the filters… or, of course, the beans!
2. Kitchen countertop organizers
If your kitchen counter at home is prone to disorganization, just wait and see what happens when you're crammed into an RV's even smaller space. Depending on the size of your motorhome or travel trailer, kitchen organizers aren't just helpful — they're essential.
You can find accessories to help get (and keep) your countertop in ship shape, as well as drawer dividers and cabinet organizers to tame interior messes. You can even organize the inside of your fridge with these large, plastic bins. You'll be thanking yourself when you can find everything you need to whip up your favorite tasty camping meal in a flash!
3. A portable grill
Cooking outside is one of the best parts of camping. But sometimes, the campfire just won't get started, and you're not in a developed campground with a grill.
That doesn't mean you have to give up hot dogs, steaks, and burgers! A small, portable grill is one of the best and most affordable outdoor kitchen accessories to invest in for travel trailers and motorhomes alike. Just make sure you bring the fuel you need, whether it's propane or charcoal!
Kitchen Accessories for Small Kitchens
Here are some more of the best kitchen accessories for RVers.
4. Collapsible colanders (and other dishware, too)
When you're traveling and living in an RV, storage space is at a premium. That's why it's important to take up as little of it as you can!
Collapsible colanders and dishes can help make more space by making the items you put into it smaller. Plus, they're usually made of food-safe silicone, which is a breeze to clean.
5. Airtight storage containers
If you buy dry goods like cereals, nuts, or trail mix, you've probably noticed that they're not always packaged in the best way to save space.
So if you want to cram more nutrition into your RV's small space, try out reusable airtight containers. If they're square and stackable, they'll use the space more efficiently and allow you to store way more food than you could before — not to mention helping you reduce waste (and save money!) if you buy your goods from the bulk bin at the market.
6. Nesting sets of pots and pans
Stock pots, saucepans, Dutch ovens — you need them all if you're going to cook your favorite gourmet meals in your RV. But once you open your camper's cabinet, you might be wondering how on earth you'll fit it all!
Although cabinet organizers can be a big help, the best way to get all your tools to fit in a limited space is to buy a set that's made to be stackable or nested inside each other. That way, you can get the largest number of kitchen accessories to take up the littlest amount of space… and never be without the item your recipe calls for!
Top Kitchen Accessories
Looking for even more new kitchen accessories and gadgets? We've got you!
7. Instant Pot
Want all of the convenience and ease of a slow cooker, coupled with a huge range of alternative functions, an RV-friendly countertop footprint, and an affordable price point to boot?
The Instant Pot is what you're looking for. And once you get one, you'll see why this is one of the most highly sought-after modern kitchen accessories there is. In the space of one small device, you're essentially replacing what would have been a whole countertop's worth of kitchen appliances years ago. You can make your own yogurt, cook perfectly-puffy rice, and render even tough meats deliciously soft and sumptuous in just minutes. It's the small things that bring luxury to your camping life!
Kitchen Gadgets and Utensils
There are lots of other gadgets, utensils and accessories you can purchase to help customize your RV's kitchen and make it your own, as well as to create a more convenient and comfortable environment throughout your coach. Here are a few other posts we've written about RV accessories:
We're always looking for new ways to make your camper even better, so keep your eyes here on the blog for even more ideas!
This post may contain affiliate links.