RV Parts & Accessories
April 17th, 2018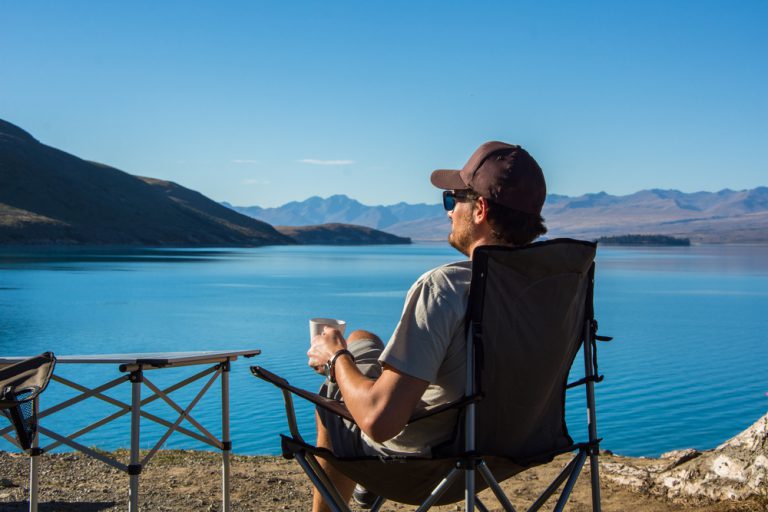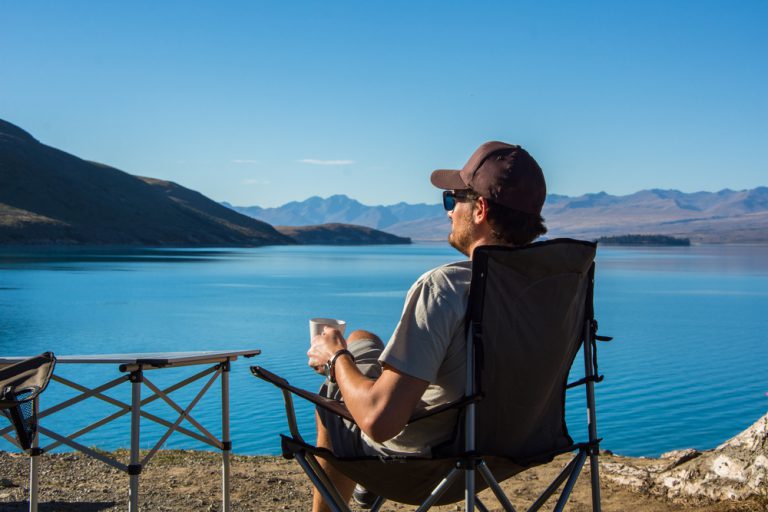 For many of us, the whole draw of camping is that it doesn't take a whole lot of gadgets to make it fun and relaxing. Just grab a folding camp chair, make sure the cooler is well stocked, sit back and let the magic happen.
But a few well-thought-out accessories can make a stellar camping trip even better, helping you have a more fun, convenient, and memorable vacation.
What's more, it doesn't have to be expensive. In fact, some of our favorite camping accessories are downright cheap — like this handy cooler light that'll ensure you never have to dig around in the dark looking for your favorite soda. That's a worth $7 to spend, in our book!
Here's some cool camping stuff and fun camping accessories we found that we can't wait to try out on our next trip!
Awesome Campsite Ideas
No matter how your campsite is laid out, here are a few items that'll make it even better.
1. Colorful RV Awning Mats
The outdoors is wonderful — but we want to keep it outdoors. That's why awning mats are such an imperative part of any RV camper's supply list. They let you enjoy the fresh air without tracking every inch of that delicious-smelling dirt and grass onto your RV's interior carpeting.
But if you've been setting up your camp chairs on a drab brown tarp, consider upgrading to one of these fun, colorful versions. A pop of brightness can make a sunny day feel even more joyful.
2. Dry Bag
When it comes to beach camping accessories, this one can't be beat. Next time you're headed to the shore, don't live in constant fear of getting your towel — or, heaven forbid, your cell phone — wet. Just grab this premium waterproof dry bag to transform your wet and wild adventures from slightly stressful to plain old fun. (It even floats!)
3. Lighted Tent Pegs
If you've got the kids set up in a tent to save room in the rig, the right tent camping accessories are crucial. Make setup easier (and nighttime bathroom trips less hazardous) with these lighted tent pegs. Sometimes, the simplest ideas are the best ones!
Fun RV Camping Accessories
Here are some more gadgets, gizmos, and extras that'll make your next camping trip that much more fun!
4. Inflatable Air Sofa
Folding camp chairs are one thing, but this inflatable air sofa will have you kicking your feet up absolutely anywhere you can imagine. It doesn't even require a bunch of huffing and puffing to blow up — just whisk it through the air to inflate. The WEKAPO air sofa comes in a variety of fun colors, features an ergonomic head and heck rest, and best of all, it's available for only about $30. No brainer!
5. Camping Hair? Don't Care!
When you're busy having the time of your life around the campground, who has time to worry about styling that mane? Proudly proclaim your carefree attitude with this cute hat — which has the added bonus of keeping all that hair tucked away, so no one can see what it looks like anyway.
6. Tie-out for Dogs
This might be one of the simplest camping accessories on the list — perhaps even retro. But it's hard to enjoy your time in the sun without your four-legged friend there to enjoy it with you. A tie-out makes it simple to allow your dog ample room to roam and relax alongside you, and it's super-cheap, to boot. Just make sure you NEVER leave your dog tied out unattended or for long periods of time!
7. Roll-n-Go Pet Bowl Set
Freewheeling with Fido? Make feeding time simple with this all-in-one bowl set, which rolls up for easy storage. For even more fun and inventive dog camping accessories, click here.
Activities for Camping with Kids
Although kicking back by the fire with a cold brew may be all the entertainment mom and dad need, kids sometimes need a little bit more stimulation. But no worries — we've got some fun camping ideas for adults and children alike.
We suggest you add these camping games for families to your list of children's camping accessories.
8. Flickin' Chicken Lawn Darts
Remember when Angry Birds was a thing? Well, bring that same spirit outside with this whacky game of chicken-themed lawn darts — which is sure to be silly, sunny fun for the whole family. And hey, it's better exercise than swiping away at a tiny screen!
9. Gofindit Outdoor Scavenger Hunt Game
We love the idea of this scavenger hunt game, which encourages campers of all ages to get familiar with — and interested in — their natural surroundings. Send your kids out into the world to find something furry, round, huge, rough, red… or that simply makes them say, "Wow!"
10. BIG Bubbles Wand
What's better than blowing bubbles? Blowing really, really big ones. Big Thing's BIG BUBBLES Wand with enough mix to make 2.7 gallons of what the company calls "bubble juice," so you're sure to have hours of entertainment — and, um, soap — on your hands!
Fun Camping Accessories List
It doesn't take a whole lot to create an amazing camping trip. At the end of the day, it's really about who you're traveling with than what you do when you get there, or even where the destination is in the first place.
But awesome camping accessories can help make a rainy day feel less wasted or make simple tasks just a little bit easier to get through, so you can get back to enjoying the quality time you came for. For even more fun camping accessories, check out the following posts — and shop around online, where many of them are available at terrific prices.
This post may contain affiliate links.