Landmarks
February 20th, 2021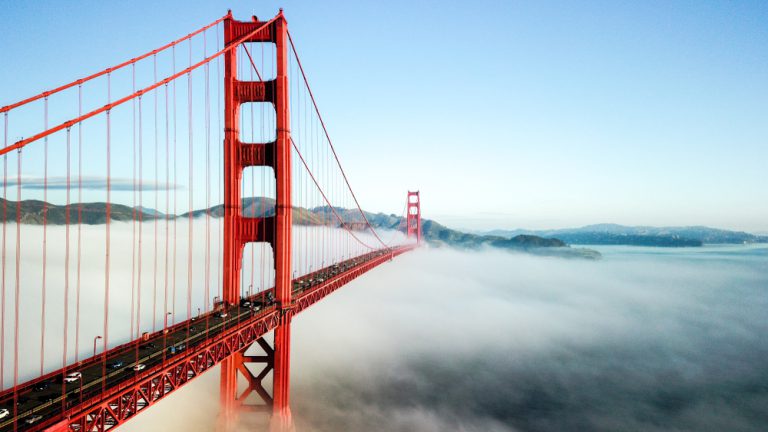 What is a Landmark?
Historically significant buildings. One-of-a-kind landscapes. Iconic places that make you know there's just nowhere else like this on earth.
All that, and more, is what a landmark is — and California has plenty of them. Here are some of the can't-miss spots to add to your list of California destinations.
What Are Some Famous Landmarks in California?
1. Balboa Park
2. Hollywood Sign
3. Grauman's Chinese Theatre
4. Bubblegum Alley
5. Hearst Castle
6. Monterey Bay Aquarium
7. Golden Gate Bridge
8. Alcatraz Island
9. Chandelier Tree
10. Redwood National and State Parks
California Landmarks
From the warm, sandy shores of SoCal to the foggy forests of the north, this state has plenty to offer in the way of famous landmarks. Here are the top ten to see before you die.
1. Balboa Park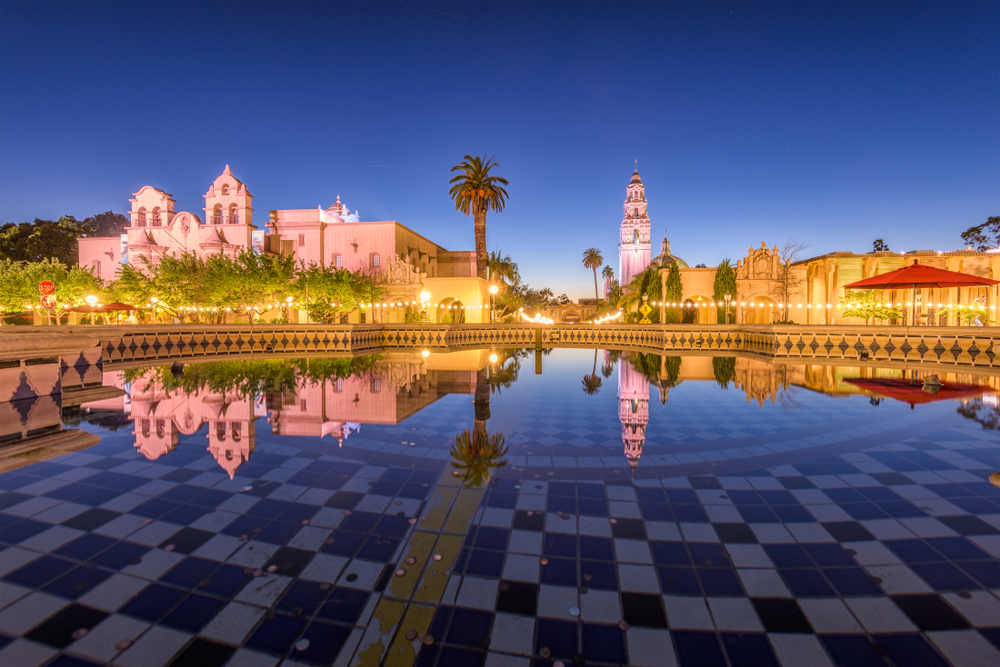 Think the west-coast answer to Central Park — but on steroids. Balboa Park is a sweeping 1,200-acre expanse tucked into urban San Diego, and which offers so much more than a green space to walk through and picnic in. Populated by museums, theaters, and even the world-famous San Diego Zoo, this park is an ever-changing destination whose evolutions only make it all the more interesting, and an absolute can't-miss for anyone in the San Diego area.
Things to do near Balboa Park: Along with all the urban fun you'll find in San Diego itself, this destination is only a short drive away from Cuyamaca Rancho State Park and Joshua Tree National Park, both of which offer unparalleled outdoor adventure opportunities. Need an RV to get you there? Here are some great RV rentals in the area — as well as the top 10 local campgrounds.
2. Hollywood Sign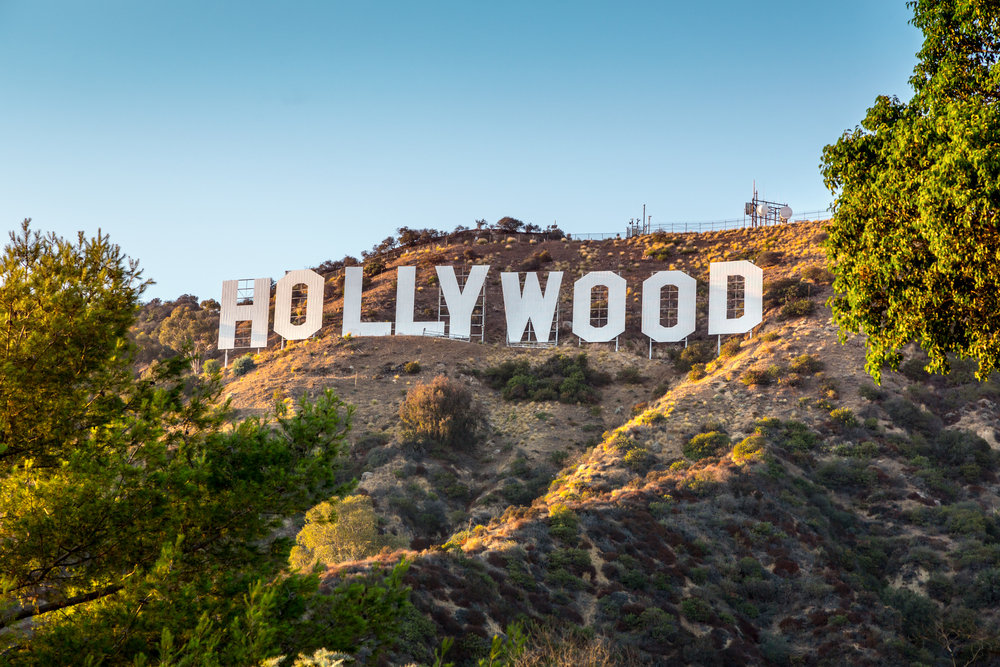 It's the first thing you see when you arrive and a worthy hiking destination, the Hollywood Sign is truly iconic — a famous U.S. landmark you'll be glad you trekked to, once you have a photo of it. There are three different routes taking you up to the sign, ranging from easier to more difficult, though it's also truly a sight to behold even just from below, as you explore the city itself.
Things to do near the Hollywood Sign: This is L.A., baby — what isn't there to do? However, if you're done with the urban hustle and bustle and in need of some outdoor time, check out the variety of local state parks, such as Chino Hills State Park or Bolsa Chica State Beach, as well as Joshua Tree National Park and Death Valley. Here are the best campgrounds in the area and some RVshare rentals to choose from.
3. Grauman's Chinese Theatre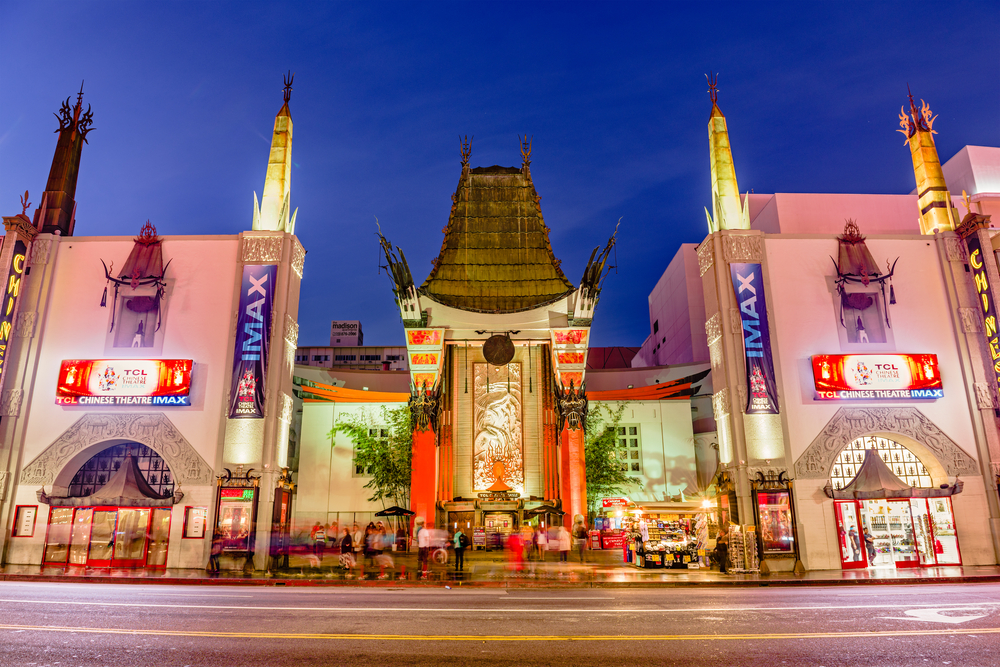 Another must-visit for those in the City of Angels, Grauman's Chinese Theatre — which has also been branded the TCL Chinese Theatre — is a working moviehouse with a world-famous facade. Just outside of the cinema, the hand and footprints of movie stars line the sidewalk, and if you can't (or don't want to) catch a flick, you can always enjoy a VIP tour that will explain all the local lore and history, Hollywood style.
Things to do near Grauman's Chinese Theatre: Take a day trip out to Santa Monica or one of the many nearby state parks to get away from it all — and don't forget to check out the RVshare rentals and local campgrounds to help you make your weekend vacation unforgettable.
4. Bubblegum Alley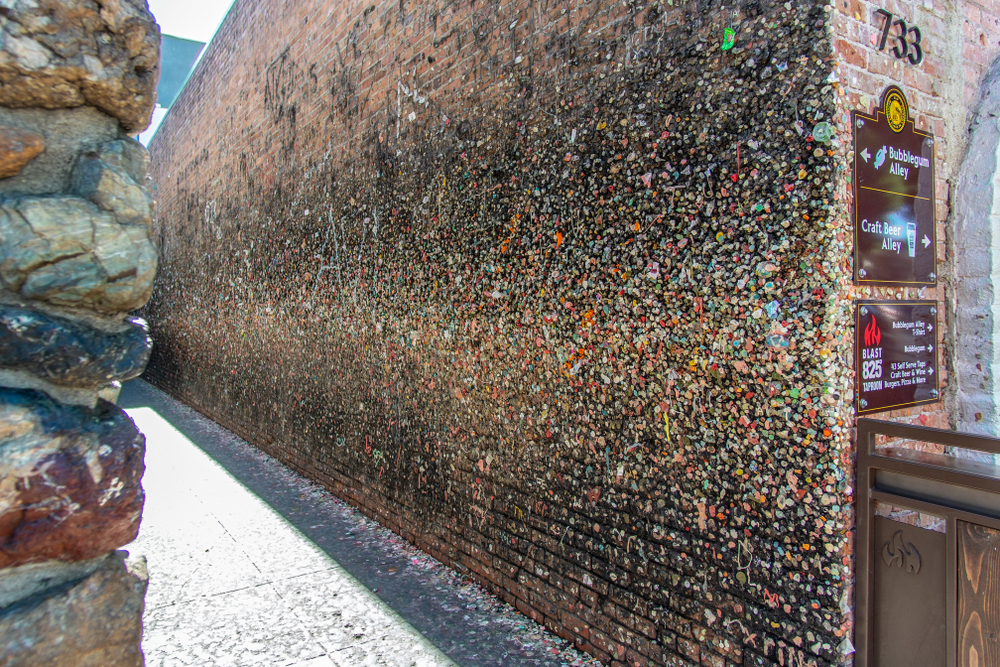 Venturing further up the stunning California coast, you'll want to stop in San Luis Obispo — not only for Bubblegum Alley, but at least in part. This quirky landmark is exactly what it sounds like: an alleyway that's been decorated over years by visitors who artfully, uh, smear their gum on the wall. It's better than it sounds, we promise! Plus, there are plenty of galleries, eateries, and other attractions in town to catch and hold your attention once your time at Bubblegum Alley is… used up.
Things to do near Bubblegum Alley: San Luis Obispo itself is quaint and lovely, and also nestled along some of the most stunning coastline in the world. Head either north or south along the coast and you'll find yourself in places like Pismo Beach or Morro Bay, not to mention all the wide-open beauty awaiting you at Big Sur. (Here's the RV rental you'll need to get you there!)
5. Hearst Castle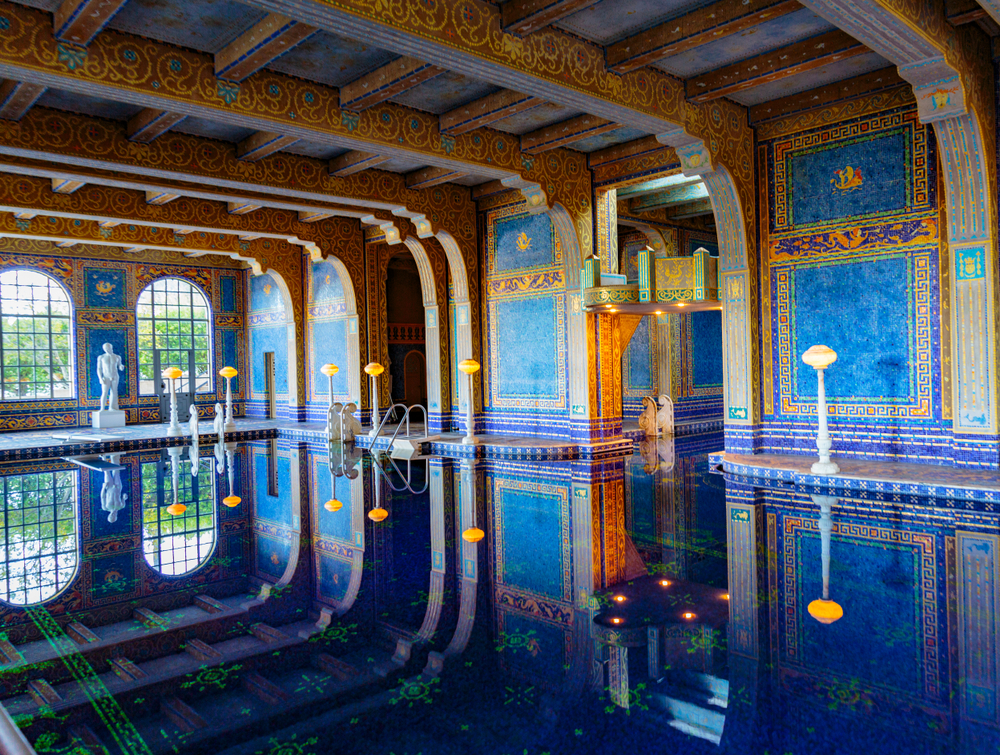 A must-stop on any trip up or down US Highway 1, also known as the Pacific Coast Highway, Hearst Castle has a fascinating and somewhat mysterious history, and has also earned a place on the list of both National Historic Landmarks and California Historical landmarks. Originally constructed between 1919 and 1947 by the publishing magnate William Randolph Hearst and his architect, Julia Morgan, the castle is now open to a variety of public tours that will take you deeper into this unique location's many behind-the-scenes stories. (Plus, the structure itself is stunning simply to look at.)
Things to do near Hearst Castle: Located just inland from San Simeon, Hearst Castle is very closeby to Hearst San Simeon State Park and a wide range of other gorgeous natural wildernesses and vista along U.S. Highway 1. It's also not far at all from San Luis Obispo.
6. Monterey Bay Aquarium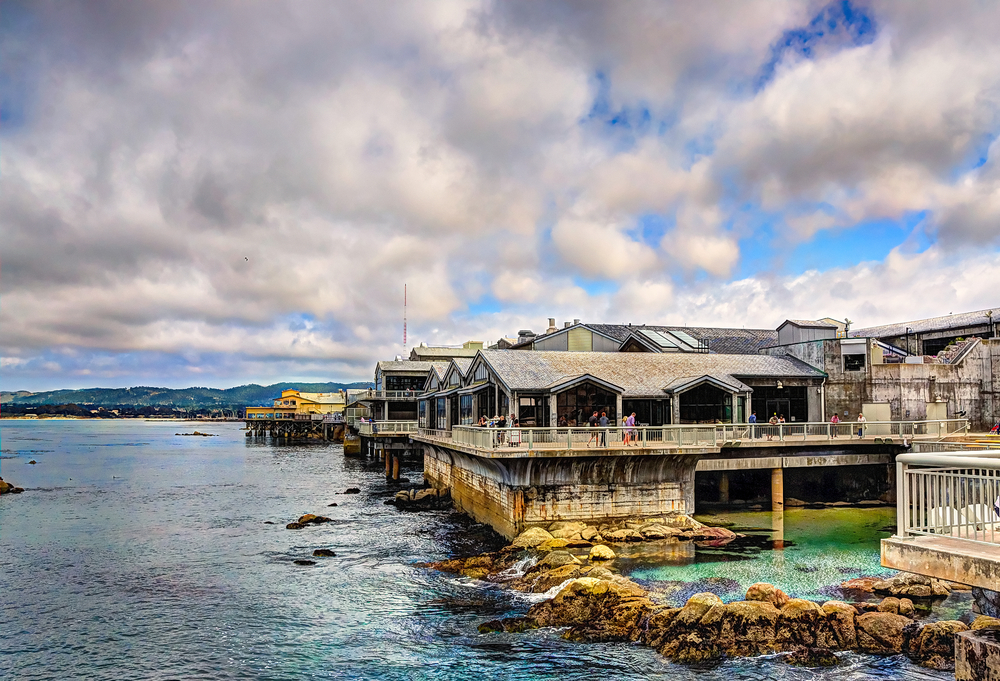 After meandering up the winding roads along Big Sur, visitors will arrive in the Monterey Bay area — which has so much wonder to offer, not the least of which is the Monterey Bay Aquarium. Located right on the edge of the ocean itself, this conservation-and-education-committed aquarium is known for its unique programming and exhibits, which are both educational and entertaining. The scientists employed here are working hard to rebuild local sea otter populations, transform fisheries and aquaculture bo locally and around the world, and protect the oceans for future generations.
Things to do near Monterey Bay Aquarium: Wander along the galleries and tasting rooms that populate Carmel-by-the-Sea, or head out to one of the many state parks and beaches in the area. Henry Cowell Redwoods State Park isn't far at all, and the bright lights and big buildings of San Francisco aren't that much further. Here are some great local campgrounds and RV rentals to look into!
7. Golden Gate Bridge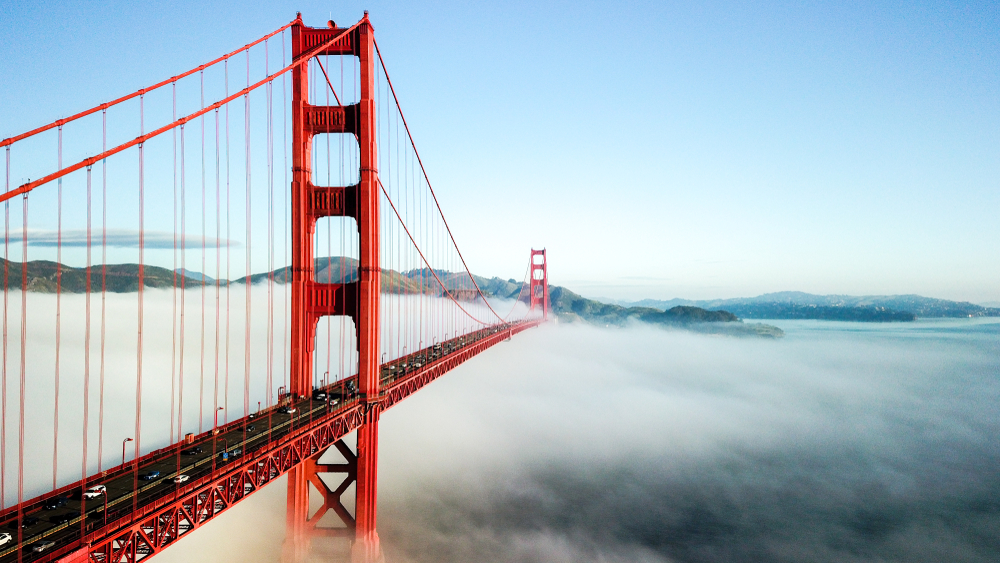 Ah, San Francisco. You already know to wear flowers in your hair when you go — and you probably also know that you absolutely must visit a viewpoint from which you can get a panorama of the Golden Gate Bridge, an iconic landmark that spans almost two miles in length and stands 220 feet over the strait that connects San Francisco Bay to the Pacific Ocean. Construction originally began back in 1933, when this bridge was a cutting-edge feat of engineering: the longest suspension bridge until 1981 and also the tallest bridge in the world until 1993. Today, you can pass over it by car or on foot, or take in the view from Golden Gate Park or the Golden Gate National Recreation Area.
Things to do near the Golden Gate Bridge: If you're in need of natural beauty along with this manmade wonder, check out nearby Mount Tamalpais State Park or drive inland to Mount Diablo. And, of course, there's all of San Francisco itself to see… here are some RVshare rentals and campgrounds to choose from.
8. Alcatraz Island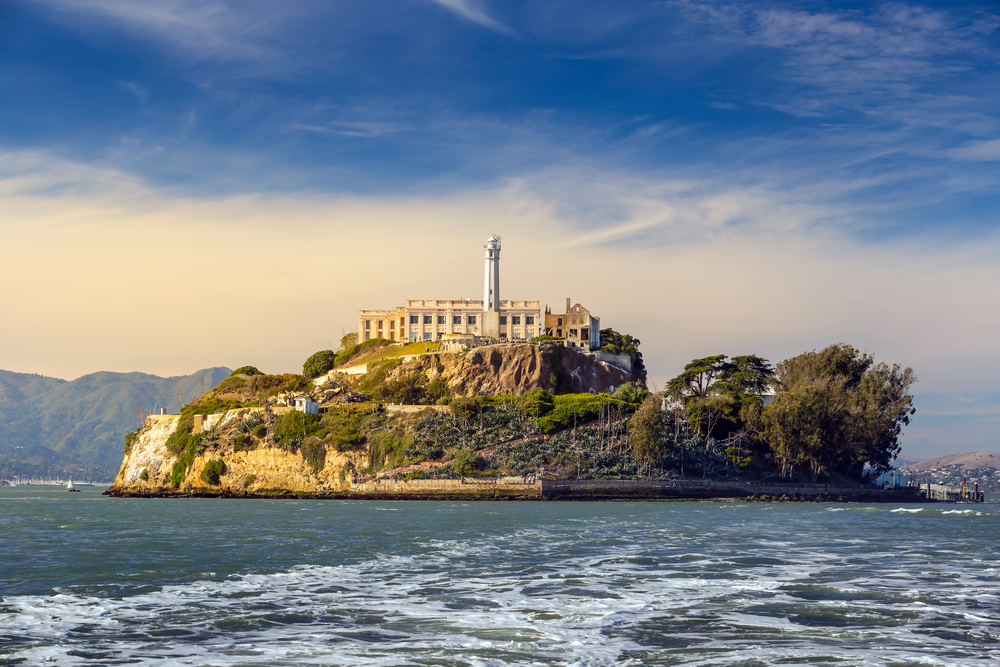 Another must-see in San Francisco, Alcatraz Island has a long and storied past — most famously as an ultra-high-security prison, but this island has also hosted a lighthouse, military fort, military prison and more… and today, visitors can enjoy guided tours of the now-defunct facilities which once held the likes of Al Capone and Sam Shockley. Technically an NPS-managed site, be sure you bring along your National Parks Passport to Alcatraz to get your stamp… though you can also enjoy peering at the island from the mainland as you wander around San Francisco itself.
Things to do near Alcatraz Island: While you're in San Francisco, also be sure to stop by the pier and listen to the sea otters bark, and enjoy some fresh sourdough bread at Tartine. There are also a plethora of state parks and recreation areas nearby, not to mention Yosemite National Park if you're in for a more serious road trip. Here are some RVshare rentals and campgrounds in the San Francisco area.
9. Chandelier Tree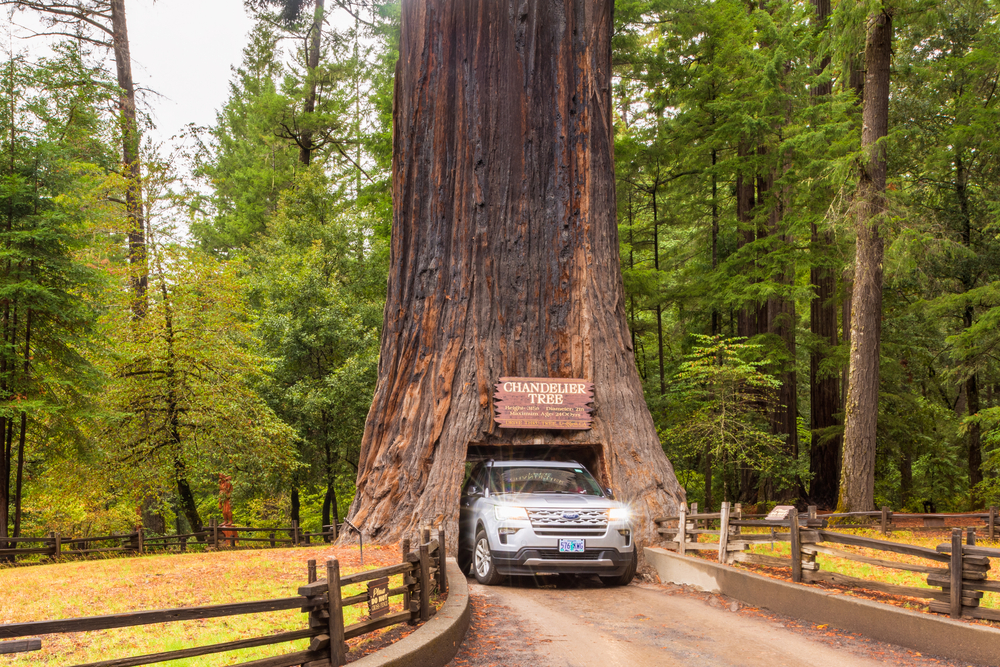 While the redwoods as a whole count as a landmark — one we're about to talk more about in our next list item — if you only see one in the entire state of California (somehow), consider making it the Chandelier Tree. Located in the northern California town of Leggett Where Highway 1 meets 101, this mighty tree stands about 300 feet tall and has an opening at its base so wide, a normal-sized car can easily drive through. While there are other tunnel trees in this area, the Chandelier Tree is one of the best-known and a great opportunity to see what the inside of one of these fabulous trees looks like, up close and personal.
Things to do near the Chandelier Tree: This attraction is located very closeby to the Standish-Hickey State Recreation Site, which offers a great camping opportunity. Plus, just a little further north, and you'll find yourself near…
10. Redwood National and State Parks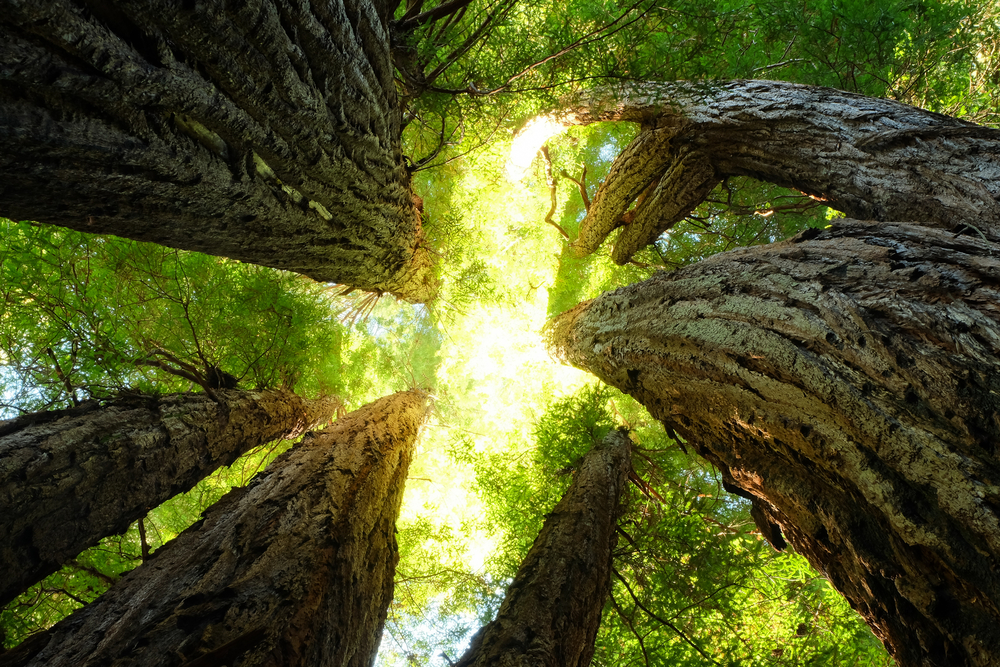 Although California is lucky to have many, many state and national parks to visit, the redwoods truly are in a league of their own. A cluster of unimaginably tall and thick trees tucked in the northwestern part of the state, where they run right up to the soft sand beaches, the redwoods truly are one of those things you just have to see in your lifetime… and there are so many different preserved wildernesses and hiking trails in the area to choose from, such as the Redwoods National Park itself, nearby Humboldt Redwoods State Park, or Jedediah Smith State Park (just to name a very few!).
Things to do near the Redwood National and State Parks: This part of the state offers the perfect combination of forested paths and quaint beach towns. Hang out in Crescent City if you need a bit of urbanity, or camp out in one of the many parks — here are some nearby RV rentals!
Planning an RV Trip to California
California is a diverse and vibrant destination with so much to offer — including such a breathtaking array of preserved natural spaces. We've got plenty of info to help you enjoy your trip even more.
Here are guides to some of the best state parks in California, as well as all the national parks in the country, including those in the Golden State. And, of course, we always have your back when it comes to the best campgrounds and RV rentals! Need help finding the perfect campground? Camp-California.com is a free resource for California campers and outdoor enthusiasts who like to have fun and enjoy life. The parks listed on this website are members of the California Association of RV Parks and Campgrounds.