Death Valley National Park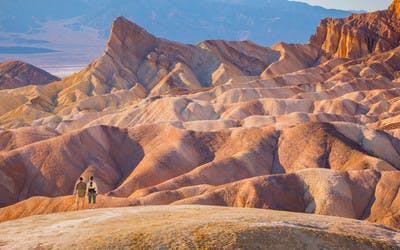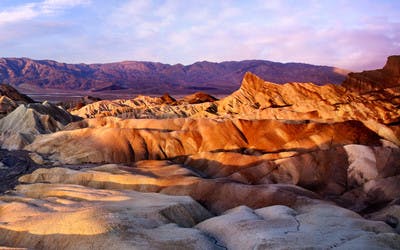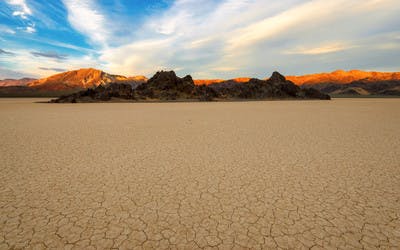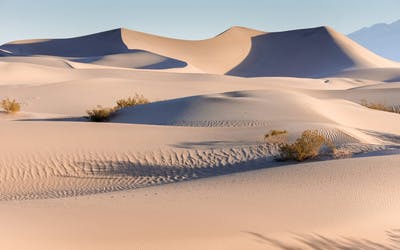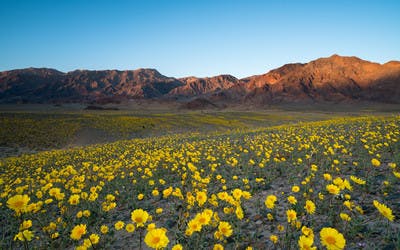 One of the hottest, driest, and least (apparently) hospitable places on Earth, Death Valley National Park is all about extremes. Its famous Badwater Basin is the lowest point in the United States at 282 feet below sea level, and its summertime temperatures regularly climb higher than 120 F -- in fact, the park's Furnace Creek saw the world record highest air temperature of 134 F back in July of 1913. But despite the harsh realities of this landscape -- or perhaps because of them -- Death Valley National Park draws thousands of visitors each year, eager to experience this uniquely amplified environment. Brave explorers take to the desert's severity to hike, bike, horseback ride, and birdwatch.
Death Valley is famous for its extreme weather, with daytime temperatures often presenting actual, physical danger. Although the park sees less than 2 inches of rain per year -- which is much less than what many other deserts experience -- violent late summer rain storms present the risk of flash floods. Spring and winter bring milder temperatures that only rarely dip below freezing, but high winds and cloud cover are common. The park varies tremendously in elevation, and higher areas are much cooler than lower ones; the National Park Service estimates that temperatures drop 3 to 5 F with every thousand vertical feet of elevation gain.
Straddling the California/Nevada border, Death Valley is fairly remote; visitors should ensure they have ample supplies (and fuel!) before they enter the property. However, there are some services available at the small communities within the park, such as Stovepipe Wells and Furnace Creek; you can also find facilities at area towns like Beatty, Nevada. For a bigger city excursion, the park is also within relatively easy driving distance of Las Vegas.
Although taking on strenuous activity during the hottest part of the calendar year is a dangerous venture at Death Valley, the park is a popular destination for hikers, bikers, bird watchers, and other outdoor recreational seekers. Along with a landscape providing endless opportunities for these diversions, the park also offers some of the darkest skies in the country, making it a prime target for hobby astronomers and star gazers. Park rangers lead an array of guided tours and educational lectures; check the park calendar for full and up-to-date details.
Weather
Spring 82 F
Summer 120 F
Fall 70-80
Winter 60-65 F
Nearby Cities
Lone Pine, CA
Trip Planner
Use our FREE RV trip planner to begin customizing the perfect RV trip.
Continue
RV Resorts & Campsites in Death Valley National Park
Because of the sheer size of Death Valley National Park, the area encompasses both NPS-managed public campgrounds and privately-owned RV parks. There are also a number of RV campgrounds in the surrounding vicinity to choose from -- both resort-style parks and free or low-cost boondocking options.
Death Valley National Park Public Campgrounds
Death Valley National Park Private Campgrounds
RV Rentals Near Death Valley National Park
Nearby RV Rentals
Hit the Trails
Hiking in Death Valley is less about meandering down well-marked, forested paths and more about cutting your own trail through the desert. That said, there are a few designated trails within the park -- and they're versatile and varied enough to satisfy every schedule and fitness level.
Whether it's a quick hour-long stroll through Badwater Basin or an all-day (or even overnight) affair, when hiking in a desert situation, and particularly in the extremes of Death Valley, preparation is critical. Each member of your hiking party should have at least a gallon of water per two hiking hours; given the spareness of shade and natural cover, sun protection is necessary. For full details on hiking in Death Valley National Park, including a comprehensive list of demarcated trails, click here.
Death Valley National Park Trails
Badwater Basin Salt Flat Trail
Distance: 1 mile
Terrain: Take an easy stroll through the lowest point in America, a sprawling salt flat with stunning views of the surrounding mountains.
Desolation Canyon Trail
Distance: 3.6 miles
Terrain: A moderate-to-difficult height that doesn't see too much elevation gain, but does require some light rock scrambling in sections. Despite its scary name, this trail features beautiful wildflowers and excellent opportunities for bird spotting.
Mesquite Flat Sand Dunes Trail
Distance: 2 miles
Terrain: See the most famous of Death Valley's seven sets of dunes on this easy and relatively short trail. A great spot for sunrise or sunset.
Mosaic Canyon Trail
Distance: 4 miles
Terrain: This moderate hike sees about 1,200 feet of relatively gradual elevation gain and leads hikers through scenic canyon narrows.
Telescope Peak Trail
Distance: 14 miles
Terrain: Only for the hardiest and most experienced of explorers, this strenuous, all-day trek sees over 3,000 feet of elevation gain and requires wayfinding with a compass. Panoramic vistas of the park. Leave early, bring adequate supplies, and do not attempt during the high heat of summer.
What to Do at
Death Valley National Park
Don't get us wrong: when you're in Death Valley, you're very firmly in the desert. But there are some oases here and there for hungry, thirsty, and curious adventurers.
Restaurants
Despite its arid climate and apparent lack of life, the fare at Death Valley is anything but slim pickin's.
Type: This traditional western watering hole serves up lunch and light bar snacks… but the star of the show at this joint is the beer. Choose from over 20 beers on tap or sample the house label. One thing's for certain: you'll find something to wet your whistle!
Location: Stovepipe Wells
Type: Looking for an upscale dinner in the park? This swanky joint serves breakfast, lunch, dinner, and features a broad wine selection. Note: "resort attire" dress code excludes T-shirts and tank tops.
Location: Furnace Creek (Located inside The Oasis hotel)
Type: This place proclaims itself the "best cooking in the valley." We'll let you make up your mind on that front -- but with pizza, burgers, salads, and over 150 beers to choose from, you're sure to find something appetizing.
Location: Panamint Spring
Type: This quick pit stop serves up Indian tacos (if you don't know, don't ask -- just trust us and go try them) as well as shaved ice, cold soda, and freshly-made fry bread
Location: Furnace Creek
Type: Exploring the wasteland works up a mighty appetite -- so sidle up to this joint's breakfast or dinner buffet to replace all those toasted calories. Box lunches also available by special request.
Location: Stovepipe Wells
Shopping
Fuel tank running dangerously low? Need trail snacks to stave off that grumbling tummy? Here's where to stop inside and around the park to pick up some basic necessities. (Again, though: try and prepare yourself before you arrive. There's not that much in the way of resources, and it's a big desert. You don't want to get stuck!)
About an hour west of the park in the California town of Lone Pine, this outdoor outfitter has you covered on the gear front -- whether it's hiking boots or hunting gear you're after.
Location: Lone Pine
Got someone at home hankering for a souvenir of that time you survived Death Valley -- or want a reminder of the experience for yourself? Traditional gifts like T-shirts are just the beginning at The Nugget, which also offers handmade Native American crafts including jewelry, weaving, and pottery.
Location: Stovepipe Wells
First rule of driving in the desert (or anywhere in the wide American west, really): Fill up early and often. If your tank is in need of some love, set your sights on Panamint Springs, where you can also nab some basic sundries, camping supplies, and snacks while you're at it.
Location: Panamint Springs
Gas, snacks, packaged meals and more are a welcome reprieve in the middle of the long drive through the desert. Regular unleaded here is offered at the lowest price in the valley.
Museums
Thriving cultural and educational opportunities await at these desert oases.
The history of eastern California is about a whole lot more than quarreling cowboys and Indians -- though there's plenty of that, too. Head to this Independence museum to get the full scoop.
Location: Independence
While you pop into the visitors center for last-minute goods, park literature, guidance, and your National Parks Passport stamp, don't miss the exhibits at Furnace Creek's Borax Museum, which sheds some light on the human story of the settlers who first braved this hostile land.
Location: Furnace Creek
This outdoor sculpture park right outside of the ghost town of Rhyolite is about as desert as it gets: weird, wacky, surprisingly colorful and inventive. Don't miss a pit stop on your way into or out of the park.
Location: Beatty
In our culture, "western" is synonymous with film. In fact, it's the title of one of the best-loved American film genres. Learn more about the ways these two important American traditions -- the wild west and the silver screen -- bolstered and built on each other.
Location: Lone Pine
Also known as the Death Valley Ranch, this historic location holds a host of secrets, and was the site of both roaring '20s revelry and the scrimping scarcity of the 1930s. Well worth a stop to explore.
Location: Northern Death Valley
Sightseeing
Wild animals, a historic opera house, and much more await your visit in the desolate flats of the desert wilderness.
This historic opera house and lodge has been hosting guests and entertainers for more than 40 years -- and they're still going strong today. Check the events calendar to see if there's something happening during your Death Valley adventure.
It may surprise you to learn that the desert is actually home to a thriving community of plant and animal species. This Nevada wildlife refuge allows you to get up close and personal with a few members, including dozens of both resident and migrant birds.
It may be a dark piece of our nation's history, but it's important not to forget. So pay a visit to this California national historic site, where thousands of Japanese Americans were detained during World War II.
This BLM-managed ghost town is the perfect stop off for a photo shoot. Your Instagram followers will eat up the abandoned and dilapidated Cook Bank Building!
Looking to get grounded and centered after a long day (or days) in the harsh desert landscape? This oasis offers rejuvenating mineral water soaks in natural hot springs, as well as lodging, dining, an art gallery, and a labyrinth.
How to Get to
Death Valley National Park
Death Valley is located in southeastern California, directly adjacent to the Nevada border. The park is bisected by, and best explored via, California Highway 190, along which lie most of the resort towns offering visitor services.
By Car
For full details on how to approach the park from any direction by motor vehicle, visit the park's direction page here. You may also choose to fly into the area; the closest major airports are at Las Vegas and Los Angeles, though there are also small airfields at Furnace Creek and Stovepipe Wells for those with private aircraft.
By plane
Whether you fly in and rent or drive from your hometown, an RV is the ideal way to experience this inhospitable landscape. Just imagine the juxtaposition of your own private, cozy home away from home in the middle of the desolate desert -- a comfort you'll be especially in need of after a long day of exploring the area.
By RV
If you don't already own a motorhome or travel trailer, you can peruse the RV rental listings on RVshare. Keep in mind that RV travel in Death Valley can be hazardous to sensitive vehicle systems during the hottest portion of the year, and some renters may create restrictions against traveling in this zone for that reason.
View RV Rentals
Entering Death Valley National Park
There is a fee to enter death valley; you can rest assured that your funds go to maintaining and improving the park's interpretive and offerings and facilities. The following visitor fees are current per September 2018, and each is valid for seven consecutive days of park entry:
Private Vehicle : $30
Private, non-commercial vehicles (15 passenger capacity or less) and all occupants.
Motorcycle : $25
One or two passengers on a private, non-commercial motorcycle.
Per Person : $15
One individual with no car (bicyclist, hiker, pedestrian). Youth 15 and under are admitted for free.
As stark as it seems on the surface, Death Valley is bursting with opportunity for adventure -- and we can't wait to learn more about yours! Tag us in your social media posts or email photos and details to us directly at [email protected] for the chance to have your epic trip's tale shared on our blog or social media channels.