Travel Inspiration
Last updated on January 17th, 2023. Originally published on April 30th, 2019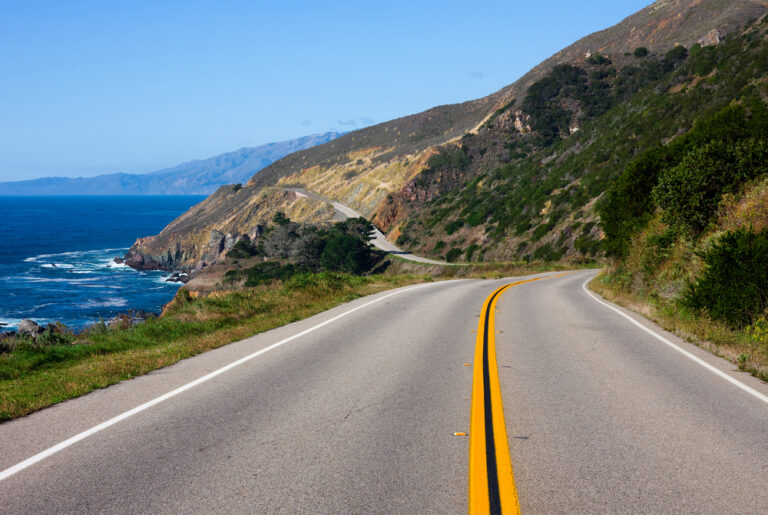 Sometimes, things are considered classic for a reason — and the Highway 1 road trip is one of those things. From the sandy shores outside of bustling Los Angeles to the moody seascapes of northern California, the Pacific Coast Highway is truly a journey unto itself, and you could easily spend weeks exploring it.
A Highway One road trip offers bountiful opportunities for beach lazing, stargazing, forest walks, wine tasting, and even more. And in our opinion, the very best way to discover what's so great about it is to get out there and do it yourself. (Besides, we couldn't possibly list every single amazing detail to discover along its many nooks and crannies.)
But there are some spots and sights that no Pacific Coast Highway adventurer should accidentally miss out on, and some ways to take on the journey that'll save you time and money. That way, you can rest assured you're getting the optimum Highway One experience without blowing your travel budget on the bare necessities. After all, there's going to be plenty to splurge on along the way!
So, ready to see one of the country's most celebrated highways for yourself? Here's what you need to know.
Pacific Coast Highway
Considering its popularity, it's no surprise that Highway One has a whole lot of names. Also known as Highway 1, Hwy 1, California State Route 1 — and, if you ask us, the number-one road trip west of the Mississippi — the Pacific Coast Highway truly is one of the most breathtaking stretches of road in the world, let alone America.
The coastal highway winds its way from where it intersects with I-5 in Dana Point at the south end more than 650 miles north into redwood territory, where it branches into U.S. Route 101 near Leggett. And as you can imagine, there's no end to the exciting things to see, do, taste, and experience along the way… which is exactly what this post is all about!
Stop and Sights for the Highway 1 Trip Planner
Lucky enough to play RV road trip planner for a Pacific Coast Highway trek?
Here's what not to miss during your great west coast excursion.
Santa Monica Pier
Start — or end — your journey at one of the most iconic spots in California: the Santa Monica Pier, home to perhaps the most-photographed Ferris Wheel in existence (and a whole heap of delicious treats, from classics like funnel cake to next-level goodies like lobster). Take a whirl on the merry-go-round or try your luck in the Playland Arcade. Meanwhile, the shush of the waves will serenade you… and perhaps lure you in to get your feet wet.
Bubblegum Alley; San Luis Obispo
San Luis Obispo is home to all sorts of wonderment: art galleries, ice cream shops, breweries — and yes, this not-so-hygienic (but oh-so-charming) alleyway, where it's become de rigueur to stick your used bubblegum on the wall. We promise it's a whole lot more visually appealing than it sounds… and besides, haven't you ever wanted to be part of something bigger than yourself?
Hearst Castle; San Simeon
Shortly after you take your leave from SLO, you'll want to take a detour in San Simeon. It's home to Hearst Castle, one of the most architecturally impressive structures in America — and a fascinating museum, to boot. Whether you simply wander around agape, staring at its mind-blowing construction, or you dive into the building's history and cultural significance, you definitely don't want to drive on by.
Driving the Pacific Coast Highway
Here are more spots to plot into your itinerary as you study the Pacific Coast Highway map.
Nepenthe; Big Sur
It's not every day we recommend a specific restaurant. But Nepenthe has a reputation amongst Big Sur travelers for a reason: the only thing more breathtaking than the sweeping views is its menu full of fresh, local farm-to-table fare. (Okay, maybe the food doesn't quite compete with the view, after all… but hey, you've gotta eat.)
The joint is aptly named after a drug described in Homer's Odyssey, where it's used to banish grief and anxiety from a troubled mind. We certainly can't imagine feeling anything but contentment while enjoying a delicious meal within earshot of the mighty Pacific.
Carmel River State Beach; Carmel-by-the-Sea
Here's the thing: you're going to pass nigh-endless beaches on this drive, from the soft sands and hard bodies of Venice to the fog-shrouded northern coast. But if you've got Fido along for the ride, you absolutely must stop at Carmel River State Beach, tucked nearby the town of the same name. It marries those stunning coastal vistas with a dog-friendly atmosphere that makes for a perfect respite from the winding road.
Besides, you're going to want to walk around Carmel anyway; it's filled to the brim with boutiques, tasting rooms, restaurants, and tons of pet-specific vendors thanks to its reputation as a dog town. You'll understand pretty quickly why the area draws the likes of Clint Eastwood; it's hard to find a friendlier, more beautiful spot.
Monterey Bay Aquarium; Monterey
It's one of the most famous aquariums in the country, and for a reason — so even if you're not obsessed with ocean life, it deserves a few hours of your time. The Monterey Bay Aquarium is home to a baffling number of species, from majestic and mysterious jellyfish to playful sea otters. If you want to stay a while to take it all in, a number of area hotels offer a valuable partnership option, which gets you a two-day ticket to the aquarium for the price of one as part of your stay. Of course, Monterey is also ripe with camping options, including KOAs and other privately-owned, resort-style spots. Plus, you have to grab an Instagram snap at Cannery Row!
The Chandelier Tree; Leggett
You started out the trip with an iconic attraction, so you might as well end it that way, too. Good thing the Chandelier Tree is located right near the northern terminus of Highway 1 at Legett. (Yes, it's that hollowed-out tree you can drive through, which you've seen photographed just about everywhere.)
Of course, if you'll be traveling by RV for your PCH road trip, you'll have to disconnect the toad to get through the opening. A tree you can drive through is pretty darn impressive… but a tree you can drive a motorhome through? I think they're still working on that one.
RV Rentals for Your Ultimate PCH Trip
It's pretty much impossible to take a bad Pacific Coast Highway road trip. No matter your conveyance or accommodations, you're bound to enjoy your time along this serene and awe-inspiring coast.
But as usual, we'd argue that RVing is the best way to enjoy the journey, offering the comfort and luxury of private lodging with the convenience of taking the road at your leisure.
Of course, if you've never taken one before — or even if you have — an RV road trip can seem overwhelming at first. After all, you've got to figure out where to find a rig, what kind to rent, and how to navigate with that great, big vehicle… on top of all the normal road trip stuff like routing your itinerary, planning activities, and purchasing gas.
But when you source your RV rental through RVshare, you shave a huge amount of hassle off your trip-planning needs. We take care of a whole lot of the legwork for you!
Since our RVs are listed by real-deal RV owners — regular, adventure-friendly people just like you — they come in every shape, size, and style imaginable, so you won't be forced to choose a brand-new, characterless motorhome. RVshare vehicles are well-maintained and cozy, since they are, after all, used for vacations by their primary owners, too. And since those owners don't have to foot the expense of keeping lights on in a dealership, they can afford to pass the savings on to you in the form of much lower per-night rental prices. Win-win!
Importantly for a highway trip of this caliber, RVshare now offers one-way rentals, so you can make a long journey without worrying about finding your way back. We'll deliver the vehicle back to its original owners so you don't have to, which gives you more time and energy to fully enjoy the journey.
Finally, keep in mind that all RVshare rentals are backed by A-rated insurance coverage, so you never have to wonder, what if? when you slip behind the wheel. Whether you're a first timer or an old hat looking for a new RVing experience, check out the RVshare listings available in your area today. After all, the road awaits!
This post may contain affiliate links.