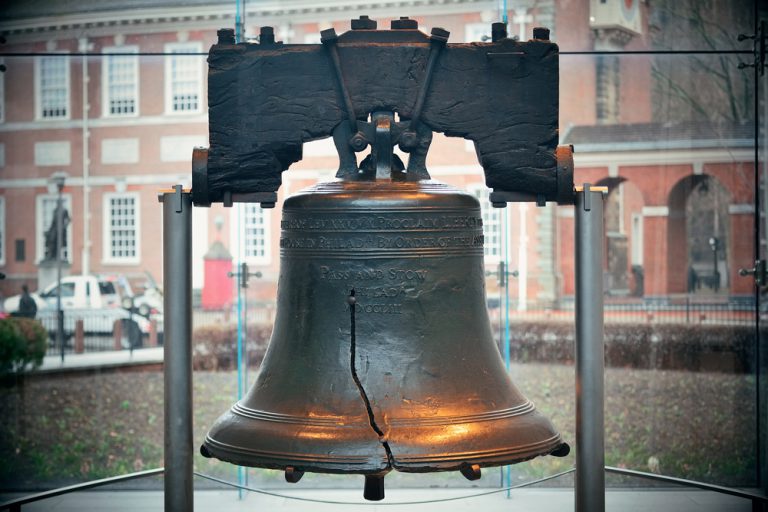 What is a Landmark?
When it comes to historical and cultural landmarks, it's really not surprising that Pennsylvania has so much to offer — after all, its capital city, Philadelphia, served as one of the early capital cities of the entire United States of America. Given that it was one of the first 13 colonies, many of the communities outside of Philly also have some incredible landmarks worth witnessing. Here are our must-sees.
What are Some Famous Landmarks in Pennsylvania?
1. The Liberty Bell
2. American Philosophical Society Hall
3. Carpenters' Hall
4. John Coltrane House
5. Eastern State Penitentiary
6. Gettysburg National Military Park
7. Drake Oil Well
8. Braddock Carnegie Library
9. Fallingwater
10. Mount Davis
Pennsylvania Landmarks
From the vast depths of historical intrigue in Philadelphia to important battlegrounds and buildings further afield, here are 10 landmarks you don't want to miss on your next Pennsylvania trip!
1. The Liberty Bell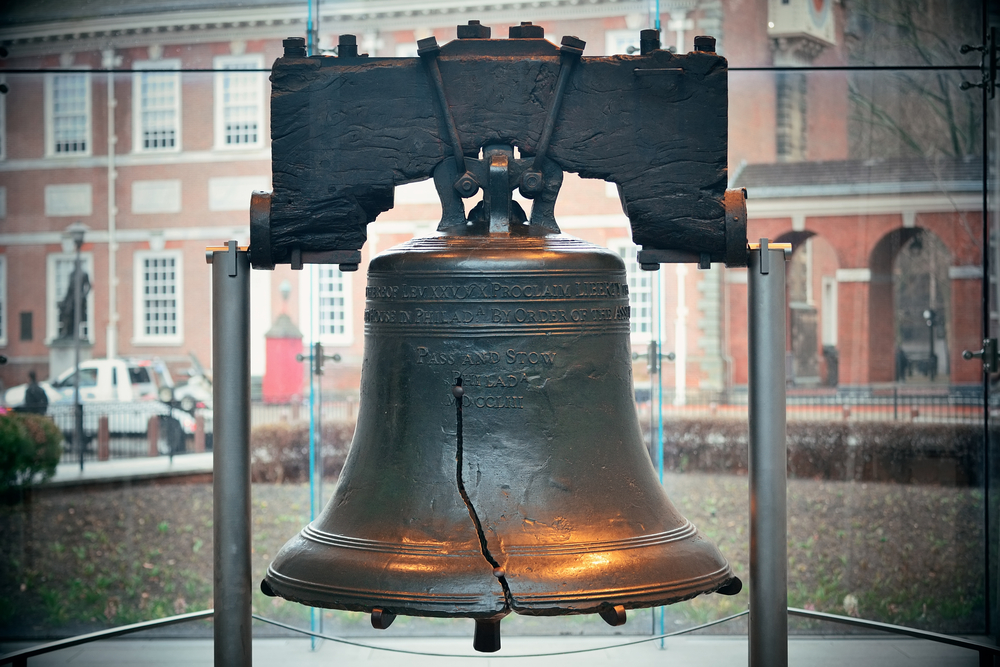 Essentially synonymous with the name Pennsylvania itself, the Liberty Bell is visited by more than a million people each year — and for good reason. An important symbol of American democracy and freedom, this bell was rung to call people to public meetings and lawmakers to legislative deliberations when it was first crafted back in the 1700s. When you see it today, you'll notice its large and well-known crack, a fissure said to date back to 1835 when it was rung in the wake of Chief Justice John Marshall's death. However, the bell formed smaller cracks at other times throughout its history, including the first time it was ever rung in Philadelphia, where it was shipped by its makers from London.
Things to do near the Liberty Bell: Located as it is in the heart of Philadelphia's City Center, the Liberty Bell is within easy walking distance of many other noteworthy Philly destinations, such as the African American Museum in Philadelphia and the Museum of the American Revolution. Here are some great nearby RV campgrounds and RVshare rentals to consider for your trip to Philly!
2. American Philosophical Society Hall
You probably already know about Independence Hall — but immediately adjacent to it, observant visitors will see this important structure, which has served as the headquarters of the American Philosophical Society for more than 200 years. Founded in 1743, this organization was spearheaded by a guy you may have heard of by the name of Ben Franklin, and boasted members like George Washington, John Adams, Thomas Jefferson, Alexander Hamilton and many others. The building still holds office space for the Society today, as well as a museum that is seasonally open to the public. It's been considered a National Historic Landmark since 1965 and was added to the National Register of Historic Places in 1966.
Things to do near the American Philosophical Society Hall: Located just east of Independence Hall on the famous green expanse of Independence Square, there's no shortage of Philadelphia must-sees within an easy walk of this landmark. Looking for a place to stay? Try bringing one of these cozy RV rentals to one of these incredible campgrounds!
3. Carpenters' Hall
Another important structure in both Pennsylvania and American history, Carpenters' Hall is where the Commonwealth of Pennsylvania was officially born, and also hosted the First Continental Congress in 1774. In other words, a lot of very important conversations were had here — conversations that determined the future of Pennsylvania, the northeast, and the entire United States. Other important roles it held along the way: it was an early home to the American Philosophical Society, Benjamin Franklin's Library Company, and the First and Second Banks of the United States. Today the building is open for walking tours which will open your eyes to the vast historic and cultural significance of this landmark.
Things to do near Carpenters' Hall: Another Philadelphia landmark right in the same footpath as the other ones we've named so far, Carpenters' Hall is located close to the Delaware River, which marks Pennsylvania's border with New Jersey. Here are some local RVshare rentals and campgrounds to try out.
4. John Coltrane House
John Coltrane's name is one you know even if you're not a jazz fanatic — and although he was originally born south of the Mason-Dixon line in North Carolina, he made his home in this picturesque rowhouse on North 33rd Street between 1952 and 1958. Along with its musical and cultural significance, the home is also a prime example of middle-class Philadelphia row housing from this era, and was named a National Historic Landmark in 1999. The house was owned by Contrane's cousin after the musician's death in 1967, but was sold in 2004. As of 2013, efforts are being made to restore the structure for use as a jazz venue — which would certainly be a fitting fate for this lovely and important landmark.
Things to do near the John Coltrane House: Although still in Philadelphia, this landmark is a little further afield than others we've named so far, in the north reaches of town along the Schuylkill River. Fairmount Park awaits just on the other side of the banks, along with these great RV-able campgrounds (and RVs worth taking to them!).
5. Eastern State Penitentiary
Maybe you have a penchant for the macabre — or maybe you're just fascinated by the history of the American penal system. Either way, Eastern State Penitentiary should be a must-stop on your Pennsylvania road trip; operational from 1829 until 1971, this was once the most famous prison in the world, a place where the concept of solitary confinement was developed and refined and "home" to such notorious individuals as Al Capone and Willie Sutton. Today, the prison is empty, but a monument to history open for public tours seven days a week. It was named a National Historic Landmark in 1965 and added to the National Register of Historic Places just a year later.
Things to do near Eastern State Penitentiary: Our last Philadelphia landmark on this list (we could go on forever, but the rest of Pennsylvania deserves some attention, too!), the Eastern State Penitentiary is in the Fairmount district of Philly close to the Philadelphia Museum of Art. Once again, keep in mind there are some great campgrounds in the Philadelphia area, as well as some wonderful local RVshare vehicles!
6. Gettysburg National Military Park
Arguably one of the most important historical sites in all of the United States, or perhaps even in the world, the grounds today known as Gettysburg National Military Park saw an important turning point in the Civil War: a Union victory that marked the end of Robert E. Lee's second northern invasion. This infamous battle saw more bloodshed than any other in the Civil War and was the inspiration behind Abraham Lincoln's famous "Gettysburg Address." Today ,it's preserved and managed by the National Park Service and is open to the public, who can learn more about its importance through a variety of ranger-led educational programs, living history enactments, and more.
Things to do near Gettysburg National Military Park: Located, of course, in Gettysburg, the National Military Park is only one of many important tourist destinations in this city, such as General Lee's Headquarters Museum and the Virginia Monument. It's also close to a number of natural wildernesses such as Codorus State Park, Mont Alto State Park and the Michaux State Forest. Here are some local RVshare rentals to choose from.
7. Drake Oil Well
While it may not seem that unique in today's oil-runs-everything world, the 69.5-foot-deep Drake Oil Well certainly made history in its time: first drilled by Edwin Drake in 1859, this was the first commercial oil well in the United States, and today has been made into a museum that celebrates and educates about the birth of the American oil industry and how it's evolved into the all-important market we know today. The oil well itself has been reconstructed and today, visitors can see a demonstration of the first practical use of salt drilling techniques, which make it possible to extract petroleum from beneath the Earth's surface. The visitor center and museum also host films and preserve artifacts to give you an even better window into this important piece of our history.
Things to do near the Drake Oil Well: Located just southeast of the town of Titusville in the northwestern stretches of Pennsylvania, the Drake Oil Well is only a short drive from Oil Creek State Park (of course), as well as the vast expanses of the Allegheny National Forest. Here are some local RVshare rentals to browse.
8. Braddock Carnegie Library
The first Carnegie Library in the entire United States, this structure was built in 1889 in the town where the namesake's first-ever steel mill still operates. Along with offering a nigh-limitless educational resource, the Braddock Carnegie Library is also simply an experience worth having thanks to its ornate decor and architecture, which of course reflect the abundance of the industrial boom that led to its existence. Also known as the BCLA, this library hosts a variety of events and programs to help get the local community involved in artistic and cultural pursuits. Alternative Lending Collections expand your horizons even further!
Things to do near the Braddock Carnegie Library: A southeastern suburb of Pittsburgh, Braddock is also home to the rolling hills of the Grand View Golf Club and Braddock's Battlefield History Center. Here are some nearby campgrounds and RVshare rental vehicles to consider.
9. Fallingwater
A stunning structure designed by Frank Lloyd Wright in 1935, Fallingwater is only 90 miles outside of Pittsburgh — but its unique shapes and serene setting may make you feel you've traveled much further afield. Although it's certainly worth visiting for a simple tour alone, there are plenty of other experiences you can have at this well-known architectural marvel and landmark, including internships, design challenges, or even renting out the space as a venue for your wedding. However, even if you simply show up and take some photos, it'll still be an unforgettable part of your trip.
Things to do near Fallingwater: Located in the scenic woods that characterize the lands in the southwestern part of Pennsylvania, Fallingwater is close to the Youghiogheny River as well as the scenic cascades and hiking trails of Ohiopyle State Park. Here are some local RVshare rentals to consider.
10. Mount Davis
The highest point in the state of Pennsylvania, Mount Davis stands at a stately elevation of 3,213 feet above sea level, and its summit can be reached by car or on foot via a number of different hiking trails. No matter how you get there, once you arrive, you'll have the opportunity to climb just a little bit higher thanks to its observation tower, which offers you a sweeping view of the surrounding countryside. Mount Davis is located within the boundaries of the 5,685-acre Forbes State Forest, which offers plenty more outdoor recreation opportunities to those eager to get outside.
Things to do near Mount Davis: Only a short distance from where Pennsylvania borders with Maryland and West Virginia, Mount Davis is truly a natural oasis and a great getaway from the big cities this state has to offer. Here are some local RVshare rentals to consider.
Planning an RV Trip to Pennsylvania
Planning an RV trip to Pennsylvania to see all these landmarks and more? We've got you covered to make it the best trip you've taken in a while!
Here are some excellent rental RVs to consider, each with the cozy amenities you'd expect on the peer-to-peer rental market. We've also catalogued and covered the best state parks in Pennsylvania, as well as its best RV campgrounds and most populous, happening cities.
The rest is up to you — but luckily, that's the fun part: getting out there and seeing the place for yourself. Enjoy!