RV Owners
Last updated on April 3rd, 2023. Originally published on July 2nd, 2015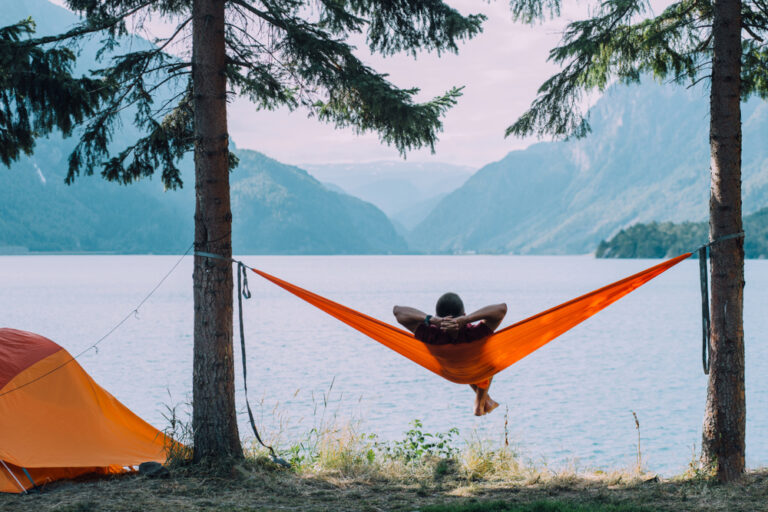 When you go on an RV trip you need to plan ahead and pack all the necessities. You don't want to reach your destination and discover that important items were left at home. Some RV items are critical to a successful and safe trip, while others are just simply fun to have around. Here is a list of 25+ must have items for your next RV adventure.
In the Kitchen:
1. Cast Iron Cookware
Whether it's a small skillet or a large dutch oven, cast iron cookware is a useful addition to the RV kitchen. You can safely use it over the campfire, in the oven, or on the stovetop. Cast iron is also easy to clean and multi-functional. For a wide range of affordable, US-made options take a look at Lodge brand cast iron cookware.
2. AeroPress Coffee Maker
Give yourself a daily boost of energy with the AeroPress coffee maker. This compact contraption offers a unique pressure-based brewing method that gives you an astonishing coffee flavor. It has less bitterness and acidity and filters out all unwanted grounds. So make sure you add this to your RV Must Have list.
3. Immersion Blender
The lack of space is a problem in most RVs. With a small amount of storage space, compact items that have multiple uses are critical. Enter the Immersion blender. You can perform a variety of kitchen tasks with this amazing tool such as making smoothies, blending sauces, or creating silky smooth soup.
4. Portable Meat Smoker
If you love succulent smoked meat then a portable meat smoker is a must for your next RV trip. You can use this device indoors or outdoors for smoking a variety of meats. For the ultimate RV-size portable smoker check out the Nordic Ware Kettle Smoker. It weighs less than 9 pounds and measures in a sleek 13 x 13 inches.
4. Frozen Drink Maker
Need some refreshment on those hot summer days? Time to break out the portable frozen drink maker! Just imagine coming out of the hot sun and refreshing yourself with a nice cold beverage. Frozen drink makers are available as either plug-in or rechargeable battery-powered.
5. Portable Ice Cube Maker
Everyone needs ice, and let's face it, those tiny RV freezers can barely keep up with our needs. A portable ice cube maker is a great way to cool your drinks and keep yourself refreshed. There is a wide range of portable ice makers available in different sizes and with different ice-making capacities.
6. Serving Tray
For a picnic, outside meal, or barbecue, a serving tray is convenient and necessary. They are available in all shapes and sizes for an affordable price.
7. Outdoor Stoves & Grills
Even if you have an amazing indoor RV kitchen, many of us still love to cook outside while camping. Breakfast, lunch, and dinner just taste better when cooked in the open air. There is a wide range of portable propane stoves and grills perfect for your next RV trip. Weber is one popular brand that sells both portable propane and charcoal grills.
8. Disposable Cleaning Wipes
This handy cleaning product is made for RVs. Clean up messes in the kitchen, the bathroom, the picnic table, and anywhere else that needs a quick swipe. There is a wide range of disposable cleaning wipes available at grocery and discount stores.
Technology:
9. RV GPS
Tired of always getting lost along the way? Why not purchase an RV-specific GPS? This is a great way to explore new places without any problems. An RV-specific GPS will allow you to find routes based on the height and weight restrictions of your RV. They also include RV-specific services such as truck stops and repair shops. There are lots of options for an RV GPS. A few of the most popular are the Garmin RV Portable GPS Navigator, the Rand McNally RV GPS, and the Magellan RoadMate.
10. Two Way Radios
Sometimes we have to go back to the basics. The two-way radios can be a great tool for your next RV trip. Use them to give parking directions, or keep in touch if you are traveling in separate vehicles. Cell service is not always reliable, and two-way radio are a great backup. And let's face it — they are also fun to use!
11. Mini Solar Device Charger
If you want to keep your small electronic devices charged, a mini solar charger such as the Solio Bolt will come in handy. Simply place it in the sun during the day and let nature take care of the rest. You can use it to charge your phone, tablet, electric razor, or toothbrush.
12. Weather Radio/Device Charger
We should all have a weather radio in our RVs.  The weather can change at a moment's notice and when we are camped out in nature we are venerable to strong winds and sudden storms. A weather radio will provide a reliable source of information that doesn't depend on a cell or TV signal. Check out the Ambient Weather Radio that charges from AC, DC, hand crank, or solar power.
13. Portable MiFi Device
While some want to escape the Internet on an RV trip, others prefer to remain connected. If you've already packed your smartphone, your tablet, and your laptop, why not bring along your own source of the Internet? With a portable MiFi device, such as the Verizon JetPack, you can be connected wherever a cell signal is available.
14. Tablets
If you lack a TV in your RV, then you might want to consider bringing along a tablet. You can view your favorite movies, surf the internet, read a book, or catch up on the news. Tablets come in a variety of sizes and price ranges.
15. Music
Music and camping go hand and hand. Bring along a portable radio, a mp3 player, CDs, or even tapes (if you still have a tape deck). Don't forget a portable bluetooth speaker so you can play your music wherever you are.
Outdoor Living:
16. Bicycles
If you want to go a little more off-road, bring along your bike. This is a great way to burn some steam and have a rewarding outdoor experience. Take your mountain bike on rocky paths, get an all-terrain model that can be used anywhere, or catch some speed with a slick road bike. If you don't have space to store a bike in your RV, consider investing in a foldable bike from a company such as Citizen Bikes.
17. Camp Chairs & Hammocks
Lounging around outside is practically required when on an RV trip. Be sure to bring along enough folding camp chairs for the entire family. And don't forget the hammock!
18. Insect Repellent
After a long drive, you arrive at your destination and open the door to breathe in the fresh country air and are greeted by pesky insects swarming and biting. Insect repellent is a must-have on any RV trip!
Safety & Repair:
19. Tankless Air Compressor
RV tires need to be kept in top shape. Check the air often and make sure they are properly inflated with a tankless Air Compressor. This item also comes in handy for filling bike tires.
20. Tire Pressure Monitoring System
A tire pressure monitoring system is another safety device for those all-important RV tires It can be extremely dangerous to drive on the highway without a proper monitoring system. You never know when a blowout will occur, so why not take extra precautions? These systems cost anywhere from $200-$400 and are available from a wide variety of manufacturers.
21. Folding Step Stool
Every RV needs a folding step stool. Use it to reach objects in high places, clean off the awning, hang a hammock or close line, or simply as an extra place to sit.
22. Flameless Battery Operated Candles
Brighten the mood with flameless battery-operated candles. They are great for decorating your RV  interior or making a cool outdoor pathway around your campsite.
23. Waterproof Lighters & Matches
Be prepared with a waterproof lighter or matches to help start that ever-important fire no matter what the weather. This amazing lighter has the strength to produce a flame in up to 80 mph winds, and it can be refilled with fuel.
24. Extra Hoses & Electrical Cords
RV hook-ups are always in different places. You never know how much cord or hose you will need. Save yourself a whole lot of hassle and visit a store such as Camping World before your next RV trip to stock up on extra hoses and cords.
25. Minor Repair Gear
You don't want to be caught with your pants down when something happens to your RV. You need to have some necessary tools in order to fix possible problems that you might encounter. If we consult most RV sites we will find out that a tool kit is a must in all cases. After that, you can add a small axe, a shovel, fuses, electrical tape, wire connectors, and so on. You can also bring along a cordless drill, a bucket, and some silicone rescue tape for extra safety. You never know when you need them.
26. Flashlights
A flashlight is another must-have item. They come in handy in so many situations like gathering wood, lighting the way down a dark path, or searching for that bag of marshmallows in the back of the cabinet.
27. Safety Items
It's always good to be prepared when on an RV trip. You need to have some safety items in your RV such as a first aid kit, a reflective vest, and a flare gun.
Conclusion
An RV trip should be fun. Bring along both the stuff that is essential for survival and the stuff that is essential for a good time!  Make a list and double-check it before heading out on the road. Try to make your trip safe, entertaining, and comfortable for the entire family. If there is anything you want to add to this list leave a comment below.
Happy Camping!