RV Parts & Accessories
Last updated on July 29th, 2022. Originally published on July 2nd, 2017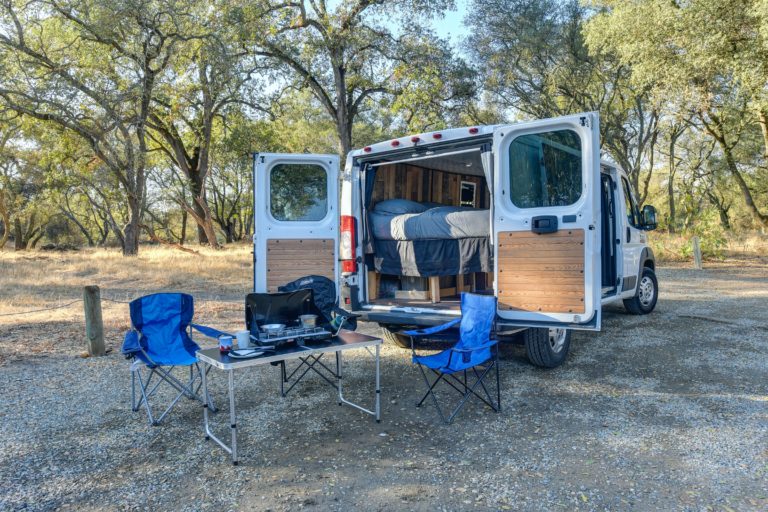 Getting ready for your next epic RV road trip? Sometimes, the devil's in the details.
When you're traveling in a camper, you don't have a whole lot of room to spare, so you can't just bring everything alone for the ride. But on the other hand, having the right supplies on hand can make the difference between an easy trip and a headache.
And, let's be honest: Sometimes, you just need a little bit of fun and flair!
That's why we put together this list of some of the best RV camping accessories and supplies for your motorhome. From emergency preparedness to just plain entertainment, the items on this list will help you stay safe and happy on your next camping trip — no matter where you're headed.
Must Have RV Camping Accessories
If you've so much as glanced at an RV camping guide, you know there are certain things you absolutely have to have on board. After all, it's better to be safe than sorry!
Here are a few essential accessories for RVs and travel trailers.
1. Emergency kit and first aid
Whether you're going for a quick weekend or full timing, you need to be prepared for whatever the road might throw at you.
Here's our guide to emergency gear every RVer should always have on board, including first aid and some roadside assistance tools and accessories.
2. Extra drinking water
Even if you're going to be camping in a site with full hookups, it's never a bad idea to have extra potable water on board. You might get a flat tire on the way to your destination, for instance. It's important to stay hydrated!
RV Gear
Even the most well-maintained RV in the world will have some mechanical failures from time to time. But if you have a few simple items on hand, a quick fix is easy and achievable.
3. Dicor
Unfortunately, leaky seams and seals come to haunt almost every RV after a while. But keeping dicor, or whatever sealant works with your RV's roof material, on hand can mean the difference between a miserable, expensive delay and a salvagable weekend. You can quickly patch up whatever's dripping and finish off your vacation, getting it fully repaired after you get home.
4. Tool kit
Even if you don't consider yourself especially handy, having a few basic tools on board might help you fix small things in a pinch. A hammer, wrench, and pair of screwdrivers are a good starting point.
5. Museum putty
Sick of having to stow away everything each time you decide to move your rig — or risk it flying around the coach and breaking?
Try sticking your stuff to whatever surface it lives on with museum putty, and say goodbye to redecorating every single time you set up camp!
6. RVMinders
How many times have you driven out of camp with your stairs extended or your satellite antenna still up?
RVMinders are a simple, affordable slap-bracelet-style accessory that will keep you from ever driving off without pulling up the leveling blocks or sewer hose again. Talk about a life saver!
RV Supplies and Accessories
Here are a few RV kitchen accessories you won't want to live without.
7. Magnetic spice rack and other storage solutions
Consider yourself a gourmand at home, but find yourself gravitating towards spaghetti and peanut butter sandwiches on the road? Some creative storage solutions might make all the difference.
Check out this magnetic spice rack (number 9) and other novel storage ideas. By keeping everything within reach but not disorganized and cluttered, you might be inspired to spend more time in even a tiny kitchen!
8. Portable coffee maker
Who can live without coffee, even on vacation?
Make sure you stock your rig with your favorite brewing method, whether it's a small drip machine or an electric hot kettle and a pourover station. Start every day right, and you'll be a much happier camper!
9. Pressure cooker or Instant Pot
When you ask a full-time RVer about the one kitchen item she'd never camp without, these do-it-all appliances usually top the list. It makes sense: You can create just about any dish you can imagine, all with one compact and affordable appliance.
RV Camping Supplies
Some of the most important stuff to pack in your RV is what you'll need to make your campsite even homier. Here's some of our favorite camp gear to transform any camping location into a fully functioning backyard.
10. Portable hammock
You're done driving for the day, all set up at camp, and the sun is setting. Ready to kick your feet up?
A portable hammock makes it easy to relax in a flash, no matter where you're camping. Just add an ice cold beer, and you're living the dream.
11. Outdoor ground cover
If you want to spend time outside your RV, and you don't want to track mud all over your rig's floor, this simple device is one of the most important camping accessories in your arsenal. Invest in a high-quality one, even if it's a little bit more expensive — if you take care of it right, it'll last you forever.
12. Metal s'mores skewers
Let's be real: eating fire-cooked foods is one of the very best parts of camping. But those tired wooden skewers available at most camping supplies stores simply don't make the cut — they just end up burning both your food and your hands.
Invest in a set of these color-coordinated marshmallow roasting sticks and you'll never have to replace them again. They're also telescoping, which makes for convenient and easy storage even in small RV kitchens.
Plus, you'll know whose marshmallows are whose, so no one can steal your gooey, perfectly-toasted treat!