Conquering RV Cooking with Simple Recipes & Techniques
How Tos & Tips
August 22nd, 2015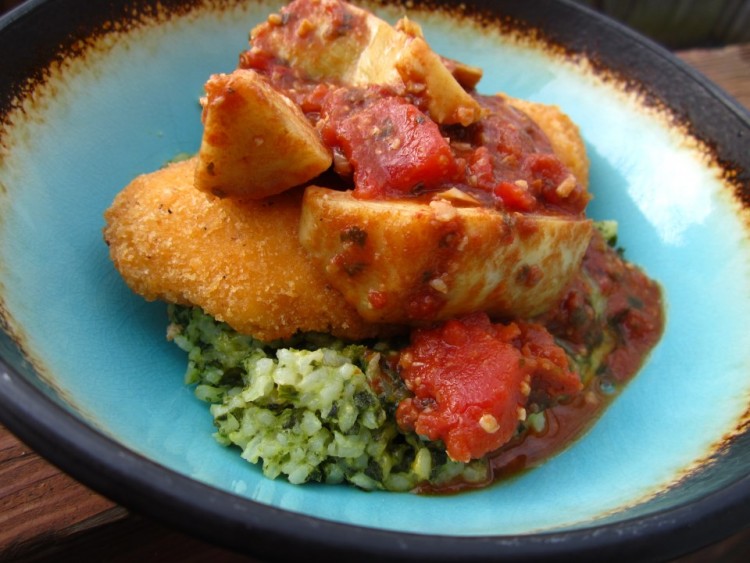 Anyone who has ever traveled in an RV knows that cooking in such a small space can be challenging. But there are a couple of tips and tricks that can make the process easier.
Tips and tricks like making delicious meals that require little or no cooking, few ingredients and little preparation. If you are frustrated with cooking in your RV, take a look at these helpful tips and simple recipes.
The Incredible Edible Egg
If you love eggs, hard-boiled is the way to go in an RV. Preparing this type of egg requires virtually no clean up, and you can eat them for a meal or as a snack. Popular options include potato salad, egg salad, and deviled eggs.
Expert tip: While you are boiling your eggs, you can use the same water to cook potatoes. You could even throw a couple of hot dogs in there. But that's not all — you can also use your leftover hot water to wash the dishes. All you have to due is add some biodegradable dish soap and wash away.
Salads are NOT Just for Rabbits
Salads are an RV friendly food. This is especially true if you top your greens with pickled vegetables like  beets, carrots, green beans, or asparagus. These fermented or pickled foods won't rot or bruise. They can even be stored with your dry goods so they don't take up valuable space in the fridge. All in all, pickled veggies are a simple way to eat healthier while on the road.
For some extra flavor in your pickled veggie and fresh greens salad, add a few slices of cooked potatoes.  If you also add some hard boiled eggs, cold cuts and cheese, you'll have a delicious Cobb Salad to munch on. Dress your Cobb salad up with a simple lemon juice (1 part) and olive oil (3 parts) dressing for even more flavor.
If you have mixed nuts hanging around throw them on top of your salad to add protein and healthy fats.
One-Pot Meals With Few Ingredients
One of the easiest ways to cook without a hassle in an RV is to make one-pot meals with few ingredients. Here are five simple recipes to get you started.
1. Kielbasa with Potatoes and Peppers
What You Will Need:
1 sliced yellow bell pepper
1 sliced red bell pepper
16 oz of diced smoked kielbasa sausage
6 diced medium sized red potatoes
Instructions:
Preheat a saucepan over medium heat.
Add the potatoes and kielbasa. Cover and cook for about 25 minutes.
Add both peppers into the pan and cook for five more minutes.
Remove from heat and serve.
2. Salsa Chicken
What You Will Need:
1 cup cheddar cheese, shredded
4 boneless and skinless chicken breast halves
1 cup of salsa
4 tsp taco seasoning mix
2 tbsp sour cream
Instructions:
Preheat your oven to 375 degrees.
Lightly grease a baking dish and add the chicken breasts.
Put taco seasoning on both sides of the chicken breasts. Top with salsa and place in the oven.
Bake for about 30 minutes.
Top with cheese. Bake for 5 more minutes.
Remove from heat and allow to cool for about 5 minutes.
Serve with sour cream.
3. Tuna Mac
What You Will Need:
1 cup of bread crumbs
6 cups of water
4.5 oz can of sliced mushrooms, drained
¼ cup of milk
1 package of macaroni and cheese
1 6 oz can of tuna, drained
¼ cup of butter
Instructions:
Preheat your oven to 350 degrees.
Bring a saucepan of water to boil. Add the macaroni and cook according to the package directions for around 8 minutes.
Drain the water, add the cheese packet, milk, and butter stir until evenly coated.
Add the mushrooms and tuna. Stir until evenly mixed.
Pour the macaroni mixture into small casserole dish and top with bread crumbs.
Bake in oven for about 30 minutes.
4. 6 Can Chicken Tortilla Soup
What You Will Need:
1 15 oz can of black beans, drained
1 10 oz can of diced tomatoes with green chile peppers
1 14.5 oz can of chicken broth
1 10.75 oz can of cream of chicken soup
1 12.5 oz can of chicken chunks, drained
1 14 oz can of whole kernel corn
Instructions:
Combine all the ingredients in a saucepan.
Place on the stove top over medium heat.
Bring to a boil then reduce the heat to low and simmer for 20 minutes.
Remove from the heat and serve.
5. Artichoke and Sun-Dried Tomato Chicken
What You Will Need:
Salt
Pepper
1 14 oz can of artichoke hearts, quartered and drained
4 boneless and skinless chicken breast halves
¼ cup of sun-dried tomato pesto
2 tsp of olive oil
1 14.5 oz can of diced tomatoes with onions and green peppers
Instructions:
Add oil to large skillet and heat over medium.
Season both sides of the chicken with salt and pepper.
When skillet is sufficiently heated, add chicken and brown on both sides.
Remove chicken from the pan and place in a bowl.
Add tomatoes to the skillet and cook for about 1 minute, stirring frequently.
Stir in artichokes, pesto, and chicken. Cover and simmer for about 8 minutes.
Remove from heat and serve.
What do you think of these recipes? Leave your thoughts in the comments below. Happy RV Cooking!