How to Get Your RV Ready for the Upcoming Holidays
Travel Inspiration
Last updated on July 25th, 2022. Originally published on November 20th, 2019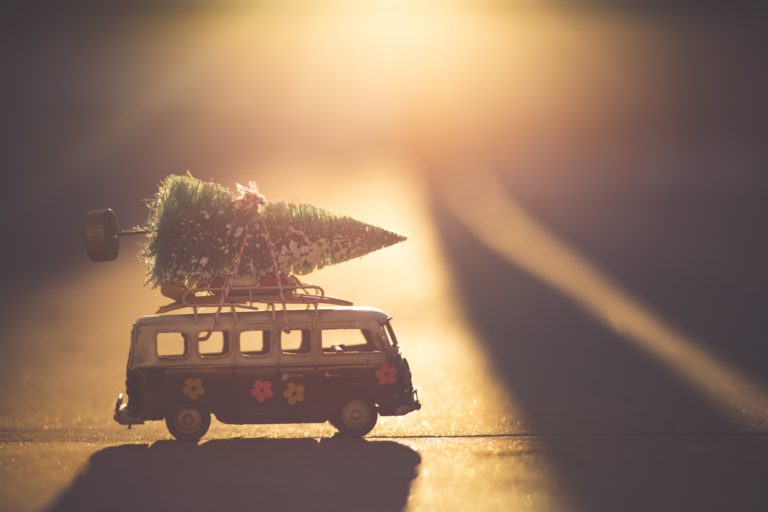 What fun it is to ride and sing…in your RV! Wintertime and the festive season is the perfect time to hit the road, decorate your rig for a holiday road trip and actually enjoy holiday travel in the comfort of your RV. It's the only way to guarantee no delayed flight or hours spent in an airport! From campsite decorating ideas to finding the perfect Thanksgiving or Christmas road trip destination and selecting a holiday RV park to call home, here are some of our best ways to get your RV ready for the upcoming holidays.
Finding a Holiday Road Trip Destination and Selecting a Holiday RV Park
Your holiday or Christmas road trip destination may already be determined if you're traveling to friends and family's homes, but for many who are taking advantage of the time off work, it's an opportunity to travel somewhere new! First, decide if you would like your Christmas or Thanksgiving road trip to be a full-blown camping trip in a festive holiday RV park or destination, or simply an alternate, more comfortable means of travel to holiday celebrations with family and friends.  
Then, you can determine where you'd like to go. Maybe you're looking for a chance to experience a national park in the serene, less busy season of late fall or winter. If that's the case, check out our comprehensive guides to all 60 National Parks. Other great options for a Christmas or Thanksgiving road trip are iconic holiday destinations like New York City, Old Quebec, Canada and Santa Claus, Indiana. 
Winter Activities
And don't forget about winter activities! Many state and national parks offer cold weather outdoor fun such as skiing, snowmobiling, sledding, and snowboarding. You may also want to consider notable winter destinations for your holiday road trip such as Park City, Utah, Lake Tahoe, California, Jackson Hole, Wyoming and Burlington, Vermont. There are even ski resorts that allow overnight RV parking – check them out here.
If you already know where you'd like to travel to, then it's time to find a place to lay your head down at night! Start by looking for RV resorts or campgrounds nearby your destination by searching online or asking friends with RVs for their recommendations. From there, you can narrow down your options based on whether you need hookups or not, would like additional amenities or even just how festive of a holiday RV park it is! Check out their websites or call them to ask questions, get rates and book your stay.
Campsite Decorating Ideas
Once you've decided on a destination and booked a holiday RV park or campground, it's time to research fun campsite decorating ideas! No Christmas road trip is complete without a little festive décor. Sure, your RV may be lacking in space, but that doesn't mean you can't have any RV decorations. Decorating the inside of your RV doesn't have to be expensive or stressful, either. Just get a little creative: instead of a giant Douglas fir Christmas trip, try a smaller artificial tree or even a tabletop or ceramic tree. Add a small wreath to your rig's door or windows, put ornaments inside a glass container and place it on your table, and don't forget about the power and beauty of holiday string lights – use them wherever you can! A simple google image search for "holiday RV decorations" or "campsite decorating ideas" can offer a lot of inspiration.  
Channel your inner Martha Stewart for outdoor campsite decorating ideas, too! If you're camping in the woods, add your favorite ornaments to an actual, living tree, hang string lights outside your rig and cozy up by a campfire with some hot cocoa. Sometimes just a few RV decorations plus a lot of holiday spirit can go a long way.    
Holiday Road Trip Cleaning
You may need to do some cleaning before starting your holiday RV decorating, but just before the holidays is as good a time as any! Store away any items you may not need during wintertime travels to free up space, purge items you haven't used in a while and check the fridge for out of date food. Give the entire RV a good cleaning and make sure to dust, then clean and disinfect the bathroom, including the toilet, shower, and sinks. 
If you haven't used your RV since the warm weather season and haven't winterized it, you may need to do some additional work to get your rig ready for travels. Before you head out on your adventure is a great time for preventive maintenance, also. Check out our blog on how to RV in the winter. 
Whether your holiday road trip takes you nearby to Grandma's house or to a new city to explore, we hope you have a wonderful, relaxing holiday season with family and friends!