How to Give Kids their Own Space in a Small RV
RV Owners
February 16th, 2018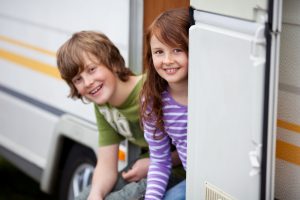 "Excuse me… you're in my personal space bubble!"
Although many of us may be familiar with feeling this way, we're probably too polite to say so — especially when the space invader in question is a loved one or family member with whom we're sharing our RV.
(Psst — if you RV often, you should really consider signing up for a Passport America membership. You can save 50% on your campground accommodations at almost 1900 locations nationwide… all for under $50 per year!)
Especially for those of us traveling with kids, personal space can become an even more pressing issue — and an especially big deal if you're traveling in small motorhomes and travel trailers.
But don't worry. Even if you can't guarantee everyone their own bedroom, there are still plenty of ways to make sure everyone on board at least feels like she has a little corner that's just hers. From personalized camping chairs to bringing along a comfort blanket, it's the little touches that go a long way towards making you and your kids feel cozy and not crowded.
Read on to find out more about the advantages of creating personal space on your small RV, and how to set those personal space boundaries.
Need for Personal Space
Before we dive into how to create personal space in your rig, let's talk about what exactly it is and why it's so important.
Although it may just seem like an easily-ignored, minor inconvenience, having our personal space invaded actually messes with us on a psychological level. In fact, according to scientists, that "please don't stand so close to me" actually comes to us from our amygdala — the same brain region that responds to serious danger.
In other words, you're not just being fussy. When you can't get some space to yourself, your body and brain react with physical discomfort. And although the level of discomfort is variable, depending on individual personality, how crowded in you feel and who's doing the crowding, as well as your cultural background, it can affect anyone. (By the way, here's an interesting look at differing personal distance examples by country.)
That goes for kids, too… although some may need more help understanding the concept of personal space than others. Either way, it can create a unique challenge when you're sharing a small space with your family… like on your camping trip.
Boundaries and Personal Space
The problem with personal space in an RV or motorhome is that, well, there's just nowhere to go. Even if all parties involved would like to have ten square feet to themselves, it just might not be possible.
But fortunately, there are ways to mitigate the problem, which will help calm the kids just as much as mom and dad — who, it turns out, can also use some privacy. 🙂
Personal Space for Kids
Here are some simple ways to create personal space on your next RV camping trip, even if you've got a big family.
Sleep under the stars.
Even in large, luxurious RVs, not everyone is going to have a bedroom. In fact, you're lucky if you have one dormitory with a closing door.
So if you want an easy way to create privacy and space, consider investing in a small tent and some sleeping bags, and allowing your kids to sleep under the stars while mom and dad take the master. Real, rugged camping memories will last your kids a lifetime, and they'll be thrilled at the opportunity to sleep in such a strange, new scenario. (Heck, if you're really adventurous, you can switch places — and let the kids have the rig while you get nostalgic over those old camping trips you took as kids yourselves!)
Choose your RV wisely.
Obviously, the type of rig you have will go a long way toward creating personal space in the first place. If you've got two kids, you're definitely going to be crowded in a Class B no matter what you do — so consider looking at larger Class A or Class C motorhomes with lofts and separate sleeping spaces.
Luckily, if you're renting, RVshare makes this really easy. Since RV owners list rigs for rent of every shape and size, you're more likely to find floorplans and configurations that fit your family's needs than you would be on a regular rental showroom floor. For instance, there are some small RVs that have a fold-down bed over the cockpit, as well as rigs that come equipped with bunk beds for your brood. Chances are there are lots of options in your area, so shop around!
Split up storage space.
Knowing you have a place for your stuff — and just your stuff — can go a long way toward making you feel less boxed in. And although storage space is in high demand in a small motorhome or travel trailer, there are ways to expand it so everyone can have a little bit of turf.
For example, consider investing in some hanging closet organizers to organize that tiny wardrobe. Drawer dividers can also work wonders. Here are some more clever RV storage solutions that can make you feel more at home on the road!
Focus on small comforts.
Whether it's mom's favorite mug to fill with coffee or hot cocoa or that blanket Junior would never even wash if he had his druthers, bringing along a small comfort object can make even the smallest RV feel more cozy and inviting, even if you're sharing it with a whole lot of other people. Just sit back, close your eyes, and focus on the feeling of warmth and familiarity. You bring your own personal space with you!
Modern Small Motorhomes
We hope this post has helped you see that it is possible to ensure that everyone in your family feels like their personal boundaries are respected, even in the confines of a tiny motorhome. That way, you'll be relaxed and ready to enjoy your vacation!
Now, if you feel like you have no personal space at home… well, that's a different issue. One solution we can recommend: a spa day. And maybe a nice glass of wine.
Cheers!
This post may contain affiliate links.