Tips for Staying Healthy During the Holiday Season
How Tos & Tips
November 27th, 2017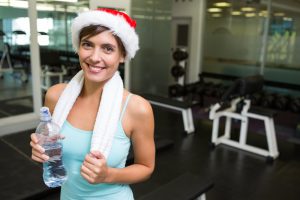 As an adult, it can be hard to remember that the point of the holidays is to relax and have fun. It's great when you're a kid and you don't have to worry about any of the setup. But a few years later, the winter festivities can start to seem like nothing but an additional set of chores. And a whole lot of extra sugar.
From the stress of creating, budgeting for, and actually checking off your insane shopping list, to coordinating a scrumptious feast and building — and, of course, eating — perfect gingerbread houses, it might seem like it's impossible to stay fit and healthy during the holidays. (Psst: Got a slow cooker? Here are some holiday recipes you can set and forget, which will save your time and sanity. And if you don't have one yet, check out the Instant Pot, which can perform just about every culinary function you can imagine. Many RVers swear by theirs!)
If you're planning on traveling in your RV during the holidays, things just get that much tricker. It's already difficult to maintain a regular routine on the road, and now you have the added complications of all this holiday hubbub.
But if you want to reap the intended benefits of the holidays — that is, to recharge and enjoy yourself — staying fit, active, and sane is the best way to do it. And yes, it's totally possible to do so. We promise!
Here are some of our best tips on how to stay healthy during the holidays.
Healthy Holiday Habits
One of the biggest obstacles to staying mentally healthy during the holidays is the financial pressure they can bring. Whether it's Christmas, Hanukkah, or another winter celebration, those presents can get expensive!
And that's not even considering the cost of the lavish meals you're supposed to prepare during this time of year… or any of the travel costs associated with RVing if you're taking a trip. Fortunately, there are some great ways to save money on your holiday travels if you're camping this winter.
First of all, see if you can take a trip to a closer destination. Of course, you might need to go someplace specific because your family lives there, or maybe you're hoping to get out of the cold for a week or two. But fuel is one of the highest costs when you're traveling by RV, so using less of it — i.e., not driving as far — is a sure-fire way to save money.
But no matter where you're headed, you can also save a boatload on what's usually the second largest expense for an RVer: campground accommodations. Especially in popular locations during holiday travel seasons, campsites can cost up to $75 per night, or even more!
To avoid this cost, you could consider boondocking on public land, or even in your willing loved one's driveway. You can also take advantage of discount camping clubs that get you special deals on your campsite fees — our favorite is Passport America, which saves you 50% on almost 1900 campgrounds across the nation. It easily pays for itself in a single trip!
Staying Healthy During Holiday Season
Of course, money is just one small part of holiday stress. And as far as holiday health advice goes, a lot of it revolves around eating and exercise. This is the time of year when it seems like we do nothing but eat, and it would be a stretch to call most holiday recipes "healthy."
But fortunately, we have some tips for living healthy during the holidays so you can stay in shape and feeling good enough to enjoy them. That way, you won't find yourself searching for some sort of "healthy detox" after the holidays — because, spoiler alert, there really is no such thing.
Eating Healthy Around the Holidays
Eating well during the holidays is a challenge, because you're constantly surrounded by so many delicious things. Cakes, cookies, pies, and candy all suddenly appear on every table, not to mention the sumptuous feasts that take place before dessert.
But you don't have to totally deny yourself if you want to enjoy happy, healthy holidays. It can be as simple as finding some healthy holiday recipe substitutions.
Sugar is one of the main causes of weight gain, and goodness knows we usually eat a lot of it during November and December. But you can have your cake and eat it too if you follow the low-carb, gluten-free healthy dessert recipes in the CarbSmart Holiday Entertaining cookbook. (Plus, these recipes look great on the table, so they're sure to impress your holiday guests! Here are our tips for entertaining in small spaces.)
You can also find diet-specific cookbooks no matter your preference. Here are a few more great holiday-specific recipe titles:
See? There really is a way to create healthy holiday food for everybody!
Staying Healthy and Fit During the Holidays
One last thing: no matter how good your diet, it's also important to keep active if you want to maintain your safety and have healthy holidays. As well as preventing heart disease and other chronic health problems, exercise has been shown to boost our mood and make us happier — really!
It might be a bit of a challenge, but staying fit during the holidays is one of the very best gifts you can give yourself. And it doesn't have to be very difficult or time-consuming, either. If you're traveling to a beautiful outdoor area, grab your hiking boots and hit the trail with the family. Or if you'd rather stay inside, consider purchasing a small set of dumbbells, resistance bands, or a stability ball. They're all affordable and can easily be stored, even in an RV's limited space — and they'll help keep you out of that gym crowded with January resolution-seekers.
Happy holidays!
This post may contain affiliate links.