How Tos & Tips
Last updated on July 28th, 2022. Originally published on June 3rd, 2018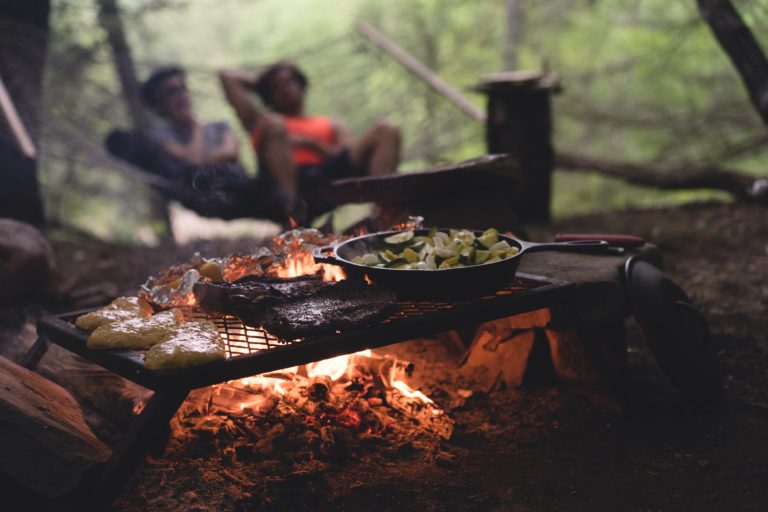 Gathering around a cooking fire is arguably one of the oldest traditions in human history. RV grilling isn't much different. And when it comes to camping, nothing's quite as satisfying as eating a delicious dinner you roasted up on a flame you built with your own two hands. 
Of course, these days we have some extra technology, tools, and accessories to make whipping up a fire-cooked dinner a whole lot easier. We're talking, of course, about the camping grill.
Whether you use a sturdy, pre-installed grill you find at the campground or you bring your very own portable grill along with you for the ride, grilling is one of the most satisfying ways to prepare a meal — and it can be surprisingly healthy, too! Fresh veggies and lean meats roasted over an open fire will taste amazing and keep you fueled up for fun-filled camping explorations. Because, you know, those hiking boots of yours are gathering dust and those road maps are waiting. All those amazing views aren't going to dazzle themselves!
In this post, we've laid out some grill-friendly camping recipes, accessories, and techniques to help you become the official barbecue king (or queen) of the campground. After all, if you didn't cook up at least one grilled dinner, did you even go on an RV trip at all?
RV Cooking & Grilling 
The ability to cook your own meals on the road is one of the most attractive parts of RV camping. Few other modes of travel give you the opportunity to have so much control over your nutritional needs — not to mention your food budget.
Of course, grilling is our favorite way to go about whipping up a tasty RV camping meal, but if you're facing a rainy day, not to worry. There are other ways to go about the job!
Depending on your rig, your kitchen may come equipped with a full-sized portable stove or just a couple of burners. Some RVs also have a real oven, or a microwave that doubles as a convection oven, installed on board.
We also recommend investing in an Instant Pot, which is one of the most versatile ways to step up your RV cooking game. Just one easily-stored contraption allows you to saute, slow-cook, steam, and more. Click here to read more about how much an Instant Pot can add to your RV kitchen!
Portable Grill
Cooking fresh meals inside your rig is one thing, but when it comes to classic RV camping meals, there's nothing quite like making a delicious dinner on the grill.
In fact, it's such a classic RVing activity that many campgrounds have barbecue grills pre-installed at their campsites, or in public gathering areas on the property (like a picnic area nearby the pool, for instance). If you enjoy camping in these developed, resort-style campgrounds, we suggest you check out Passport America. It's a discount camping club that gets you 50% off your campsite accommodation fees at participating campgrounds, many of which are filled with these sorts of amenities. Considering how expensive these sorts of campsites can be, half off the top is a pretty great deal — especially for less than $50 per year! Click here to find out more about Passport America and sign up today.
On the other hand, if boondocking or dispersed wilderness camping is more your speed, you'll likely need to bring along an all-in-one portable camping grill in order to get your cookout on. Fortunately, there are tons of different options on the market to suit your needs.
For example, if you want a quick and easy way to get dinner going, try a propane camp grill, like this classic model from Coleman. It's easy to set up at any campsite, and runs off of small, easily-stored bottles of propane fuel.
You can also find larger propane grills with folding legs to help facilitate your patio cooking set-up, as well as petite charcoal-powered grills that can help you get that smoky, southern-barbecue flavor. There's actually a lively debate about the benefits and drawbacks of charcoal versus gas grilling — read more about each side's arguments (and pick your own!) here.
RV Grilling Tools
Once you've got the grill itself, you need a few BBQ accessories to help make your next fire-cooked meal shine. For example, if your grill doesn't come with one, a grill cover can make or break your favorite camping recipe. Trapping that excess heat can help make your grilled meats more tender and juicy!
Want to transform your open campfire into a usable cooking surface? Try out a campfire grill grate, which allows you to easily make all your favorite treats over the campfire without using messy, frustrating skewers.
Finally, don't forget about the tools and accessories you need to handle the food while it's heating, like tongs, spatulas, and scrapers to help clean up the grate afterward. You can find well-organized sets of these goodies available for reasonable prices on Amazon — for instance, this 22-piece stainless steel collection comes with a nice carrying case, and it's on sale for about $30.
Camping Recipes – RV Grilling
Now that we've talked about different grill options, the various techniques different grill masters employ, and the accessories you need to do so, let's get to the really fun part: the food itself!
There are so many amazing camping grill recipes out there, from classics like hamburgers and hot dogs to surprising, inventive dishes like grilled peaches. Here are just a few of our favorites to try out on your next camping adventure.
Grilled Salmon
See? We told you grilling could be healthy. Check out this delicious-looking grilled salmon recipe from Genius Kitchen, which calls for little more than salt, pepper, oil, and some lime juice.
Grilled Corn
I don't know about you, but in my opinion, the sides are just as important as the mains when it comes to grilling. This recipe for grilled corn with herb butter comes from Epicurious and looks delicious, but honestly, you can't go wrong with corn on the grill no matter what you do to it.
Grilled Chocolate Cake in Orange Shells
Yes, you can make delicious desserts on the grill — just look at this deliciously inventive idea from Serious Eats!
For even more grilling recipe ideas, check out the following grill-centric cookbooks on Amazon:
Bon appetit!