How Tos & Tips
Last updated on April 27th, 2023. Originally published on November 27th, 2019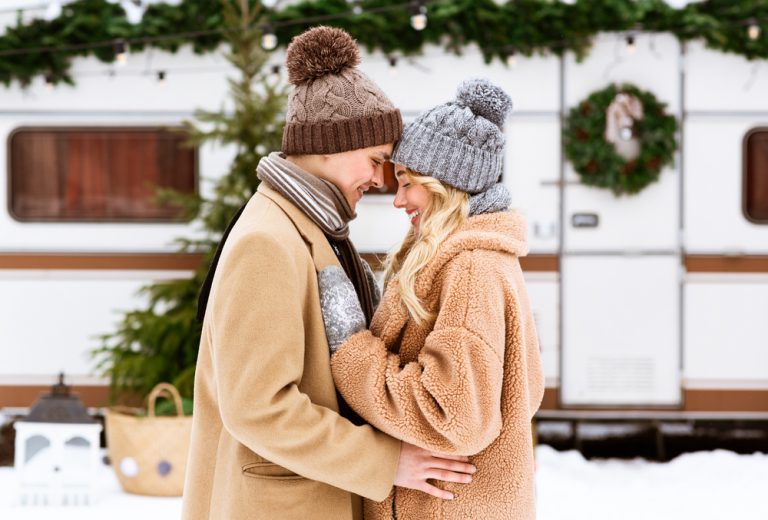 Summer may be the most popular time for road trips, but that doesn't mean you have to pack up your rig at the first sign of Jack Frost. RVing in the winter is a great way to experience a wide variety of outdoor recreational activities, from skiing and snowshoeing to simply meandering around in a winter wonderland, cup of hot cocoa in hand.
You may be wondering, however, how to keep a camper warm in the winter. After all, even the best-made rigs on the market have significantly less insulation than a sticks-and-bricks home! And just like your foundation-built house, RVs have a variety of sensitive systems that can be damaged by the impact of freezing cold temperatures.
In this post, we'll walk you through everything you need to know about winter RV living, from keeping your rig warm and toasty while you're inside to winterizing it for storage. Read on to unlock all the secrets you need to know to make winter RV journeys a pleasure!
How Do You Live in an RV in the Winter?
RV winter living is all about one thing: preparation. Your RV has feelings, and it hates being cold just as much as you do!
Just kidding, but you will experience some big problems if you don't keep it warm. Your RV's pipes can burst just like the ones at home, and the cold weather is killer on your RV batteries. Even though many four-season RVs come with thermal packages, which include extra insulation, it's still not enough for extreme cold weather RVing in sub-zero temperatures. If you're camping in extreme cold, put your RV in a skirt! Skirting the RV will keep the battery bays, plumbing, and other important components warm. If you don't have a skirt, you can pack snow around the RV bays. Check out our guide to RV skirting to learn about the different types of RV skirts, how to install, and more.
RV windows lose a ton of heat, no matter how insulated the manufacturer claims they are. There are several ways to insulate them: foam insulation boards, bubble insulation, solar blankets, etc. For extra warmth, line your windows with heavy-weight thermal curtains. You may also want to go over your RV windows and doors with a layer of RV sealant or caulk, just to ensure they're nice and weather-tight. Double-check the weather stripping around these areas to ensure nothing needs to be replaced, and if you do find cracked or damaged stripping, go ahead and replace it!
Some of the most important (and vulnerable) machinery in your RV is deep in the underbelly: the pipes, batteries, and plumbing. While skirting can help, you'll also want to wrap your pipes in heat tape and invest in a heated RV water hose, so as to avoid having your water line freeze if you're hooked up to a city water connection. If you don't want to upgrade to a heated hose, you can also add insulation or tape to your existing water hose, or fill your onboard fresh water tank and use that as a water source instead. Whatever you do, don't continue to use an unwrapped, summer water hose in sub-freezing temperatures… because if your hose freezes and cracks, you could end up with a major mess on your hands, which is even less fun to clean up in the cold!
How Do RVs Stay Warm in the Winter?
There's one major area of confusion many campers face when RVing in the winter, and it's all about the HVAC system. Many rigs have both a "heat pump" that's built into the rooftop unit and an onboard furnace that uses propane. How do you know which one is appropriate to use?
The answer is simple: if it's falling under 45 degrees or so, you'll want to switch to your RV's furnace rather than the heat pump. Your HVAC system is only rated to warm the space down to a certain external temperature, and if you try to warm a freezing RV with the unit alone, you risk burning it out entirely.
While your furnace does utilize propane to burn, it's more efficient at warming a space quickly. Which means that if you're planning on living full-time in an RV in winter, you need to ensure you've got plenty of propane on board! When you're out of your rig for the day, be sure to leave the thermostat set to switch on your furnace if the RV reaches a certain temperature — it can be kept pretty cool, if you don't have pets waiting, but you don't want it to freeze inside while you're away.
Along with skirting, wrapping your pipes in heat tape, and adding insulation, there's another great way to keep your rig warm in the winter: invest in some small indoor space heaters!
You can use electric or propane space heaters to supplement your RV's furnace. They're inexpensive and use relatively little amperage… and they're a way better investment than having to replace your RV's plumbing system after a freeze.
In order to ensure that your heaters offer as much protection as possible, you may want to keep your cabinet doors open to expose the pipes to the interior heat. That's especially helpful during those times when you're outside of your rig when the open doors won't get in the way or disrupt your RV living.
Winter RV Living Checklist
Now that we've covered the basics for keeping your RV warm, let's talk about keeping YOU warm! Living in a travel trailer during winter can be trying, even under the best of circumstances, so you'll want to be sure you add a few winter accessories to your packing list.
Along with all the stuff you normally pack for an RV trip, consider adding the following items to your kit:
Heavy coats and other winter clothing
Boots and heavy-duty winter shoes
Heat tape, thermal curtains, and other items necessary for insulating your RV for winter living
A freeze-proof heated water hose
RV antifreeze and engine antifreeze, for your tow vehicle or the motorhome's engine
Mini indoor space heaters, which can help you keep the interior of your RV nice and toasty (and protect vulnerable plumbing and other systems!)
And, of course, your favorite warm blanket, mugs for hot cocoa, and other cozy winter living items!
What's the Best RV for Winter Living?
Although many RVs are advertised as four-season or insulated, not all rigs are created equally when it comes to living in an RV for the winter. For instance, camping in a pop-up trailer in the snow is a recipe for frostbite… or at the very least, a miserable night's sleep.
The best RV for winter living is one that's fully self-contained and as insulated as possible, perhaps even with some extra, after-market insulation added. Large motorhomes and travel trailers may be constructed out of sturdier, more weather-proof materials, but on the other hand, a smaller travel trailer may be easier to heat, since there's less internal living space. For more, take a look at our guide to RV insulation.
Keep in mind that some travel trailers — particularly large, luxurious fifth wheels — offer fireplaces, which can be a welcome addition for those planning on extreme cold-weather traveling. And no matter which rig you go with, you'll want to ensure it does have an onboard furnace, since, as discussed above, the HVAC heat pump won't cut it below freezing!
Tips and Tricks for Winter RV Living
Here are some more quick tips and tricks for winter RV camping.
Water Can Be Your Biggest Enemy
Many RVers drain their freshwater tanks completely and go sans water for the season. That means bringing bottled water for brushing your teeth and doing the dishes.
The bay that holds your tanks must always be kept above freezing. Mini space heaters are inexpensive and use very little amperage. Buy one and stick it in the bay.
Use RV antifreeze in your plumbing and gray/black tanks. You can do this by flushing antifreeze down the toilets and pouring it into your drains. That said, you do not want to introduce RV antifreeze to your freshwater tank or water heater!
If your RV doesn't have tank heaters, buy some! They're a godsend if you can spare the energy usage.
If you do choose to use water hookups, make sure you insulate the pipes with heat tape. You'll also need to insulate any connections and exposed piping.
Never allow your black tank to freeze unless you want to deal with a disgusting mess. Use a PVC pipe for your sewer hose – it'll have less chance of freezing than a regular hose. If you plan on leaving the tank hooked up, add a layer of insulation around the sewer pipe. However, it's a good idea to keep your tank closed until it needs to be dumped.
Don't dump your holding tanks until they're full, or almost full, to avoid having their contents freeze — ick! And don't leave your black or gray water outlet ports open if you're camping in a spot where you're connected to the city sewer. Why, you ask? One word: poopsicle.
You Can Never Be Too Dry
Cold and wet is bad. Not just for you, but for your RV, too. All that heat in one confined space can lead to humidity and condensation, which can cause mold in your walls. Use a dehumidifier when it starts to get stuffy or toss some dehumidifier pellets in the problem areas.
Vent covers are great for two things: they help prevent condensation, and they keep you warm. Lots of warm air escapes out the vents in your RV. A cover adds an extra layer of insulation. The best part is, you can still open the vents even if there's snow on the roof!
How to Winterize an RV for Winter Living
If you're planning on living in your RV during the winter, you likely won't want to fully winterize it — as doing so makes it impossible to utilize your RV's plumbing and water system. That said, if you're going to put your RV into storage, winterizing is essential if your region falls below freezing!
Winterizing your RV's plumbing system can be done in two ways. You can run RV antifreeze through the entirety of the plumbing system, which is safe since the RV-specific product is nontoxic. That said, some campers say they can continue to taste the residue of the RV antifreeze for a long while after they dump it, and alcohol-based antifreeze can dry out and degrade your plumbing fittings over time.
If you do utilize RV antifreeze to winterize your RV system, be sure to bypass your RV's hot water heater. And make sure you're using the right stuff — regular engine antifreeze has NO place in RV plumbing!
The other winterizing option is a little bit less intrusive: it involves using compressed air to blow out your RV's water lines and ensure they're nice and dry, which will help you avoid any freeze damage. You'll need to use an RV blow out plug to achieve this, and be sure to check your owner's manual to learn the correct pressure to use so as not to damage anything.
You'll also need to drain your RV's hot water heater, which may involve removing the anode rod. You'll likely need a socket wrench to do this, though the exact size will vary based on what kind of RV you have. As always, consult your manual for full details on RV winterizing.
Closing Thoughts
You'll see some beautiful, unique sights along your winter RV trip. There's nothing quite like being in the solitude of a winter campsite, watching the snowfall and blanket the land around you. Make sure you follow the tips we've included here to stay safe during your winter adventure. Remember, warm and dry, not cold and wet!
For more tips and info on your next RV excursion or purchase, check out the following articles:
This post contains affiliate links. RVshare may receive compensation if you make a purchase after clicking on a product link.