Travel Inspiration
Last updated on September 12th, 2023. Originally published on December 16th, 2019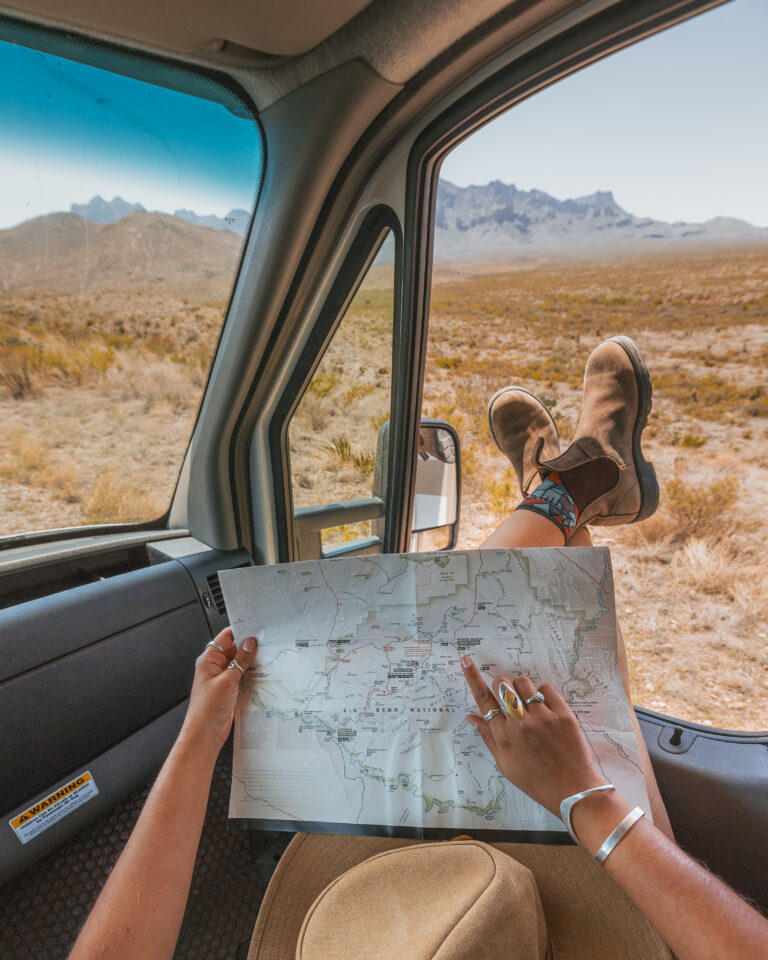 One of the most overwhelming parts of planning an RV getaway is deciding where to go. After all, you have an entire country full of amazing RV destinations to choose from, and picking just one may feel a bit like finding a needle in a haystack.
Lucky for you, we've done a bit of research of our own. We've visited some of the best RV destinations in the country and created a list of the 10 top RV destinations. Visiting any of the amazing places on this list is guaranteed to be an amazing experience!
Why Take an RV Trip?
RVs are ideal for a range of different road trips — as you travel across the country (or even just a small section of the country), you can enjoy a personalized, targeted, and comfortable overnight experience, all while in the midst of the outdoors. Further, the portability of RVs provides users full access to places where an overnight stay would otherwise be too expensive or too complicated.
Suppose that you and your friends are interested in going on a trip to a large outdoor music festival, like Burning Man. If you embark on a road trip to Burning Man, you'll find that there are few overnight options near the festival. You will likely have to camp out with a tent and some sleeping bags, and have to share public restroom and shower facilities with other festival goers. If you set off on your road trip in an RV, however, you can retreat from an exhausting day at the festival to climate-controlled, well-furnished living quarters — and depending on the model of the vehicle, you may have access to a private toilet, kitchen, and shower facilities.
With an RV, you don't have to worry about the risk of a poor-quality hotel room or suffer from lack of privacy at a hostel. And because you're not altering your living quarters as you shift from location to location, the experience of traveling in an RV feels much more grounded and consistent. 
So, ready to go on an RV road trip? Let's take a look at your options!
Must-Visit National Parks
Some of the best places to RV in the US are the incredible national parks. Our country has some seriously amazing landscapes, and many of these landscapes are found preserved in our national parks. We recommend visiting as many of these as possible.
Yellowstone National Park
The oldest national park in the country, (and one of the most popular RV destinations in the world!) Yellowstone National Park is one everyone should see at least once in their life. While primarily located in Wyoming, the park extends to parts of Idaho and Montana as well.
This park is unique thanks to a collection of hydrothermal wonders. These hot waters allow life to continue to thrive even under a thick layer of snow in the middle of winter. The mountainous landscapes, lush pine forests, and crystal clear alpine lakes are absolutely breathtaking, and the variety of animals found in the park is seriously impressive. From hundreds of bird species to wild moose and bison, there is so much to see at Yellowstone.
The park offers several RV-friendly campgrounds and there are plenty to choose from in surrounding towns as well.
For seasoned RVers looking for the ultimate scenic drive, take the Beartooth Highway which will bring you to Yellowstone's Northeast entrance. This roadway has been previously dubbed "The most beautiful in America" and is also known as "Highway in the Sky". (Keep reading for more scenic drives!)
Zion National Park, Utah
Like Yellowstone, Zion is one of those incredibly popular parks that you need to see at least once. The pretty cream, pink, and red canyon has been slowly carved by the Virgin River over the course of millions of years. Zion is perfect for hikers of all skill levels, offering everything from small paved hikes to adrenaline rushers like Observation Point, the Narrows, and Angel's Landing (the park's most famous hike).
We highly recommend exploring the otherworldly slot canyons during your time here. Taking a kayak river trip is a great use of time as well. You'll find a handful of RV campgrounds in and around Zion National Park, but since this too is a wildly popular destination, be sure to make your reservations well ahead of time.
Grand Canyon National Park, Arizona
If you've never seen the Grand Canyon, it's high time you did! This national park is easily one of the most notorious of them all, and the vastness and beauty of the canyon simply cannot be put into words. The south rim is the most popular point of interest at the Grand Canyon, with dozens of viewpoints and many that offer views of the canyon's heart – the Colorado River. Those looking for a more rugged, less-trafficed experience will enjoy visiting the West Rim, where visitors will find a more desert landscape and opportunities for helicopter tours and views from the famous glass Skywalk bridge.
You will definitely want to enjoy at least one hike while checking out the Grand Canyon! We also recommend checking out the ranger-led activities, especially if you have kids in tow. The park has many places for RV camping including campgrounds with full hookups.
Sequoia National Park, California
Another one of those awe-inspiring parks that just can't be described in text is Sequoia National Park. The views here are incredible, and the sequoia trees are mind-blowingly big.
(Imagine a tree that is big enough around to serve as a small cabin, and you'll have a good idea of the size of these giant beauties.)
We especially love that, for a large chunk of the year, there is snow on the top of the mountains in this park, meaning snow play can happen even in the late spring and early fall. There are six campgrounds within the park that offer RV camping.
For even more nature fun during your visit to Sequoia National Park, be sure to visit Kings Canyon National Park next door.
Acadia National Park, Maine
Heading northeast, you'll eventually come to Acadia National Park, located primarily on Maine's Mount Desert Island – the largest island off the coast of Maine. This park is sometimes referred to as the Crown Jewel of the North Atlantic Coast. It's also one of the most popular RV destinations out there, and as soon as you see it, you'll understand why.
Acadia National Park is home to the highest rocky headlands along the Atlantic coastline of the US, providing guests with the most tranquil views. Additionally, the park has a number of different habitats, meaning plenty of plants and animals to see. Visitors can spend a day at the beach, hike along trails overlooking the ocean, or enjoy one of the best sunrise or sunsets in the country at Cadillac Mountain.  
Of course, the rich heritage of the park (and its surrounding areas) adds another layer of beauty to the place, making it even more intriguing. Acadia offers four campgrounds within the park, three of which that are RV-friendly.
Glacier National Park, Montana
The final national park on our list of the best RV vacation destinations is Glacier National Park. This park is so far north that it's even chilly in the summer months! The mountains in this park are topped with snow year-round, making for some awesome photo opportunities.
We love the pristine waters fed by the surrounding glaciers and completely love the pretty drive down the Going-to-the-Sun road (though there is an RV length restriction of 21 feet). Of course, the 734 miles of hiking trails are also lovely and we highly recommend going for at least one hike while you're there! The park offers a variety of campgrounds, so there's sure to be one that suits your needs.
Best Scenic Drives
If you're looking for a true road trip, this list is for you! In addition to the ones briefly mentioned above, here are our top picks for the best scenic drives the US has to offer.
Blue Ridge Parkway
An absolutely gorgeous 469-mile drive that connects Shenandoah National Park in Virginia to Great Smoky Mountains National Park in North Carolina, the Blue Ridge Parkway is the perfect opportunity to take the road trip of a lifetime.
During your drive, you'll snake through miles of Appalachia surrounded by a huge array of plants and gorgeous, sweeping mountain views (plus some serious fall foliage when the weather starts cooling down!). Black bears and other local animals are often spotted along the parkway. The Blue Ridge Music Center even hosts free "Music on the Parkway" concerts in the summertime at different mileposts!
And of course, the fact that the parkway has plenty of campgrounds available makes this one of the best places to go in an RV. The route features extensive RV support infrastructure as well, making it a great choice for new RVers. 
Big Sur, California
Big Sur is one of the best drives you can take in the US, stretching 90 miles along the coastline of Highway 1 (also known as the Pacific Coast Highway) from San Simeon to Carmel-by-the-Sea. The drive is a true gem for those looking to experience expansive ocean vistas, redwood forests, and seaside cliffs. Big Sur isn't a town, nor is it a city, but rather one beautiful, sunny stretch of southern California. There's not a whole lot of civilization along this route, but trust us — the majestic views are totally worth disconnecting for! Though there's not much around in terms of restaurants or shops, there are several RV campgrounds along Big Sur.
Columbia River Highway, Oregon
The Columbia River Highway makes for an excellent RV road trip in the Pacific Northwest region. The historic route begins near Portland, Oregon, and continues approximately 75 miles alongside the renowned Columbia River Gorge. It was built in the early 1900s in conjunction with multiple structures and sites to bring travelers to the most scenic sites in the gorge and many consider it America's first scenic highway. Throughout the trip, you'll find plenty of RV campgrounds and scenic points of interest, from dense forests to rocky waterfalls. 
Route 66
Route 66 is the penultimate cross-country road trip route, stretching all the way from Illinois to Southern California. In a way, Route 66 has become larger-than-life. It has featured heavily in popular Folk Americana fiction for over 60 years: movies, novels, and music. While Route 66 does still exist, it's longer one single road. Fortunately, more than 80% of the original route can still be driven in sections. You'll encounter plenty of cultural landmarks, quirky shops, and diners along the way, plus of course countless campgrounds. 
If you're interested in tackling the drive in an RV, make sure to plan ahead — it's a LONG trip. (8 states to be exact!) There are several updated Route 66 guides available out there to help with planning.
Other Must-Visit Destinations
While most of the best RV trips in the US are arguably to national parks, there are a few other spots we recommend checking out as well — all of which we consider some of the best RV vacation spots around.
Williamsburg, VA
History buffs will adore Williamsburg, VA. This little town is so full of historical sites and attractions that one could easily spend a week here and still not see it all.
The Colonial Williamsburg Living History Museum is there, as are counterparts like Jamestown Settlement, Historic Jamestowne, the American Revolution Museum at Yorktown, and Yorktown Battlefield. All of them are fascinating, and the abundance of nearby campgrounds makes it easy to stay and spend time at each one.
Moab, Utah
Many people have never even heard of Moab (pronounced moh-ab), Utah. That said, this little town is easily one of the best places to go in an RV.
The area offers numerous boondocking opportunities, and the town is very accommodating to RVers, with businesses going so far as to offer free drinking water and even free dump stations.
As is the case with many of the places we've listed here, the views in Moab are incredible. Additionally, the town is home to the fabulous Arches National Park and is very near Canyonlands National Park. RVers will also appreciate the many hiking trails, biking opportunities, and rock climbing opportunities right outside of town.
Lastly, the free performances and other artsy events found in town are pretty fabulous as well.
New Orleans, Louisiana 
With a melting pot of cultures and rich history, New Orleans is a top RV destination for many good reasons. While the obvious might be for the renowned Mardi Gras celebration or Jazz Fest, traffic jams can create an issue for RVers. Instead, consider going in the spring when the weather is just right and you have room to navigate. Visit the famous French Quarter for all the food and music your heart desires, or spend a day at the iconic City Park. You'll also find several RV parks in the area for your convenience.
The Florida Keys
Last but not least, we couldn't finish this list without mentioning the Florida Keys. The Keys are the place to be during the winter months. This is one of the few places in the country that offer warmth and sunshine year-round, and the tropical beauty of the place certainly doesn't escape us.
The Keys give guests opportunities to snorkel, boat, swim, and kayak. There are also countless attractions in the area, and a few national parks—namely, Everglades National Park, Dry Tortugas National Park, and Biscayne National Park—are all nearby.
You won't have trouble finding a campground you like in the Keys, but you might have trouble getting in (what can we say, it's a popular place), so be sure to make reservations well in advance!
Out of the Box RV Road Trip Ideas
Not all RV road trips have to be focused on camping, hiking, and other outdoor activities. More than ever before, RVers are making use of their vehicles to go on nontraditional road trips. Consider the following out-of-the-box road trip ideas:
Plan a trip to different historical battlefields across the country.
Plan a trip to a multi-day festival.
Plan an "urban exploration" RV trip – just park in a campground outside the city and commute in! (Check out our guides on urban camping in each state when planning this trip.)
Plan a culinary road trip. Make a list of the best restaurants across the country (or in certain regions of the country), and travel to each restaurant on the list.
The RVing community has become increasingly diverse in terms of its interests. The next time you're at an RV campground or convention, ask around and see what unique trips others have taken!
RV Vacations For The Whole Family
An RV trip is a great way to bring the whole family together for a memorable trip while enjoying a living space that is reminiscent of the comforts of home. As you plan your next family RV trip, consider the following vacation ideas:
Plan a trip to an amusement park, water park, or zoo.
Plan a trip to the beach and rent out water sports equipment.
Plan a trip to a national park in a region of the country that your family is relatively unfamiliar with.
If your children have a particular interest they're very passionate about, plan a trip to a convention relating to that interest.
Top Rated RV Trip Planner
One of the most popular and highest-rated RV Trip Planners for enthusiast RVers is the RV Trip Wizard, available as an annual subscription. Though this initial cost might put off some RVers, it's worth keeping in mind that the app can save you quite a bit of money in the long run.
RV Trip Wizard is a one-stop app for planning your next RV trip. It is overlaid on the Google Maps API, making it top-class for trip routing generally, but is also customized to filter out routes where certain barriers and low clearances would otherwise prevent passage. The interface is also designed for ease-of-use. You can simply drag points of interest on the map to reroute your trip or select a campground/park for your itinerary.
As you plan your trip on the RV Trip Wizard, the software will calculate your trip costs based on fuel estimates, campground stay expenses, and food and other expenses (such as the cost of a visitor pass to a park). Further, Trip Wizard lets you input multiple RV Club memberships so that you can compare discounts at various campgrounds and make the selection that suits your budget best.
RV Trip Wizard has multiple access points — it can be used in your browser or can be downloaded onto either your iOS or Android-based smartphone.
Conclusion
Hopefully this guide helps you decide where to take your next RV adventure. If you're looking to rent an RV for your next road trip, consider a peer-to-peer rental marketplace like RVshare instead of a traditional rental dealership. At RVshare, we directly connect RV owners with potential renters on our online platform and app. Renters can use the platform to explore owner listings, filter according to their preferences, and compare.
Thousands of owners post new RV rental listings every day, so as a renter, you're almost certain to find an RV configuration that suits your needs! Further, because owners are forced to compete on the open marketplace, the rental rates tend to be much lower than the rates offered at a traditional rental dealership.
Need help planning? Check out this guide!
Looking for more tips for your next RV excursion? Take a look at these helpful articles: